The Renault Kwid is a popular choice in the entry-level (budget) segment of the car market. Now Renault has expanded its Kwid family with an automatic derivative. What's it like to drive? We attended the Kwid AMT's local launch in the Western Cape to find out.
The Renault Kwid has played its part to elevate the French brand to new heights in South Africa. A the time of this report, Renault was the 5th biggest brand in terms of new vehicle sales and by the end, the marque will be represented by a total of 80 dealers. The Kwid has tallied up a commendable number of sales since its local launch. More than 10 500 units have been sold, which works out to around 659 units per month across the rental and public markets. Kwid has opened up a new market for Renault, which claims 60% of public sales have been first-time car buyers. In December 2017, it was the third best-selling passenger car with 1 120 units finding homes.
Safety concerns
Renault South Africa has been on the receiving end of negative press with regards to the Kwid's safety features, or at least the model's lack of ABS and front passenger airbag. Indeed, it's strange to see a brand whose portfolio comprises some highly-rated 5 star NCAP vehicles suddenly introduce a product which scored a lowly 1 star.
The great news is that Renault has admitted that the Kwid is not quite up to its standard when it comes to safety and from 2019, the Kwid will feature ABS brakes and a 2nd airbag. Currently, it makes do with just a single airbag for the driver. The addition of anti-lock brakes will make a massive difference and we look forward to seeing that vehicle's crash test results. Naturally, additional safety features will come at a price, but Renault SA said it was too early to say how much the revised safer Kwid will cost.
Introducing the Kwid AMT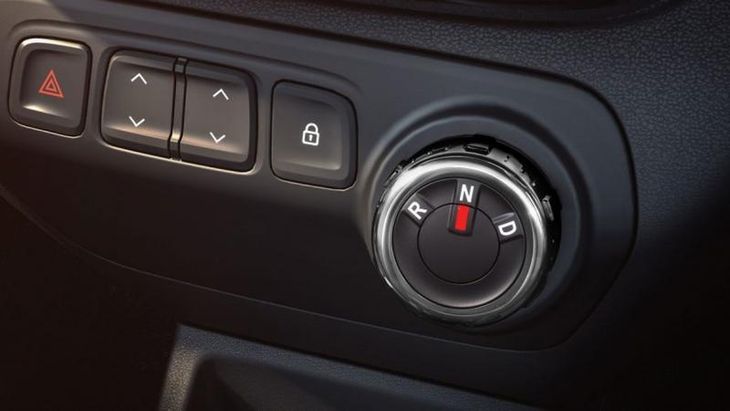 The dashboard-mounted rotary drive selector. Reverse, Neutral, Drive... it doesn't get simpler than that
Previously, the Kwid was available with a five-speed manual gearbox only and with a fair portion of the (primarily urban-based) market demanding a clutchless driving experience, there was clearly a gap that needed to be closed. Renault now offers an Automated Manual Transmission (AMT) in its Kwid. Not to be confused with a traditional automatic gearbox, an AMT works just like a conventional manual car, except there is no third pedal; the clutch is controlled by a computer.
In terms of design, the only clue you'll get that this isn't a normal Kwid is the Easy-R badge on the rear. Inside, the traditional gear lever has been replaced by a dashboard-mounted rotary dial. The three modes are Reverse, Neutral and Drive. When it comes to ease of use, it cannot possibly be any more straightforward to use. Insert the key and turn the ignition, wait a few seconds and then start the engine. Select Drive, drop the handbrake and away you go.
Past experiences with AMTs have not been particularly satisfying. The car's modus operandi takes some time to get used to and if we didn't have a quick tutorial, we wouldn't have had a realistic experience. See, much like a manual gearbox, you need to lift off the accelerator when you anticipate that the car is about to change gears. It's not like a (torque converter) automatic or newer dual-clutch 'box where you can keep your foot planted and each gear is engaged with a silky-smooth action. If you try to keep your foot down on the accelerator, the pause between gearshifts gives the car a rocking-horse motion, which is not pleasant. In essence, accelerate as normal, but as the car is about to change gear, lift off the accelerator by 75% to reduce the rocking motion and have a smoother driving experience.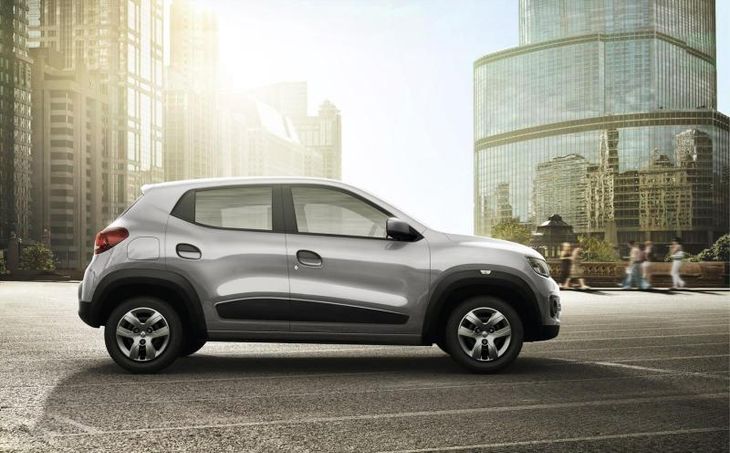 With the impressive ground clearance and interior space, the compact Renault Kwid has proven popular
Does it work?
In an urban situation where speeds are usually low, the AMT-equipped Kwid performs satisfactorily. The gearbox is reasonably smooth once you're rolling, although the 1st-to-2nd 'shift can lurch a little. It's only at highway speeds where things deteriorate. While the Kwid is marketed as a city car, overtaking at speed requires some planning. The car doesn't shift down quickly enough and the pause between 5th and 4th means you can't overtake briskly. It's not a critical fault, but a gripe nonethess.
That being said, the majority of Kwids will be based in and around the major centres so loads of open-road driving is unlikely to be the order of the day. Around town, the car has enough power to keep pace with traffic and once you understand how the transmission operates, you'll enjoy the benefits of clutchless operation.
The engine hasn't changed and its the same 1.0-litre naturally-aspirated three-cylinder petrol unit as before. With a power rating of 50 kW and 91 Nm, it has just about enough shove. The big benefit of this AMT option is the fuel economy. The standard manual Kwid had an economy claim of just 4.7 L/100 km, with this new AMT derivative going one better at 4.4 L/100 km. We look forward to testing its claimed fuel consumption when the car arrives for a comprehensive road test.
The ride quality is much the same as the manual-equipped Kwid. In our review of the Kwid in December 2016, we noted that the Kwid felt very light at the wheel. A number of Cars.co.za testers commented on how easily the Kwid was thrown around in the driving wind, which was probably exacerbated by the test unit's lofty ride height (180 mm) and low kerb weight. The wind in Cape Town is notoriously strong in the summer and at highway speeds, it almost felt as if the small Kwid was being tugged between lanes by the notorious Cape Doctor.
Features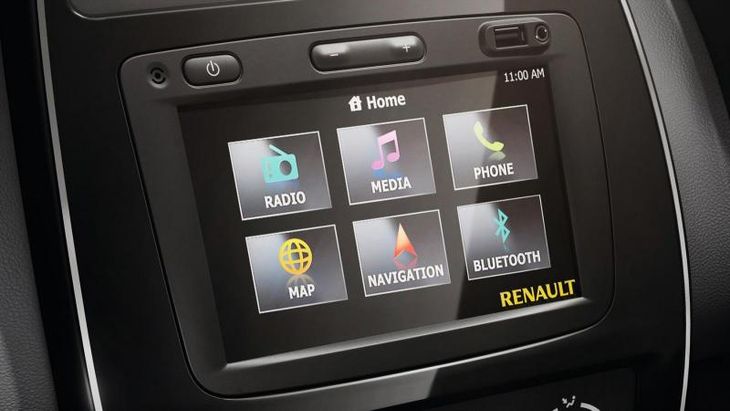 This touchscreen unit features satellite navigation, USB/Aux input, Bluetooth connectivity and speed-sensitive volume control
The Kwid AMT benefits from the same level of specification as its manually-equipped sibling. Available in Dynamique trim, it gains comfort features such as air-con, front electric windows and one of the most comprehensive infotainment systems in the budget segment of the market.
This touchscreen unit features satellite navigation, USB/Aux input, Bluetooth connectivity and speed-sensitive volume control. As it stands, there's just the driver's airbag available in terms of safety. As mentioned earlier, 2019 will see the Kwid gain ABS and a second front airbag for the passenger.
Summary
The Renault Kwid AMT expands on a budget offering and is likely to find favour among folk who don't want to drive a manual car, especially commuters. The convenience and ease of use when it comes to operating a clutchless vehicle is desirable and we think that more than a handful will find their way into customers' homes.
The news of ABS making its way into the Kwid family is massive and will bolster sales. The diminutive Renault is competitively priced and, incredibly, Renault South Africa is still offering the car with one year of comprehensive insurance. The only catch is that the car is not allowed to be used for business purposes. Given the list price and calculations, the Kwid works out to R1 999 per month, which, in a cash-strapped market, sounds like an affordable way to get behind the wheel of a new car.
Renault Kwid Price in South Africa
Renault KWID Expression 1.0-litre SCe R 126 900
Renault KWID Dynamique 1.0-litre SCe R 136 900
Renault KWID Dynamique AMT 1.0-litre SCe R 146 900
Buy a Renault Kwid on Cars.co.za
Related Content
Renault Kwid (2016) Video Review
Renault Kwid Dynamique (2016) Review
The Renault Kwid: A Game-Changing Budget Car?
Top 10 Most Fuel Efficient Budget Cars
Juliet McGuire tests a trio of budget cars