Renault has launched a heavily-revised Kwid budget car to market and we took it for a drive at the local launch in Johannesburg this week to experience the changes in the metal...
Back in 2016 when the Kwid first arrived on local soil, we knew it would be a hit with local buyers. We even called it a "game-changing budget car" at the time…
The Kwid offered cutey-pie looks, came packed with nice-to-have features and was sweetly priced to appeal to first-time buyers looking to get mobile. Since then, the Kwid has racked up over 27 700 sales and it's now one of the most popular passenger cars in South Africa.
However, it hasn't been plain sailing for the Kwid. Its lack of safety features (ABS and dual airbags) and poor crash safety ratings have been the source of much criticism since its arrival, and rightly so. In response to the backlash, Renault has now partially rectified the matter by making ABS and dual airbags standard across the range but the poor structural integrity of the Kwid remains an issue.
Despite this though, buyers in this segment are likely to continue prioritising affordability over safety and I will bet my bottom dollar that regardless of what I have to say, buyers will still flock into Renault showrooms to buy the Kwid.
So with that in mind, let's take a closer look at what you can expect from this refreshed Kwid...
Any major changes?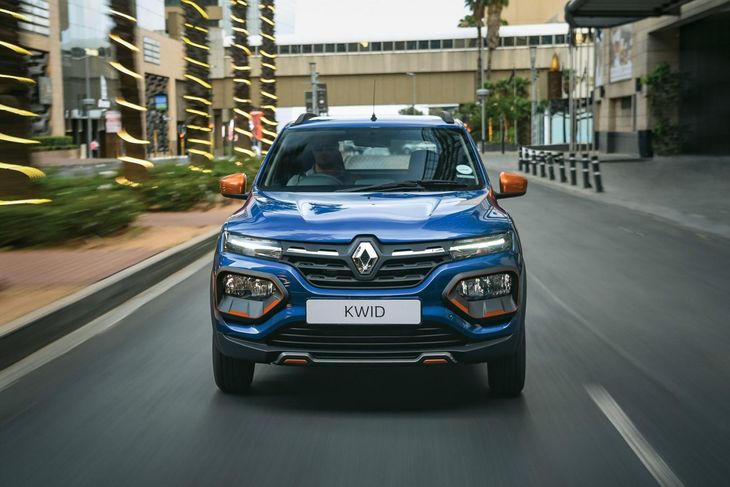 The Kwid's revised styling has youthful appeal and the Kwid now rides on larger 14-inch wheels.
As you can tell from the pictures, Renault has improved the Kwid's styling with a revised front-end which now features LED Daytime Running Light strips (standard across the range), integrated headlights and chrome grille inserts. It's definitely one of the more quirky and funky looking budget cars on the market.
Another welcome change is that the Kwid now rides on larger 14-inch wheels and Renault has also replaced the rear axle in an effort to improve the ride and handling characteristics of the car.
The same 1.0-litre, 3-cylinder engine is found under the bonnet and it offers 50 kW and 91 Nm of torque. Buyers can choose between a 5-speed manual transmission or a 5-speed Automated Manual Transmission (AMT) across all 3 derivatives including Expression, Dynamique and the range-topping Kwid Climber.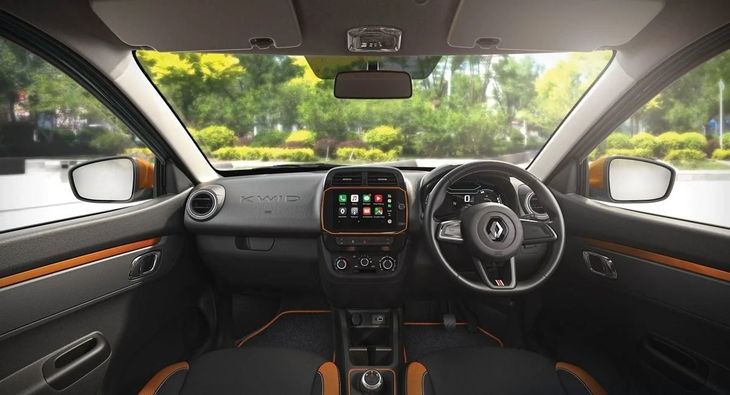 The Kwid's interior has been restyled and the 8-inch touchscreen infotainment system remains a highlight for buyers in the budget segment.
As for the interior, Renault has fitted new cloth upholstery, a new steering wheel and cheeky details such as the LED illuminated instrument cluster and a new-look dashboard. A highlight is the 8-inch infotainment touchscreen system with Apple CarPlay and Android Auto functionality and other notable features include a rear park distance control, rear camera with guidelines, air conditioning, front/rear electric windows and electric side mirrors.
Check out specification and pricing details for the Renault Kwid
What's the latest Kwid like to drive?
Renault had a fleet of manual Kwid Climbers for the media to drive and the short launch route offered a combination of urban and highway driving.
As I slid into the driver's seat, I immediately realised that the Kwid was not designed for big-boned people like me. The front seats are small and the cabin is very compact. Taller drivers will feel awkward in the Kwid as there's no seat height adjustment and the steering can't be adjusted for rake or reach either. More so, perceived interior build quality and material finishing in the Kwid is still of a poor standard, which is disappointing.
I turn the key and the engine pipes up with its distinct 3-cylinder thrum. With a relatively low kerb weight of around 750 kg, the engine gets the Kwid moving but acceleration is mostly slow and laboured, especially when faced with long uphills. In terms of performance then, don't get your hopes up, this is an A to B shuffler, nothing more.
To get the most from the engine, you have to continuously work the gears to keep the engine in its powerband and as a result, overtaking requires some careful planning. While we were only 2 people in the car, the Kwid's performance will be further diminished when it's carrying 4 people and fully loaded with luggage.
The Kwid is reasonably fuel-efficient though and Renault claims 4.7 L/100km for the manual Kwid, while the AMT version is claimed to consume 4.4 L/100km.

At altitude, the Kwid's performance is sluggish and performance will worsen as passenger and luggage load increases.

In terms of ride and handling, we did notice marginal improvements and the Kwid does feel a little bit more sure-footed on its rubber. Nonetheless, the steering is mostly dead and devoid of any meaningful feel and the Kwid still suffers from excessive body roll when cornering.
We conducted the obligatory "sit behind yourself test" which the Kwid sadly failed. Rear legroom is very tight and the bigger you are the more uncomfortable you will be. The load bay, however, is reasonably spacious and Renault claims class-leading capacity of 279 litres (previously 300 litres) and a full-size spare wheel is now standard and the Kwid's 180 mm ground clearance is useful for mounting the odd kerb.
In Conclusion
The Kwid is now prettier, but don't be deceived, it's far from perfect. Renault, however, has done a good job at keeping the Kwid's pricing within reach of its intended target market while also expanding the automatic offering across the range which is bound to attract more buyers and Kwid sales are therefore likely to strengthen going forward. Slight changes to the wheel size and the rear axle have made minute positive changes to the handling and stability but not enough to make it a confident drive. The deal is further sweetened with Renault's 1-year free insurance, 5-year/150 000 km warranty and 2-year/30 000 service plan.
Buyers looking for a budget car, however, are advised to take their time in considering all options available to them including shopping in the used car market, which can be done on Cars.co.za here!
New Renault Kwid- Price in South Africa
Kwid 1.0 Expression M/T - R144 900
Kwid 1.0 Expression AMT - R154 900
Kwid 1.0 Dynamique M/T - R154 900
Kwid 1.0 Dynamique AMT - R164 900
Kwid 1.0 Climber M/T - R164 900
Kwid 1.0 Climber AMT - R174 900
The Kwid is now sold with a 5-year/150 000 km warranty, 2-year/30 000 km warranty and 1-year insurance included.
Buy a Renault Kwid on Cars.co.za
Further Reading
Budget Car Comparison (2019) Datsun Go vs Renault Kwid vs Kia Picanto vs Mahindra KUV vs Suzuki Celerio
6 Cheapest New Cars in South Africa (2019)