Renault has revealed the Kiger show-car which previews a new small SUV destined for India and other markets, including South Africa…
Renault's crossover and SUV family is about to grow with the addition of the new Kiger and it will stand alongside current offerings such as the Triber, Captur and Duster.
The Kiger show-car measures less than 4 metres in length and gives us a good idea of what the production version of the Kiger will look like when it goes on sale in India and other markets from 2021. Renault says the Kiger will have a ground clearance of 210 mm which will be useful on gravel or for inner-city pavement hopping.
"The creative association of French and Indian designers was the best way to meet the needs and expectations of a clientele increasingly fond of style, dynamism and novelty. As with Triber, we are once again demonstrating our ability to innovate, by offering a new model with a dual personality, both urban and outdoor. Kiger Show-car is very close to the future production model," said Laurens van den Acker, EVP, Corporate Design of Groupe Renault.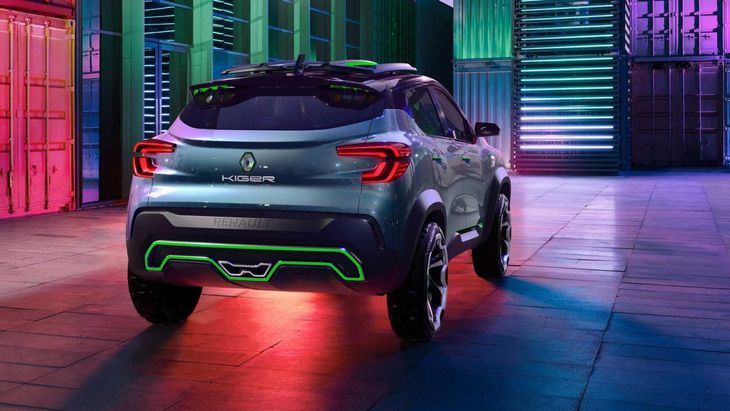 The Kiger is expected to reach South Africa in the second half of 2021.
However, being a show-car, the Kiger seen here has a few features that probably won't make it to production, obviously, such as the green detailing, chunky 19-inch show wheels and the 'Aurora Borealis' exterior which changes according to the light and angle from you view it as well as fluorescent touches that serve to highlight elements such as the aluminium door handles, bumper inserts, strappings, logo contours and brake callipers. The Kiger show-car also boasts double-stage LED headlights and green turn indicators. The rear taillights feature a double-C motif which is likely to be carried over into the production version. The interior is likely to be similar to that offered in the Triber, but we have yet to see official interior images.
No mention is made of the Kiger's potential powertrain options but we previously reported that it's likely that the Kiger will feature the same engine/s found in the Kwid which is a naturally aspirated 1.0 petrol engine with 52 kW and 96 Nm and a 1.0 turbopetrol variant.
Our understanding is that the 1.0-litre turbopetrol will be updated with more power and torque for the Kiger and will eventually be introduced into Triber. Currently, the turbopetrol (which isn't yet offered in SA) makes 74 kW and 160 Nm of torque. Figures for the version that will go under the bonnet of the Kiger are assumed to be 86 kW and 180 Nm, which makes it more in line with what competitors from Hyundai and VW are currently offering.
Will it come to SA? The answer is yes and based on current information from Renault South Africa, the Kiger is due to arrive in South Africa in the third quarter of 2021. Provided that Renault South Africa is able to price the Kiger competitively, it should sell very well.
Related Content
New Renault Duster 4x4 Bakkie Launched