Renault has made an interesting move into the SUV and 4x4 segments with the Duster, a car born of the Nissan alliance and currently selling incredibly well in important emerging markets such as India and Brazil. Built to compete principally on price, the Duster offers surprising levels of refinement, comfort and on road ability.
The Duster Range in South Africa
At launch, two engines will be available, a 1.6 non-turbo petrol and a 1.5 turbo diesel. I've been driving the diesel – more on that a little later.
There are two trim levels, Expression starting at R194 900 going up to the Dynamique 4x4 at R239 900. The only engine available in the Expression spec is the petrol, while the lowest price diesel comes in at R219 900. The Dynamique comes well specced with a touch screen media and satnav system borrowed from the new Clio.
What I like
At this price, this is a lot of car. And it feels like a 4x4 you would actually take off road into the tough stuff, instead of spending a million rand on a Range Rover and never doing anything more than climbing pavements.
I was driving the Range Rover Evoque at the same time as the Duster, and I couldn't believe the Rangie was nearly three times the price as the base Duster. It seems a bit absurd really. Of course the Range Rover is lovely. But I would never have the heart to take it offroad, whereas the Duster feels like it's rough and ready.
Ride and handling
Ride comfort is very decent at high way speeds. Smooth and quiet for a vehicle in this class. Sure, it's no Range Rover, but then it's not trying to be. While the Evoque might be better at 200km/h, I can't see the point of owning a proper 4x4 that can do that. You do have to treat the Duster a bit like a bakkie in terms of handling, but that's the price you pay for a high ride height and tall sidewall tyres.
Duster Diesel Engine
I've been driving the diesel. Around town, the diesel takes some getting used to. It's like taking an overweight dog for a walk – it's not very enthusiastic. You have to adapt your driving style completely. It's not that there is a shortage of power, with 80kW and 240Nm, it certainly feels like there's enough oomph, but it's available for such a short time in the rev range, that you really have to work the gearbox to make the best of the engine.
I would imagine that the alternative petrol version is better if you drive mostly urban routes, with lots of stop-starting. For longer trips, the diesel actually has a chance of paying itself off, with very decent consumption indeed.
It is very light on fuel. Renault claim 5.5 litres/100km, which you should get quite close to, especially if you take longer trips.
Equipment and safety
The standard equipment list is long, ranging from power windows all round, full media integration and front and side airbags.
This Dynamique spec gets more kit with a standard touch screen media and satnav unit; it's very decent kit indeed at this price point. The fascia could have been better designed ergonomically, the screen almost faces downward, but other than that, it is simple and easy to use. I doubt you'll need your kids to show you how it all works.
Bear in mind though that metallic paint is an extra at R2500, but options like park distance control are standard.
Interestingly no automatic 'box is available.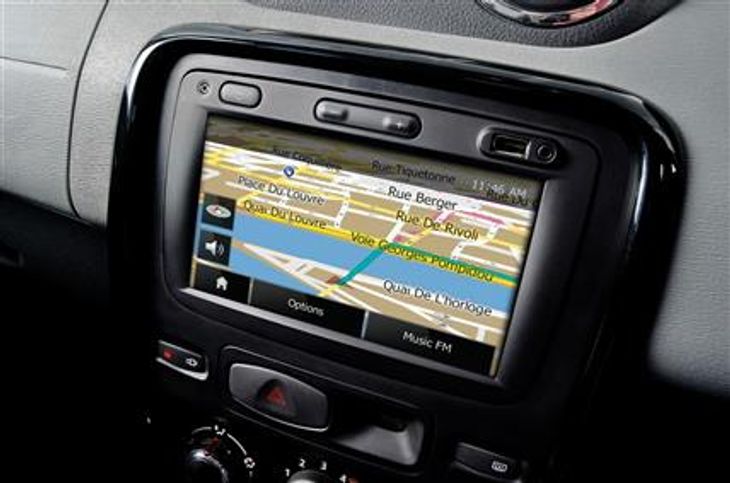 4x4 ability
I must apologise, I am such a city slicker and I haven't taken the duster offroad. What I can tell you, and you might be glad to know, is that all the offroad bits and pieces come from Nissan, so these are tried and tested drivetrains. Nothing new here, with you being the first person to break it. I think that's a smart move from Renault.
In the absence of a low range transfer case, the 4x4 is features a shorter first gear that allows it to crawl at under 6km/h at 1000rpm. There is a downside to this on the road though, as you quickly have to catch 2nd gear when in traffic.
Ground clearance is very decent at 205mm in the 4x2 and 210mm in the 4x4, with healthy approach and departure angles. Again, it just feels like the kind of car you can get very dirty indeed.
Service and warranty
As is the case across Renault's entire product range, the New Renault Duster comes standard with a 5-year/150 000km warranty. Also, all New Renault Duster variants come standard with a 3-year / 45,000km Service plan.
Summary
As mentioned, I had this on test at the same time as the Range Rover Evoque, which costs nearly R600 000. And yes, the Evoque is very nice. It looks very nice. It's very comfortable. It has lots of leather lined everything and it will impress your friends.
But, if you need a 4x4 with space for 5, you could save nearly R400 000 and buy this. And then go on holiday. Or buy a holiday house. Or buy two of these and still have R100 000 in change.
The Duster is very, very good value for money, and with a facelift already available in Europe, this could be a second hand bargain in a year or two's time. Although, at under R200 000, it's already well worth it.
Renault Duster Pricing in South Africa
There are four models in the range at launch, two trim levels, one petrol engine and one diesel:
- 1.6 Expression 4x2 R194 900 - 1.6 Dynamique 4x2 R204 900 - 1.5 dCi Dynamique 4x2 R219 900 - 1.5 dCi Dynamique 4x4 R239 900
Renault Duster 4x4 Quick Specs
Price in South Africa: R239 900 Engine: 1.5 dCi turbo diesel Fuel consumption: 5.5 litres/100km (claimed) Power: 80kW Torque: 240Nm at 1750rpm (4x4 model) Fuel capacity: 50 litres