South Africa might have been late to receive the Renault (née Dacia) Duster (in 2013), but it proved a strong seller right from the start. The 1st-generation Duster offered excellent value for money, plus endearing ruggedness and simplicity, which explains why it's such a popular used buy. What should you pay, and what are its shortcomings?
Introduced in South Africa during October 2013, the Duster compact family car has become a regular sight on our roads, with around 15 000 sold from 2013 to 2018. It was positioned as an affordable, spacious and well-equipped compact SUV that wasn't shy to get its boots dirty. There are currently more than 300 1st-generation Dusters listed on Cars.co.za, with prices starting just below R110 000. Are they worth a closer look?
Renault Duster line-up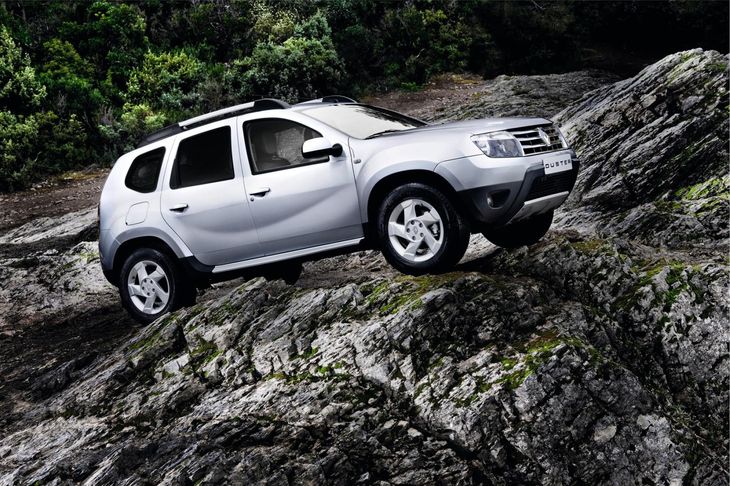 Cheap and seemingly quite rugged, the Duster appeals to those buyers who actually need a vehicle that can handle the rough.
Upon launch, the Duster was offered with 2 engines and in 2 trim levels. The 1.6-litre 16-valve base engine (75 kW/145 Nm) is a proven unit, but relatively thirsty, with a claimed combined-cycle consumption figure of 7.5L/100 km, which translates to around 9.0 L/100 km in the real world. It was offered exclusively in 4x2 guise and in Expression and Dynamique trim.
The 1.5-litre dCi engine (80 kW/240 Nm) proved popular from the start, particularly as it boasted an impressive economy figure of 5.5 L/100 km, which meant consumption of below 7.0 L/100 km was achievable. It also delivered its substantial torque across the rev range, from a low 1 750 rpm (on the 4x4). The turbodiesel engine was mated with a 6-speed manual transmission, and 4x2 and 4x4 versions were offered in Dynamique trim.
Expression might have been the "base" specification, but it still included air-conditioning, electric windows, height-adjustable steering wheel and driver's seat, radio/CD player with USB and Bluetooth compatibility, dual front/side airbags and ABS with EBD – but sadly, no ESP.
The Dynamique trim level was particularly generous, with items such as 16-inch alloys, leather-wrapped steering wheel and, perhaps most importantly, a Media Nav infotainment touchscreen with navigation as standard – unfortunately, the screen is mounted too low. The 4x4 version also benefitted from the addition of ESP (electronic stability control), and a Nissan-derived all-wheel-drive system with 3 modes (2WD, Auto and Lock).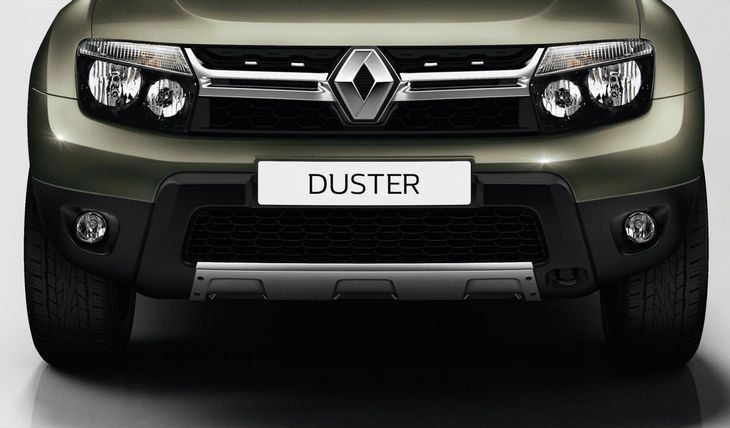 The facelifted version arrived in August 2015, sporting a significantly revised front-end with a redesigned grille design.
The arrival of the facelifted Duster (in 2015) coincided with a move of production facility. Initially, Dusters sold in South Africa were built in India, but as of the introduction of the revamped version, production shifted to a plant in Romania. Besides the obvious exterior cosmetic alterations (and some trim revisions inside), the major changes were related to specification, with all models now boasting rear park-distance sensors and cruise control. Leather upholstery was an option on Dynamique variants. The range's line-up remained unchanged, but interestingly the turbodiesel 4x2 was now claimed to be more fuel efficient, with a combined cycle figure of only 4.8 L/100 km (translating to about 5.8 L/100 km in the real world).
In June 2016, Renault added a limited edition EXPLORE variant to the line-up, based on the 1.6L Dynamique. It featured additions such as a nudge bar, different 16-inch alloy wheels, reverse-view camera and wheel-arch protectors. At the time of the derivative's introduction, Renault said only 100 of these EXPLORE variants would be available.
Fast forward another year, and Renault finally added a self-shifting Duster to the local line-up, in the shape of a dual-clutch transmission equipped 1.5 dCi 4x2 Dynamique EDC (same transmission as in the Kadjar). Renault claimed a low consumption figure of 4.8 L/100 km for the derivative.
> ALSO READ: Renault Duster 1.5 dCi AWD (2015) Review
> ALSO READ: Renault Duster 1.5 dCi Dynamique EDC (2017) Review
> ALSO READ: Renault Duster 1.5 dCi AWD (2017) Extended Test + Video
Product strengths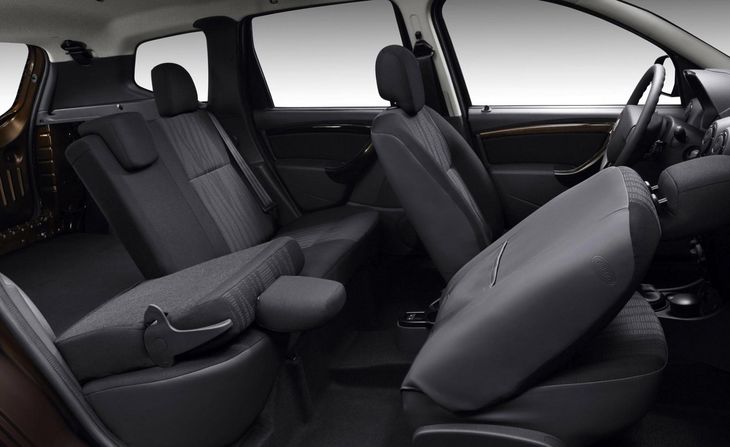 ​
The Duster is a spacious compact SUV, though the large boot does come at the cost of some rear-seat legroom.
Space and Practicality: There were few (if any) similarly priced compact crossovers that could compete with the Duster in terms of spaciousness and practicality. Inside, it feels just a little bit wider than most of its rivals, while the extra length translates into a spacious luggage compartment (at the cost of some rear legroom). The load bay measures in at a claimed 475 litres and note that all Dynamique-spec derivatives had a full-size spare wheel while the base model 1.6 Expression made do with a space saver. Of course, the rear seatback was split 60:40 to further aid practicality. It's a pity that the rear seats don't fold completely flat, however.
With decent ground clearance (205 mm in 4x2 variants, slightly higher for the 4WD) and generously side-walled tyres, the Duster is a practical all-rounder that doesn't mind traversing the odd bit of rough gravel. In fact, given the deteriorating state of South Africa's roads, it's pretty much perfectly suited to our local conditions.

Although by no means luxurious, the Duster cabin offered plenty of showroom appeal. Pity the screen was mounted too low.
Good standard specification: At the price, the Duster offered a cabin constructed of decent-enough materials, and made up for any shortfalls in that regard with generous specification. Although Expression specification wasn't as basic as you'd imagine, we'd definitely advise paying more for a Dynamique derivative as it includes ESP (stability control) on the 4WD, as well as the Media Nav touchscreen navigation system. All Dusters sold locally featured dual front- and front side airbags. You'll also appreciate the cruise control fitted to later model-year cars.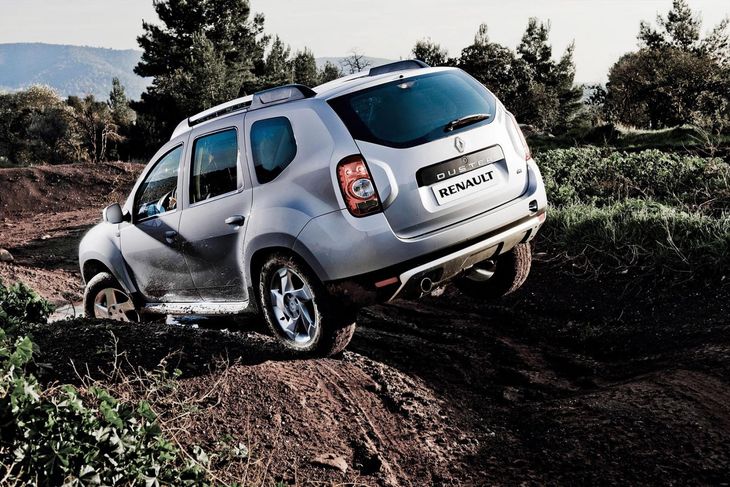 Using off-road hardware from sister company Nissan, the Duster 4WD is a capable mud-plugger.
Easygoing nature: The Duster is set up for comfort and easy driving. The suspension is softly sprung, so it rides with surprising suppleness, and this aspect will be particularly appreciated on gravel roads. The engines are by no means performance-oriented, but provide sufficient urge for overtaking out on the open road. The steering systems and transmissions are tuned for ease-of-use as well.
Surprising off-road ability: Given the rugged nature of the Duster, it's not a car that you mind using a little more "harshly" than the more "poseur-oriented" crossovers it competes with on price. So it's a good thing, then, that the 4WD version is actually pretty good off the beaten track.
Using the same all-wheel-drive system as the contemporary Nissan X-Trail, it usually runs in front-wheel drive, but can also be shifted to Auto (which determines the torque spread between the axles automatically) and Lock, which, as the name suggests, splits the torque evenly between the front and rear wheels. Combined with a short 1st-gear ratio, good approach and departure angles and decent ground clearance, the Duster 4WD will go places where most compact crossovers will be reluctant to tread...
Product weaknesses
In general, Duster owners seem to love their vehicles. In the Cars.co.za Ownership Satisfaction Survey, 95.2% of owners said that the Duster had lived up to their expectations. That said, no car is perfect, and there are a few niggles.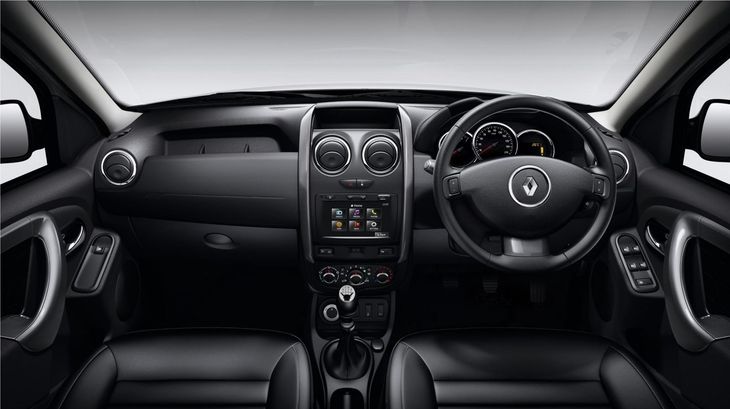 The cabin was markedly improved at the time of the 2016 facelift. Look out for a wobbly driver's seat on the test drive.
In the same survey, the Duster came in for some criticism for "excessive noise" as well as "loose trim and rattles". Neither of these should raise too much cause for concern, as cars of similar initial pricing will probably suffer the same maladies.
When you're out test driving one of these Renaults, take note of the following:
Rust: Some earlier cars can show signs of rust, so be sure to inspect carefully. Pay particular attention to the tailgate hinges, A-pillars, rain gutters, door sills and under the bonnet. It's worth lifting up the load bay's carpet and have a look there too, and check the suspension components while you're at it. Romanian-built cars appear to have benefitted from better rust-proofing/paint quality. Renault South Africa is, however, aware of the problem, and has an ongoing support programme that aims to resolve this issue with all affected vehicles as they come through Renault service centres.
Underbody damage: Previous owners of the 4WD derivatives might have been tempted to venture a little too far off-road, so check the Duster's underbody for signs of off-road damage. While you're there, also make sure the spare wheel is present and correct.
Loose driver's seat: On several of the cars we looked at the driver's seat was wobbly – apparently caused by the height-adjustment mechanism. This can be quite an irritating issue, so have it attended to by the dealership/owner.
Power loss: Not reported too frequently, but something to keep an eye out for is that the petrol engine's ignition coils can die. If a Duster's coils are suspect, you should be able to feel/hear a misfire during a test drive, and if it's present, it's worth asking the dealer to sort it out – or move on to the next car.
Rear footwell water leak: If you open a Duster and smell damp, check the rear footwells. On some early cars, a channel/cavity in the underbody resulted in water draining into the rear footwells.
What to pay?
There were more than 300 Dusters listed on Cars.co.za during the time this article was being researched, so there should be lots to choose from.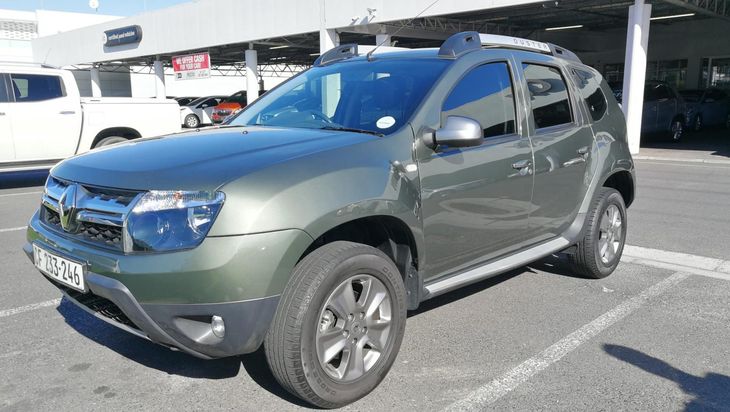 This very neat 2016 Duster 1.6 Dynamique was offered by Reeds N1 in Cape Town for below R190k. It had only 35 000 km on the odo.
R100 000 to R120 000: You can pick up a Duster for as little as R100 000, but be aware that these are usually high-mileage cars with various cosmetic issues. The cloth seats, in particular, are often stained/dirty. Also, keep in mind that the earlier Indian-built cars are more likely to have issues with rust than their predecessors. For closer to R120 000 (or just over), you can pick up a relatively neat 1.6 Expression.
R120 000 to R150 000: In this price range you can find some facelifted Dusters, but they're pretty rare. Most likely, if you're looking for a 1.5 dCi Dynamique AWD, you'll have to make do with a pre-facelift car (which is not the end of the world), while a neat, low-mileage, post-facelift 1.6 Dynamique is also attractive in this price range.
R150 000 to R210 000: In this price range you can find pretty much whatever Duster you'd like, but a late-model (post 2016) 1.5 dCi Dynamique AWD would be our pick. Good examples of these cars are starting to appear in this price range.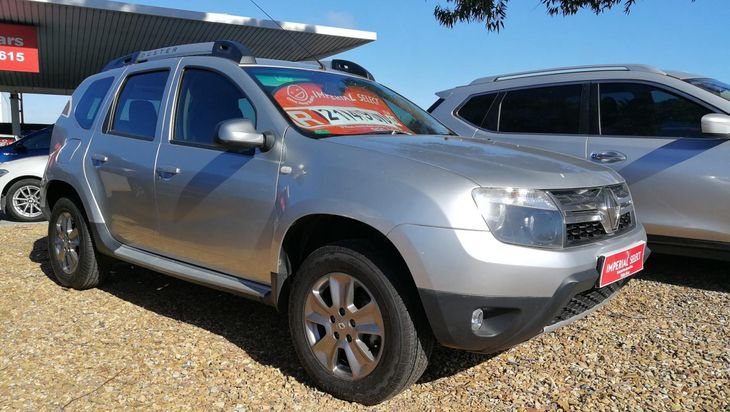 This 2016 Duster 1.5 Dynamique AWD at Imperial Select Table View was going for around R210k, with 70 000km on the clock.
R210 000 to R250 000: At the upper end of price range, the obvious target vehicle is the EDC-equipped (automatic) 1.5 dCi Dynamique 4x2 that was added to the line-up in 2017. There aren't many out there, however.
> CAN YOU AFFORD A Renault Duster? Find out here
Pick of the range?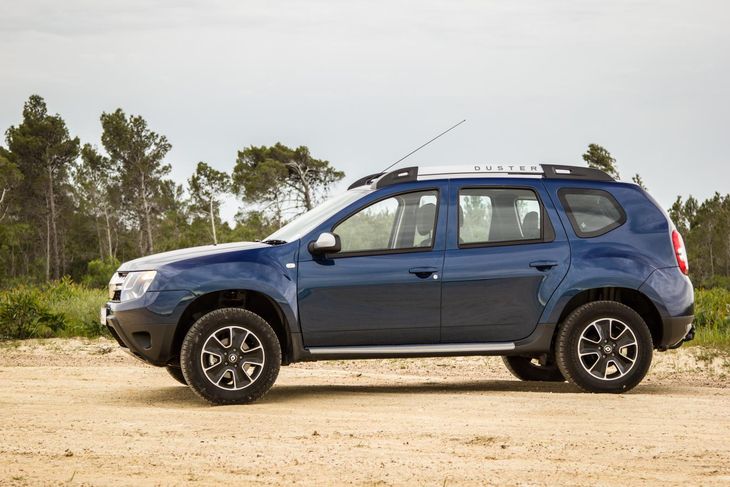 Our advice would be to look for a low-mileage, post-facelift (2016 onwards) 1.5 dCi Dynamique 4WD variant.
We think the best choice would be a clean, post-2016-facelift 1.5 dCi Dynamique 4WD. Seeing as Dusters were sold with 5-year/150 000 km warranties, a relatively low-mileage 2016/17 car would still offer some warranty cover. Besides, the Duster's ruggedness is one of its most appealing factors, so it would be a shame to miss out on its surprising off-road ability by not going for the all-wheel-drive variant. The turbodiesel engine is also significantly more economical than the 1.6-litre petrol powerplant, and when you opt for the 4WD, you also get ESP (electronic stability control).
Prices for neat post-facelift Duster 1.5 dCi Dynamique 4WD start at around the R190 000 mark.
Verdict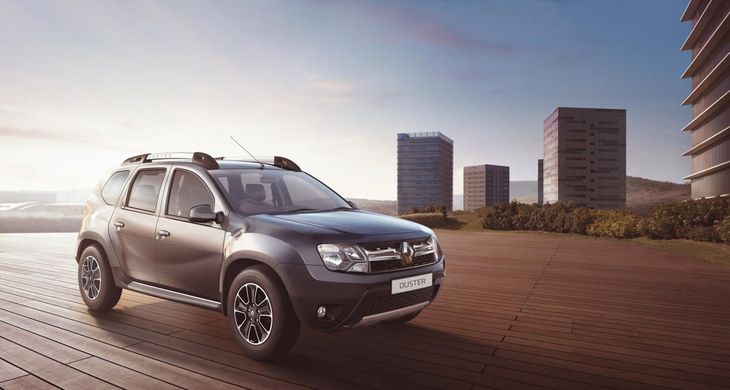 For adventurous families buying on a relatively tight budget, the Duster is a highly appealing option.
The Renault Duster is a deservedly popular offering courtesy of excellent value for money, surprising ruggedness (given its low purchase price) and overall practicality. As ever, condition is important, but overall, the Duster has a solid reputation in the local market, and owners tend to love them.
It's not easy finding suitable rivals for the Duster, either, because most of its competitors offer neither the space, nor the necessary competence off the beaten track. If you don't mind a slightly smaller, less "gravel-oriented" vehicle, Ford's EcoSport is an obvious rival. Daihatsu is, of course, no longer distributed in South Africa, but its Terios remains highly respected and because of its good build quality, should offer years of reliable service.
Parts pricing
We asked Renault for the prices (incl. VAT) of some of the major parts for 2 of the most popular models: the 2014 1.6 Dynamique and 2017 1.5 dCi Dynamique.
| | | |
| --- | --- | --- |
| Part (item) | Duster 1.6 Dynamique (2014) | Duster 1.5 dCi Dynamique (2017) |
| Air Filter | R205.32 | R205.32 |
| Oil Filter | R122.35 | R122.35 |
| Pollen Filter | R166.85 | R166.85 |
| Spark Plug (each) | R60.25 | - |
| Wiper blades (set) | R355.03 | R355.03 |
| Front brake pads | R674.53 | R969.14 |
| Rear brake pads/shoes | R1 335.93 | R1 335.93 |
| Cambelt kit or Timing Chain | R1 540.61 | R1 679.87 |
| Tensioner | - | - |
| Front brake discs | R1 658.06 | R2 414.82 |
| Rear brake discs | R2 243.88 | R2 243.88 |
| Clutch plate | R3 006.09 | R3 441.97 |
| Pressure plate | - | - |
| Flywheel | R7 362.69 | R7 362.69 |
| Fanbelt / Accessory Belt kit | R1 334.37 | R993.58 |
| ECU | R5 664.87 | R19 269.08 |
| Bonnet | R5 681.07 | R5 681.07 |
| Front bumper skin | R3 768.42 | R3 768.42 |
| Grille | R5 427.08 | R2 612.80 |
| Left front fender | R2 437.30 | R2 437.30 |
| Wheel rim | R2 092.20 | R4 731.04 |
| Front left headlamp assembly | R4 499.49 | R4 499.49 |
| Front windscreen | R2 591.08 | R2 591.08 |
| Air-con condenser | R6 437.53 | R7 969.83 |
| Radiator | R3 198.52 | R4 062.01 |
| Right-hand front door | R7 327.97 | R7 327.97 |
| Right-hand rear door | R11 030.90 | R11 030.90 |
| Tailgate | R9 639.21 | R9 639.21 |
| Rear window glass | R3 576.57 | R3 576.57 |
| Left rear taillamp assembly | R1 629.60 | R2 118.43 |
Looking for a Renault Duster to buy?
Find one today on Cars.co.za by clicking here