In a market dominated by hatchback-based compact family cars, the top-of-the-range Renault Duster is a feisty little offroader. However, what's it like to live with? We spent a month with not one, but two, top-of-the-range Dusters and here's what we discovered...
Why two Dusters, you ask? Well, let's start with the bad news first. Our first Duster proved to be a commendable, well-specced compact family car, able to transport now fewer than 5 adults on a number of long journeys, some of which were travelled on rough terrain. However, while it was serving as holiday transport, one morning in January, it decided to bite the dust. All was well upon start-up, but then the clutch pedal started sticking. The clutch pedal would go in and would not return to its top (engaged) position. Gradually, after about a kilometre, the clutch pedal remained depressed, which crippled the vehicle. Fortunately, it was stuck in third gear and we managed to limp home.

Renault South Africa was alerted to the problem and provided excellent service in getting the vehicle to a dealership. Despite us not owning this Duster, it was still a sad sight to see it leave on the back of a flatbed recovery vehicle. A quick Google search suggested that a stuck clutch pedal is not an uncommon problem and most times, it's easily remedied by actually reaching down and physically pulling the clutch back out by hand. No mechanical problem was found and the Renault Duster was returned to us the next day, but Renault SA insisted on sending us a second unit as a replacement. This second unit is what you see here in the video and we're happy to report that the second Duster performed without fault.
Renault Duster 1.5 dCi Dynamique 4WD – Quick Specs
Price: R304 900 (March 2017)
Engine: 1.5-litre, 4-cylinder turbodiesel
Transmission: 6-speed manual
Power: 80 kW
Torque: 240 Nm
Fuel Consumption: 5.2 L/100 km (claimed)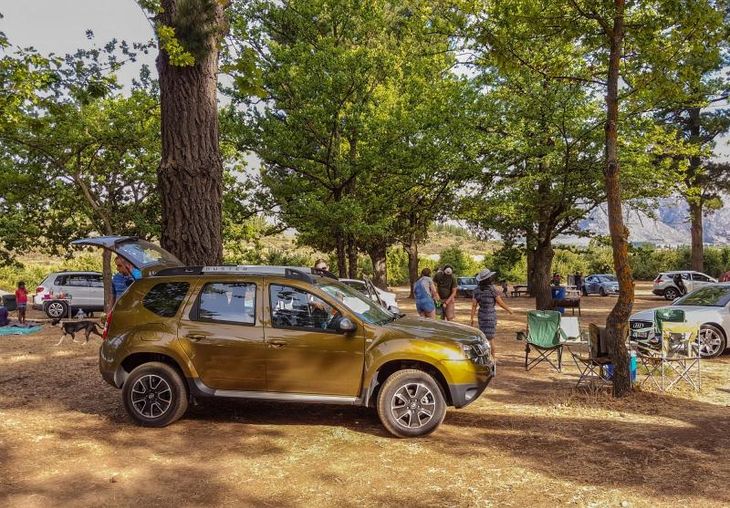 A family picnic in Ceres. The Duster swallowed a fair amount of chairs and cooler boxes with ease. With five people on board, it did not struggle on the open road either.
The Positives
The Duster is an uncomplicated, unpretentious vehicle. Unlike other crossovers, which look like they could venture off-road, the 4WD Duster does "what it says on the tin".
The engine may sound a little agricultural, but it performs willingly. The vehicle is light on fuel and after many open road trips, we were averaging 6.3 L /100 km.
It features a basic all-wheel drivetrain with a centrally locking differential. Sourced from a Nissan X-trail, this system provides traction in off-road conditions. It was capable and we scaled some terrain (dirt roads and loose sand) that only 4x4 vehicles could traverse.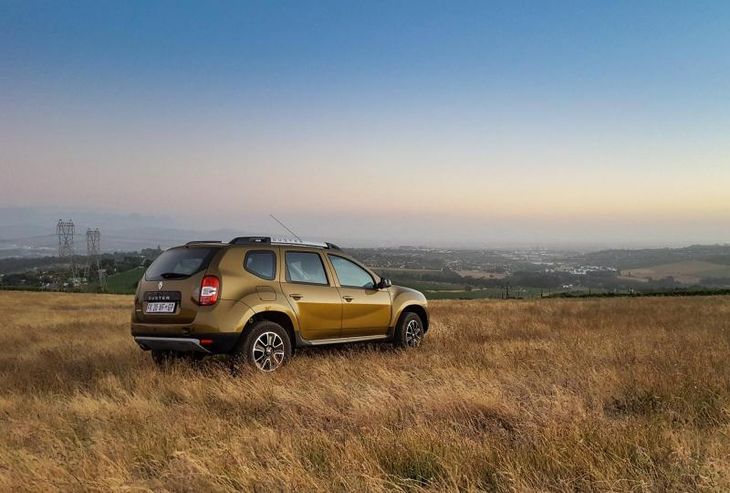 With 4x4 mode engaged, the Renault Duster climbed a hill. Thanks to the centre-locking differential and 210 mm of ground clearance, the Duster proved capable.
It's easy to switch to 4x4 mode as the vehicle offers a drive select rotary dial. You can leave the vehicle in full auto, when it's essentially a front-wheel-drive biased all-wheel- drive vehicle or save some fuel (like we did) and force the vehicle to stay in two-wheel drive mode. Ground clearance of 210 mm is commendable.
The 1.5dCi Dynamique 4WD's specification level is generous; it features nice-to-have features such as cruise control with speed limiter, satellite navigation, Bluetooth connectivity and a USB port. Rear parking sensors are a welcome feature too.
The safety specification includes anti-lock brakes, traction control, stability control and 4 airbags.
The cabin space is generous and we frequently travelled 5-up (driver and 4 passengers) on holiday road trips. On one occasion, we filled the boot with picnic baskets, cooler boxes and chairs. You can fold the seats down for more space, but it's still a tight squeeze to get something like a mountain bike in there.
The Negatives
The stuck-clutch incident. After holiday jaunts that covered a few thousand kilometres of tar, gravel and sand, it was a pity that the clutch pedal "misbehaved". Renault offered us a courtesy car while the Duster was being seen to, which we didn't need due to such a quick turnaround time.
The cabin is very plasticky. Sure it appears to be hard-wearing plastic, but the interior nonetheless reflects the value-for-positioning of the Duster range. Still, we can't complain that much as this derivative is relatively affordable given its specification and the breadth of its abilities.
The positioning of the infotainment screen is a little too low. We often asked the front passenger to input commands as we felt uncomfortable taking our eyes off the road.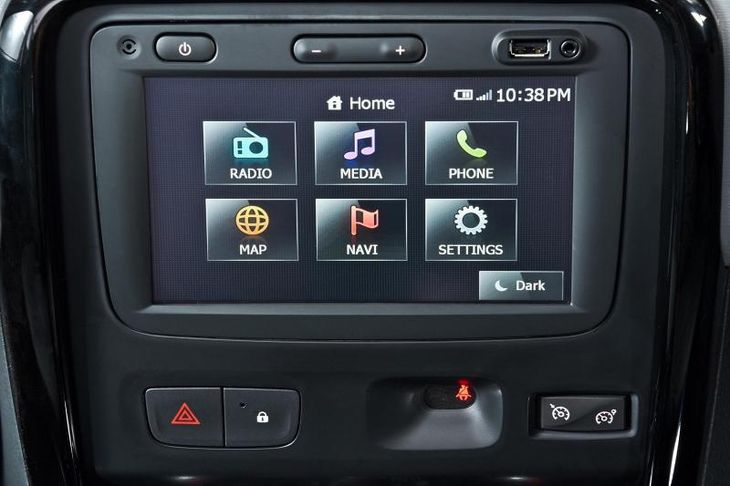 The simple interface of the Duster's infotainment system. The only downside is the positioning, which is too low.
The lack of an automatic in the range is regrettable. The manual gearboxes are adequate, but an automatic transmission would broaden the Duster's appeal immensely.
First gear is an extremely short ratio. It's best used as an off-road crawl gear and frequently we'd find ourselves pulling off in second gear.
Summary
The Renault Duster acquitted itself well over the test period and we're happy to recommend this model to small families who require something simple, affordable and, for the money, very capable and versatile. The practicality, off-road ability and features in the Duster make it an excellent value-for-money offering and the service experience from Renault Tableview was commendable. The clutch gremlin appears to have been just that: a gremlin – because apart from that there was nothing about the mechanical or build integrity that we could fault.
The 1.5-litre turbodiesel is the one to have; once the engine produces its peak torque at 1 750 r/min, there is plenty of in-gear shove. It proved economical to run and while the indicated consumption was sitting in the 7s (L/100 km) around town, some open-road driving saw the readout drop to 6.3 L/100 km. Its road holding is stable on gravel and felt completely at home on sand. The Renault Duster is plucky, capable and we liked how uncomplicated it was. What's more, there aren't many compact family cars with all-wheel drive capability... and, for the record, this derivative comfortably undercuts the Cars.co.za Consumer Award-winning Suzuki Vitara's AllGrip (petrol) derivatives on price. It is no wonder Renault sells so many!
Related content:
Renault Duster updated in South Africa
Renault Duster Oroch Double Cab First Drive
Renault Duster 1.5 dCI 4WD in-depth review
Looking to buy a Renault Duster?