The 4th-generation Clio RS received mixed reviews, so the performance arm of Renault set about making the updated model worthy of its RS badge. Has the French firm got it right? We hit some Western Cape mountain passes to assess the newcomer's skillset.
Renault Sport has made some great cars, past and present. It doesn't pander to compromise or comfort; its products are aimed directly at the driver who wants to drive fast and accurately and, when the opportunity presents itself, unleash their machine on a race track. As a result, many of its products are hard-edged and difficult to live with on an everyday basis. It's impossible to add race suspension and then make it soft and cushy over a speedbump, especially when you're targeting the lower end of the performance market...
What's new?
In terms of exterior treatment, the newcomer is still instantly recognisable as a Clio, but this updated version has a few new tricks up its sleeve. Those fog lights (in the pattern of the RS logo) provide a signature lighting detail and double up as cornering lights. The headlights now sport C-shaped LED strips, similar to those of the Megane.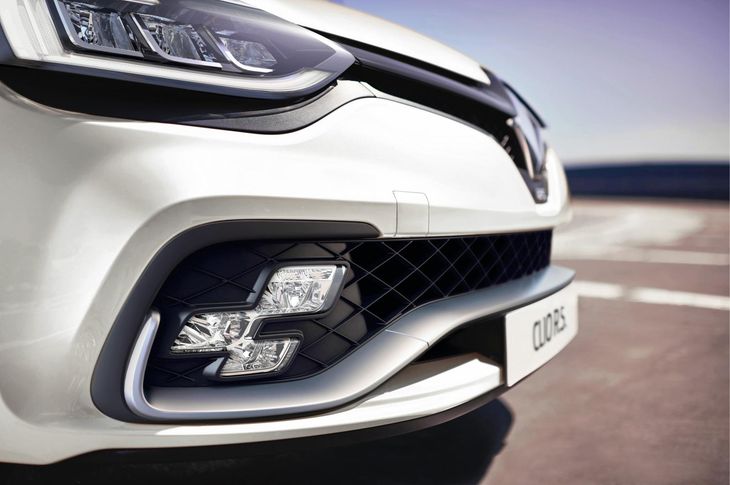 Chequered flag inspired foglights double as cornering lights.
Step inside and it's like walking into a Renault RS gift shop. RS badges are decked all over the cabin, the seats, steering wheel and gear lever are garnished with red stitching and although the dashboard and surrounds are designed to look like they were made from carbon fibre weave, they're finished in a pleasant soft-touch rubber material, as a matter of fact. It's actually quite a premium cabin (once you start prodding the panels and finishes) and appears solidly-built too.
That gearbox?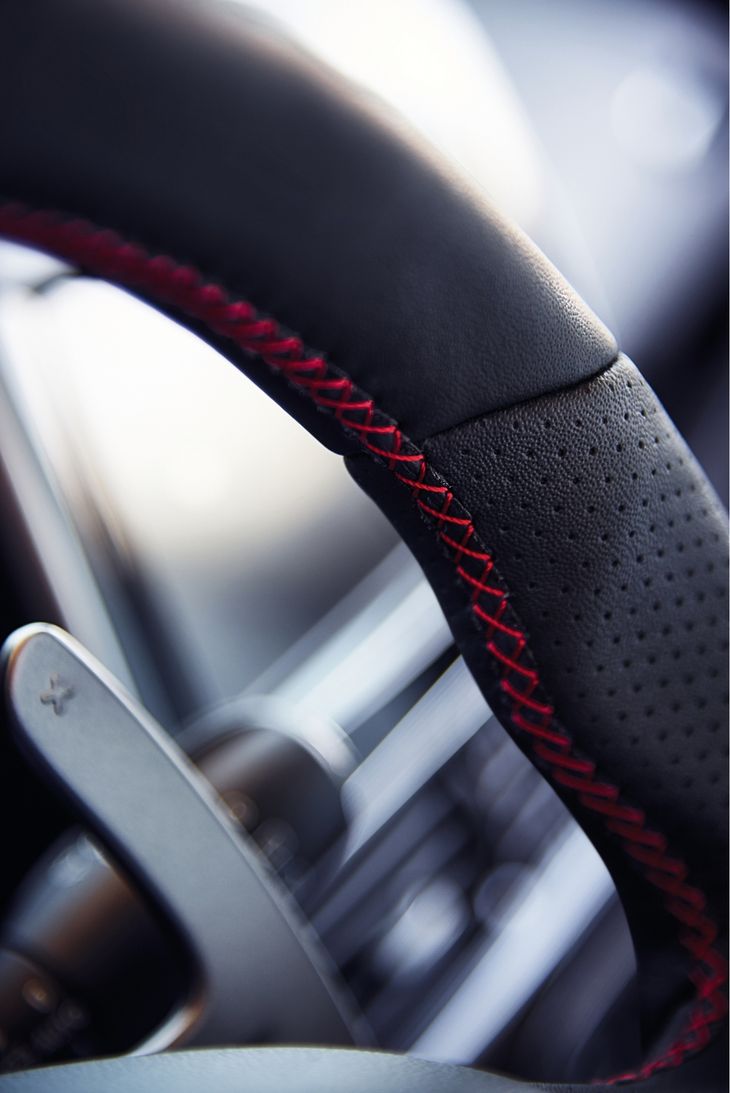 Gearshift paddles have a thick metallic feel to them, but are column-mounted (instead of wheel-mounted).
The biggest criticism of the previous Clio RS was its clunky and unintuitively shifting dual-clutch transmission. After nearly 400 km with this updated model, I couldn't fault the 'box's performance. Its shifts (up and down) are brisk and the responses from the shift paddles are immediate... In fact, Renault claims the Clio's gearbox is as fast at swapping cogs as a Nissan GT-R's. I'm still not a fan of the paddle shifters being mounted on the steering column instead of the wheel – I often found my fingers grasping fresh air instead of a paddle.
Speed thrills
Powering the Clio RS is the same 1.6-litre turbocharged petrol engine as before. There are 2 versions of the RS to choose from, a hardcore RS Lux model and an inside-wheel lifting, borderline crazy, RS Trophy derivative. The Lux has peak outputs of 147 kW and 260 Nm and the Trophy 162 kW has an overboost function that lifts the torque to 280 Nm. Both manage sub-7 second 0-100 kph times with the Lux claimed to clock 6.7 seconds and the Trophy 6.6 seconds.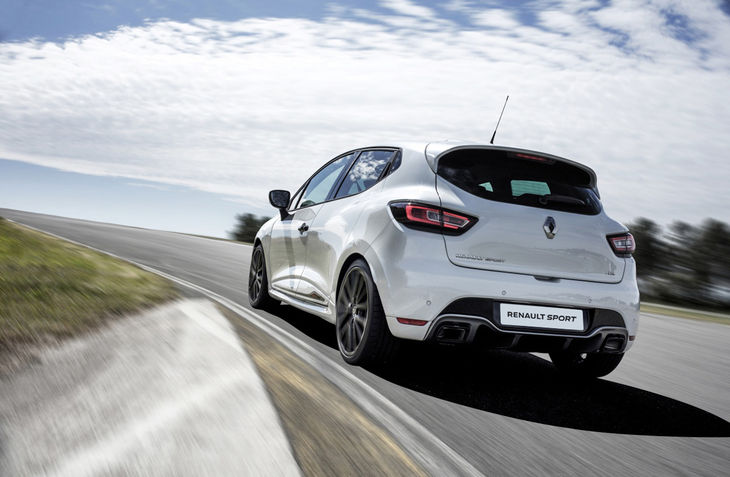 The trophy has Akrapovic exhaust pipes that add a serious amount of aural pleasure to the experience.
The Trophy model stands out from the Lux with its larger wheels (18-inch), lower ride height, stiffer springs, red brake callipers (and 320 mm discs) and an Akrapovic developed exhaust system. The exhaust is noticeably similar in sound to that of the Megane RS Trophy. It gives the Clio Trophy a distinctive backing track to go with its prodigious speed and handling prowess. It certainly gives the Golf GTI and R a challenge in the vrrr phaa stakes.
Mountain passes
We were set the challenge of conquering both Bains Kloof pass and Franschhoek pass over the course of the day's route. Bains Kloof is treacherously narrow with nothing more than a few painted stones on the verge to stop you from tumbling into the abyss below. It's bumpy too. We thought it best to start this section with the less rigid Lux model.
It turned out to be a good choice, because the Lux's slightly softer suspension was still firm over the bumps, but never upset by the constant jolting. The small hatch was quite suited to this narrow, point-and-squirt section of tarmac, its proportions allowing you to (just about) clip the inside mirror on the cliff-wall-cum-apex before powering out. Delivering short bursts of acceleration between 2nd and 3rd gear is the Clio's strong point.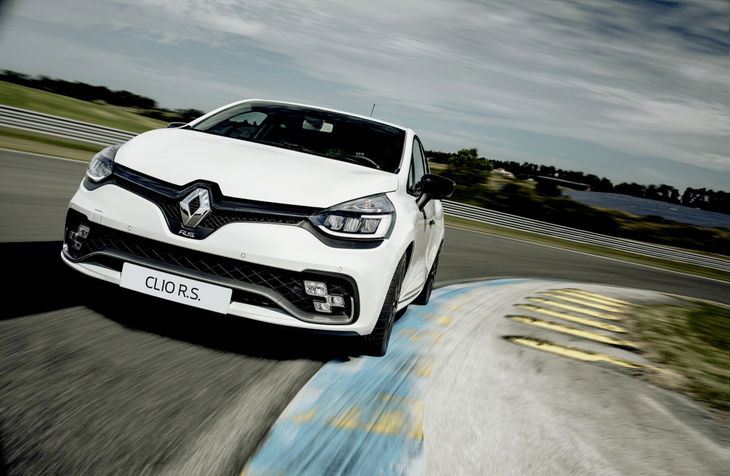 The Clio RS deals in grip and agility that none of the pocket-sized superminis can match.
For the much smoother – and wider – Franschhoek pass, the Trophy makes sense. Look, if you're a driving aficionado and can afford to buy into the RS brand you may as well go all-in. The Trophy is rewarding, grippy and delivers aural thrills aplenty. You won't be disappointed by its cornering abilities, but its ride quality is bone-crushingly hard... it's something you're just going to have to live with. If you plan to the commute with the Trophy, you will in all likelihood going to occasionally lose your cool by virtue of the suspension.
Track gadgets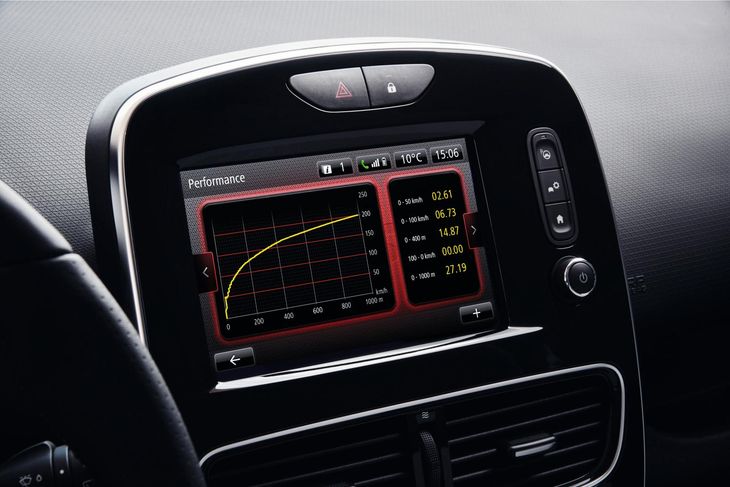 Downloadable track data that can be analysed later. That's every track day enthusiasts must-have.
Built into the infotainment system is Renault's RS monitor, an application that stores all the car's data, such as throttle positions, brake pedal applications, G-forces and a whole bunch of engine graphs. There's a lap timer too and all the data is available to download to an SD card. It's the perfect track day tool and a reasonable replacement for a Vbox data logger.
Summary
The Renault Clio RS is not the "performance bargain" it once was when compared with the Fiesta ST and Polo GTI. Then again, it's a more focused driver's car than either the Ford or the Volkswagen. It would be interesting to see how much faster the Renault is than those 2 over a single lap... and whether it would be worth the ride comfort you'd have to sacrifice. Given the improvements to the gearbox, we feel the car is an improvement over the previous version. Specification at this price level is fair and the only options worth considering are the limited edition yellow or white paint finishes. It's hard, it's fast and it's involving. A Renault Clio RS, in other words.
Check out the specs of the Lux and Trophy models here
Related content
Ford SA Releases Hotter Fiesta ST
Drag Race: BMW i3 vs New Polo GTI - Electric vs Petrol
Hot Lap Race: New VW Polo GTI vs Ford Fiesta ST
2018 Volkswagen Polo GTI Spied
All-new Ford Fiesta ST Revealed [with Video]
Searching for a used Clio RS?