The Range Rover Velar has gained a mighty engine to match its sumptuous style. However, with a raft of powerful SUVs lined up to tempt affluent buyers to part with their dough, what makes this SVAutobiography any different?
We like: Sound, comfort levels inside and out, performance.
We don't like: Needs to address its drinking problem.
Fast Facts
Price: R1 724 350 (R1 840 650 as tested)
Engine: 5.0 litre supercharged V8
Power/Torque: 405 kW/680 Nm
Transmission: 8-speed automatic
Fuel economy: 11.4 L/100 km (claimed)
​Load space: 834-1 705 litres
Own a Range Rover? Tell us about your experience here.
SERIOUS ABOUT BUYING?
What is it?

The Velar SVA has oodles of kerb presence, especially when shod with 22-inch diamond-edged rims.
As the Velar gets on in years (it's only a year old) so the range will proliferate with additional derivatives coming to market. A quick look at the current Velar lineup shows 65 different variants of Velar on offer. So why another one? Well, simply put, this is the pinnacle of the range.
It features the brand's legendary (it's 10 years old) 5.0-litre supercharged V8 engine, style upgrades to the front and rear to make the newcomer look ultra-aggressive and an interior lavished with the most luxurious materials Range Rover has to offer.
There have been a few mechanical upgrades to deal with the extra power (and, of course, speed) and a notable price tag slapped on the bonnet. The Velar SVAutobiography (SVA) is only available for a year, so the exclusivity of it does go some way towards justifying the price hike.
How it fares in terms of…
Kerb appeal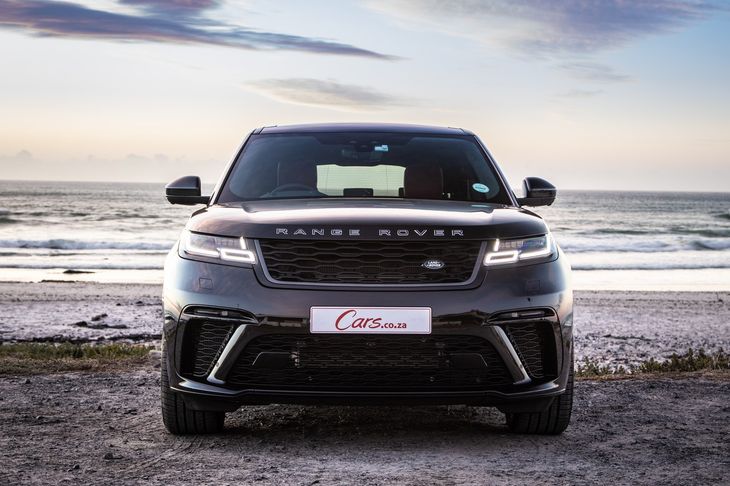 The SVA has a new bumper and wider intakes to feed the supercharged V8.
Even the bog-standard Velar oozes suave, classy appeal, but this SVAutobiography is something else!. The front-end gets a new bumper treatment and bigger air intakes to feed/cool the supercharged V8, whereas the rear is dominated by integrated quad tailpipes that emit a soundtrack akin to a Highveld thunderstorm. The test unit model was clad in Santorini Black with a Narvik Black roof giving it a black-on-black look that would not look out of place on the film set of a Hollywood crime caper. There are lighter, less "gangster" hues available, but this certainly makes a big statement.
The badging on the Velar SVA has been blacked out, but moreover, it's finished in a textured ripple, which Range Rover describes as knurled metal. It's also running on optional 22-inch dark grey rims with diamond edging and a sparkle finish. Twenty-one-inch rims are standard and more suitable to those who like a little more give from the tyre sidewall, which would add a degree of pliancy to the SVA's ride quality.
This Velar SVA cannot be described as bland or boring, which are labels that its German rivals have been lumped with by some detractors.
Performance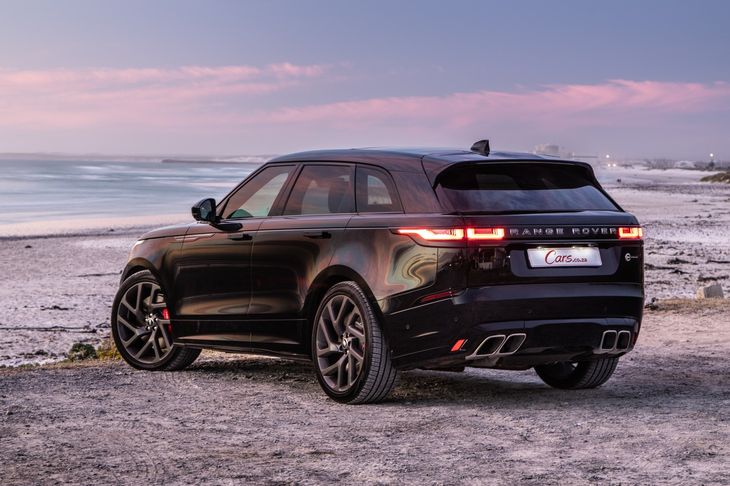 There is plenty of noise to match it's brutish power thanks to quad exhaust pipes.
With 405 kW and 680 Nm at your beck and call, the Velar SVA doesn't lack for performance. It's powered by the same engine as the Jaguar F-Pace SVR and in the same state of tune too. The 0-to-100 kph benchmark is reached in a claimed 4.5 seconds and the top speed is about 274 kph.
It's a brute... in no way is this a scalpel or any tool in a surgeon's err, surgery, for that matter. It's about as subtle as using dynamite to get rid of a pesky mole in your yard. Anybody who happens to be looking the other way when you drive by will hear you, even if they're in a different province.
There is a button to activate the exhaust flaps and boost the volume of the mechanical cacophony, but in standard mode, it's already a 10 on the loud scale, so the button just cranks it up to 11.
To deal with the extra speed, the SVA has bigger brakes to stop its 2-tonne frame better. Red brake callipers add further dazzle to the wheel area although you can get gloss black variants for a more discreet look.
The biggest gripe with the performance is the hefty fuel consumption. The claimed figure is 11.8 L/100 km but we saw 14.2 L/100 km after our 2 weeks with the car and even at a steady 120 kph you rarely drop below 12. The result is an 82-litre fuel tank with a range of around 300 km...
Ride and handling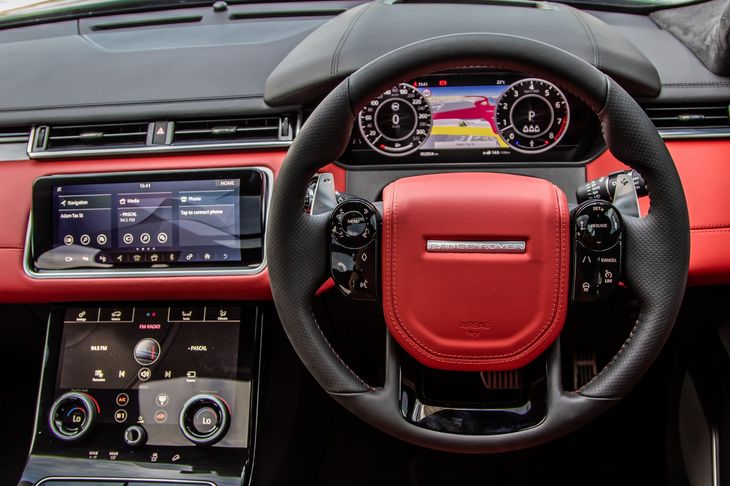 A unique steering wheel and plenty lavish leather make the SVA feel special inside.
This is where the SVA separates itself from the rest of the performance SUV gang. It's not a wannabe track-bred SUV with stiff suspension and a benchmark Nurburgring lap time on its resume. It has some upgrades, yes, such as beefed-up anti-roll bars and a firmer air suspension, but that's nothing compared to the transformation JLR applied with the F-Pace SVR.
It has torque vectoring (to aid handling ability under hard cornering), but the Velar flagship doesn't feel like a car with which you'd attack a mountain pass. It can do it reasonably well, but it doesn't feel like it was made for that. As a result, its body exhibits a bit more lateral movement in the twisties.
On the other side of the scale, the Velar SVA doesn't compromise as much on ride quality and comfort as other performance SUVs do; it's all about visual- and aural appeal and leaves all the high-speed cornering malarkey to the F-Pace SVR, that is to say, if you're into that.
Luxurious interior appeal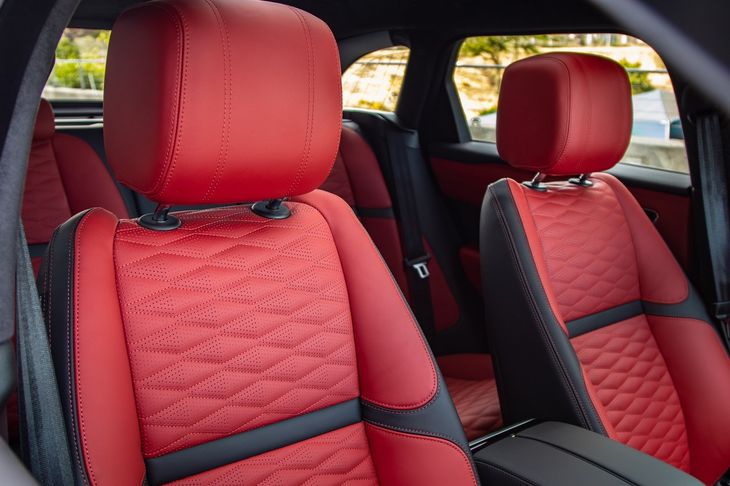 Quilted and perforated leather seats are standard in the SVA.
As an Autobiography labelled derivative, the SVA has to offer up something more lavish than the standard version of the Velar. As a result, it has a combination of ebony and pimento coloured quilted and perforated Windsor leather. For the rest of us, that's black and red... and exquisite.
The seats are heated, cooled and have multiple massage functions. It's a very special place to sit, replete with lots of little touches to remind you this is a special derivative. The rotary gear selector has more of that knurled finish and there's a bespoke sports steering wheel. The high-end Meridian audio system, which incorporates rear entertainment screens and headphones, was specified on our test unit; testers loved the sound it produced.
None of the practicality of the standard Velar is sacrificed, so the load bay remains a sizeable 834 litres with the seats upright. When the rear bench is folded, 1 705 litres of utility space becomes available. A retractable towbar can also be fitted so that the look isn't spoiled when you're not towing.
Verdict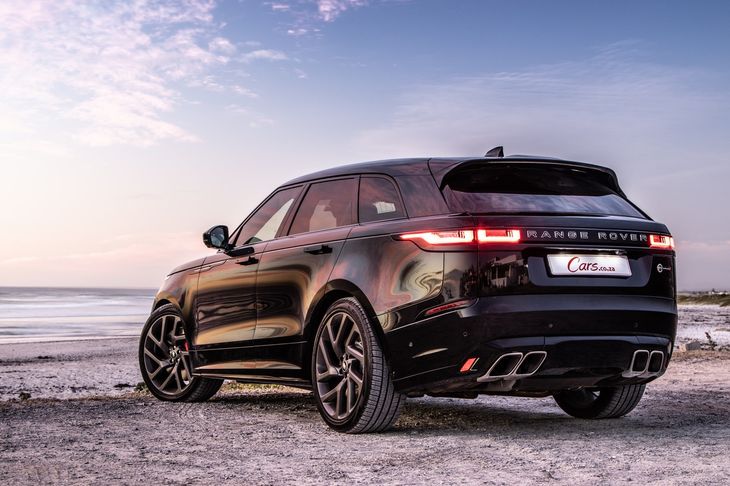 The Velar remains a comfortable and practical SUV while delivering performance thrills.
Performance SUVs seem to all be about lap times, tar-shredding accelerative ability and physics-defying handling, at least that is how the market seems at the moment. If you're really into the way a car handles, then a sportscar (with a lower centre of gravity) will always be a more satisfying option. That's why the Velar SVAutobiography makes more sense: it's not a sportscar, but has wild straight-line performance and a thunderous soundtrack. It makes the most of its size by being brash and in your face, but then, when you drive it, it's still comfortable, especially on long trips.
The interior matches the exterior's appeal with bespoke touches and premium materials that give it a luxurious-but-sporty appeal. The SVA is very expensive, yes, but it delivers a combination of street cred, entertaining performance and exclusivity that few, if any, R1.8-million SUVs can deliver.
Related content:
Range Rover Velar SVAutobiography (2019) Launch Review
Range Rover Velar SVAutobiography Dynamic Edition Specs & Price
High-Powered Range Rover Velar for SA