The Porsche Taycan's interior has been revealed and it's rather pretty…
Porsche is currently in the process of bringing its first all-electric car to market and the model will be fully revealed on 4 September 2019. Nonetheless, Porsche has released images showing us what the interior of the Taycan will look like and it looks impressive.
It's a display of displays and the cabin can be equipped with up to 4 screens, all serving different functions, not only for the driver but the passenger too.
Firstly, the 16.8-inch instrument cluster is free-standing and curved. It doesn't have a cowl to reduce glare but instead features a vapour-deposited polarising filter that reduces reflections. As you would expect, the screen is adjustable with 4 modes on offer including Classic, Map, Full Map and Pure. Note the touch-points on the sides of the instrument cluster which provides quick touch-access to features such as lighting, suspension and traction control settings.
Directly to the right of the instrument cluster is a 10.9-inch infotainment screen with voice control responding to the words 'Hey Porsche' and here the driver has access to features such as media, navigation, telephone and Porsche Connect, and so forth.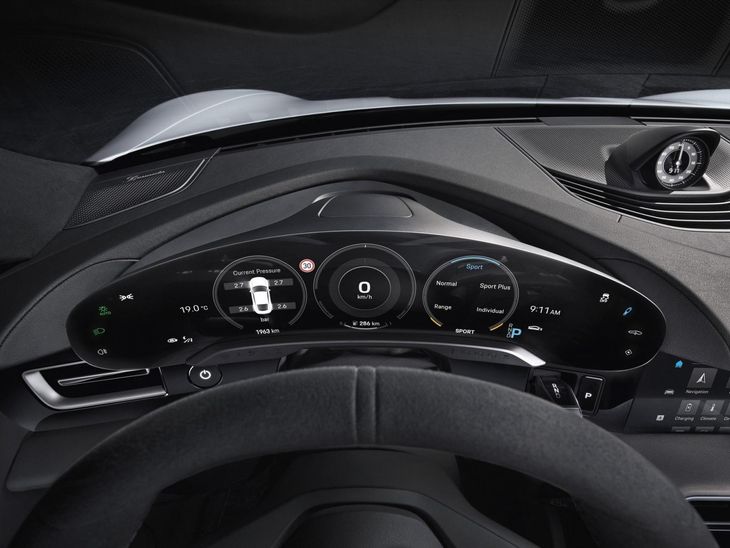 The instrument cluster looks quite similar to the 2015 Mission E Concept on which the Taycan is based.
Below that and angled into the centre console is an 8.4-inch touchscreen with haptic feedback, providing access to the climate control system and allows setting of the seat ventilation. This screen also has handwriting recognition technology which allows the driver to write addresses for easier navigation.
As an option, Taycan owners will also be able to spec a fourth 10.9-inch screen placed directly in front of the passenger. But that's not all as a fifth 5.9-inch screen can be fitted in the rear to give rear passengers something to play with where they can operate climate control settings as part of the optional 4-zone climate control package.
A great touch to the interior is the use of recycled materials including optional Race-Tex upholstery made from recycled polyester fibre while the floor carpets are made from Econyl which is made from recycled fishing nets. Nice one, Porsche!
Electric Power
Previously, Porsche confirmed that the Taycan will make use of 2 electric motors fed by a battery pack comprising 4-volt cells, which equates to a range of 500 km. The battery pack can be fast-charged to 400km (80%) in just 15 minutes.
The combined power output of the synchronous electric motors - each of which powers an axle - is confirmed at 440 kW making the Taycan a rather lively machine. It's zero to 100 kph sprint time of under 3.5 seconds puts it ahead of the Panamera Turbo Sport Turismo in the acceleration stakes.
We will provide more details when the Porsche Taycan is revealed, so stay tuned!
Buy a new or used Porsche on Cars.co.za
Related Content
Porsche Releases Taycan EV Specs
New Electric Porsche Taycan Coming [w/video]