Do you love the idea of a Panamera but still find its "4-door 911" look too compromised? Porsche has just the car for you. It's called the Panamera Sport Turismo and it is a remarkable thing.
Confession: Days before driving the Porsche Panamera Sport Turismo I mapped out a launch report verdict that declared it the car that "Makes Station Wagons Great Again". I even had the #MSWGA hashtag ready to go. It turns out that would've been misguided, because Porsche's latest venture into previously uncharted body style territory is ill-suited to the traditional premium 'wagon duties... You know, such as hauling boisterous staffies and 17th-century French writing desks. Sure it'll swallow a few large suitcases and a matching his & hers pair of Louis Vuitton Keepall Bandoulières, but don't imagine it as a Panamera with its practicality dialled up to eleven. Instead, the newcomer's real trump card is the visual impact of "that ass".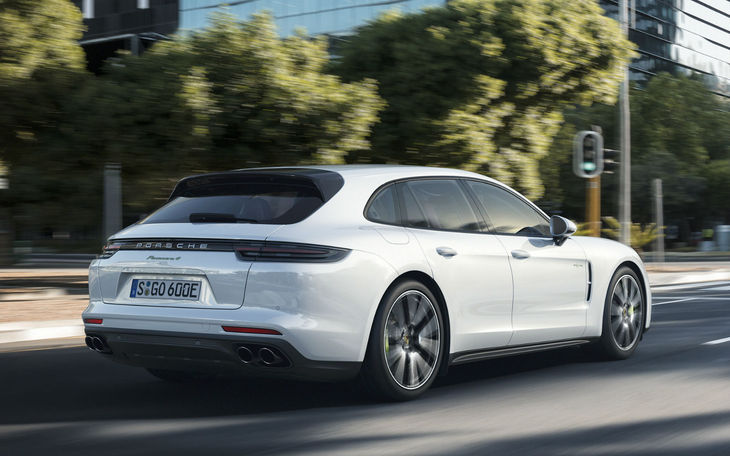 When you view the Sport Turismo in motion, its rear 3-quarter lends an element of overt dynamism to the Porsche's appearance.
Design matters
While it's widely accepted that Porsche, under the masterful design direction of Michael Mauer, has produced a far prettier, 2nd-generation Panamera, there are potential customers – possibly still mentally scarred by the flatnose humpback original – who don't fully resonate with its large fastback profile. They also have no desire to join the sports SUV brigade, therefore ruling out a Macan or Cayenne. It's this nichey middle ground that Porsche has nailed so beautifully with the Sport Turismo.
Follow one down a twisting, tree-lined country road and you can't help but fall for its wide and squat stance, muscular haunches, low roofline and tapered glasshouse. It's a design covered in delicious details such as Sci-Fi-spec four-point LED headlights (surely the coolest lamps in production today) frameless side glass, full-width rear light strip complete with chrome on black Porsche script and a deployable roof wing, not to mention the Acid Green 6-pot front brake calipers and badge highlights on the astonishingly fast Turbo S E-Hybrid model.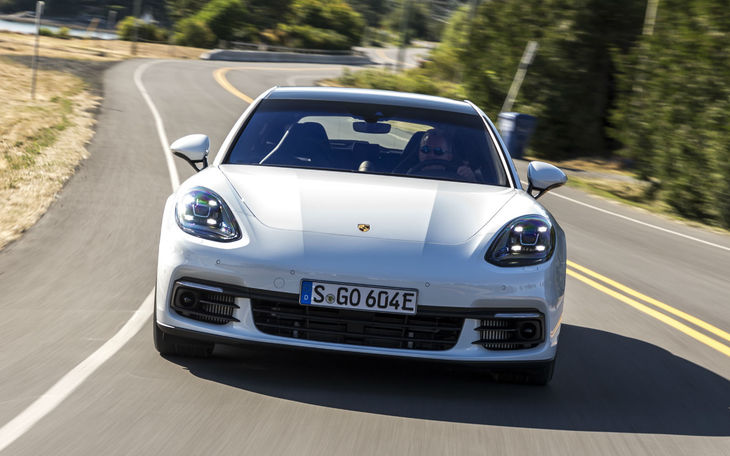 The Sport Turismo's 4-point LED headlights must rank among the coolest lamps in production today.
So, what's it like to drive?
First impressions from behind the wheel of the new Sport Turismo Turbo are weighty and I'm not just referring to the car's 2 035 kg kerb mass. Every aspect, from the steering to the creamy power delivery and the seamless shifts of the new 8-speed PDK transmission, features a solidity that could only stem from thorough engineering. It rides with supreme authority on its 3-setting air springs, providing a level of comfort befitting a genuine luxury sedan as well as the high-speed body control you'd expect from a track-capable family-friendly sports car.
Powered by a 4.0-litre bi-turbo V8 that delivers 404 kW and 770 Nm of punch, every intentional twitch of your right ankle is met with an equally punchy thud in the back. Yes, it's all high praise, but then the Sport Turismo is hard to fault. On that note, perhaps it's a little too well insulated. If you want front row seats to the engine's aural performance, then you'll need to tick the optional sports exhaust box.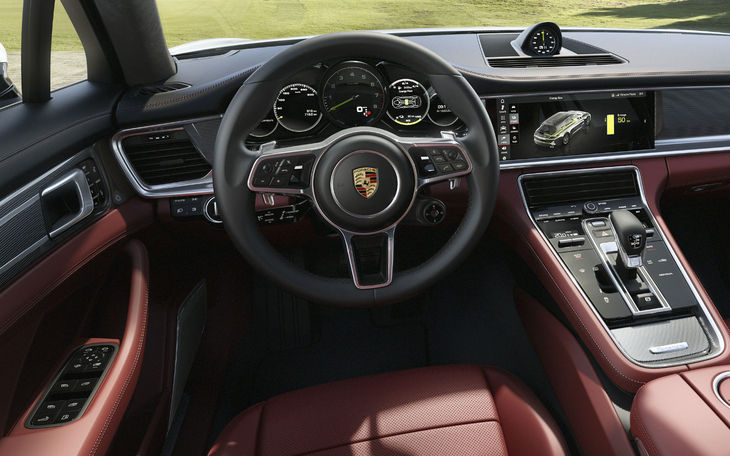 The interior design is, as expected, driver-centric, but strikes a tasteful balance between sportiness and sophistication.
Initially available in 4 flavours
When the first batch lands mid-January 2018, the all-wheel-drive Panamera Sport Turismo line-up will more or less mirror that of the sedan, starting with a model called 4. Priced at R1 491 000, its 3.0-litre turbo V6 delivers 243 kW and 450 Nm. Trumping that is the 4S which makes use of a 2.9-litre bi-turbo V6 to achieve outputs of 324 kW and 550 Nm – yours for R1 717 000. Next up is the V8-engined Turbo model at R2 572 000 with the Turbo S E-Hybrid capping off the range and expected to cost around R3 million.
Hybrid theory
There are subtle differences between non-hybrid and hybrid models. The cost of electrification is around 200 kg in added mass but its positioning (low and central), along with perfectly retuned active air suspension result in a ride that is even more unflustered by minor surface irregularities. Throw in a measure of instant electric shove, and the potential of up to 50 battery-power-only kilometres and suddenly the inclusion of plug-in tech on the range-topping Turbo S E-Hybrid makes tonnes of sense.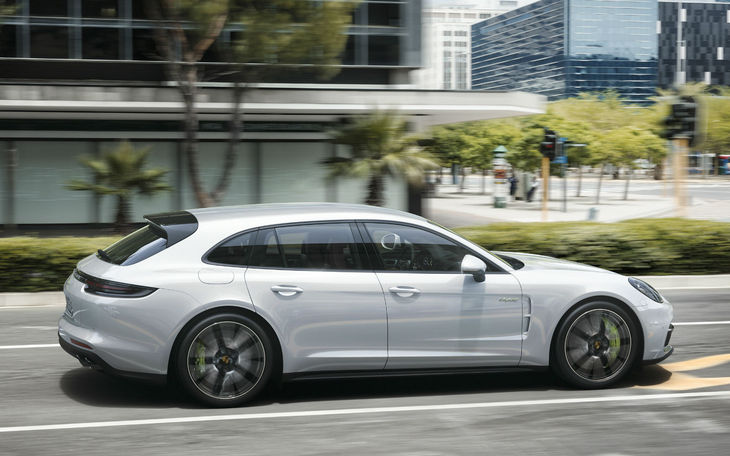 With total system outputs of 500 kW and 850 Nm, it's little wonder that the Panamera can hit 100 kph from standstill in 3.4 sec.
Add in the party trick of launch controlled starts that give the rude finger to physics, propelling the 2.3-tonne machine with all the instant violence of a medieval catapult. But there's nothing Middle Ages about the powertrain, which adds 100 kW of electric drive via a 14 kWh liquid cooled lithium-ion battery to the bi-turbo V8 for total system outputs of 500 kW and 850 Nm. For the record, 0-100 kph acceleration runs take 3.4 seconds – we know, we tried them, repeatedly (insert winking emoji here).
Charging the battery at home takes around 6 hours using the standard 230V 10A charger. Unless you have engaged E-Charge mode, the petrol engine isn't tasked with charging the battery, which relies largely on brake energy recuperation to rejuice on the go. As a result, brake feel is sometimes inconsistent when harvesting, but you quickly become accustomed to it.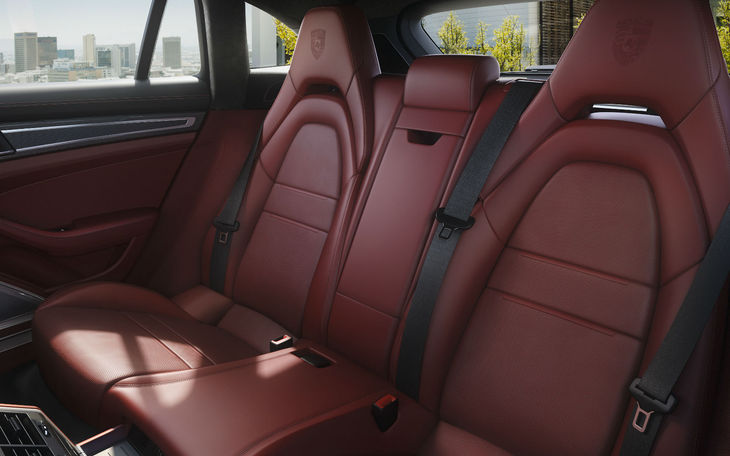 Another notable difference between the Sport Turismo and standard Panamera is the adoption of a 2nd row middle seat as standard.
So how practical is it really?
As intimated earlier, there are small changes over the otherwise mechanically identical Panamera. Reworking the rear surface volumes has allowed Porsche to prise another 50 litres of luggage area from the boot which now measures 520 litres. A lower loading height, courtesy of a tailgate that cuts down far deeper than on the sedan, makes for easier access. As with the regular car, the rear seatbacks tip forward individually to create a reasonably flat floor and boost cargo volume to 1 390 litres.
Another useful change is the adoption of a middle seat in the second row as standard. Don't fret, you can option the centre console back in if you'd prefer the 4-seater business class look. Anchor points in the boot and the choice of a flexible, retractable luggage cover or a hard lid round off an easy-to-live-with package that makes the most of the real estate on offer.
A conclusion... revised
So while the Sport Turismo is patently not king of the station wagons it is everything else you'd want from a five-seater sports car. So beguiling to look at, so agile and responsive for its size and weight, so astonishingly comfortable and so fearsomely fast in hybrid spec, you can easily imagine squashing continents in one at great pace and in great, insulated comfort. In essence it lives up to its name perfectly. It is the car to Make Sports Touring Great Again.
Watch a Panamera Turbo S E-Hybrid Sport Turismo in action:
Further reading:
Porsche Panamera 4S (2017) Video Review
Porsche Panamera (2016) First Drive
Porsche Showcases Most Powerful Model
Porsche Panamera 4S (2017) Video Review
Porsche Produces 1-millionth 911 [Video]
SentiMETAL: – Porsche 930 Turbo [Video]
Want to buy a Porsche?