Porsche has finally introduced a "fastback" Cayenne, but has the Zuffenhausen-based brand's newcomer leapt to the front of the Premium SUV Coupe class? Lance Branquinho reports back from the international launch in Austria.
A decade after BMW started the trend of large fastback SUVs with its X6, Porsche has responded with a rival product, evolved from its 3rd-generation Cayenne platform.
For the world's most iconic sportscar brand, a Cayenne Coupe was somewhat inevitable, especially if you consider that more than half of Porsche's revenue now comes from the sales of vehicles that are capable of gravel travel. At the global launch event, on location in Austria, engineers admitted that a sloping roofline version was always part of their R&D brief for the latest-generation Cayenne.
Conceptually, the Coupe is a re-bodied Cayenne, albeit with less luggage capacity. The newcomer is aimed at owners who prioritise design and sheer kerb presence above the virtues of absolute utility. Although most of the mechanical hardware is borrowed from the long-roof Cayenne Premium SUV (engines, drivetrain and suspension components being identical) there are subtle differences that distinguish the coupe version.
Own a Porsche? Tell us about your experience here.
Longer and lower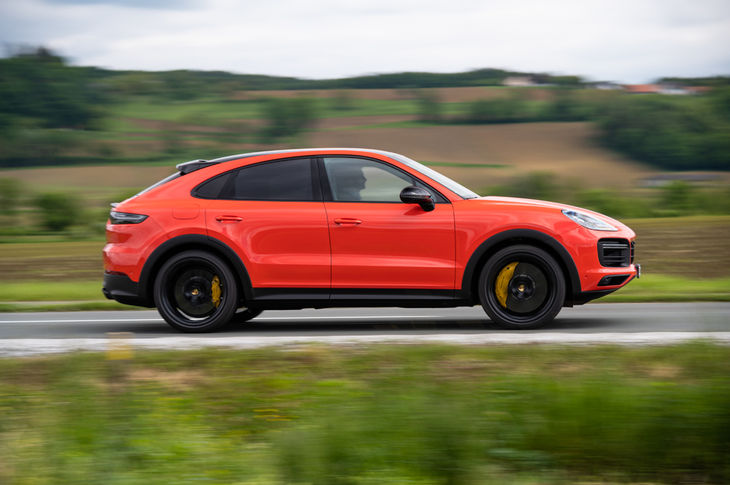 The inevitable Coupe SUV derivative Cayenne delivers more visual appeal than the marque's standard Premium SUV.
The coupe's fastback shape alters some of the Cayenne's dimensions, being 30 mm longer bumper-to-bumper, with a higher shoulder line running across the car's flanks. The A-pillar is slightly slanted too, and the B-pillar falls in proportion with the more curved roofline – a styling detail that can be traced back throughout the history of all 911s. Brand purists may appreciate a gesture towards historical design values in Porsche's SUV-line...
And the Cayenne Coupe's most distinguishing feature? Technically, it is 20 mm lower, improving the coupe version's centre-of-gravity, and it comes in 2 structural options: either carbon-fibre or glass. All Cayennes default to having a full panoramic glass roof, with a radiation shielding blind inside. For markets without an abundance of sunshine, the panoramic roof is novel – but in South African conditions it could become an annoyance.
The carbon roof, which improves the model's driving dynamics and appearance, is by far the better option. Available as an option on all derivatives in the range (and part of the coupe's lightweight package), it not only trims weight, but looks great too.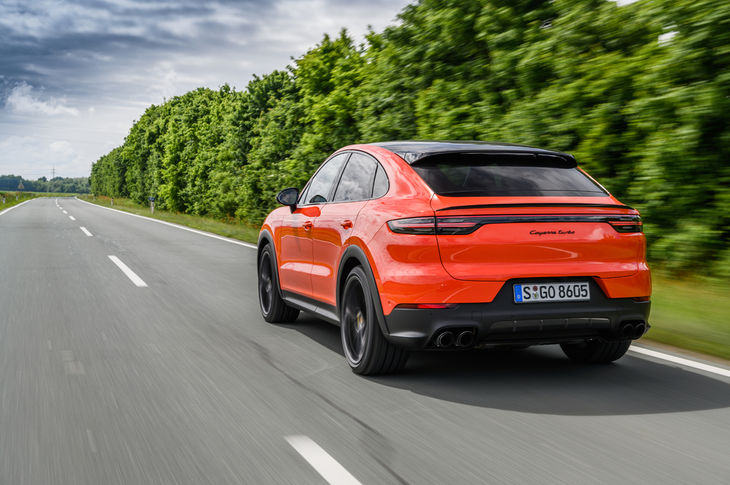 The decision to stick with the panoramic roof, or opt for a weight-saving carbon roof, may be a tough decision.
Beyond the roof structure, Cayenne Coupe is also 18 mm wider, thanks to redesigned rear doors and fenders. Porsche's original Cayenne was never celebrated as a moment of inspired design, but this coupe version of the 3rd-generation Premium SUV is arguably the most attractive iteration yet. The sensuously sloping roofline and more steeply raked rear window give the Cayenne Coupe a nearly symmetrical teardrop silhouette, balancing the front- and rear-3rd proportions of the car particularly well.
Although 21-inch rims are the largest factory standard fitment wheels, two new 22-inch options are available for those who wish to completely fill those wheel arches. Dedicated Porschephiles will notice that the images on this page detail the range-topping Cayenne Coupe Turbo, finished in lava orange and rolling on 10-spoke matte grey wheels, replete with yellow brake callipers. And yes, that aesthetic will appear strangely familiar, because it is the same colour scheme first shown on the 991 GT3 RS back in 2015.
Snug inside
The lesson learnt from other full-sized fastback SUVs has revealed that the attractive styling silhouette of a curved roofline isn't achieved without a compromise to cabin architecture. Porsche's typically methodical engineers have mitigated the lower roofline's effect of engendering rear-passenger claustrophobia by also lowering the seats by 30 mm – a reversal of the dominant stadium seating trend for passengers in most luxury SUVs.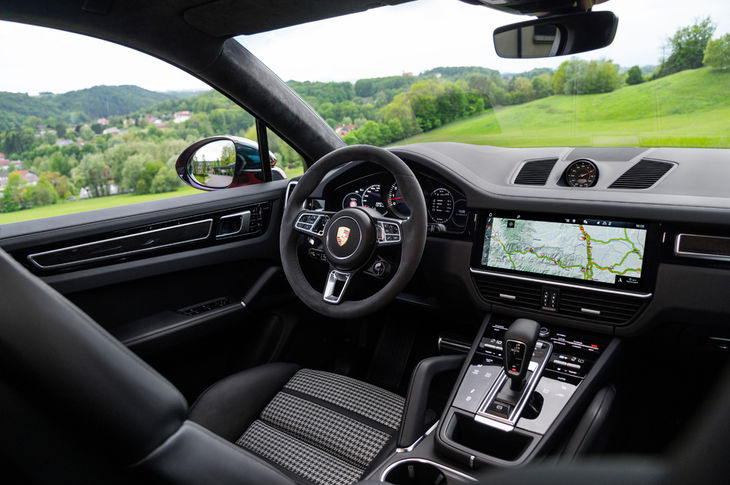 This generation has reduced the interior button count with more touchpads.
Coupe customers also have the option of either individual rear seats or a 3-seater bench, although I imagine most would prefer the passenger comfort of those adjustable individual seats, which can recline to a more comfortable cruising posture of between 11- and 29-degrees. The most inspiring seating feature is the upholstery, with an optional houndstooth check fabric option, which echoes that of Porsche's 1967 911S.
The driver information and infotainment interface also blend classic Porsche design themes with contemporary digital requirements. There is no starter button, despite keyless entry; you need to turn the dummy key fob in the ignition barrel to start the Cayenne Coupe. In a market where nearly all its rivals have push-button start, Cayenne Coupe continues to eschew convention in this respect, by honouring Porsche's Le Mans heritage.
The instrumentation binnacle might feature a 7-inch customisable digital display, but it remains anchored by a large analogue rev-counter and although the 12.3-inch high-definition touchscreen infotainment system is wonderfully slick, it still has a master control knob. Audio volume, temperature and ventilation functions all remain manually adjustable, at the touch of knurled-metal-trimmed roller dials.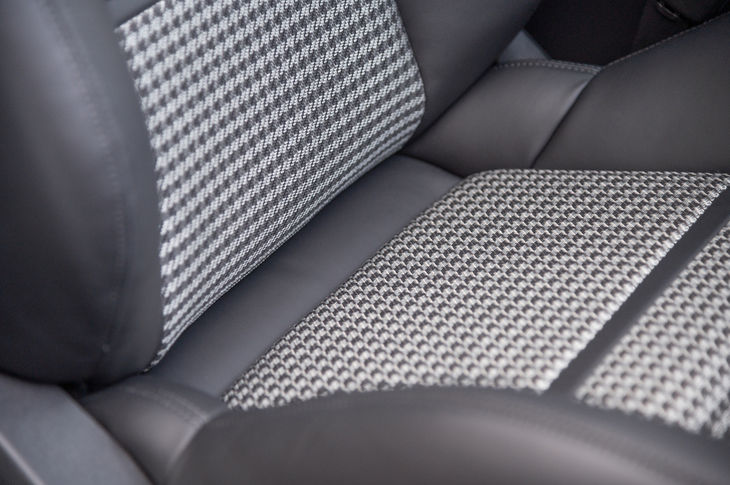 Optional houndstooth check fabric seats are a design-conscious buyer's must-have.
Debits? The coupe version has 145 litres less luggage space than a conventional Cayenne – and that 18% discrepancy becomes proportionally larger if you start stacking luggage to the tailgate's windshield. It must be noted, though, that very few owners of premium SUVs are ever likely to stack luggage to the tailgate's glasshouse because the risk of items becoming in-cabin missiles during emergency braking is simply too high.
Making sense of the sloping roofline coupe
I can't imagine that Porsche's strategic planning staff envision the same customer for both Cayennes. The fastback version is fitted with Porsche's more dynamically alert Sport Chrono selectable power- and drivetrain calibration as standard, suggesting an intuition on the part of Porsche's product planners that the typical Cayenne Coupe customer will be a more enthusiastic driver.
The lower centre of gravity and overall mass cedes a marginal performance advantage to the coupe – not in terms of acceleration, but lateral agility. Austria might be the spiritual home of Porsche, as the company's founder attained his technical acumen in Vienna, but its roads are forbiddingly narrow. Impossibly tight serpentine mountain roads test the cohesion of a large SUV... if you wish to link a series of blind corners at speed.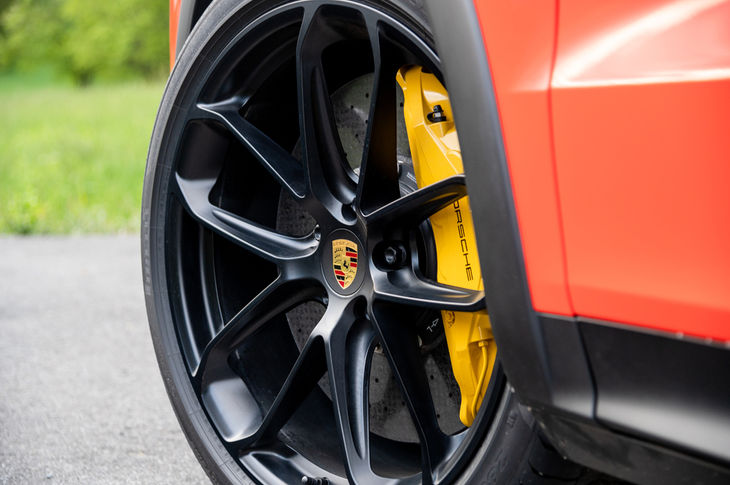 22-inch wheels harness huge braking capacity to stop 2.2 tons.
We spent all our time at the launch in Porsche's 4,0-litre twin-turbocharged V8 Cayenne Coupe, finished in Lava orange, with GT-specification 22-inch wheels. Many familiarities about the Cayenne are naturally present in its Coupe counterpart. To name just a pair of examples: that uncannily excellent driving position is unrivalled by any other performance-oriented Premium SUV; the steering-wheel rim width is thinner than that of almost any product in its segment, which causes less hand fatigue when your grip pressure increases as speed rises and cornering demands heighten.
Turn the Sport Chono function to 'S+' and Cayenne Coupe Turbo becomes an even more dependably accomplished driving machine. Porsche is legendarily conservative with its performance figures, but this never feels like anything less than a 3.9-second 0-100 kph vehicle. Top speed registers at 286 kph and roll-on acceleration is fearsome in any of the transmission's 8 gears.
Theoretically, this Cayenne Coupe is too heavy to be considered a rewarding driver's car. It weighs 2 200 kg (25 kg more than a long-roof Cayenne Turbo, without the carbon roof) and with 404 kW and 770 Nm boosting it into corners, you'd expect a world of electronic stability interventions.
In reality, it offers a handling balance incongruent with a vehicle of its weight and stance. The 3-chamber air-suspension system mitigates against brake-dive under cornering and the all-wheel drive is always biased towards rear-wheel propulsion, instead of defaulting to failsafe understeer.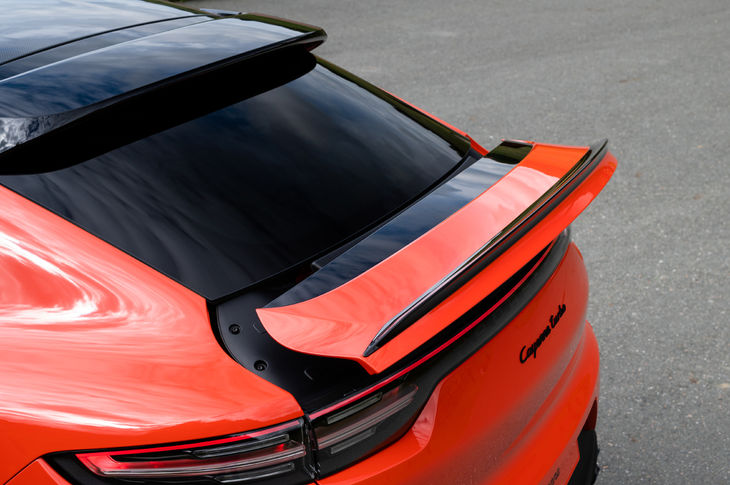 At above 90 kph, the rear wing deploys to aid downforce and stability.
At speeds beyond 90 kph, the coupe version features its own interpretation of the active rear-wing aerodynamics first seen on the long-roof Cayenne, by deploying a 135-mm leading edge spoiler at the shut line of the tailgate, which generates extra downforce for improved stability.
Summary
For a brand with an unrivalled product heritage, it seems very brazen to offer a coupe version of its Premium SUV model with the identical optional colours and wheel combination as one of its most celebrated sportscars (the 991 GT3 RS). But it works. In some ways, the Cayenne Coupe is the performance SUV that Porsche always should have built: one that is slightly more 911-like in its overall profile than a conventional SUV.
With the carbon roof and lightweight pack, which is a pseudo 911 T adaption for SUVs, you save 21 kg and with sound insulation material removed, become more exposed to the pops and crackles of those turbocharged engines on overrun, or during quickfire downshifts.
Local availability commences in the 4th quarter of this year (2019), with pricing as follows. The Cayenne Coupe positions at a premium of 4% to its long-roof sibling, although that pricing margin must be seen in the context of its standard fitment Sport Chrono package and panoramic roof.
Pricing
Cayenne Coupe R1 303 000
Cayenne S Coupe R1 433 000
Cayenne Turbo Coupe R2 277 000
Related content:
High-Powered Range Rover Velar for SA
Porsche adds S model to Cayenne Coupe lineup
Bentley Bentayga Diesel (2018) Launch Review
Interested in buying a Porsche Cayenne?