Peugeot has unveiled the first model to wear the brand's new lion's head badge. The new 308, which will go up against the VW Golf, Toyota Corolla hatchback and other premium hatchbacks, looks edgier than its understated predecessor, incorporates 2 hybrid derivatives and has a much more tech-laden interior.
Although the current-generation 308 has been discontinued in the South African market, it was an underappreciated compact hatchback; the outgoing 208 supermini is currently the Guyancourt-based firm's biggest hatchback in Mzansi, followed by a slew of crossovers, including the recently introduced 2008 and later this year our market will welcome the facelifted version of the 3008.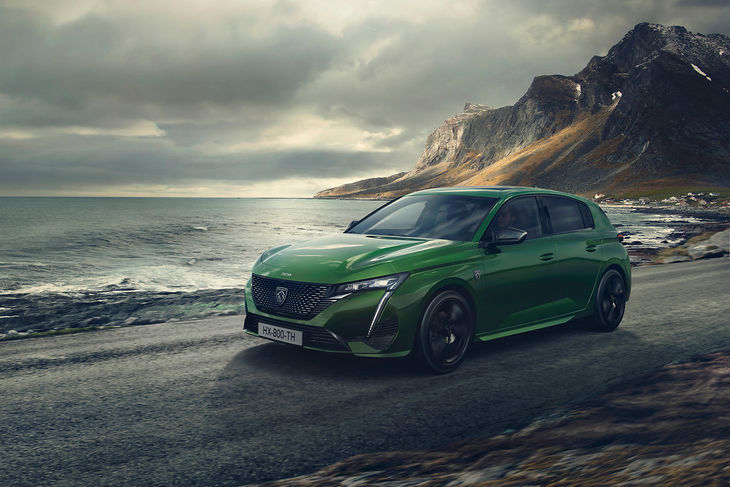 The newcomer's styling takes its cues from the aforementioned revised 3008, although its features are admittedly more refined than those of its SUV-inspired sibling. The front-end is notably sharper, replete with a plunging bonnet line, slimline headlights that are integrated into the edges of the enlarged grille (with that updated badge) and Peugeot's fang-like LED daytime running lights.
Like its predecessor, the 308 is based on the EMP2 platform, but it has grown in length (by 110 mm), courtesy of an extended wheelbase (by 55 mm) that frees up more rear legroom; it also sits 20 mm lower than before. The newcomer's drag coefficient has improved to 0.28 courtesy of that reprofiled bonnet, a sharply raked windscreen and the sharp air-channelling crease (continued from the sides and integrated into the wraparound light bar) on the French car's spoiler-adorned rear-end.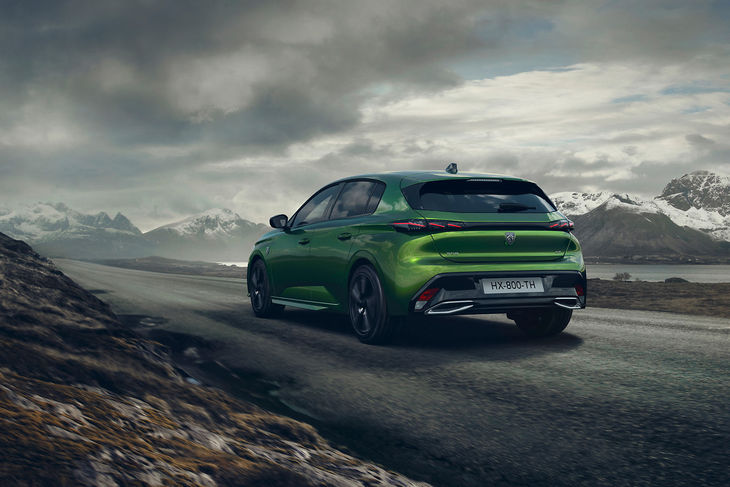 But while the newcomer's exterior styling is much as expected, given the direction of Peugeot's current design language, the 308's interior is heavily revised, beginning with the i-Cockpit shrunken multifunction steering wheel and the digital instrument cluster, which utilises 3D image technology.
A centrally mounted 10-inch touchscreen, which is angled towards the driver, has replaced many of the fascia's buttons and switches. However, a row of so-called 'i-toggle' switches below the screen can be individually configured to control separate functions, according to the driver's preference.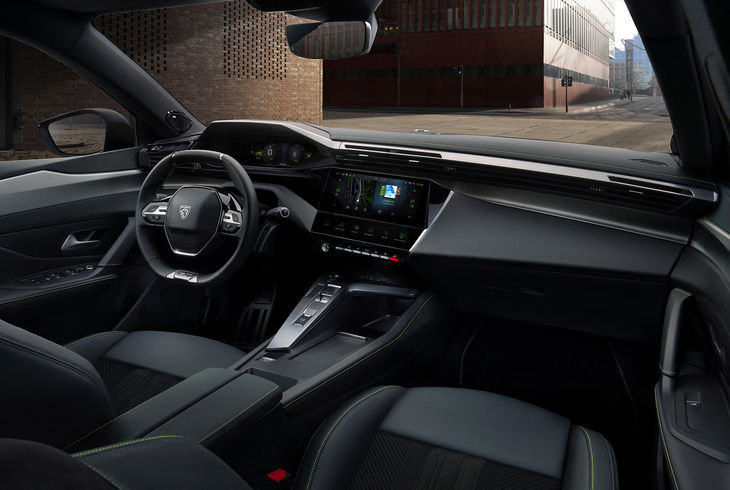 Apart from offering wireless Android Auto and Apple CarPlay compatibility and a customisable new graphical interface that uses a widget-based organisation system, the system allows 8(!) individual profiles to be stored and 2 smartphones to be paired simultaneously. Drivers can also use the new "OK Peugeot" voice control function to change infotainment settings on the fly.
Ergonomically, a new, smaller air-conditioning unit has allowed for a redesigned centre console housing a button-style drive direction selector and drive mode switch, while a wireless phone charging pad, a 34-litre storage cubby and a pair of USB sockets are provided. Top-spec derivatives feature a combination of Alcantara and embossed leather trim and the front seats can be equipped with 10-way electric adjustability as well as a multi-programme pneumatic massage system.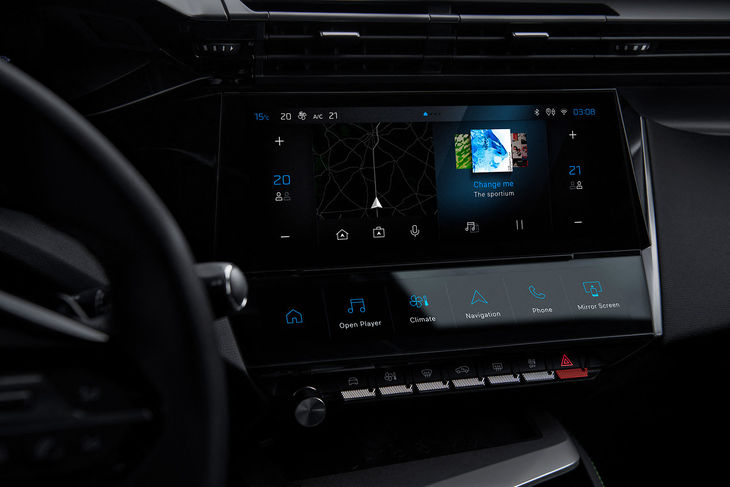 The claimed luggage capacity, meanwhile, is a more-than-handy 412 litres, which means the 308 has a more capacious load bay than the Volkswagen Golf 8.
As for the turbopetrol line-up of the range, there is an 81-kW 1.2-litre 3-cylinder petrol derivative with 6-speed manual gearbox, as well as a 95-kW version with an 8-speed automatic transmission.
There will be a pair of plug-in hybrid options available from launch, both of which combine a turbopetrol engine with an 81-kW electric motor and a 12.4-kWh battery. The first has a 110-kW engine, produces a combined 132 kW and has a pure-electric range of 60 km (WLTP), while the other has a 132-kW engine, develops 165 kW in total and has a pure-electric range of approximately 59 km.
Meanwhile, the new 308 features, inter alia, Peugeot Drive Assist 2.0 – the latest development of the French marque's semi-autonomous driver assistance technology – which can automatically adapt the speed of the car around curves at speeds of up to 180 kph, for what that's worth.
Other available features include an electronic parking brake, long-range blind-spot-monitoring, rear cross-traffic alert, a reverse-view camera with a 180-degree field of view (or an optional 360-degree surround-view setup), high-beam assist, traffic-sign recognition and adaptive cruise with a full stop-and-go function (the latter exclusively on automatic derivatives).
Related content:
VWSA Confirms Golf 8 GTI Specs
Updated Toyota Corolla Hatch (2020) Specs & Price
Peugeot 2008 (2021) Launch Review