Having undergone a fairytale transformation from frumpy MPV to svelte, stylish family car/compact SUV, the Peugeot 3008 ushers in a new era for Peugeot, both locally and internationally. We review the Peugeot 3008 in 1.6-litre THP GT-Line auto specification.
We like: Progressive cabin design, punchy-yet-frugal powertrain, pretty looks, generous specification
We don't like: Cramped rear legroom for adults
Alternatives
The 2016/17 #CarsAwards champion: The Volkswagen Tiguan 1.4TSI Comfortline R-Line auto is a jack of all trades. It combines superb packaging with refinement and the R-Line kit sweetens the deal considerably. That being said, you pay for this class excellence as the Tiguan comes with less standard specification than the Peugeot.
Oriental style: Mazda's CX-5 is a 2017/18 #CarsAwards finalist alongside the Peugeot 3008 and it's a superb offering. The 2.5 Individual's only letdown is its naturally-aspirated motor which doesn't offer as much low-end kick as the Peugeot's turbo motor. A commendable and accomplished product nevertheless.
Foe from the Blue Oval: Despite the controversies around the previous generation Ford Kuga, the upgraded model still represents excellent value for money and remains a solid source of comfortable and practical family car motoring. The 2.0T AWD Titanium derivative also boasts the most powerful engine out of these three.
This segment is especially jampacked and we can also suggest: Toyota RAV4, Hyundai Tucson, Kia Sportage, Nissan X-trail, Renault Kadjar, Audi Q3, BMW X1.
Compare the Peugeot to the Mazda CX-5 and Volkswagen Tiguan here.

Compare the Toyota RAV4 to the Hyundai Tucson and the Ford Kuga here.
What is a Peugeot 3008?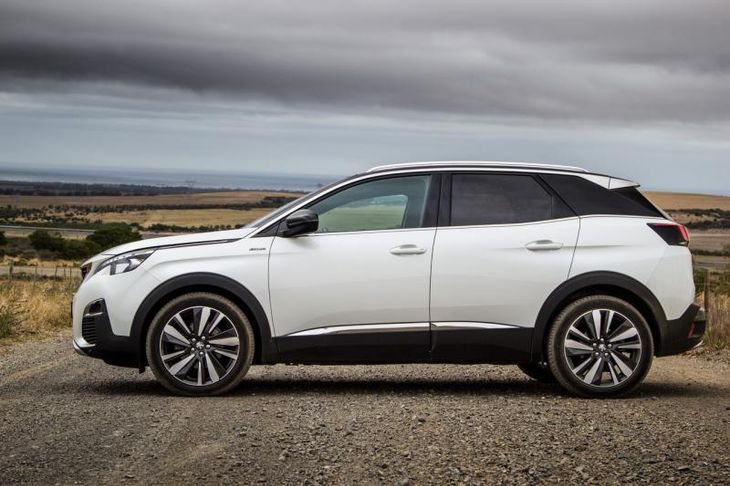 The new Peugeot 3008 is a radical departure from the previous generation model. It's bold and brave, and Peugeot should be commended
The Peugeot 3008 is the first of a new generation of products from the French manufacturer. With sibling company Citroen departing the South African market (at least temporarily), PSA is backing the rejuvenated Peugeot brand to further the French firm's interests in the local market. Peugeot has battled over the years with questionable levels of parts availability, low service standards and woeful resale values, but with this new 3008, the brand's fortunes could change. Many of Peugeot's products, such as the 208, 2008 and 308 are solid propositions, but with this new 3008, we see a big leap forward... Peugeot's trying to gatecrash the upper end of the family car segment, but with so many vehicles and brands all vying for our attention, has it got enough going for it?
How does it fare in terms of...
Design & Packaging?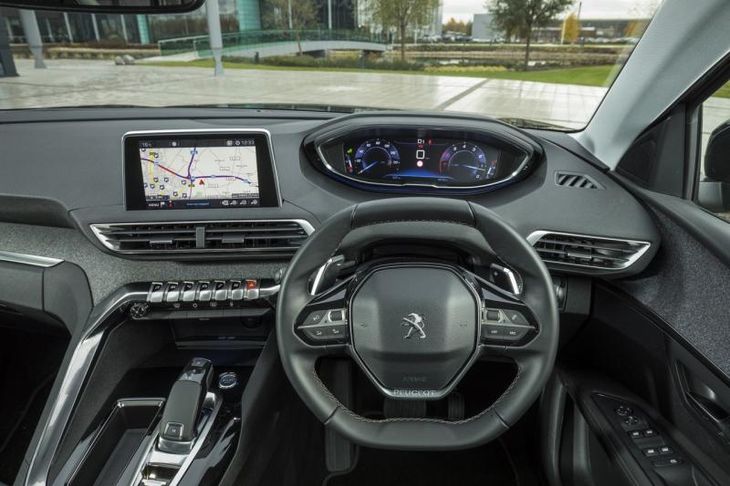 The highlight of the Peugeot 3008 has to be the digital infotainment system. Note the small steering wheel.
First impressions count for a lot and, aesthetically speaking, the 3008 looks graceful, elegant and modern. Things get even better when you get in behind the wheel and notice the crisp, intuitive and futuristic digital interface. The Peugeot i-cockpit takes what we know and expect from a digital display and enhances the concept into something straight from a sci-fi film.
The user experience takes some time to get used to, but this author had the benefit of being on the international launch of the 3008 so by the time the local test unit arrived, he was already familiar with its layout. And, what a layout it is! With very few buttons and the master controls mostly situated on the steering wheel, the digital interface offers a plethora of information, or you can switch to a wonderfully minimalistic readout. There are themes and colour combinations too; the system is arguably a benchmark for digital dashboards.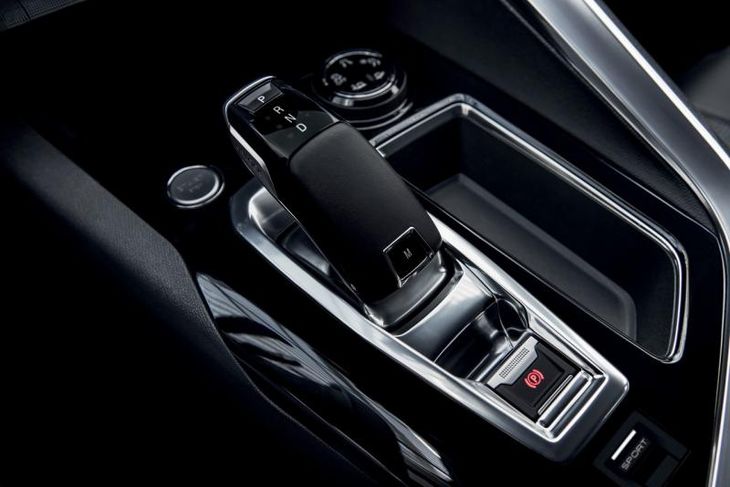 The attention to detail is impressive and the cabin feels modern, yet well built
The level of onboard specification is good, especially considering the derivative's near-R500 000 price point. In terms of creature comforts, we made use of the refrigerated glovebox and the audio, phone and cruise control toggles on the compact multifunction steering wheel. The audio system features 6 speakers and there are USB/Bluetooth/Aux connectivity options. Climate control is standard too, as are LED headlights that come on automatically, daytime running lights, automatic wipers as well as front/rear parking sensors with reverse camera.
The 3008 is, after all, a European Car of the Year winner so few people will be surprised that it offers many of the safety features that high-end family cars/compact SUVs are renowned for. The test unit featured standard ABS & ESP with ASR in the traction control department, as well as a full complement of 6 airbags.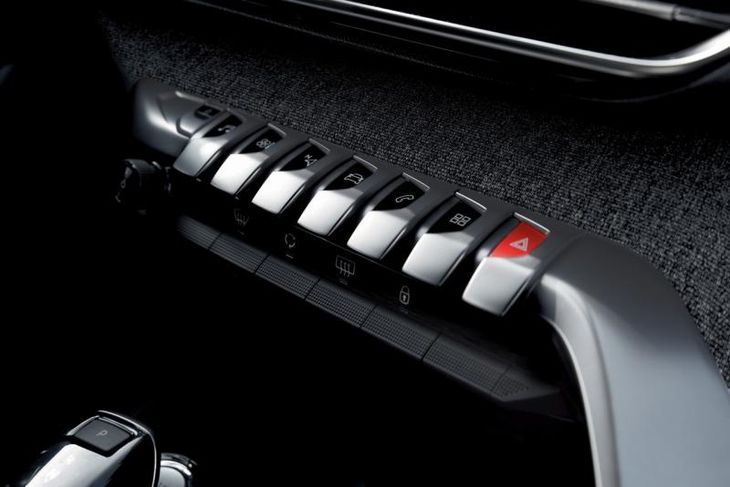 These aircraft-style metal switches are crisp and stylish
Performance & Efficiency?
Powering the Peugeot 3008 is a 1.6-litre turbocharged 4-cylinder petrol engine mated exclusively with a 6-speed automatic transmission. It's a punchy-yet-refined powerplant we're familiar with and, in this application, it pushes out a healthy 121 kW and a useful 240 Nm of torque. We've experienced this engine in the 308 premium compact hatchback and were enthralled by its power delivery and refinement. We know that this motor is good and had high expectations of it when stuck into a 3008.
Despite its SUV-flavoured/offroader looks, the Peugeot is front-wheel driven and makes do with trick traction control and hill descent control when you need to venture offroad. Despite Peugeot's claims that this model consumes just 7 L/100 km, we saw an indicated figure of 8.4 L/100 km, but that is fair given it was driven in both urban and rural environments.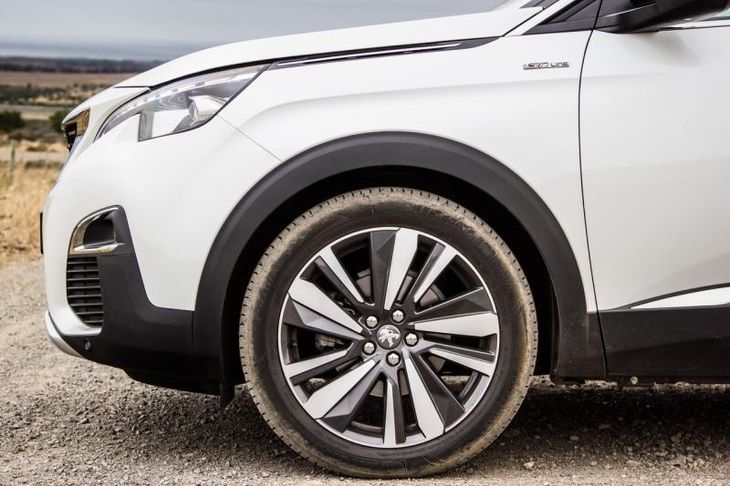 Despite riding on big wheels with low-profile tyres, the ride of the Peugeot 3008 was comfortable and smooth
Ride & Handling?
The Peugeot 3008 rides on the EMP2 platform which underpins a number of PSA products as well as the Opel Grandland (note the German marque is now owned by PSA). The platform is lighter and stronger than its predecessor, and the result is that the Peugeot 3008 feels well assembled and solid. Marginal build quality used to be regarded as a major Peugeot bugbear, but amazingly, the award-winning 3008 feels like there's been an injection of painstaking manufacturing and refinement know-how... and it is most welcome.
The 19-inch wheels deliver a firm ride quality, but fares better on smooth roads. We felt comfortable and cosseted thanks to the supportive leather seats and thanks to some surprisingly good NVH refinement, there was precious little road and wind noise entering the cabin. The platform feels engineered for some spirited driving and the Peugeot 3008 doesn't wallow like some family SUVs. Instead, it has an air of poise and thanks to its unnaturally small steering wheel, it can feel lively to pilot briskly. Speaking of steering, you'll love how direct it is.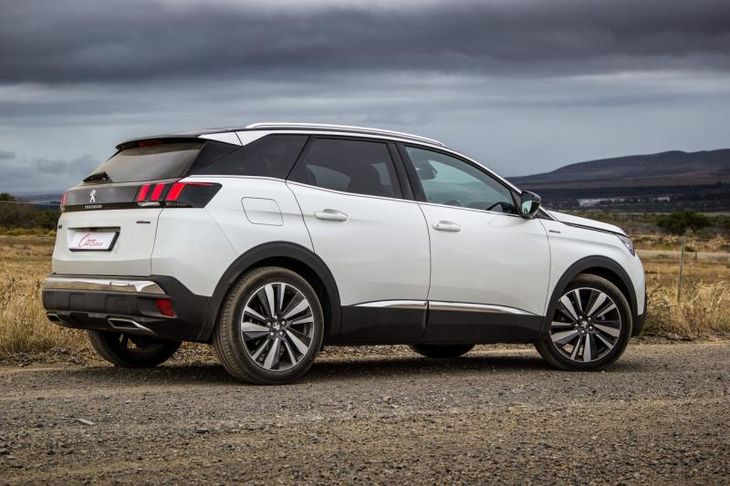 At this price of R520 000, the Peugeot is playing in a distinctly premium segment of the market. Can it garner enough sales to make a success?
Pricing & Warranty
The Peugeot 3008 range starts from R414 900, with this GT-Line retailing for R519 900. The price includes a 3-year/100 000 km warranty and a 4-year/60 000 km service plan with the option to upgrade to a full 5-year/100 000km maintenance plan. A 3-year/100 000 km Roadside Assistance and a 12-year anti-perforation warranty are also included.
Verdict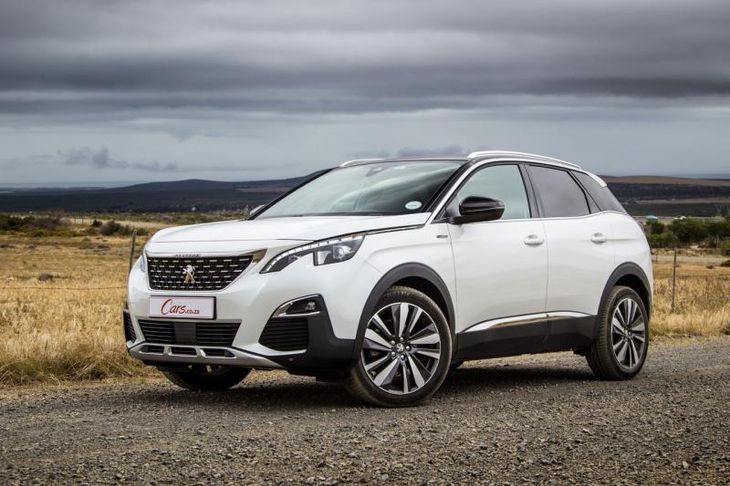 Well done Peugeot, the 3008 is an excellent product. For those wanting more space, you can wait for the 5008 which will arrive midway through 2018
Without hesitation, we can happily say that the Peugeot 3008 is an excellent product that makes a compelling argument in the cluttered family car/compact SUV segment. The transformation from so-so MPV to near class-leading SUV has been incredible and the car community should be watching Peugeot closely, especially in terms of the brand's cabin executions. We say near class-leading because it's not perfect. The rear passenger legroom is tight when you're transporting four tall adults, something which the 2016/18 #CarsAwards-winning Volkswagen Tiguan does effortlessly. Also, one excellent product will not change Peugeot SA's fortunes and resale value overnight, so we're going to have to watch how it progresses. The range will be expanded in 2018 and we'll see a frugal diesel-powered 3008 reach South Africa.
That being said, the 3008 is Peugeot's finest product in quite a while and, if you were to be swayed by the newcomer's sharp styling, exceptional cabin and refined drive, we wouldn't blame you in the slightest. With that in mind, it's no surprise that the Peugeot 3008 is a finalist in the 2017/18 Cars.co.za Consumer Awards – powered by WesBank.
You may also be interested in:
Peugeot 3008 (2017) Video Review
3 Reasons Why Peugeot 3008 is #CarsAwards Finalist
Peugeot Citroen Realigns Strategy in SA
Interested in buying a new / used Peugeot 3008?