Now distributed in South Africa by the Unitrans-owned Williams Hunt Group, Opel is busy expanding its dealership network and investing in parts back-up. While a new Corsa is on the way in the not-too-distant future, it has also seen it fit to remind the public that there's still plenty of life yet in the outgoing car. Are they right? Can the Corsa still compete with new offerings such as the latest Fiesta and Polo?
We like: Standard specification, infotainment system, comfort
We don't like: Dynamically lags class best, relatively thirsty
Are there any specials currently on this model? Find out here.
Where does it fit in?
Sporty compact hatchbacks are quite rare in the B-segment these days, with the focus increasingly falling on efficiency and on-board tech. Fans of the Opel brand, however, will be pleased that the German marque (which has a rich performance heritage in South Africa) continues to offer a Corsa with a bit of attitude. This Sport-badged derivative is similarly priced to flagship (and much newer) offerings from Ford and VW, but offers a larger, more powerful engine and a fairly sporty bodykit.
The next-generation Opel Corsa is currently under development for introduction (in Europe) during 2019 and will move to a PSA (Peugeot) platform that is shared with the 208.
What's good about it?
Standard specification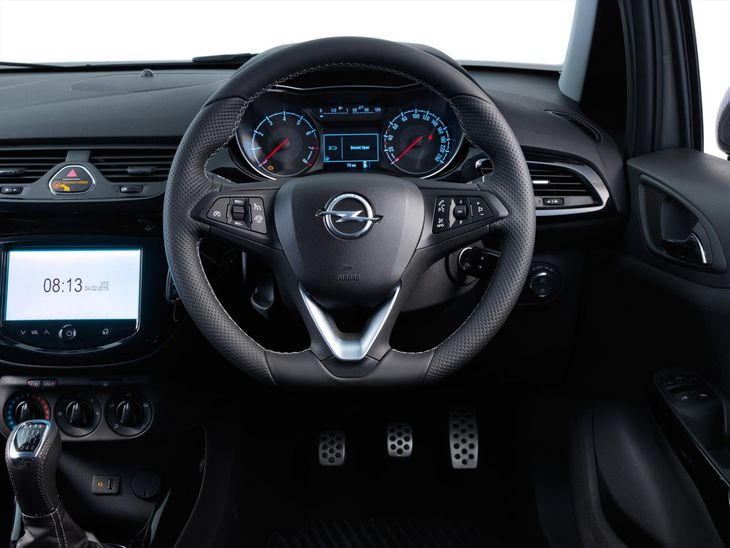 Leather-wrapped steering is nice to hold. Infotainment system is comprehensive.
A major USP for Opel at present is the "democratization of technology". Essentially, the brand wants to be known for offering buyers access to the latest technologies, even if they're buying a cheaper car. The Corsa Sport does appear to deliver on this promise, particularly on the infotainment front. Its relatively large (for the segment) 7-inch Intellilink touch-screen based system is comprehensive, and features crisp displays and good functionality. Of course it offers Bluetooth and USB functionality, and can hook up to your Android or iOS mobile devices. Navigation is also part of the deal.
Additionally, besides the design features we'll get to later, the Corsa Sport also offers cruise control, a rarity at this level, as well as front park distance control, a rear-view camera, a sunroof and auto lights and rain-sensing wipers. That's quite an appealing package, and the only disappointment, really, is that the rear windows don't feature electric controls.
The safety package is also very strong, with 6 airbags, ESP, blind spot alert and rear Isofix child seat anchors all contributing to it achieving a 5-star EuroNCAP crash rating.
Sporty looks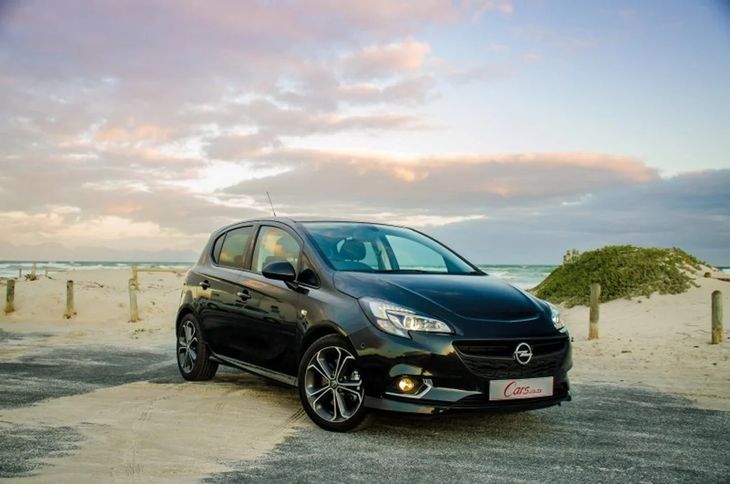 Several years after its original introduction, the Corsa Sport remains a handsome B-segment contender.
As the name suggests, this Corsa attempts to appeal to buyers that prefer their hatchbacks to at least look a little dynamic. As such it gets a slightly lower "sports" suspension set-up, rides on fairly large wheels (17-inch) with a striking alloy wheel design, has Xenon headlamps with LED eyebrows and a large oval exhaust outlet. Given the age of the car, we think it still looks rather good and certainly a bit more muscular than its rivals.
Inside, it's a similar story. The steering wheel is a nice, thick-rimmed and leather-wrapped item that feels good in hand, the metallic pedals look racy, and the gloss black inserts, combined with soft-touch materials elsewhere, leave a quality impression.
Comfort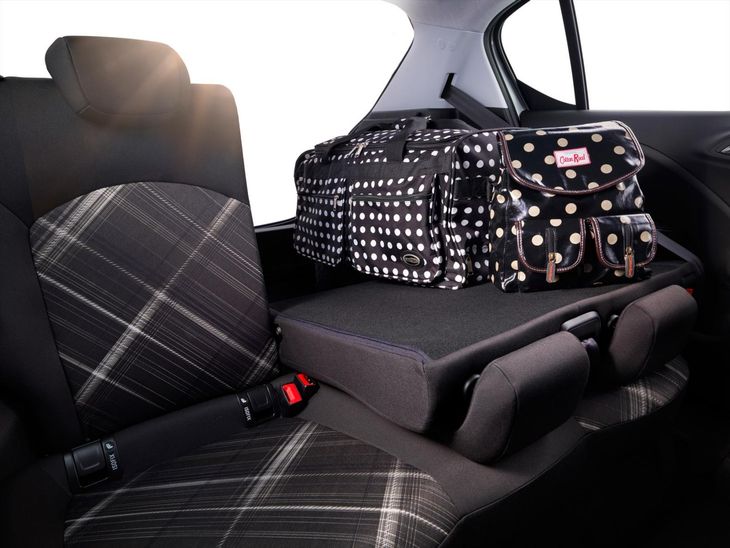 Boot space lags the newer rivals, but there's still decent practicality on offer.
Compared with most of its rivals, the Corsa's wheelbase is relatively short, so it can't quite match the class-leaders in terms of rear occupant legroom (headroom is fine, though) and boot space – its 285L luggage capacity lags the latest Polo and Yaris by some margin. Of course, it does offer 60:40 split/fold seats.
In front, the picture is far rosier, with Opel's typically excellent seats offering plenty of support and long-distance comfort, while the driving position is also very good, courtesy of a steering wheel that offers a wide range of rake and reach adjustment.
We found the ride set-up to be relatively good, too. The Sport badge may leave you expecing very firm suspension, but the reality is that the Corsa is still relatively supple on most surfaces, even though it can't match the ride refinement (and road/suspension quietness) of its newer rivals.
Warranty & Service plan
Opel knows it has to pull out all the stops to a) convince people that it's here to stay and b) to ensure the Corsa is as appealing from a value point of view as possible. As such it features a generous 5-years/120 000km warranty and 3-years/60 000km service plan that compare very favourably with the competition.
Where does it lag the best in this segment?
Ride and Handling refinement
While the Corsa does a fair job in delivering a comfortable daily ride, its ageing underpinnings simply can't match the refinement offered by more modern rivals such as the Polo and the Fiesta. You can feel it in the damping on really poor surfaces and also the greater precision and body control displayed by the Fiesta and Polo. The Corsa may, however, still be superior to the Yaris in terms of delivering a mildly engaging drive.
Performance & Efficiency balance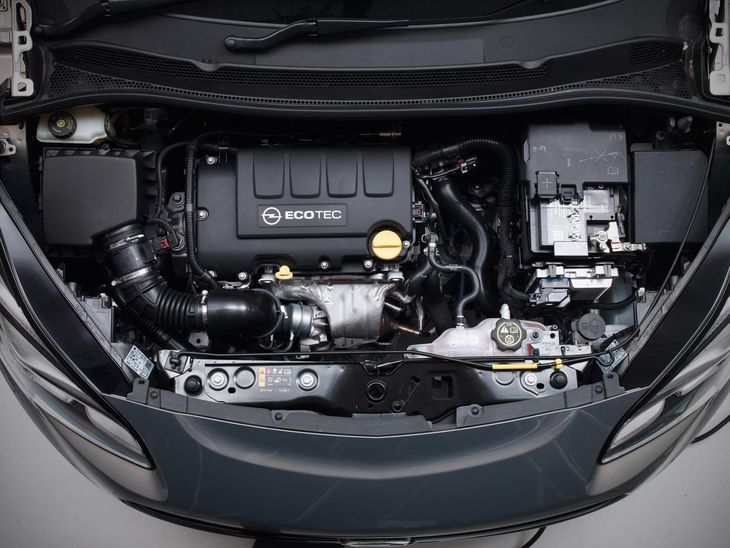 The 1.4L turbocharged engine delivers good power, but fuel efficiency suffers and is arguably more important these days.
The Corsa Sport is powered by a 1.4L turbocharged 4-cylinder engine whereas most of the competition has switched to smaller-capacity, 3-cylinder powerplants. The Yaris remains naturally aspirated (with a 1.5L engine). The Opel has a significant power advantage over its rivals – its engine delivers 110kW and 220Nm of torque, the latter from a fairly high 3 000 to 4 500 rpm.
Coupled with a 6-speed manual gearbox, Opel claims a that this Corsa should sprint to 100kph in 9.6 seconds and achieve a top speed of just over 200kph. These figures are class-leading, but only marginally so and is delivered in a somehow gruff manner – the engine never feels particularly free-revving or linear in its power delivery. The little extra fireworks that the engine delivers also comes at a cost at the pumps – with a claimed consumption figure of 5.8L/100km, the Corsa is among the thirstiest cars in this segment. In the real world you're likely to achieve closer to 7.5L/100km.
Rivals to Consider
Click on the names of the rivals for detailed specification
Volkswagen Polo 1.0TSI Highline
The flagship Polo seems like a good alternative to the Corsa as Highline trim means a more attractive features package is part of the deal, but there remains some option boxes to tick. The Polo's main advantages are better ride/handling refinement, a superior blend of performance and economy, and a more spacious, more modern cabin.
The most expensive car here offers similar advantages to the Polo, in that its engine is sufficiently powerful for a zesty drive, yet delivers greater economy during normal driving. Also offers superior suspension damping.
We've not been entirely won over by Toyota's latest contender. While it offers more space than its predecessor and, in the eyes of some, sportier looks, it can't match any of the other cars here for perceived interior quality and generally feels less refined, too. Its 1.5L engine should offer great reliability, but is relatively thirsty.
Verdict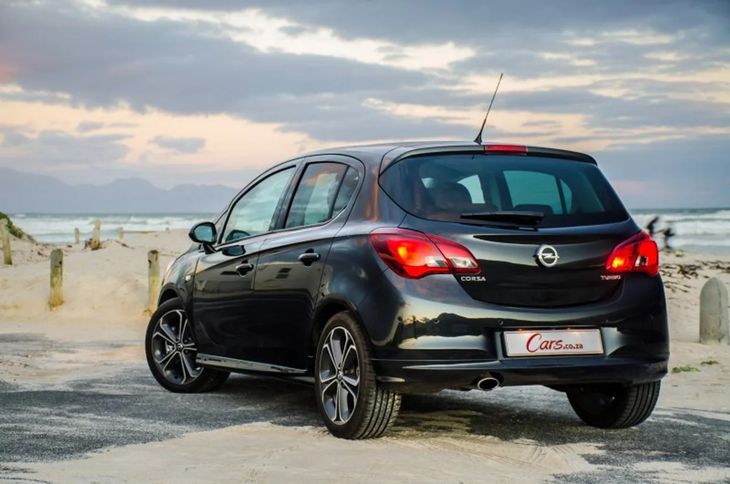 The Corsa Sport offers a lot of car for the money, but in terms of ride/handling and power/economy balance it has fallen behind.
There is much to admire about the Corsa Sport – it still looks attractive and the cabin is loaded with features and is generally a nice place to be. It's also clearly a very well made car, and the warranty/service plan is appealing. However, we don't think the engine delivers a combination of performance and efficiency that is in tune with current consumer trends, and the suspension refinement clearly lags the best cars in this class. It's simply time for a new model.
That said, Opel frequently offers special deals on this model which significantly adds to its showroom appeal, given that the specification level is so high. In that scenario, it does offer a lot of car for the money.
Looking to buy a new / used Opel Corsa?
Find one on Cars.co.za today by clicking here.