Opel has sold more than 13.7 million Corsas and now there's an all-new model, which is better than ever. With a new chassis, potent (yet efficient) engines and notable premium features, the newcomer promises to be one of the world's best compact hatchbacks. International correspondent Dave Humphreys drove the new Corsa at its global launch.
What's new?
The 6th-generation Opel Corsa is more than just a replacement model; it's the Russelsheim-based brand's first all-new offering to emerge following its takeover by the PSA Group. So is it merely a Peugeot 208 with some new badges? Thankfully not, and no, that isn't a slight at the baby Pug, either. The Corsa uses the same CMP architecture, which allowed Opel to introduce a more grown-up appearance with a 2-box design.
Now 28 mm longer than before, the Corsa is a noticeable 48 mm lower overall, yet the front headroom has increased by 3 mm. It's easily the most visually appealing Corsa to date and should help it continue to be Opel's best-selling car.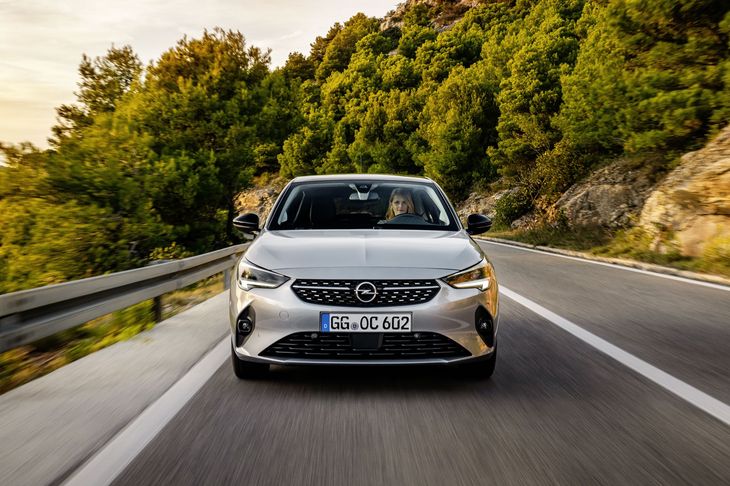 Opel is signalling the Corsa's sporting pretensions; it's a much lower car than the previous model.
Opel has honed the Corsa's shape in the wind tunnel to achieve (what is currently) best-in-class aerodynamics, but that's not all that helps make this newcomer more efficient. The adoption of a new platform that uses more high-strength materials has contributed to a notable reduction in weight and, in its lightest guise, the Corsa tips the scales at just 980 kg. Included in that is a range of new all-aluminium engines that contribute to a 15 kg reduction. The result is better fuel economy and lower emissions that see even this most powerful version improve on the returns of the most economical version of its predecessor. Opel will also introduce a fully electric version (the Corsa-e), with a claimed driving range of 330 kilometres.
More relevant to the average buyer is what you can get in this latest Corsa, and the answer is: quite a lot. A long-standing ethos of Opel has been democratising technology, in particular, safety-related items. Continuing in that vein, the Corsa will be the first in the segment to offer LED Matrix headlights, allowing higher levels of illumination at night without the risk of dazzling other road users. Soon after launch, it will get a one-button automatic parking feature for cars equipped with automatic transmissions, in addition to a lane-positioning assistant to help with freeway driving.
The good

The new Corsa looks like a very modern and stylish competitor to the Polo and Fiesta.
A choice of equipment grades will be available and this (GS Line) version tops the range. This spec gains a sportier appearance with bespoke bumpers, 17-inch alloys and a twin exhaust ends. The contrasting roof and door mirror colours add to the premium image, while the cabin gets flashes of colour across the dash. The front sports seats have sufficient bolstering to hold you in place, yet don't lack comfort for everyday driving.
The instrument cluster is available with a configurable digital instrument display, but it isn't as novel or good looking as the 3-dimensional effect that Peugeot offers in the 208, however – the French parent company is evidently keeping some of the better bits for itself. There will be a range of touchscreen infotainment displays ranging in size from 5- to 10 inches. With the larger units, it's possible to connect your smartphone through Android Auto and Apple CarPlay. A wireless charging pad and USB port (and the option of two more USB ports in the back of the car) ensure all devices can be topped up.
But it's the overall uplift in the look and feel of the Corsa's interior that sets this car apart. The previous GM-era Opels featured dull cabins with hard plastics, whereas now the materials used inside, even on the lower-grade models, are of markedly better quality. On the practical side, the Corsa's load bay capacity has also improved, with an increase to 309 litres and, potentially, to 1 081 litres when you fold the hatchback's rear seats down.
Ride and drive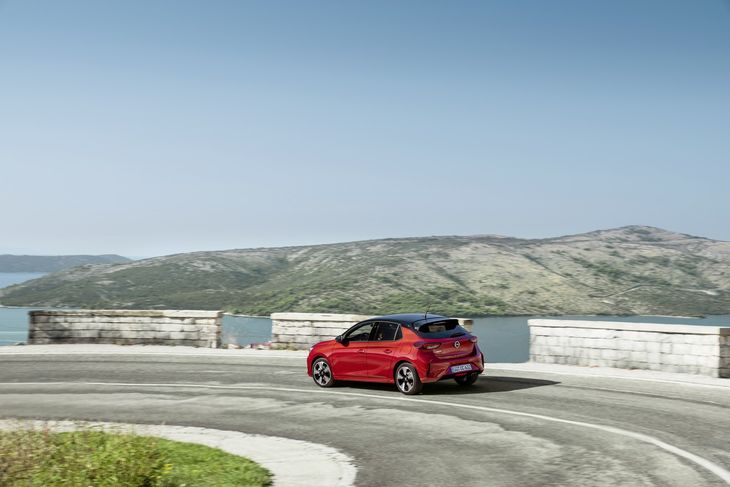 The turbocharged engine works well with the new 8-speed automatic transmission.
Those who have previously driven the outgoing version of the Opel Corsa (a #CarsAwards category winner in 2016/17 with the 1.0T Enjoy) will notice how different this 6th-generation model feels before you even turn a wheel. You feel the 28 mm lower seat height when getting in. The seating position offers plenty of adjustment, as does the multifunction steering wheel. There is more of a driver-focused cabin layout with a windscreen that no longer feels as if its several feet in front of you. Less obstruction by the A-pillar is helpful in town, and there's decent rearward visibility, too.
The 96 kW 1.2-litre turbopetrol motor, meanwhile, is exclusive to the GS Line and comes mated with an 8-speed automatic transmission. Typically, 3-cylinder engines emit a characteristic thrum and lack the smoothness of their 4-cylinder counterparts. Still, the Corsa delivers a reasonably refined performance by virtue of improved sound insulation. Only when you press on with more urgency does the 3-cylinder note become more apparent.
The transmission shifts up through its ratios quickly – and with little fuss – which helps to keep engine speeds down and optimise fuel economy. The peak torque of 230 Nm pulls the car along comfortably with sufficient overtaking urge at freeway speeds. If you want to have extra fun, there is a Sport mode that dials up the steering weight a few notches, lengthens out the time between upshifts and digitally plumbs more "engine sound" into the cabin. You can shift gears manually via the steering wheel-mounted paddles too, but Sport works pretty well; it's best left to its own devices.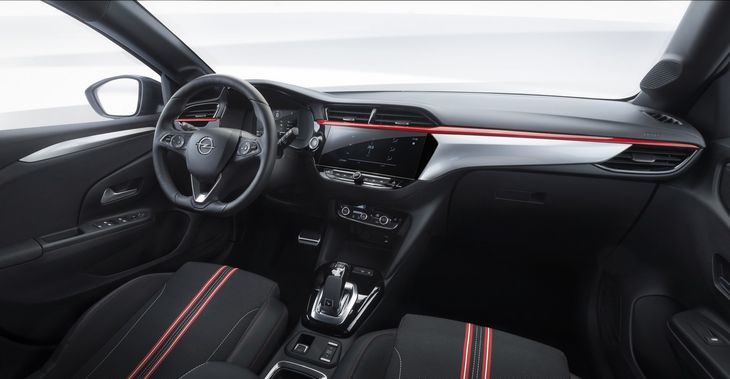 The GS Line derivative has numerous colourful inlays and the whole range features softer, more premium materials than before.
The Corsa's handling doesn't disappoint, thanks partly to additional strut bracing at the front, which is exclusive to this GS Line version. That said, it's worth remembering this isn't a hot hatch, but the core chassis setup does bode well for the hotter GSi version, which is expected to arrive later.
Other engines in the range will include a base 1.2-litre 55 kW naturally-aspirated 3-cylinder petrol unit, followed up by a mid-range 1.2-litre 3-cylinder turbopetrol producing 74 kW, and this will be available with either a 6-speed manual gearbox or 8-speed automatic transmission.
For a compact hatchback, the Opel Corsa now feels far more mature to drive. The suspension setup takes the edge off poorer road surfaces, and all of the controls are well-weighted. A drive in the 74 kW manual version confirmed that these attributes aren't exclusive to this current range-topping derivative, so you shouldn't feel short-changed by choosing one of the more modestly-priced Corsas.
The not-so-good
Occupant space is usually compromised in a compact hatchback and, in the case of the new Corsa, it's (again) the rear passengers that get the worst deal. Making up for this (a little) is generously sized rear-door apertures, while the 2 outer rear seats come equipped with ISOfix points.
Pricing & Warranty
Pricing for the new Opel Corsa is not currently listed. Opel South Africa has assured us that the Corsa will arrive during 2020, but it's too early to confirm which engines or trim lines will be available. Opel currently offers a 3-year/120 000 km warranty on all its new cars.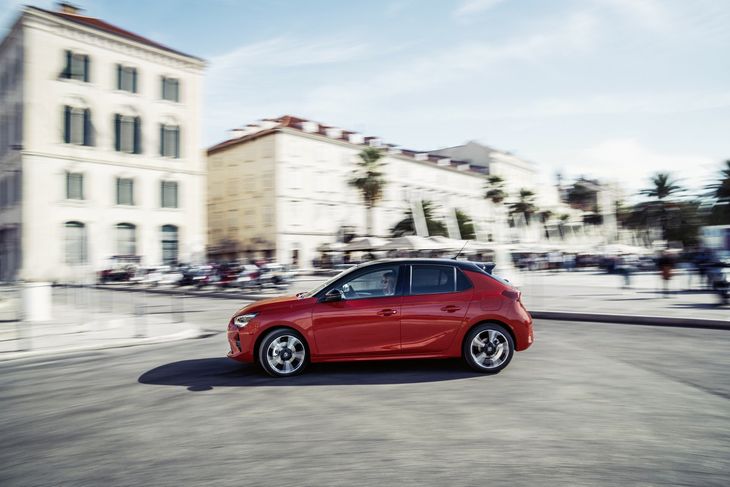 The new Corsa could be a real contender when it arrives in local showrooms. Hopefully, Opel SA can get the price right.
Summary
The Opel Corsa's all-new package propels it straight to the sharp end of a segment dominated by the Volkswagen Polo, but contested by a number of excellent offerings. A good engine line-up and the choice of the best equipment options bring large-car tech and quality to a car that has, at times, felt like a good product let down by workmanlike finishes. To reiterate: the new Corsa is not a 208 clone and doesn't have to stand back for anyone.
Related content:
Comparative Review: Ford Fiesta vs Volkswagen Polo (2018) [w/video]