Nissan has tweaked its popular Qashqai compact SUV for 2019. Here are the changes.
The Nissan Qashqai is a popular model, both locally and internationally. There's a lot to like about it, ranging from its good looks to its value for money offering. In early 2018, Nissan South Africa updated its Qashqai with tweaked styling and technological advancements. However, we can expect an updated model making its way to South Africa in 2019 as Nissan has given the Qashqai some upgrades and it will be going on sale in Europe before the end of this year.
These changes are numerous and there's a new petrol engine, a new double-clutch gearbox and even more connectivity tech. Starting with the engine, the new motor is a turbocharged 1.3-litre petrol engine and if you know your manufacturer deals, you'll be aware that this motor was developed in collaboration with Daimler and is used in the all-new Mercedes-Benz A-Class. It appears that the 1.2-litre and 1.6-litre motors have been dropped. In terms of outputs, this new 1.3-litre turbo is offered in two states of tune: 102 kW and 117 kW, with economy rated around 5.3 L / 100 km.
You have the option of either a 6-speed manual gearbox mated to a front-wheel-drive setup, or a new 7-speed dual-clutch auto. Nissan claims that these new powertrains are more responsive and offer a quieter driving experience. The changes are not just mechanical as Nissan is offering its new infotainment system in the updated Qashqai. This setup boasts Android Auto, Apple CarPlay and can be updated over the air. It still retains the 7-inch touchscreen, but it comes with fewer buttons.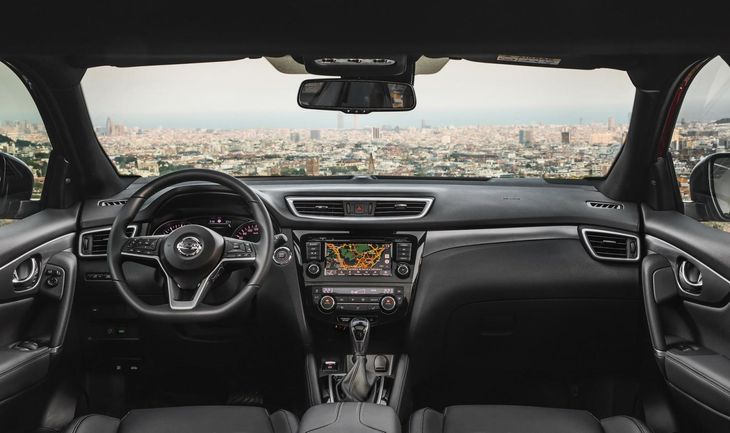 The interior of the updated Nissan Qashqai. The infotainment system now features Android Auto and Apple Carplay
Buy a new or used Nissan Qashqai on Cars.co.za
Related Content