Multiple small updates for the Nissan Qashqai look to boost the compact crossover's premium appeal. International correspondent, Richard Webber, drove the latest Qashqai in Vienna last year. Take a look at what you can expect from the facelifted Qashqai below...
What is it?
It's the facelifted second-generation Nissan Qashqai and numerous changes have been implemented in order to strengthen its appeal in the crowded compact crossover market.
It's not as if sales are flagging, though: in 2016, Nissan sold almost twice as many Qashqais in Europe as it did following the pioneering original's launch in 2007. It's a top seller across Europe and especially in the UK where it's currently the third best-selling model in the market.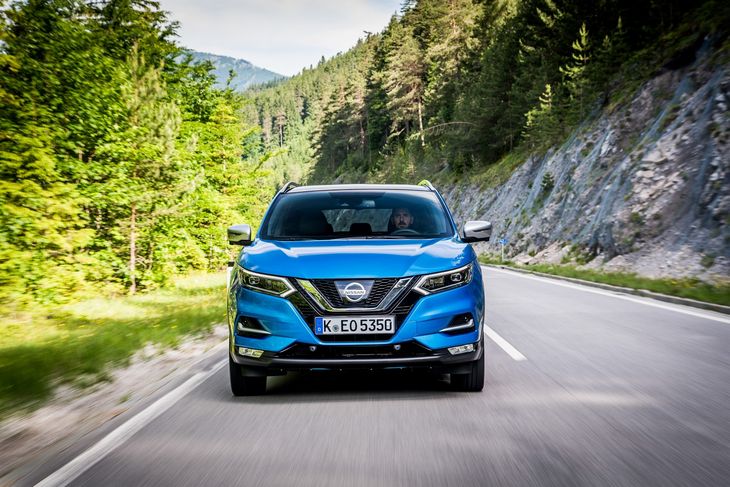 In Europe, the Qashqai is hot property, selling more than its rivals. Locally it lags behind Tucson, CX-5 and RAV4.
But Nissan says its customers want more plushness, be it in terms of design, finish, equipment or refinement. It's for this very reason that Nissan focussed its efforts on the exterior styling, cabin materials, sound deadening, suspension and steering for this facelift.
The facelifted Nissan Qashqai is now available in South Africa! Check out specs and pricing here!
What's it like?
The previously conservative-looking front-end has been embellished with a more intricate and aggressive nose design, revised lights (now with adaptive LED headlights on upper trims) and sharper bonnet creases, while the flanks and rear-end have been lightly smartened.
Inside, there's a new flat-bottomed steering wheel that's larger and has more buttons than before to allow easier operation of the binnacle's 5-inch TFT screen and cruise control - it's thinly padded but attractive and ergonomically pleasing. New seats on the upper trim levels impress by being supportive and accommodating, and the aforementioned Nappa hide looks the part and is reasonably soft.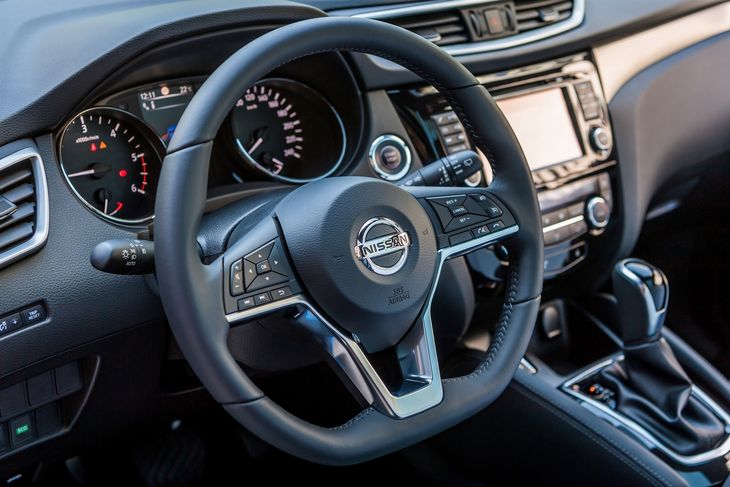 A flat-bottomed steering wheel and a few more buttons add to the more premium look.
The range-topping Tekna+ also introduces electric lumbar support and memory function for the driver's seat on top of the existing electric seat adjustment and heating on higher spec models, although steering reach and rake are still manually adjustable.
For the rest of the cabin, it's largely as you were: up front, there are plentiful soft-touch surfaces above waist height, a commanding and roundly adjustable driving position and mostly satisfactory switchgear.
In the more sedately finished rear, there's well-lit and unencumbered accommodation for two 6-foot adults (a third would be less happy), and a reasonably proportioned boot behind 60/40-splitting rear seats with a multi-configurable floor and handy storage features.
The Qashqai has always erred on the side of comfort while offering reasonably capable if somewhat unexciting dynamics when pushed. The latest changes aim to amplify this relaxed demeanour, with springs softened between 5% and 8% (depending on kerb weight), although a front anti-roll bar stiffened by 16% aims to preserve cornering composure.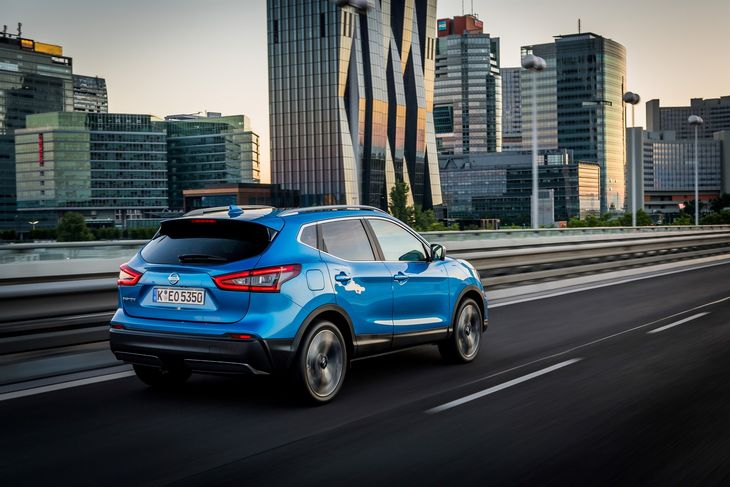 The Qashqai has been made a touch softer and more comfortable. This could be copying the X-Trail's global success with its notably soft ride.
The ride's general suppleness will please most target buyers - only sharper urban ridges cause noticeable disruption (particularly in the stiffer-sprung diesels), but most of that is noise rather than displacement.
There's even a newly enhanced version of Active Ride Control, which uses gentle braking via both the discs and the engine to dissipate large bumps such as speed humps more rapidly (handy when you're late on the school run), while additional refinement-enhancing measures such as extra sound-deadening material, better seals and drag-reducing underside fins all help curb wind and road noise to rarified levels.
Turn-in remains decent for a crossover, but the significant amount of roll - while never inhibiting stability - puts a halt to cornering enjoyment. Rather, the Qashqai feels an ambivalent partner when tackling bends at pace, and defaults to understeer a fair bit sooner than a family hatchback might.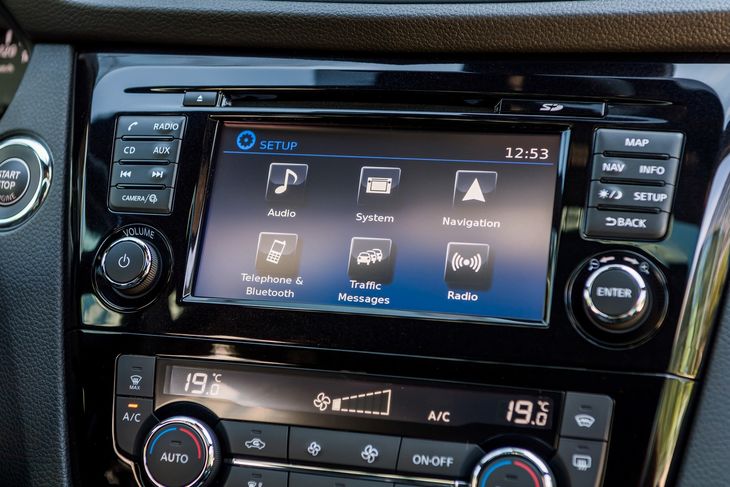 The infotainment system isn't much to look at but is easy to use and has most modern tech functionality included.
The revised steering felt over-light to these hands in Normal mode, but its 10%-heavier Sport mode helped remove the lightness and gave it stability, with good mid-corner consistency and plenty of accuracy.
The unaltered 120 kW 1.6 DIG-T turbopetrol needs to be stoked to 2 800 rpm before providing good shove, but thereafter does so consistently, smoothly and without much lag. It's only available with the 6-speed manual gearbox that doesn't mind being hustled, but could feel a bit more precise.
We also sampled the 95 kW 1.6 dCi diesel, which proved a bit vocal despite being freshly retuned for refinement, and was paired with the 'Xtronic' transmission that does a good a job as any CVT in mimicking a conventional auto. The more affable (and more popular) 80 kW 1.5 dCi - good for 4.2L/100 km - and sedate but well-mannered, entry-level 84 kW 1.2 DIG-T carry over completely unchanged.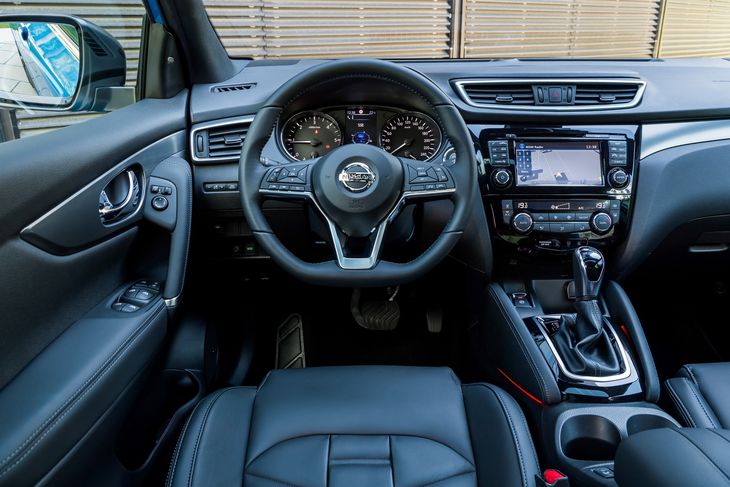 Comfy leather seats and soft-touch materials make the Qashqai a much nicer place to sit. Still not quite VW Tiguan level though.
Should I buy one?
New Tekna+ trim adds some welcome niceties, but the Qashqai's underlying material quality prevents it from mixing with more thoroughly premium alternatives such as the larger Volkswagen Tiguan or swisher Audi Q3 that can be had with only a few more rands from your pocket.
The Qashqai's increased emphasis on comfort over fun will surely do its already strong sales no harm, although those of us who enjoy an everyday dose of handling talent might be increasingly tempted to look to the likes of the Mazda CX-5, the fresh-faced rival that now seems as good value as the Qashqai. But the Qashqai's rounded, fit-for-purpose appeal remains strong following its mid-life refresh.
Nissan Qashqai 1.6 DIG-T Tekna Quick specs
Engine 4-cyl, 1.6-litre turbodiesel
Power 120 kW at 5 600 rpm
Torque 177lb ft from 2 000-4 000 rpm
Gearbox 6-spd manual
Kerb weight 1 483 kg
Top speed 200 kph
0-100 kph 8.9 sec
Economy 6.0L/100 km (combined)
Rivals Mazda CX-5, Kia Sportage, Hyundai Tucson, Toyota RAV4
Related content
Comparative Review: Hyundai Tucson vs Kia Sportage vs Renault Kadjar vs Volkswagen Tiguan
Volkswagen Tiguan 1.4 TSI Comfortline R-Line (2016) Review
Hyundai Tucson Sport (2017) Quick Review
Fiat 500X 1.4T Cross Plus (2015) Review
Searching for a used Qashqai?