The Patrol is Nissan's top-tier SUV, replete with its go-anywhere-in-luxury attitude and a large-capacity V8 engine. Is this old-school behemoth still relevant amid the onslaught of premium SUVs on the new vehicle market?
We like: Effortless terrain-conquering ability, responsive V8, cocooning cabin.
We don't like: Thirst, outdated infotainment system, kitsch interior trims.
Alternatives
The other luxury Japanese off-roader: Toyota's Land Cruiser 200 is only available in a V8 diesel guise, but offers the same off-road bias and old-school luxury.

The modern take: Land Rover's new Discovery features all the modern tech you need. It works both on-road and off-road, but more features means there are more things that can go wrong.
Compare the specs of the Patrol with the Toyota and Land Rover here
What is it?
The Nissan Patrol has been around for more than 60 years and suffice to say it has conquered landscapes all over the globe. This iteration encompasses everything Nissan has to offer in an SUV, both in terms of in-car technology and off-road ability. Seven seats are wrapped in 2.8-tons of metal and powered by the (seemingly) long lost art of natural aspiration... yes, a 5.6-litre petrol V8 sits under the bonnet, which powers all four wheels and enables the Patrol to tow a 3.5-tonne load with ease.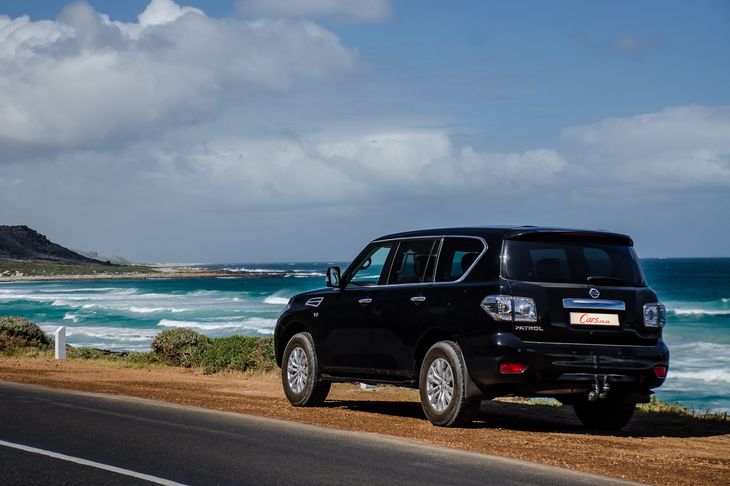 At 5.1-metres long and 2.0-metres wide, the Patrol casts an imposing figure on the road.
While most cars have been designed to conform with current trends, the Patrol stands out like a rock of ages, appearing as the same square giant it was 6 decades ago.
On the inside, and with this new model, the Patrol features a plethora of safety systems and updated onboard technology, all wrapped in a mix of leather and wood trim.
How does it fare in terms of…
Kerb presence?
As it weighs nearly 3-tonnes, there isn't much in the way of SUVs that can match the presence of the Patrol – it's a huge chunk of machinery. The metallic front grille makes a statement, but not quite as much as the solid-block side profile. It's almost bus-like in appearance, with a long rectangular body and a horizontal tail.
The Nissan's ground clearance is 272 mm, therefore it takes a bit of effort to climb aboard and pull yourself into the capacious cabin. The seating position is commanding; you certainly sit on top, rather than in, the "captain's chair", but it would be preferable if the steering column offered a bit more reach adjustment.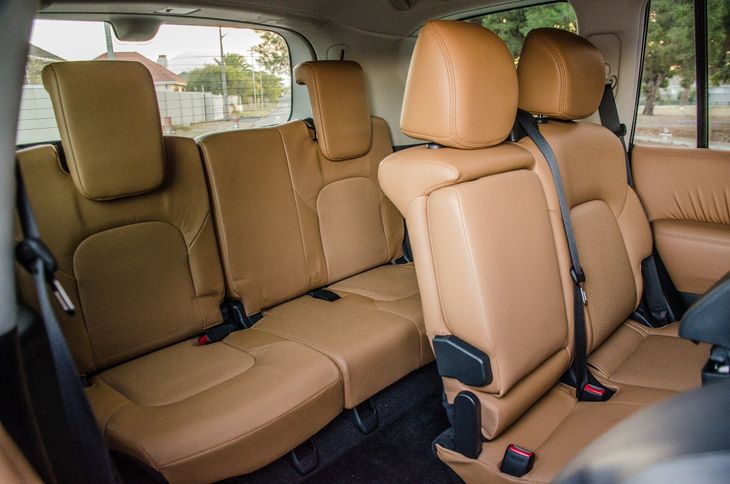 Even in 7-seater configuration, all occupants are afforded good headroom.
The beating heart of the Patrol is the 5.6-litre V8 under its bonnet, which is mated with a 7-speed automatic gearbox. The motor delivers peak outputs of 298 kW and 560 Nm of torque and because there's no turbo to spool up, throttle response is quicker than you might expect and the thrum of the V8 is uninterrupted as it winds up its rev range. There's also something to be said for the admiring glances that the Patrol attracts; people still show respect to a towering vehicle with a V8 badge on its back!
The drive for optimal fuel efficiency remains (and will remain) paramount to the automotive industry, which makes the Patrol's V8 (and others of its kind) seem anachronistic. Claimed fuel consumption is 14.6 L/100 km, but you are more likely to see 16L/100 km if you venture near a city or indulge in serious off-roading. On open stretches of freeway, we recorded 12.5L/100 km as our best return. At least you can get decent range thanks to the 140-litre capacity of the fuel tank.
Luxurious comfort?
Where the Patrol differs from models such as the Land Rover Discovery or Mercedes-Benz GLE is in the distances it will be required to cover. A Patrol is bought with plans to cross borders, wade into Africa and there's a sense of dependability that 60 years of doing that brings.
Its off-road credentials are undeniable and things are made simpler with on-the-fly changes from auto(2h) to 4-high and 4-low modes. There is also a terrain selector switch that lets you adjust the traction control and off-road systems to deal with rocks, snow, sand and tarmac.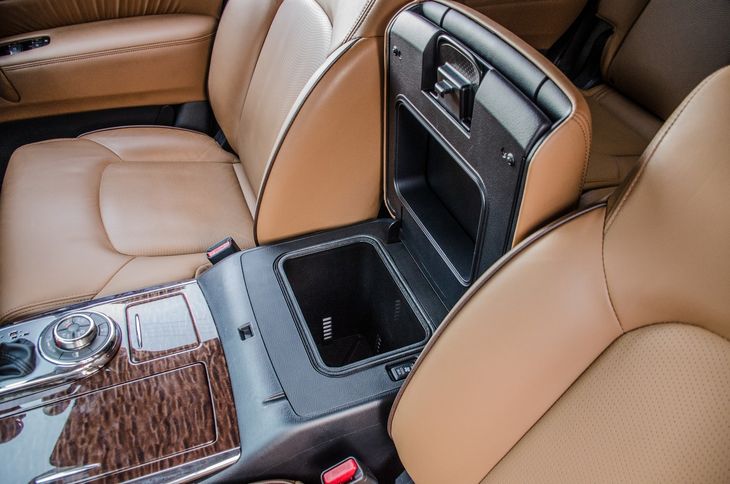 Actual refrigeration in the centre console with a big enough console to store 2 drinks bottles.
The leather seats are supportive and provide excellent comfort over long distances. There's loads of space in the rear; in fact, even the 3rd row of seats can accommodate adults.
The wood panels that surround everything on the dashboard feel a little kitsch and overdone, however. It doesn't exude a premium feel like wood trim does in a premium German sedan, it feels more like a glossy and chincy addition to the cabin. The DVD player in the centre of the dash alludes to the old school design of the Patrol. The rest of the cabin, wrapped in leather, is better to look at and touch, although the curtain-like ruffles on the door trim look old-fashioned, for what that's worth.
The refrigerated centre console is great for keeping drinks cold and having a total of 9(!) cup holders positioned throughout the cabin is certainly a boon. A pair of USB ports are provided up front and there is entertainment in the form of screens mounted in the headrests for rear passengers.
The infotainment system could benefit from a higher-resolution screen, but at least it comes with niceties such as navigation and displays 360-degree camera angles, the latter of which makes parking the mammoth Nissan a touch easier.
Driving comfort?
The suspension tuning on the Patrol is softer than you'll get on almost any modern SUV, the off-road bias dictates that as there's loads of wheel travel available in adverse conditions and with no air suspension, there's less to go wrong. That means you hardly feel gravel roads as you power over them commandingly.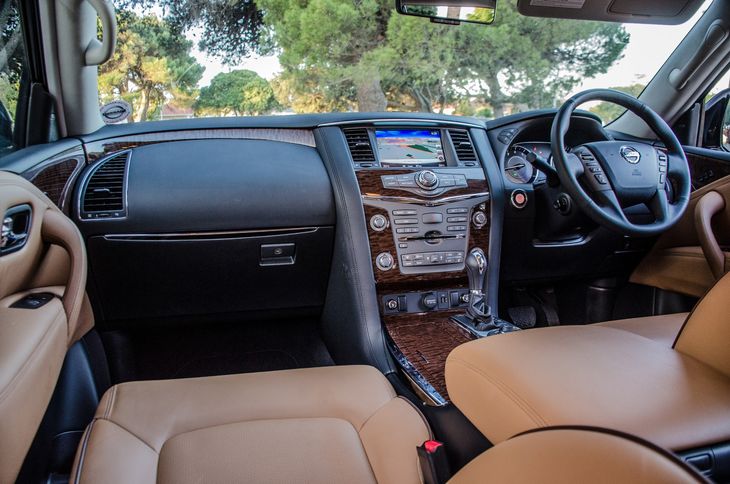 Leopard print wood anyone? The leather seats are particularly comfortable, however.
The steering is on the lighter side, again, because of the off-road bias where swinging the wheel, often while stationary, needs to be quick and easy. Out on the open road, the light steering doesn't affect the Patrol as much as it does in the Land Cruiser or the FJ Cruiser, which seem to get their wobbles on at speed. The Patrol remains sturdy and controllable and now has added modern technology to make long-distance driving simpler.
Adaptive cruise control is probably the most useful feature you'll use on long journeys and takes the hassle out of engaging and disengaging cruise control continuously. Then there are additions such as drowsiness detection, blind-spot detection, torque vectoring to help stabilize the Patrol around corners and lane departure warning –which you will probably turn off the moment the roads start to become devoid of visible markings.
Pricing and warranty
The Patrol SUV is only available in one model: this 5.6-litre V8 LE Premium. It retails for R1 31 0900 (May 2018), perfectly matching the Land Cruiser 200, which is only available as a diesel. The Patrol comes with a good 6-year/150 000 km warranty and a 3-year/90 000 km service plan. Service intervals are every 15 000 km.
Verdict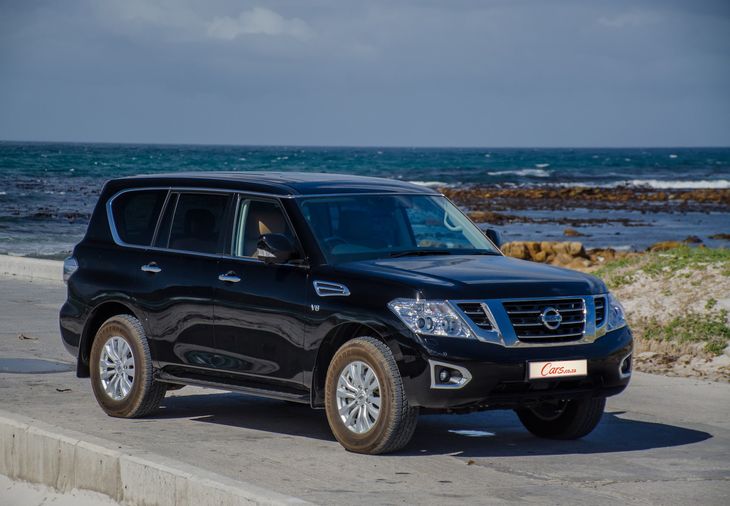 There's something to be said for the value of old-school mechanics should you get stranded in the middle of nowhere.
The Nissan Patrol is old school, but infused with a bit of new technology to keep the overlander contemporary. It's no Land Rover Discovery when it comes to adaptability and modern city living, but, if you're looking to do long distance and venture well beyond the beaten track then you want the reliability and dependability of something like a Patrol. And, they say that with fewer gimmicks and electronics, there's less to go wrong, especially when you're venturing deep into the bundu.
The Patrol offers excellent long-distance comfort and the addition of adaptive cruise control will no doubt serve you well on those many, many kilometres behind slow vehicles and trucks. The V8 under the bonnet offers responsive and brutish power, enough to tow whatever you want to the marshlands of the Okavango. The fuel consumption is significant, but that won't come as a surprise to this Nissan's target market...
The interior seems to have been slapped together as an afterthought, unfortunately. In order to endow the Patrol's cabin with a decidedly premium ambience, Nissan thought it best to scatter wood trim everywhere. It hasn't quite done the trick, but at least there's still excellent space for people and things to be stored in the cabin.
It may be hard to fathom, but there is definitely a market for the Patrol... Land Cruiser 2000 sales show that around 100 people a month consistently buy into this type a vehicle and the Nissan, armed with the added modern comforts it offers, appears an excellent competitor to the Toyota...
Related content:
Toyota Land Cruiser Prado (2017) Launch Review
SA's Unsung Off-Road Sales Hero
Land Rover Discovery (2017) Video Review
Land Rover Discovery goes hardcore with SVX
Buyer's Guide: Rugged 7-Seat SUVs
Searching for a used Nissan Patrol?