The Nissan NP200 soldiers on as a rugged and dependable workhorse. For 2016, Nissan South Africa has added some bling and additional features to appeal to the lifestyle brigade. James Siddall attended its market launch in Durban.
WWJD? No, not What Would Jesus Do? As per those armbands that seemed to lose some currency some time ago when it came to pass that the late, disgraced cricket star, Hansie Cronje, apparently wore one. But rather What Would Jesus Drive? Well, the answer to that is open to theological conjecture, but I like to think that were The Carpenter of Nazareth around today he might opt for a Nissan 1400 bakkie. It's humble, hardworking, its development and production costs were probably amortised decades ago, and the load bay is perfect for fish, loaves, disciples, and what have you.
But of course, that vehicle is no more – although, there's no shortage of old and older models plying our roads, mostly at the hands of industrious-looking individuals. Today, of course, that mantle has been taken up by the Nissan NP200, and owners seem to love them. I've vox-popped several – as I do with owners and drivers of vehicles that I have tested or might be testing – including Nissan's own PR who uses one, not just as a daily driver but for road-tripping too. Now there seems to be a plethora of Carpenter-spec (and carpenter- and builder- and sparky-spec) baseline NP200's on our roads, finished in white. But if you want something a little more individual you can now opt for something called the ICE. The Nissan NP200 ICE.
It's a limited-edition version of the NP200, and I'll kindly spare you lots of potentially laboured wordplay on the word "ice." Now, of course, limited- and special-edition models can vary from "tasteless" to "tries too hard." They're also often based on vehicles coming close to the end – or even at the end – of their production cycle as marketing folk dream up ways to shift surplus stock. But the NP200 seems nowhere near the end of its life, and I rather liked the ICE edition. It aims to give this little worker-bee bakkie some leisure and lifestyle pretensions and it does so rather nicely. (Was anyone else strictly warned by English teachers and lecturers against the use of the word "nice" and derivatives thereof on the grounds that it's lazy and insipid?).
What's New?

My page mate, Gero Lilleike, covered the specs of this machine very recently, but to save you from having to refer to his piece, let me refresh you. Nissan – and this is less to commit the cardinal journalistic sin of regurgitating the press release and more to give you an idea of its positioning – says it's "for bakkie-lovers seeking the perfect partner for their adventurous lifestyle while allowing them to stand out from the crowd." You can have yours in one of two colours. Starling Blue or Bright Silver metallic. I preferred the blue as it's bold and nautical.
Some of those extras include dark tinted windows, custom 15-inch alloys, a little aluminium nudge bar with brushed finish, something that's termed a "sports bar" (think roll bar) in the same finish, rubberised load bay, tonneau cover, rear step plates, and ICE decals. The last could have gone horribly wrong as is the wont of decals, which can vary from laughable to lurid, but these work rather, er, nicely. While my colleagues were busy surfing and kayaking at the Durban beach launch this week, I took one for a drive around the city's Point area. An area that has been, by and large, singularly successful in avoiding the imminent gentrification predicted since I was a teen in the Eighties.
The interior, for one, proved likeable, benefiting from rubber mats that are "easy to clean following those sporting escapades," says Nissan, and rightly so. Too often I drive SUVs with continent-crossing capability – and footwell carpets that display the first hint of dirt like original sin. There's also a rather aftermarket-y looking but effective enough sound system with Bluetooth and USB and stuff, air-con, two airbags, a handy 300 litres of storage space behind the seats – and wind-up windows. Yes. Things that you manually, physically crank. Like with your arm. In a sort of elliptical motion that is no doubt foreign to many people under the age of 30. I like these. There's a reassuring honesty to them. And this doesn't come from a mindset as per Marie Antoinette who used to love playing milkmaid, before retreating to the sybaritism of Versailles. Or in my case, a more luxurious test car. Wind-up windows are also just one less thing to break. This is important in a vehicle that buyers might keep for a long time – long after even the six-year/150 000km warranty is history.
Great Diesel Engine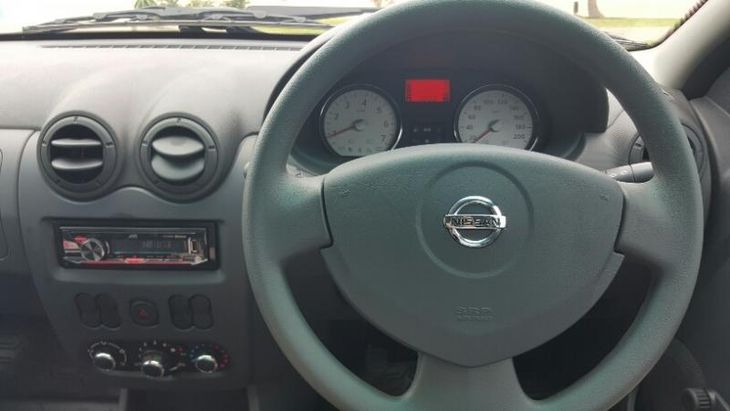 It was the 1.5 turbodiesel version I picked for my Point tour, with 63 kW and 200 Nm on tap, with its fuel thirst pegged at 5.3 L/100 km. The 1.6-litre petrol turns in 64 kW and 128 Nm of torque with a fuel consumption figure of 8.1 L/100 km. It's a sweet, tractable little thing on the move, with its reassuringly honest workhorse roots shining through, and that briefly takes us into another silo.
Is there still a market for half-tonners (the NP200 will, in fact, carry 800kg of cargo)? Yes. At least according to my theory. You see, with ever-increasing numbers of micro-enterprises mushrooming – especially as so many people opt for or are forced to take retrenchment packages – this segment should grow, maybe even explode. The NP200 ICE is yours for R191 900 for the petrol, R204 900 for the diesel. These numbers may sound huge for someone whose notion of prices is still mentally locked in the 1980s when his mother's new Honda Ballade cost just under R10 000. In reality, those numbers aren't usurious for what you get today on the new market.
Plus it's made in Rosslyn. No, not the Rosslyn Chapel in Scotland, which in Dan Brown's The Da Vinci Code was outed as the final resting place of the Holy Grail, but rather Rosslyn in Pretoria. WWJD indeed.
Nissan NP200 ICE – Price in South Africa
Nissan NP200 ICE 1.6 Petrol – R191 900
Nissan NP200 ICE 1.5 turbodiesel – R204 900
The Nissan NP200 ICE is sold with a 6-year/150 000 km warranty while a service plan is offered as an option.
Related content:
Nissan NP200 ICE Limited Edition – Specs and Pricing
Refreshed Nissan NP200 Bakkie Rolls Out
Want to buy a Nissan?