A sportier version of the Nissan Micra, equipped with a more powerful engine, tweaked suspension and some added features, arrived in South Africa late last year. We recently spent a week with the range-topping Micra 84 kW Turbo Tekna Plus to find out if you should consider buying it...
We like: Punchy engine, fuel economy, crisper handling, unique sound system, standard features
We don't like: Excessive road-noise, lurchy gearbox under hard acceleration, not as practical as rivals
Fast Facts
Price: R342 600 (February 2020)
Engine: 1.0-litre, 3-cylinder turbopetrol
Power/Torque: 84 kW/180 Nm (200 Nm on overboost)
Transmission: 6-speed manual
Fuel Consumption: 5.0 L/100 km
Load Space: 300 - 956 litres
SERIOUS ABOUT BUYING?
Check out full specification details and finance estimates here.
Some Nissan dealers regularly offer specials: Look at New Car Specials here!
What is it?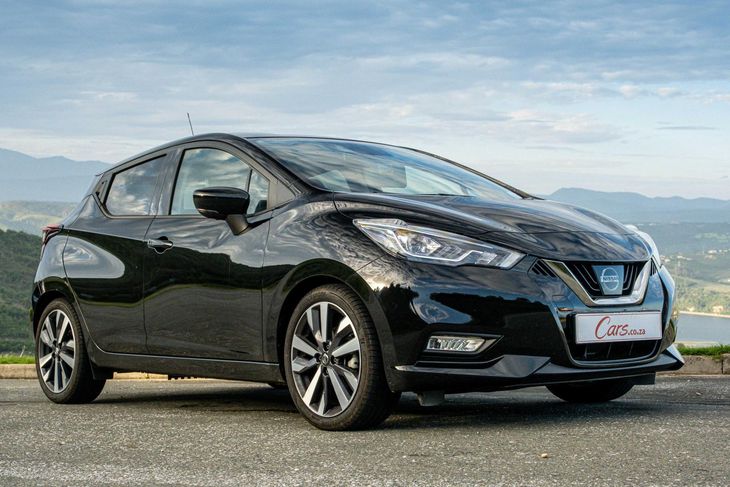 Available only in 'Enigma black', the 84 kW Micra Tekna Plus has more oomph as well as a dropped suspension for a sportier ride.
A much-improved 5th-generation Micra arrived in South Africa back in 2018 and while its sales have been sluggish compared those of rivals, such as the Volkswagen Polo and Ford Fiesta, the pint-sized Nissan has still managed to garner a sliver of sales. Face it: unless a compact hatchback has (especially) a VW-badge on its nose, it's just making up the numbers in Mzansi's new-vehicle market
The tried-and-tested 0.9-litre turbopetrol engine in the Micra, which is also used in the Renault Clio, has been around for 8 years and is, comparatively-speaking, weedy compared with the 1.0-litre engines in the aforementioned Polo and Fiesta. Before the arrival of the 84-kW motor, it was the range's sole powerplant, which may have contributed to the Micra's underwhelming sales performance.
However, Nissan now offers a Micra with a new 1.0-litre, 3-cylinder turbopetrol engine encased in a sportier package with a lowered sports suspension and sharper steering to deliver a more engaging driving experience. Moreover, this Tekna Plus derivative is offered only in "Enigma Black" exterior body colour, while the interior is finished in what Nissan calls an "invigorating red" colour scheme.
There are also some other nice-to-have features such as a Bose Personal audio system and, as such, the Micra 84 kW Turbo Tekna Plus is targeted squarely at the youthful buyer looking for a bit more flair than you can have in low- to mid-spec compact hatchbacks. Does the package work as and should you consider it? Let's put this Micra under the, umm… micrascope then, shall we.
How it performs in terms of…
Engine performance and fuel efficiency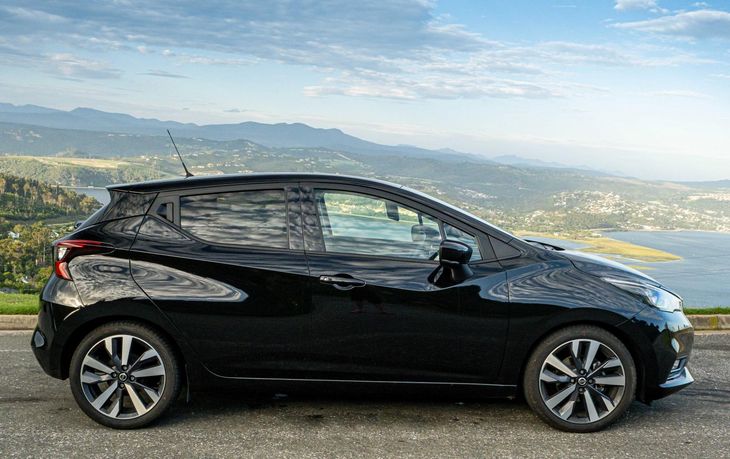 The 84 kW Micra has some impressive punch and it returns decent fuel consumption figures too!
This new 3-cylinder engine, which was jointly developed by the Renault-Nissan Alliance and Daimler, delivers promising outputs of 84 kW and 180 Nm, with an overboost function that takes torque up to 200 Nm (in bursts), which is impressive for such a small motor. It has enough grunt to compete with the equivalent Fiesta and Polo derivatives, but it's only offered with a 6-speed manual transmission.
For this test, we decided to let the Micra run wild on the open road from Cape Town to Knysna and back. For the most part, this new engine offers commendable punch! You can hear the turbo spooling up and once that initial lag has been overcome, the Micra accelerates up to highway speed quickly and it's also quite happy to push further if you need it to. This Micra has some legs!
While the transmission can be lurchy when you attempt to execute quick shifts under hard acceleration, it's a solid gearbox with a solid, positive shift action (at least most of the time). Overtaking manoeuvres can be executed with little effort and in-gear tractability is good, which means you don't need to go hunting for the peak-torque band all that often.
That 6th gear does wonders for conserving fuel; we were happy to see fuel consumption returns of around 6.5 L/100 km, which is good, considering that Nissan claims an ambitious 5.0 L/100km.
Ride and handling

The tweaks to the suspension and steering makes this Micra more nimble and responsive through corners.
In an effort to infuse the Micra with more sporting appeal, Nissan lowered the car's ride height by 10 mm, stiffened the suspension and tweaked the steering ratio to enhance responses to driver inputs and, of course, the Tekna Plus' handling characteristics. In combination with the more powerful engine, those tweaks do make a difference – this Micra feels palpably livelier to drive.
The steering is light and direct, which is helpful when you are scooting around corners at a fair lick of pace. The ride quality is on the firmer side of pliant: there were some jarring bumps and ruts that thudded through to the cabin, but for the most part, this Micra strikes a good balance between sportiness and everyday usability. It's worth noting that road noise entering the cabin at highway speed can be excessive, however. The Micra rides on 17-inch alloys shod with lower-profile tyres, which is a key contributing factor. It's by no means a dealbreaker, just something you will have to live with.
Interior quality and features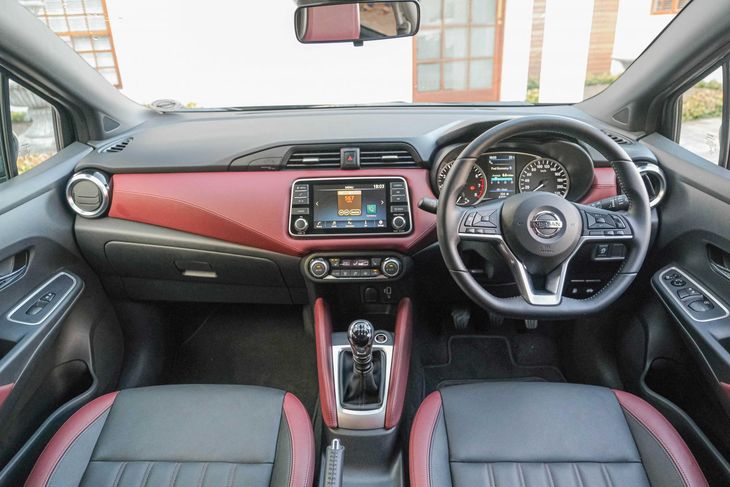 A smartly executed red-and-black leather interior adds premium appeal to this range-topping Micra.
A red-and-black leather-trimmed interior awaits you inside this Micra. Some of our testers found it appealing, others didn't, so you will have to make up your own mind in this regard. While the perceived build quality is generally good, we did find some cheap plastic in the centre console that appeared to be installed poorly (it felt quite loose).
Nonetheless, the front seats are comfortable and feature a heating function, but they do lack some side-bolstering. The leather steering wheel can be adjusted for rake and reach and a multifunction steering wheel, with mounted controls for the audio system, Bluetooth telephony/streaming and cruise control are included.
For music lovers' pleasure, a special Bose Personal auto system is fitted; its bound to appeal to a younger clientele. The system includes an amplifier under the driver's seat, wide-range speakers in the doors, tweeters in the dashboard and 2 speakers mounted in the driver's headrest. Sound quality is very good and you can adjust the sound settings via the 7-inch touchscreen infotainment system.

Speakers in the driver's headrest enhance the quality of the sound from the Bose Personal sound system.
The infotainment system is compatible with Android Auto and Apple CarPlay, which is a boon, but we found the touchscreen interface a bit dopey at times, which can be frustrating when you have to poke the screen several times to register the desired input. Apart from that, the system does an adequate job of connecting devices. The screen also displays the Around View Monitor which is very useful for parking in tight spaces, but the image quality is poor.
Other nice features fitted inside this range-topping Micra include keyless entry, push-button start, automatic aircon, electric windows and electric-folding mirrors, a reverse-view camera, rear park distance control, blind-spot monitoring and moving object detection. A total of 6 airbags are also fitted, along with ABS with EBD, brake assist and electronic stability control.
Space and Practicality

Load space is average but not segment-leading. Rear legroom could be better too.
The Nissan Micra lags behind rivals such as the Volkswagen Polo and Ford Fiesta when it comes to space and practicality. Nissan claims 300 litres of luggage space, which increases to 956 litres with the 60:40 split rear seats folded down. In comparison, the Polo offers 350 litres, while the Fiesta is similarly sized at 303 litres.
Taller rear passengers may find the Micra lacking sufficient rear legroom, but average-sized adults should find the accommodation adequate (with cooperation from the front occupants). There are useful cupholders up front, as well as storage space ahead of the gear lever. Overall, this Micra is average in terms of practicality – there are certainly more spacious options on the market.
Price and after-sales support
The Nissan Micra 84 kW Turbo Tekna Plus is priced from R342 600 and includes a 6-year/150 000 km warranty and a 3-year/90 000 km service plan.
Buy a Nissan Micra on Cars.co.za
Verdict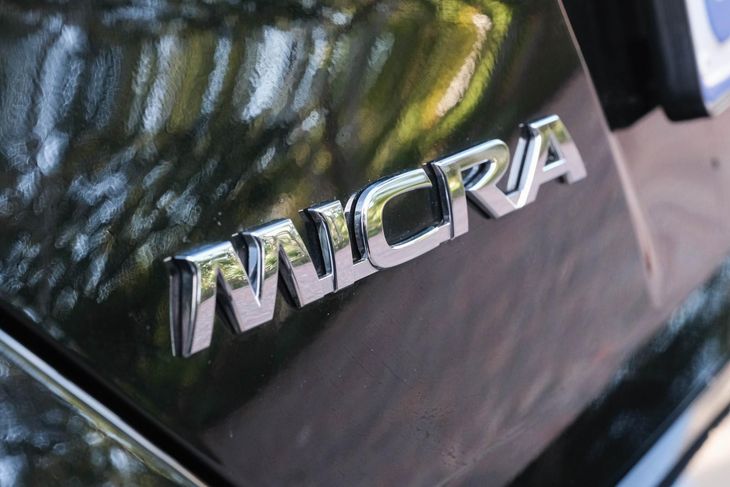 The 84 kW Micra Tekna Plus balances performance and economy well.
We think this 84-kW Micra is a welcome addition to the local range; it should appeal to buyers looking for a little more performance and spec than what other derivatives can offer. The 1.0-litre engine delivers usable and efficient performance in a good-looking, well-equipped package. If Nissan offered this derivative in other exterior colours (other than black) the derivative would have so much more appeal. Still, the leather interior looks very smart and the Bose audio system is a USP in this segment. Nissan's 6-year/150 000 km warranty also adds peace of mind to the purchasing proposition.
The Tekna Plus does look pricey against the Polo 1.0TSI Highline R-Line (R315 100) and the feature-laded Fiesta 1.0T Titanium (R328 500), but bear in mind that the opposition's base pricing doesn't tell the whole story. In the case of the Polo, a number of features are optional (leather upholstery, Discover Media, Blind Spot Monitor, Park Distance Control etc), all of which push up the asking price.
We think this 84-kW Micra deserves more attention if you are in the market for a punchy 1.0-litre hatchback and if you are willing to accept its handful of shortcomings...
Related content:
Nissan Micra 84 kW Turbo (2019) Launch Review

Nissan Micra 66kW turbo Acenta (2018) Quick Review