Nissan has revealed the new Ariya EV crossover as part of its Nissan Next transformation plan, blending the brand's crossover strength and vast EV experience. See details for the Ariya below...
Many car manufacturers are focusing their strategies on the development of Electric Vehicle (EV) technology which is expected to become more prolific in coming years as traditional Internal Combustion Engine (ICE) vehicles receive less attention and budget.
Nissan is no stranger to electric mobility and the LEAF has been spearheading the brand's electric efforts for many years already. The forthcoming Ariya, however, is an important vehicle for Nissan as it will represent Nissan's EV future which will also lead the way for future autonomous driving technology. Nissan plans to launch 12 new models over the next 18 months and the Ariya will play an important role in capitalising on the rising growth of EVs worldwide with the expectation of EV/e-Power sales of over 1-million units to materialise by the end of the fiscal year 2023.
"The Nissan Ariya opens a new chapter in our history as we begin our journey of transformation in our business, in our products, and in our culture," Uchida said. "It defines what matters to Nissan, represents what we stand for, and embodies the essence of who we are: a passionate, innovative challenger."
Key design features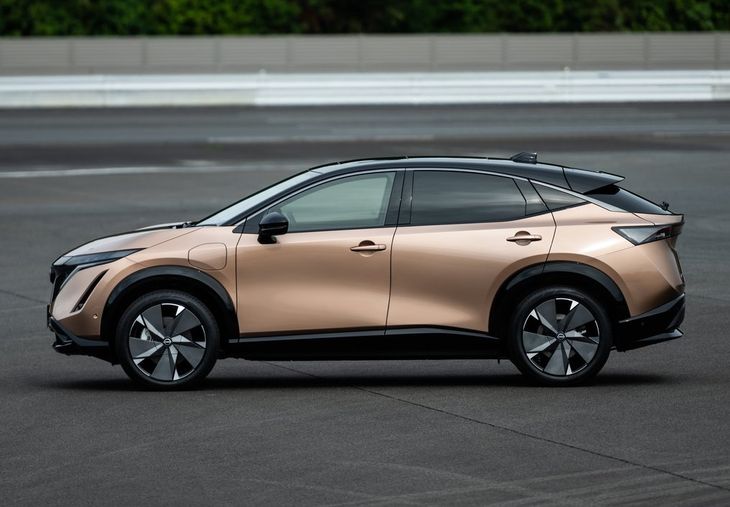 With an aerodynamic, coupe-like silhouette, the Ariya is sleek-looking.
In terms of design, the Ariya shares much of the design cues from the Ariya Concept on which it's based. Firstly, as this is a new chapter for the brand, Nissan has taken the opportunity to unveil its new logo which is seen for the first time on the Ariya. The Ariya features a sleek yet powerful design that intends to communicate the clean and powerful energy that Ariya represents.
As for the interior, the production Ariya has adopted most of the concept's clean and minimalistic interior design features, including the large digital screens and the integrated haptic touch controls on the instrument panel. The Ariya features a spacious interior with a flat cabin floor and lounge-like seating. Much of the Ariya's functions can be managed with voice activation and comes equipped with Amazon Alexa as well as an intelligent route planner. The touchscreen works much like a smartphone with swiping, pinching and so forth. More so, the Ariya's software is updated over-the-air without having to visit a dealership.
Luggage space is claimed at between 408 litres (4WD) and 466 litres (2WD).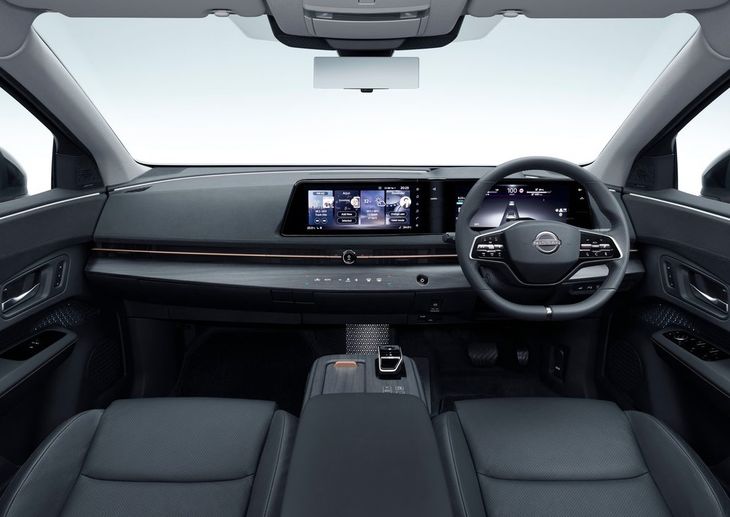 The interior retains much of the design from the Ariya Concept and features high levels of connectivity.
Technology and Power
The production Ariya is a showcase of Nissan Intelligent Mobility and incorporates a host of advanced driver assistance systems. The Ariya is equipped ProPilot 2.0 which combines navigated highway driving with hands-off single-lane driving capability. Using the navigation and 360-degree sensing, the vehicle can autonomously execute actions such as overtaking, lane diversions and lane exits. Other features include Remote Park, an e-Pedal as well as Nissan's safety shield which incorporates Intelligent Around View Monitor, Intelligent Forward Collision Warning, Intelligent Emergency Braking and Rear Automatic Emergency Braking technology.
Built on a new EV platform, the Ariya features a dual electric powertrain with an electric motor over each axle, effectively giving it all-wheel-drive capability. However, Nissan will offer 4 derivatives of the Ariya to customers with a choice of either 2 - or 4-wheel-drive layout and with a choice of 2 battery outputs of either 65 kWh or 90 kWh.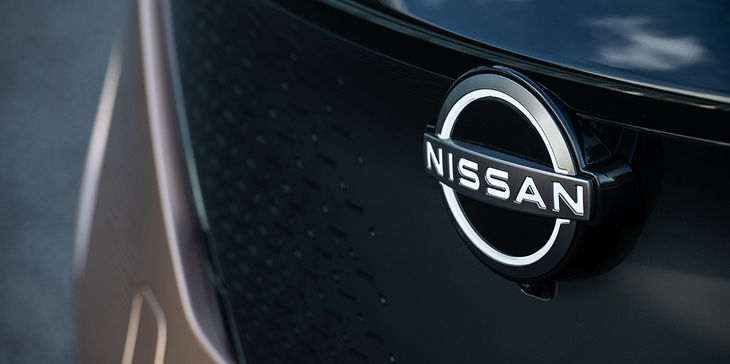 New Nissan logo showcases a more modern, electrified future for the brand.
As for outputs, the Ariya 2WD with a 65 kWh will offer 160 kW and 300 Nm, while the 90 kWh battery in 2WD guise will offer 178 kW and 300 Nm. With 4WD, outputs increase to 250 kW and 560 Nm with the 65 kWh battery while the 90 kWh Ariya will offer 290 kW and 600 Nm. Those numbers look mightily impressive on paper and it will be interesting to see how the Ariya performs in the real world.
Nissan previously said that the electric motors would ensure "powerful acceleration" and that power delivery would be equal to or better than many premium sports cars. In fact, Nissan says that the most potent Ariya can accelerate from zero to 100 kph in 5.1 seconds, which is faster than Nissan's 370Z sports car.
As for electric range, Nissan estimates 610 km based on the Japan WLTC and is subject to homologation. Nissan also pointed out that 375 km of charge can be recovered in 30 minutes using a high-power charger.
The new Nissan Ariya will go on sale in Japan in mid-2021 before being offered in other markets such as Europe, China and North America towards the end of 2021. Nissan South Africa has yet confirm if the Ariya will be offered in South Africa.
Also see:
Nissan Ariya Concept Shows Sleek Electric Crossover