The new Kia Picanto arrived in South Africa this week and we attended the local launch in Cape Town to give it a whirl.
The Kia Picanto, also known as Pikachu in the Cars.co.za office, is now in its 3rd generation and the new model was introduced to motoring media in Cape Town this week. The outgoing Picanto has been a sales success for Kia since its introduction in 2011 and is currently one of the most popular offerings in the A-segment locally. Globally, the Picanto success story continues with over 1.4 million Picanto's finding homes around the world.
Kia believes the new Picanto has what it takes to lead sales in its segment and with high hopes for this latest generation, Kia's designers have spruced the Picanto up with a fresh exterior design and a newly designed cabin with modern technology and infotainment solutions. More than this, Kia sought to improve things such as ride quality and refinement, practicality and performance, all in a bid to keep the Picanto in the game in the minds of budget conscious buyers.
Read our detailed specification and pricing breakdown of the new Kia Picanto!
Old vs New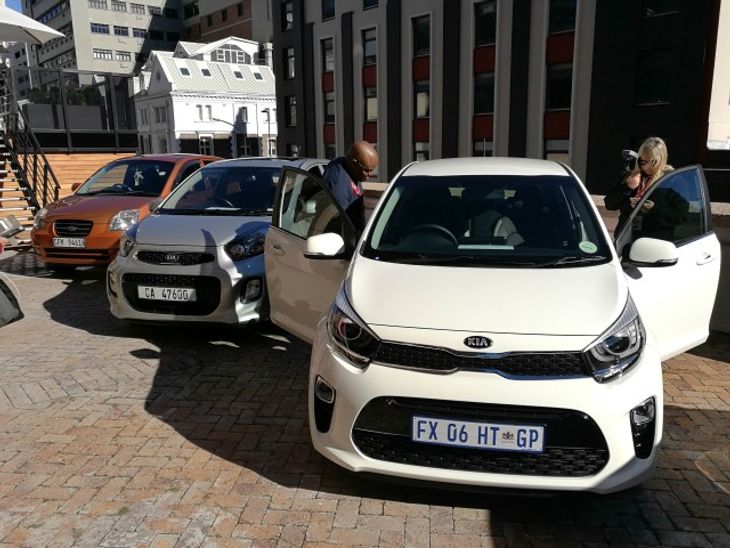 Previous generations of the Picanto show how far this city car has come. The new Picanto is much-improved.
Kia is so confident about its new Picanto that our launch route started behind the wheel of the outgoing, second-generation Picanto and although it was a brave move by Kia, it was a useful way to put the newcomer's fresh attributes into perspective.
As a reference point, the outgoing Picanto's 1.2-litre engine piped up with a hollow engine sound filling the cabin. The sound of the engine was also accompanied by noticeable vibrations permeating through the dashboard and driver's seat – further evidence of the discontinued car's budget roots. On the road and during cornering, the old Picanto's steering felt dead at centre with poor response to driver inputs. More than this, the interior quality and design left a lot to be desired.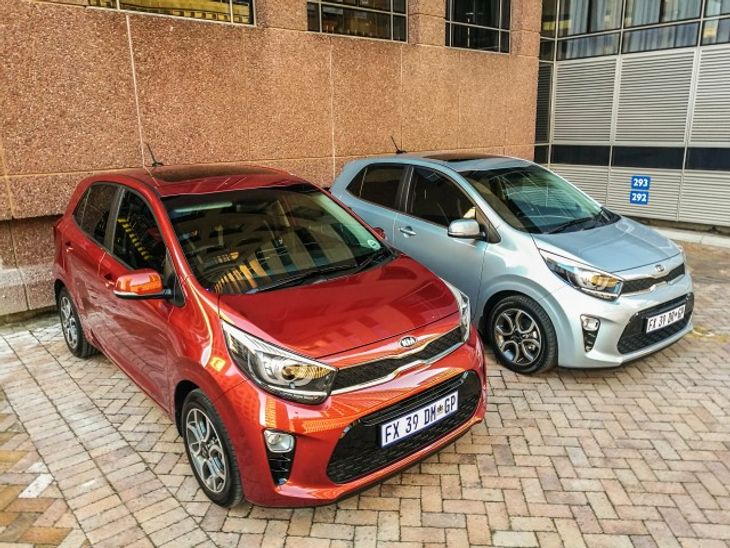 The new Picanto's styling has been enhanced with a wider tiger-nose grille and new projector headlights with LED elements.
We drove some 40 km to the small town of Philadelphia, where a fleet of new Picanto's awaited us. Kia only had its top-spec Picanto 1.2 Smart manual on hand for us to drive. From the outside, the Picanto's styling is far more striking, particularly from the front where attractive projection headlights with LED daytime running lights, LED indicators and a wider tiger-nose grille give the Picanto a pretty face. This derivative rides on 15-inch alloy wheels, while derivatives below it are fitted with smaller rims or wheels.

Stepping into the new Picanto, the cabin has been vastly improved in terms design, material quality and fit and finish. The seats in this 1.2 Smart derivative are far more comfortable too and are upholstered in two-tone grey and black leather. The biggest change, however, is the addition of a full-colour 7-inch floating touchscreen that's Bluetooth capable and offers Apple CarPlay and Android Auto. You can also connect devices using the USB or auxiliary ports. We found the system easy enough to use and it adds a more premium cabin ambience.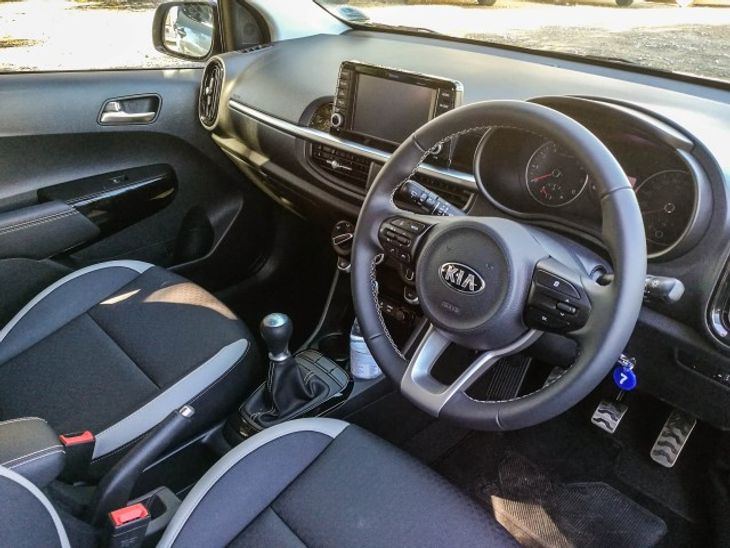 A new cabin design and a 7-inch touchscreen infotainment system gives the Picanto a more premium look and feel.
Other nice-to-have features in this 1.2 Smart derivative include a multifunction steering wheel, electric windows, electrically adjustable and folding mirrors, height-adjustable driver's seat, air conditioning, nifty retractable front cup holders, a movable armrest and a new LCD trip computer. The size of the luggage bay has increased by approximately 50 litres to 255 litres and there is a 2-step boot floor that can be lowered by 145 mm to access more space or to keep valuable items hidden out of sight. The rear seats fold flat in a 60:40 configuration, increasing available space to 1 010 litres. In terms of rear-seat comfort, taller rear passengers may find leg- and kneeroom cramped; shoulder- and headroom are adequate, however.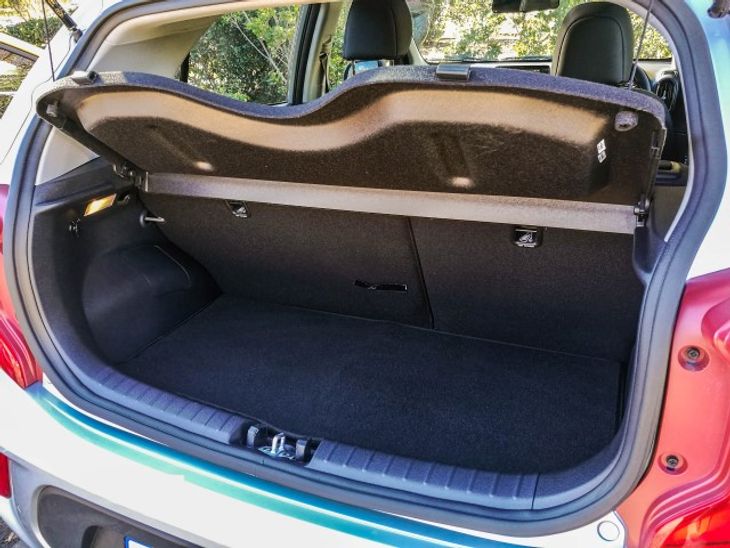 Luggage space has increased to 255 litres and a false floor allows you to store items out of sight.
On the road, the new Picanto is noticeably better than the model it replaces. The engine is far quieter at idle and while driving thanks to engine enhancements and improved cabin insulation. The familiar naturally aspirated 1.2-litre motor offers peak outputs of 61 kW and 122 Nm of torque and is mated with a 5-speed manual transmission.
Even without turbocharging, the engine performs relatively well at low altitude, but it will be more sluggish at the Reef and more so when fully loaded with occupants and their detritus. The transmission is smooth in shifting gears and if you want to get the most from the engine, you will be gearing down fairly often to keep the engine peaking.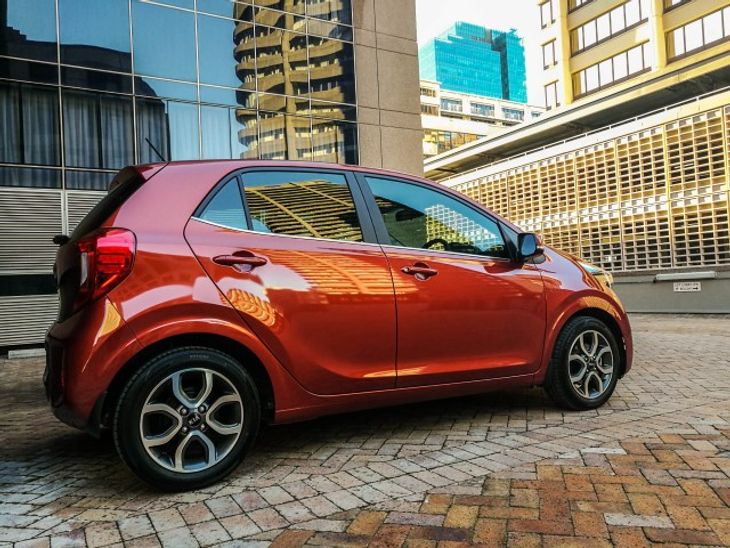 The new Picanto offers improved ride quality and better steering response.
Buyers will be happy to know that steering response has improved substantially and the new Picanto is far more responsive to steering inputs. Furthermore, the suspension has been improved too and new Picanto delivered a comfortable ride on our bumpy launch route. The 1.2 Smart derivative is claimed to consume an average of 6.4 L/100km, which is fair.

In terms of safety features, this flagship version is equipped with ABS, 2 airbags and ISOfix child seat mounts. Furthermore, rear park distance control, aided by a reverse camera (with dynamic guidelines) is standard on this derivative. However, it must be noted that entry-level Start derivatives are fitted with only one airbag for the driver and no ABS is offered.
Final thoughts
Like many manufacturers, Kia is at the mercy of the exchange rate and pricing for the new Picanto appears to be more expensive than it should be. At R195 995, this range-topping Picanto 1.2 Smart sits in the upper reaches of the A-segment alongside the Volkswagen Up! and may very well be a push too far for cash-strapped buyers.
There are, however, a total of 11 Picanto derivatives on offer across 4 trim grades with entry-level pricing starting at R134 995, so buyers have a lot choice in the Picanto range.
Overall, buyers should leave previous perceptions of the Picanto at the door because this new iteration is a much-improved product in terms of design, quality, refinement and packaging.
We will have the new Kia Picanto on test soon, so look out for our thorough evaluation coming soon!
Kia Picanto – prices in South Africa (July 2017)
1.0 Start Manual R134 995
1.0 Street Manual R149 995
1.0 Style Manual R159 995
1.0 Style Auto R172 995
1.0 Smart Manual R179 995
1.2 Start Manual R150 995
1.2 Start Auto R163 995
1.2 Street Manual R165 995
1.2 Style Manual R175 995
1.2 Style Auto R188 995
1.2 Smart Manual R195 995

The Kia Picanto is sold with a 5-year/unlimited km warranty and 3-year/unlimited km Roadside Assistance. A service plan is offered as an option.
Watch our video overview of the new Kia Picanto below!
Related Content
Update: New Kia Picanto Coming to SA in Q3
Teaser Images: Next Kia Picanto
Kia adds new 1.2 entry-level Picanto
Comparison: Kia Picanto 1.2 vs Suzuki Swift 1.2
Want to buy a Kia Picanto?