Ford's all-new Focus arrives in South Africa during the first quarter of next year. In recent years the outgoing car has become the class-leading Volkswagen Golf's fiercest rival. Here are 5 areas in which we think the new Ford could trump its arch-rival.
We recently travelled to France to drive this very important new C-segment contender. You can read the full review here. In a nutshell, the new Focus appears to again set a new benchmark for dynamic ability in its class, and also edges closer than ever before to the Golf in terms of quality finishes. While the local line-up and, most importantly, pricing remains unclear at this point, we believe the Focus could better the Golf in 5 key areas when it arrives in South Africa.
1. Ride & Handling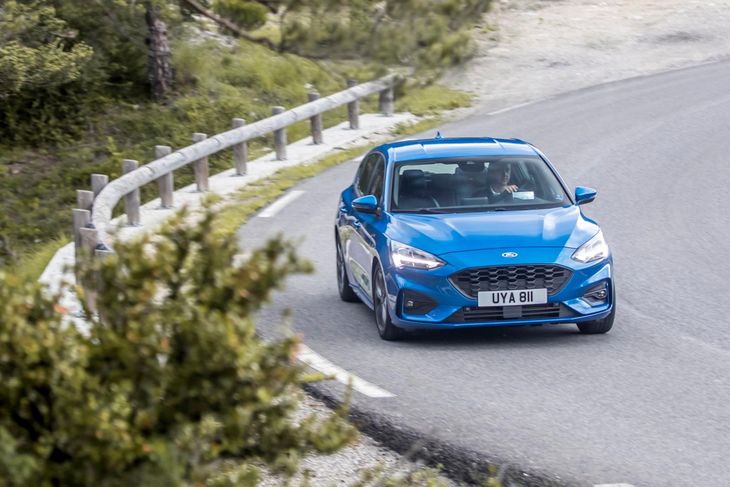 The new Focus can be had with Continuously Controlled Damping, but even without it is a class-leading handler.
It needs to be said upfront that the current Golf is no pushover in this regard – its MQB platform is stiff and has throughout VW's model range delivered sweet-handling cars that also ride well. But the Focus is better. During our drive in France, on varied surfaces, the Focus impressed with its big-car ride refinement and agility in the corners. Essentially Ford offers 3 levels of suspension set-up, depending on which model you buy. We'll have to wait and see what is offered locally but even in its most basic configuration it impresses dynamically. Higher-spec cars even feature Continuously Controlled Damping which is also linked to the standard (on all models) Drive Mode selector.
With crisp, nicely weighted steering, a supple ride quality when you're in a relaxed mood, and pin-sharp dynamism when you're in a hurry, the Focus tops the class in this area quite comfortably.
2. Spaciousness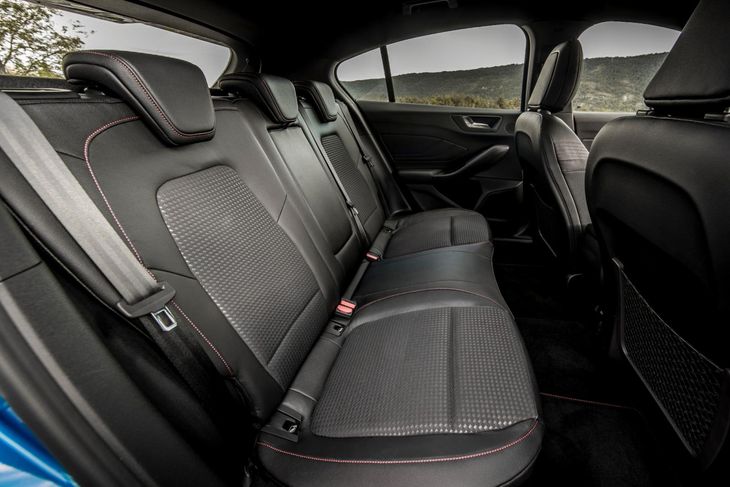 Loads of space in the back courtesy of a significantly extended wheelbase.
The new Focus has a 50mm longer wheelbase, and all that extra length has gone into providing more rear legroom. The Focus's wheelbase now measures 2 700mm, compared with the 2 630mm of the Golf 7. Ford claims that the new car is now class-leading in this regard, and having done the sit-behind-self test in Europe, we have no reason to doubt their claim – it's indeed massive back there!
There is also more rear shoulder room – Focus rear track measures 1 553mm compared with the Golf's 1 521mm – and the boot is among the largest in its segment (Golf is 380L, and new Focus is 375L, up from 316L), too.
3. Performance & Efficiency Balance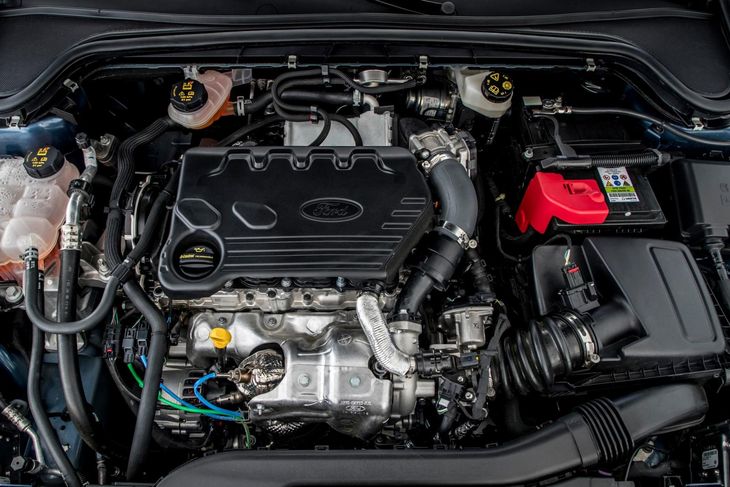 The local line-up will include Ford's latest 1.0T and 1.5T turbopetrols.
Given the new Focus's greater dimensions you may have some doubts about the ability of such small 3-cylinder engines delivering sufficient go, but all the derivatives we drove in Europe provided perky performance. At this point it is unclear which output levels South Africa will receive, and Ford's recent confirmation that the higher-output 1.5L engine in the Fiesta ST can't come here due to our fuel quality, will raise concern.
Nevertheless, currently the benchmark set by the Golf in the 1.0L class is 81kW/200Nm of torque, and the Focus's rival engine (now featuring innovative cylinder deactivation technology) ranges from 63 to 92kW (with 200Nm on overboost). We expect the more powerful of these 1.0L engines to make the local line-up, in which case it should match the VW's performance figures (0-100kph in around 10sec and a 200kph top speed).
In terms of the 1.5L engine, here Ford will want to beat the 1.4 TSI Golf's 92kW/200Nm, which should be easy enough given the fact that the lower of the Ford 1.5L engines' minimum outputs are 110kW and 240Nm.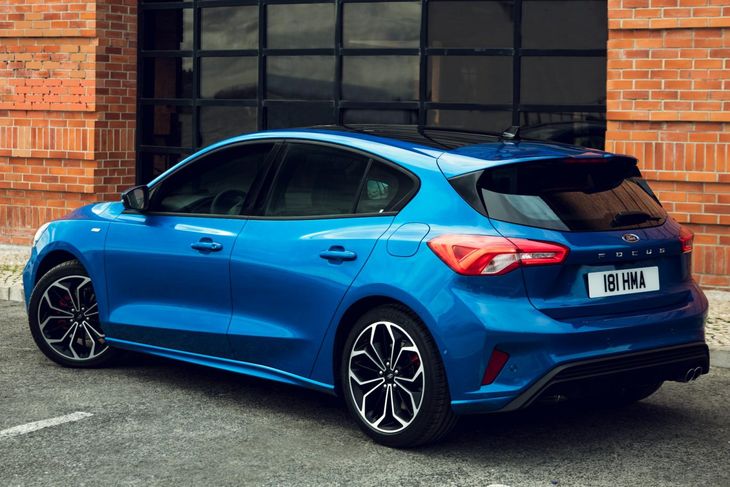 This 1.5T ST-Line car offered very impressive performance and efficiency during our test in Europe.
We were also impressed with the Ford's new 6-speed manual transmission (the best Ford manual we've tried in a long time), and there's also a slick new 8-speed automatic (with paddle shifts).
With fuel costs rising faster than it takes to empty a tank, fuel efficiency continues to grow as a key purchasing factor. Ford's EcoBoost engines have always had impressive claimed fuel economy, but we've often struggled to match those claims. Still, the newly reworked engines promise further improvements, notably due to groundbreaking cylinder deactivation technology, which shuts down one of the three cylinders when not needed.
Ford claims a combined cycle fuel economy figure of 4.8L/100km for the higher output (92kW) 1.0L engine, which matches the Golf exactly, while for the more powerful 1.5T the claim is 5.3L/100km, again closely matching the Golf's less powerful 1.4L engine.
4. Standard Specification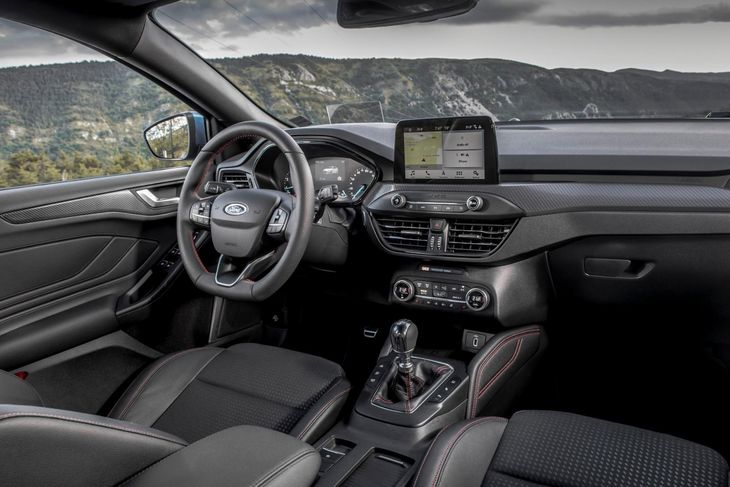 In Europe all Focus trim lines boast generous specification – this is ST-Line.
With features such as a Drive Mode selector and Heads-Up display across all derivatives in Europe, Ford appears to have gone for a fairly generous specification level with its new contender. In South Africa, we don't have access to line-up details just yet, but given the positioning of the new Fiesta, and the approach by Ford in Europe, we can predict with some certainty that the pricing gap to Golf will be narrower, but that Ford will offer more standard features, and fewer optional extras.
For example, Trend specification in the new Fiesta includes such niceties such as auto lights, Sync3 infotainment with a colour touch screen, 6 airbags and rear parking sensors. It is priced at a R10k premium to the outgoing model. Comparatively, Trend specification is more generous than Volkswagen's Comfortline trim line. We therefore expect that a Golf Trendline-rivalling Focus 1.0T (Trend) should be priced at around the R300k, but offer more standard features.
5. Safety
By all means the latest Ford Focus is a very safe car (have a look at its impressive performance in the latest round of EuroNCAP crash testing). It is not always possible to compare these ratings (the Golf was tested in 2012), as specification of the tested vehicle as well as changes to EuroNCAP's ratings affect the scores. In recent changes to the EuroNCAP organisation's system, greater focus is placed on driver assistance and accident avoidance technologies.
New Focus is offered in Europe with a raft of such advanced technologies, including automated parking, wide-angle rear view camera, pre-collision assist with pedestrian and cyclist detection, evasive steering assist, adaptive front lighting and speed-sign recognition, among many others. The Focus tested in the video above was a 1.0T Trend specification car and achieved some of the best scores ever recorded.
Interested in buying a new / used Ford Focus?
Find one today on Cars.co.za by clicking here