BMW has revealed a version of its new 5 Series wearing M Performance accessories. The new 5 Series will arrive in South Africa in February 2017.
The recently revealed, next-generation BMW 5 Series will bring a host of improvements to customers when it arrives on local soil in February 2017. The new 5 Series is up to 100 kg lighter than before and rides on a newly designed platform with a lower centre of gravity. You can therefore expect improvements in dynamics – already an area of strength for the Five – but the newcomer will also come packed with a wide range of advanced driver assistance systems, the latest version of iDrive and much more.

Read more about the new BMW 5 Series here!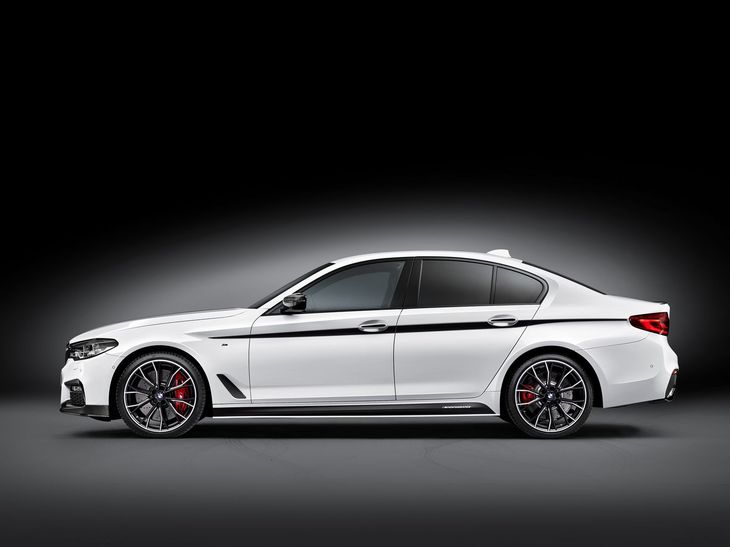 A number of M Performance accessories can be specified for the new BMW 5 Series.

If the standard 5 Series isn't quite sweet enough for your taste, you might want to rummage in the M Performance accessory bin to give your new 5 Series additional head-turning power. There are a number of M Performance accessories on offer to achieve this.
A BMW M Performance Power and Sound Kit is offered on the 540i. This kit increases the 540i's power from 250 kW to 275 kW while also increasing torque from 450 Nm to 500 Nm. But that's not all. This kit also offers chrome or carbon fibre tailpipe trims.
Both the 540i and 530i can also be fitted with a new stainless steel sports silencer and circular or trapezoidal tailpipe trims in either chrome or carbon fibre.

In the case of the 530d, an M Performance Power Kit is available, which sees power bumped up from 195 kW to 215 kW and torque increasing from 620 Nm to 650 Nm.



Dual-tone 20-inch wheels are offered, along with red, 4-piston callipers at the front.
The new 5 Series range can also be fitted with 20-inch wheels, as well as a sports braking system that includes red 4-piston aluminium callipers at the front and single-piston callipers at the rear.

For a more hardcore look, you can opt for an M Sports Package and M Aerodynamics Package offering beefy bumpers, carbon fibre wing mirror caps, a rear diffuser and a carbon fibre rear spoiler. Polyurethane parts can also be fitted if you so wish. For the interior, an Alcantara M Performance steering wheel with new shift paddles is also on offer.
We will keep you updated regarding local pricing and specification for new BMW 5 Series, so stay tuned!
Related content:

New BMW 5 Series Features in The Escape
Can new BMW 5 Series match Mercedes-Benz E-Class for tech?
Spy Shots: 2017 BMW 5 Series
Comparative Review: BMW 520d vs Mercedes-Benz E220d (2016)
BMW M5 Pure Metal (2016) Review
Mercedes-Benz E350d Exclusive (2016) Review
Want to buy a BMW?