The new BMW 1 Series is almost due to be revealed and ahead of the official unveiling scheduled for 27 May 2019, BMW released some teaser images. Here's what we know so far.
Codenamed the F40, the next-generation BMW 1 Series has been teased across Facebook with this main image dominating. The other images show a camouflaged BMW 1 Series with some parts of the camouflage removed, showing us some details. We have learnt that BMW is planning to officially unveil the newcomer on the 27 May 2019.
We can see parts of the dashboard in the one image and this confirms our suspicions that the new BMW 1 Series will feature the all-new digital dashboard from the 3 Series. The other images show off the vehicle's new daytime running lights.
We're happy to confirm that we'll be driving the all-new BMW in Germany in July 2019 with the 118d and M135i xDrive being the two models we'll be assessing. The M135i xDrive is going to be a vehicle which is very unlike BMW. It's going to be all-wheel drive and the mighty 6-cylinder has been replaced by a new 2.0-litre turbocharged 4-cylinder which produces 225 kW and 450 Nm. It is the same engine as that found in the newly-launched-in-SA X2 M35i. The rest of the BMW 1 Series is to be front-wheel drive which is going to upset some of the traditionalists, but we'll wait until we've driven it before passing judgement.
Interestingly, this won't be the only front-wheel drive vehicle on this platform. At a recent BMW shareholder meeting, CEO Harald Kruger confirmed the new 1 Series as well as a new offering in the form of the BMW 2 Series Gran Coupe. "We also have a model offensive in the compact class. Deliveries of the new BMW 1 Series will get underway by the end of the year. In spring 2020, we will launch the totally new BMW 2 Series Gran Coupé. I think young people will find its striking design especially appealing. Our model offensive 2.0 is designed to excite customers, as we target another all-time sales high for 2019," said Kruger.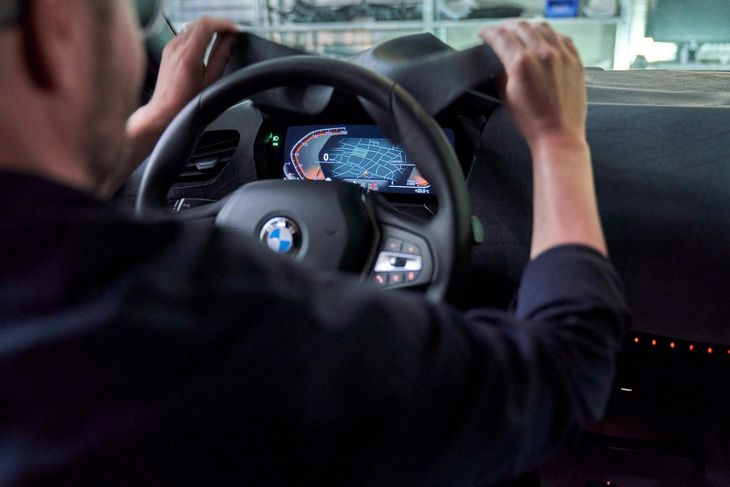 The BMW 1 Series interior teased ahead of its reveal on May 27.
Further Reading
Front-Driven BMW 1 Series to use i3 Traction Tech
Facelifted BMW 1 Series Revealed