BMW Driving Experience South Africa now offers multi-day tours that explore some of the most scenic landscapes in Southern Africa... Regular Cars.co.za contributor and #CarsAwards judge Ernest Page recently travelled to Namibia to traverse our picturesque neighbouring country in an off-road-optimised X3 xDrive30d.
Launched in South Africa in 2018, the 3rd-generation X3 has been well received; the Executive SUV was a finalist in the 2018/19 Cars.co.za Consumer Awards – powered by WesBank. However, the (G01) X3 is very much a road-biased luxury off-roader – to withstand the rigours of the Namibian landscape, the South African-built X3s utilised for the trip were kitted with special off-road features developed by BMW Driving Experience.
The upgrades to the X3 include a raised overall ride height (by about 50 mm, the manufacturer says), full aluminium underbody protection with an increased departure angle, higher-profile all-terrain tyres (available for customers to order at any BMW Dealer), a pre-air filter (with protective mesh grille) to prevent desert sand from entering the engine inlet, plus a full-sized spare wheel firmly fixed in the vehicle's load bay.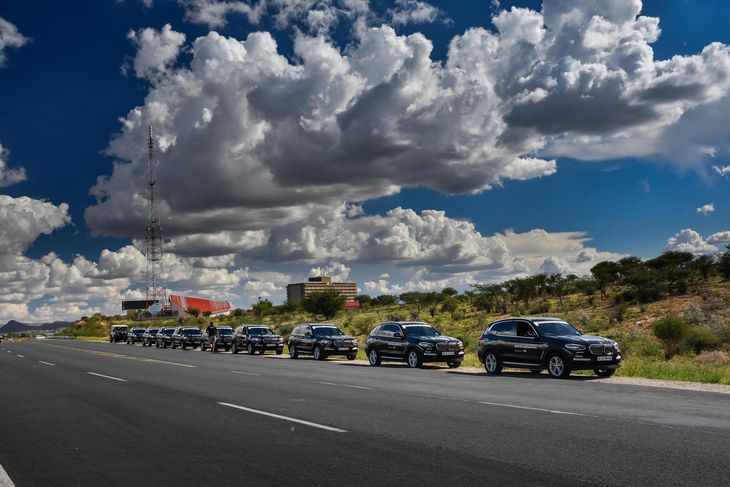 The convoy of BMW Driving Experience South Africa X3s stops to confer during the Namibian journey.
"It was an epic, awesome, adventure. Look, 'epic' and 'awesome' are often used hyperbolically and I'll be the first to admit that I have, in the past, used exaggerated words to help paint a picture of what was an otherwise memorable, even if relatively ordinary, situation," Ernest told Cars.co.za. "But now, as I reflect on those 4 days in Namibia, I can say without question, they were [expletive] awesome – and, in a word, epic!"
Herewith Ernest's travelogue:
Day 1: Arrival
I prepared for my flight to Windhoek for days... I packed a fresh new suitcase with a selection of clean laundry to choose from. You see, it was going to be my first "international" launch and I wasn't about to blot my copybook by virtue of having a lack of wardrobe options. I knew this media event would be long, intense and involve lots of driving. My naivety left me wondering: "What is there to see in Namibia? Is it really all that special?"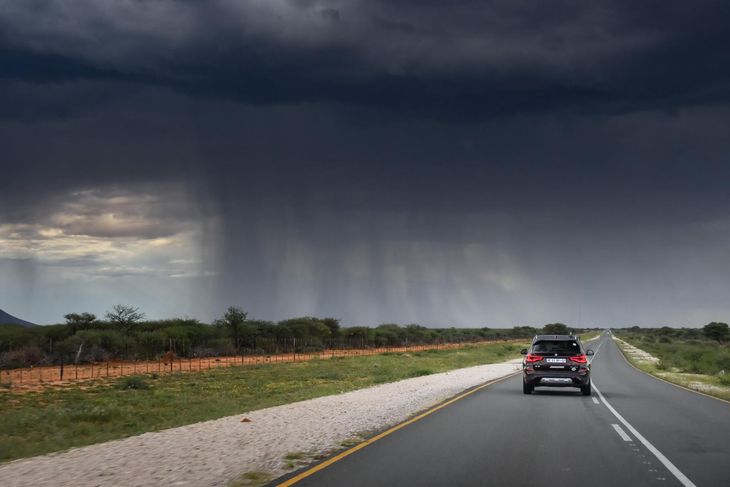 In a country known for its protracted droughts and lack of water, a thunderstorm is a spectacular sight.
Well, upon my arrival in the Namibian capital, I was interrogated by its immigration officials for as long as 45 minutes! Once they finally let me step into the general area of the arrivals hall, however, I realised that this was going to quite an adventure. I hugged the BMW PR and we shared a nervous laugh before I jumped aboard a specially-modified X3 xDrive30d. Our first leg was a 100-km trek towards the rocky outcrops of Ai Aiba lodge. Most of the roads were gravel and even though this was supposed to be a simple 1st leg, storm clouds gathered ominously in the distance.
Suddenly the heavens opened and it felt as though our convoy drove into the full might of the deluge. The roads became perilously slippery as deep puddles formed on the sodden clay road surface. Soon puddles became river crossings that even purpose-built off-roaders might find intimidating.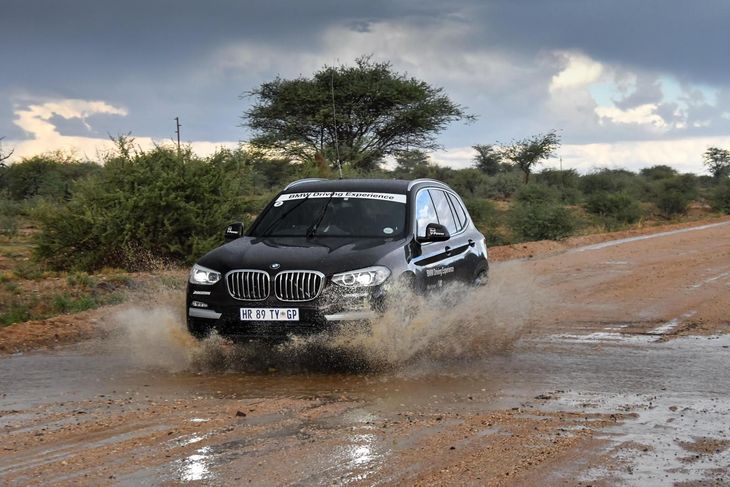 It was good forethought of BMW to modify its fleet of X3s for harder off-road conditions. The rainwater pooled rather quickly...
Our fearless leader – instructor Bernie Williams – went first, and nervously told us over the "radio" we can go, but progress needed to be slow, so as to prevent water from flooding the cars' engine bays. Most drivers were total novices... so mild panic set in and that meant more speed – not less.
But "when in doubt, go flat out" doesn't apply to off-roading. The fronts of our X3s looked submerged from the outside and I could feel the BMW's body being pushed sideways by the pulsing currents. This wasn't a rehearsed water crossing. This was real life. This was an actual adventure.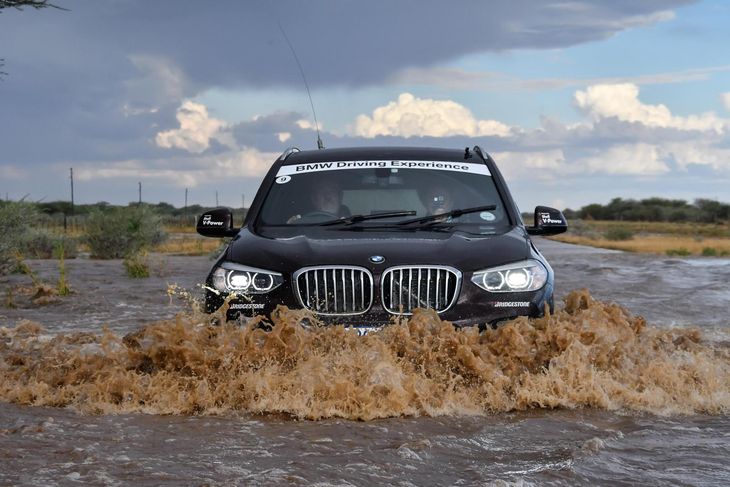 Fording was probably not an activity BMW had in mind when it developed the X3, but the executive SUV coped well with the water.
Hours later at dinner, we sat around our table and frantically posted social media updates with what little Wifi was available at the venue. We were duly proud of what had achieved in our "softroaders" that day. The route was only going to get tougher, however.
We ended the night with a game drive and I saw animals I had never seen in the wild. Suffice to say Namibia is much wilder than the Western Cape!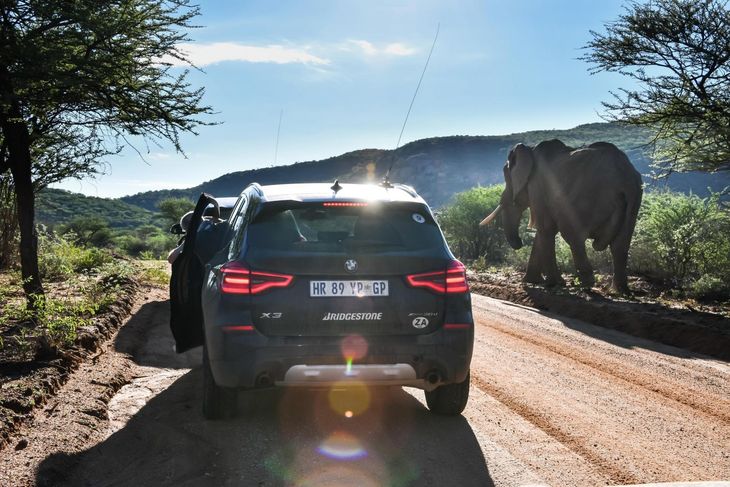 The X3 seems a sizeable SUV, until it passes in close proximity of an elephant...
Day 2. Journey To Swakopmund
Our road to Swakopmund took us on some winding and twisty gravel roads which, unlike South African routes, are not interrupted by civilization every couple of dozen kilometres. Along the way, we stopped at our lunch venue, where those who opted to do the full 8-day trip would stay over, but for us, it was merely a quick pause to refresh, before we hit the road again. There wasn't much to see along those roads, but what little there was showcased Namibia's landscape: rich colours, textures and ancient rocks that were placed there many, many thousands of years before.
Namibia's beauty is quite difficult to describe – it's not obviously pretty or easy to explain. Yet, it's something that needs to be experienced first-hand to be believed. Just before arriving in Swakopmund, we drove through a river bed that had been dry for ages; we stopped to see an old, abandoned copper mine; the history of the place was palpable. The suffering too. Again, Namibia managed to paint a vivid picture without saying much at all.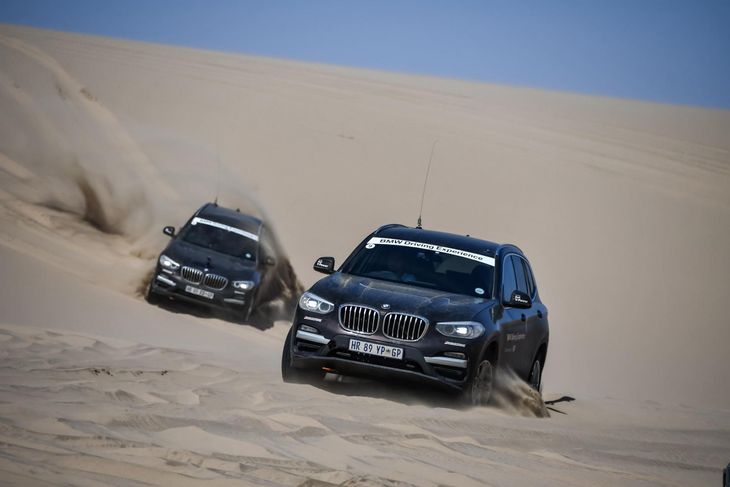 Much lower tyre pressures, intense concentration and all-wheel xDrive make sand dune sojourns possible in an X3!
Day 3: Driving on dunes
Talk about a crash course in serious off-roading! On the penultimate day of our trip, we headed straight into the legendary Namibian desert.
Perhaps it was my own insecurity about being inexperienced in driving on anything other than hard blacktop, but I could have sworn that the seasoned locals were sneering at us city slickers in our fancy-pants X3s. A quick tyre pressure drop and some oysters on the beach (yes, really) and we were off. But we had a problem... I was already stuck in the sand and we hadn't crested a dune yet. After some clever (read: frantic) back and forth, we managed to get out without needing to call for help. However, if this was any indication of what to expect I was in deep, deep trouble.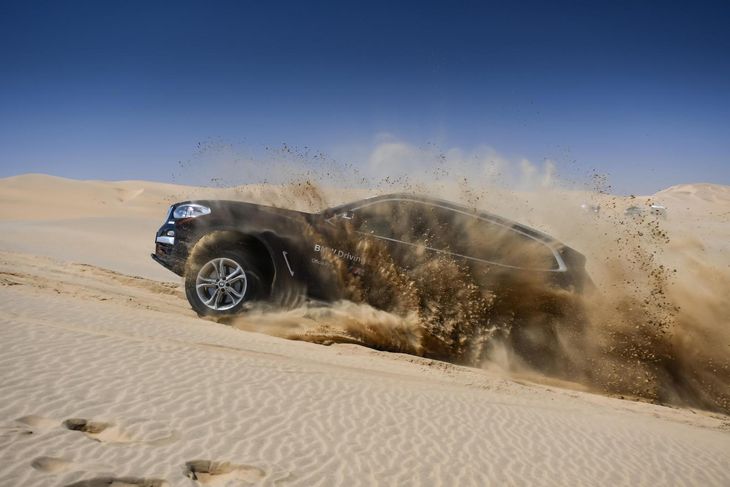 Maintaining momentum is paramount when you traverse loose sand, which, of course, leads to spectacular sand sprays.
Make no mistake: off-road-course dunes and genuine desert dunes are totally different things. There is nothing as far as the eye can see and I guess if one got lost in there (with no cellular signal and little sense of direction to help you), it would be a real problem! But our convoy stayed tight and with guidance over the "radio", I started getting increasingly comfortable behind the 'wheel. By the end of the "duning", we were really playing!
To kick up giant sand clouds is especially thrilling, but the most important task of all is: do not get stuck. Fortunately, we remained under the "watchful eye" of a pair of tow vehicles, but they were seldom called into action. On the way back, we drove along the Namibian coastline. Our convoy leader regaled tales of how the area had been overfished of late; the irony of "bombing" up and down the coastline wasn't lost on me.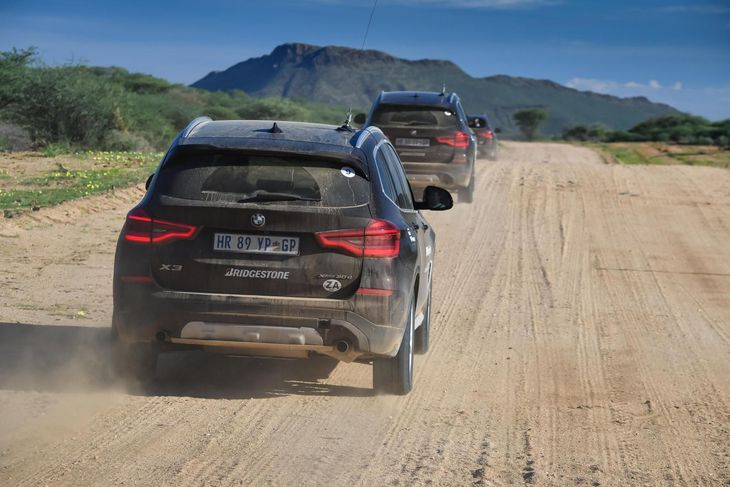 The rear bumper of the "Namibian adventure" X3 shows the modifications to the standard car (... and a few battle scars).
Day 4: The drive home
The BMW Driving Experience SA's Namibia tour is offered to a maximum of 12 participants per group. According to BMW, the 8-day package includes a 1 300-km route incorporating "breathtaking countryside, spectacular wildlife (from Windhoek to the Atlantic Ocean), driving exploration of the magnificent dunes of the Namib desert, a visit to an indigenous village and historic cave paintings, as well as a variety of culinary delights."
Most guests will be Europeans looking for a proper Southern African adventure. At a cost of between R75k to R100k (including flights to Windhoek and back – the trip is tailorable to customers' needs), the programme might be a bit steep for most ZAR-earners, but bear in mind a 4-day trip is also optionally available. The schedule is well thought out and planned, but with so many variables in play, each one of these sojourns will be different.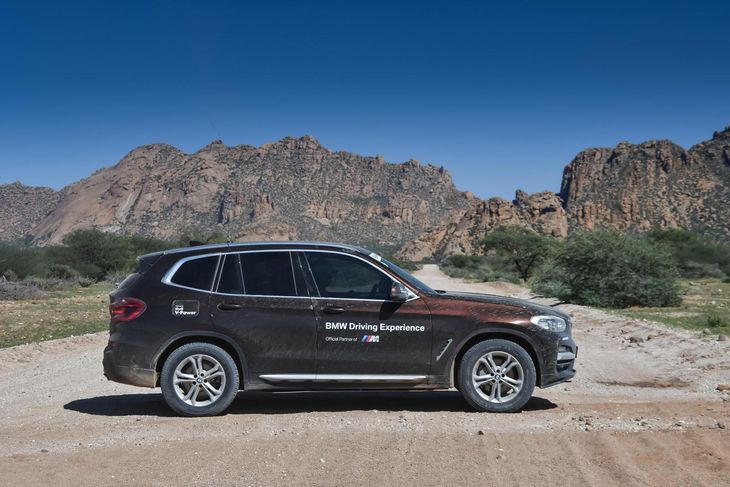 "For someone who has been on a great many new vehicle launches in a short (3-year) career, this has to rank right up there with the best ones," Ernest concludes. For more info on the BMW X3 adventure, visit: http://www.bmwdrivingexperience.co.za/index.html#/tours
Related content:
5 Rivals the BMW X3 M Has To Beat
The BMW X3 is proudly South African, but driven by the world
BMW X3 xDrive30d M Sport sports-auto (2018) Review