The Mitsubishi Pajero represents a more old school take on the SUV, one that prioritises genuine off-road ability. There are still enough buyers out there who place a premium on a vehicle's bundu-bashing talents, but does that mean the Pajero is a compromised daily runner? Well, the large Mitsubishi can teach some of its newer, flashier, road-biased rivals a few tricks...
We like: Off-road ability, cruising comfort, willing performance, feels indestructible.
We don't like: Dated appearance and old-fashioned ergonomics, somewhat limited tank range
Alternatives
For something similar: The Toyota Prado is quite similar in execution to the Pajero, although it represents a more modern take on the product. Also very capable in the rough stuff (though perhaps not quite up to the Mitsubishi's standards), and offering 7 seats in a vast cabin, the Prado delivers slightly more polished performance on the road. It also features a more modern cabin layout. For this money, you can get the 3.0 DT TX model, which is not the full-house offering – the VX is.
A more affordable alternative: The Ford Everest is about R100k more affordable in top-spec LTD guise and, although it is slightly smaller than the Pajero, we believe it could do the job just as well for 90% of potential buyers. It offers more advanced features, more power and great on-road refinement. Where it can't match the Pajero is in go-anywhere ability.
Even more space? Mitsubishi has a 5-door version of this vehicle available and while they're mechanically identical, the 5-door cargo-carrying capacity and space is double that of the 3-door version. If you need space for seven, then look no further.
Old School is Cool
The Mitsubishi Pajero has been around for ages and first saw the light of day back in 1982. Four generations later and with multiple Dakar Rally titles under its belt, it has been continuously tweaked to keep the Japanese SUV modern and fresh. The Legend II is the latest version of Pajero to reach our shores and comes with substantial upgrades to make it even more credible over the rough stuff. Let's see how it fares after a week-long evaluation.
How does it fare in terms of...
Packaging & space?
The 3-door setup on the Pajero Legend II makes for an interesting arrangement and while it can seat four, rear legroom is at a premium. The Pajero works best as a 2-seater offroad vehicle. Cleverly, Mitsubishi has bolted the spare wheel on the outside, meaning boot space is generous and not impacted by the usual placement of a spare. There's a distinct old-school feel about the cabin, which helps contribute to the relaxed and comfortable ambience.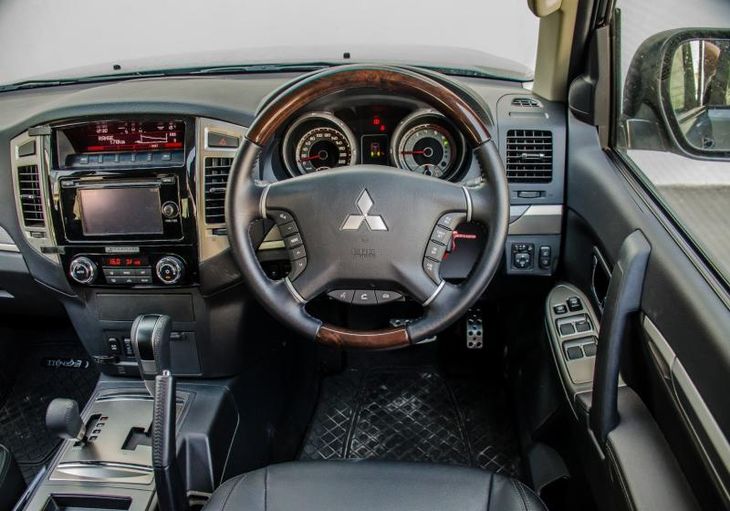 Convenience features?
The Pajero's cabin may look small from the outside, but Mitsubishi has ensured that the front driver and passenger are well catered for in terms of seating comfort and convenience features. The front seats, for example, feature heating and electrical adjustment. There's a multifunction steering wheel, a touchscreen infotainment system, reverse-view camera, Bluetooth and USB connectivity and a Rockford Fosgate sound system. The Mitsubishi Pajero Legend II boasts 6 airbags, ABS with EBD/BAS and Active Traction and Stability Control (ATSC) with Isofix child seat anchorages fitted at the rear.
Ride quality & driving experience?
If there was one thing we loved about the Mitsubish Pajero other than its offroad prowess, it would be its on-road manners and ride quality. It's a well-built vehicle and you sit with a commanding view above most other cars. The driving position is excellent for all-round visibility and those thick tyres soak up the imperfections in the road. The 5-speed automatic gearbox comfortably distributes the power from the 3.2-litre turbodiesel engine. On paper, this motor pushes out a credible 140 kW and 441 Nm. That's more than enough grunt to propel the Pajero and if you're towing, 441 Nm is particularly useful.
Offroad ability?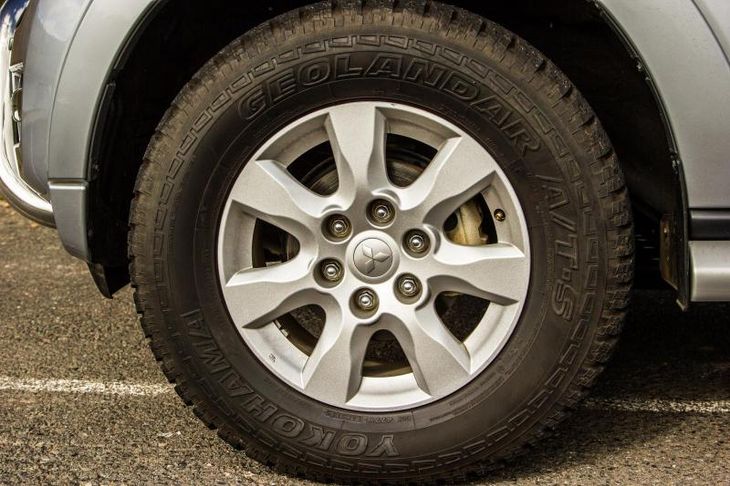 The Mitsubishi Pajero has a fearsome reputation for being a solid, rugged and dependable offroad vehicle. The Legend II is no exception and thanks to this version's add-ons, can press on even further into the wild. Legend II spec includes heavy-duty protection plates fitted below the engine and gearbox, hardcore Yokohama Geolander offroad tyres as well as a Garmin nüviCam with built-in dash cam pre-loaded with Tracks4Africa off-road maps.
These are in addition to a centre differential lock, generous ground clearance, low-range transfer case as well as excellent approach and departure angles of 36.7° and 25° respectively. When the going gets slippier, but speeds fast, select 4H, which results in dynamic 33:67 front-to-rear torque split. In tougher conditions that require lower speeds, you can select 4HLc, which delivers a 50:50 torque split and also locks the centre differential. Finally, if you need real crawling ability over very rough terrain, you need to come to a stop and engage 4LLc, which activates the low-range.
Pricing & Warranty
The Pajero SWB Legend II sells for R719 900 and comes backed with a 3-years/100 000 km warranty and attractive 5-years/100 000 km maintenance plan. Service intervals are set at every 10 000 km.
Verdict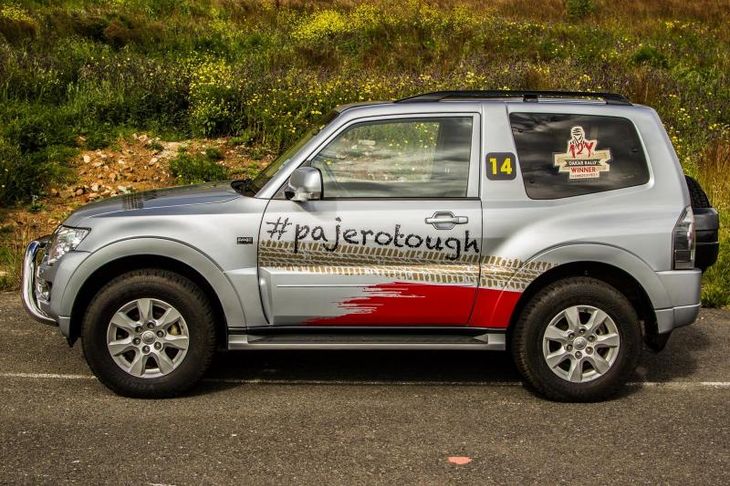 It may lack the modern day technology and fashionability of equivalent SUVs, but that's not really a problem: the Pajero is not meant for the yuppie brigade. Its interior design is, in relative terms, ancient and with an optimistic claimed fuel consumption figure of 10.1 L/100 km, the Mitsubishi is not ideally suited to the daily commute. However, this is a pure offroad machine that is designed to traverse the toughest of obstacles while keeping its occupants ensconced in comfort. The Legend II package bolsters what's already a respectable offering and the Garmin GPS/dashcam unit will prove useful in the long run. It may not offer cutting edge technology in the full-sized SUV segment, but this vehicle was one of the founding members of the segment and continues to be a popular model for the brand. At R100 000 cheaper than its 5-door sibling, it makes a credible case for couples who yearn to explore the great outdoors with relish.
You may also be interested in:
View our in-depth video overview of the similar Pajero Exceed
Rear our review of the Pajero Sport 2.5 Shogun Auto
Have a look at the upcoming Pajero Sport (all-new model)
Interested in buying a new / used Mitsubishi Pajero?