It's been well over a year since the Mini Cooper range received a subtle, yet effective update, but just how competitive is the Mini Cooper S automatic in South Africa's premium hatchback segment? Let's take a look!
We Like: Punchy engine, handling ability, boutique appeal
We Don't Like: Pricey, not very spacious, interior showing its age
Fast Facts
Price: R473 380 (As of December 2019)
Engine: 2.0-litre turbopetrol
Power/Torque: 141 kW / 280 Nm
Transmission: 7-speed automatic
Fuel Consumption: 5.4 L/100 km (claimed)
Load space: 278 litres
Own a Mini? Tell us about your experience here.
SERIOUS ABOUT BUYING?
What is it?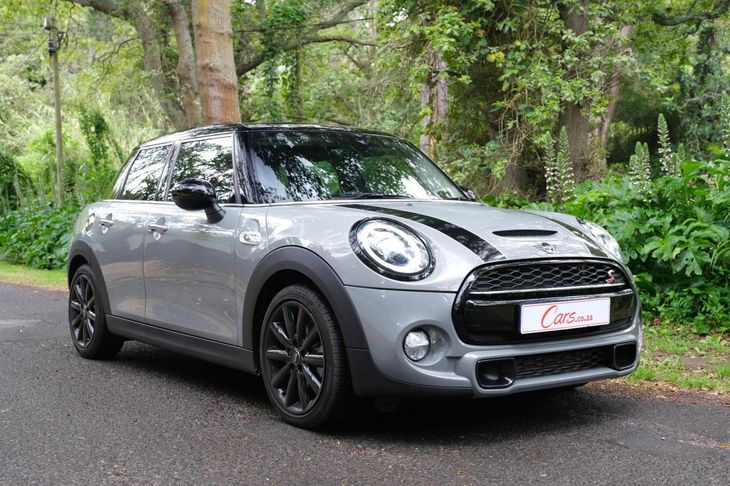 The Cooper S is a niche product in the local market and has quirky design appeal matched with punchy performance.
The Mini Cooper is well known for delivering a fun, go-kart-like driving experience, while also appealing to young (and young-at-heart) buyers with its funky design and packaging. The updated model offers much of the same as its 1st and 2nd-generation "New Mini" predecessors and the easiest way to recognise the facelifted 3rd-gen car is by spotting its thoughtful and striking Union-Jack tail lights or round daytime running lights.
The Cooper's styling and overall package offering, however, is not everyone's cup of tea and it remains a niche product in the South African market. The S-flavoured Cooper is a bit more aggressively styled and looks to lure buyers looking for more performance punch. The Cooper S rivals products such as the Volkswagen Polo GTI and recently-introduced Audi A1 40TFSI. Is the Mini Cooper S fighting fit and will it suit your needs? Read on...
How it performs in terms of…
Performance and economy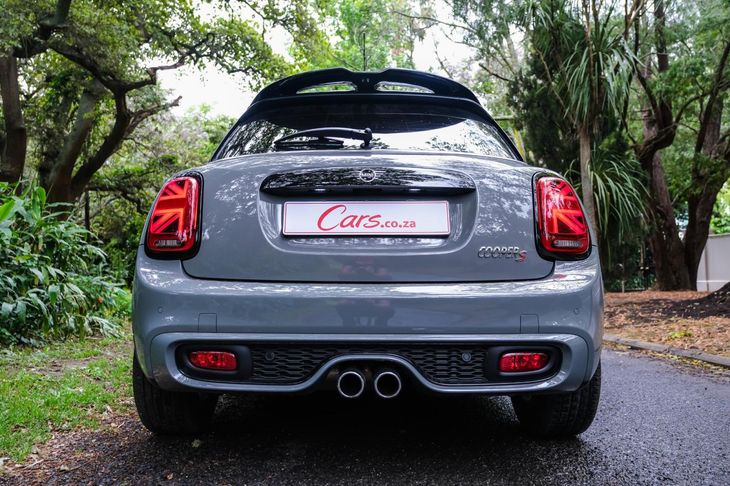 The central dual tailpipes allude to the Cooper S' performance intent and the Union Jack taillights are particularly striking.
There's much to like about the 141 kW/280 Nm 2.0-litre turbopetrol engine wedged under the Cooper S' stubby bonnet. It's a punchy, yet refined powerplant, which, in combination with its 7-speed dual-clutch transmission, offers commendable performance. Simply pin your right foot to the floor and after the turbo spools up/overcomes its initial lag, the Cooper S accelerates from a standstill with zeal; it's marvellously nippy in traffic.
The transmission does a fair job of shifting gears, but we suggest you consider the sports-auto transmission (for an extra R3 300), which includes steering-wheel-mounted shift paddles. With them, you can actuate snappy manual shifts and extract more enjoyment from the driving experience. It shouldn't even be an option in what is meant to be a fun, performance-oriented hatchback, should it? The paddles should be standard!
Thanks to its keen acceleration, the Cooper S gets up to highway speed effortlessly and has no problems in executing quick overtaking manoeuvres. The rate of acceleration does taper off at the top end of the rev range, which reduces a bit of the fun when driving hard; by comparison, the engine in the Volkswagen Polo GTI and its cousin, the Audi A1 Sportback 40 TFSI, is happier to spin to its rev limit.
In terms of fuel economy, however, the Mini could raise its game… The Oxford-based manufacturer claims an ambitious combined fuel consumption figure of 5.4 L/100 km, but during our evaluation (which admittedly included a fair chunk of spirited driving) the Cooper S indicated an average of 9.8 L/100 km. It's a performance-oriented derivative, certainly, but with a more measured driving approach, that average should be reduced somewhat.
Ride and handling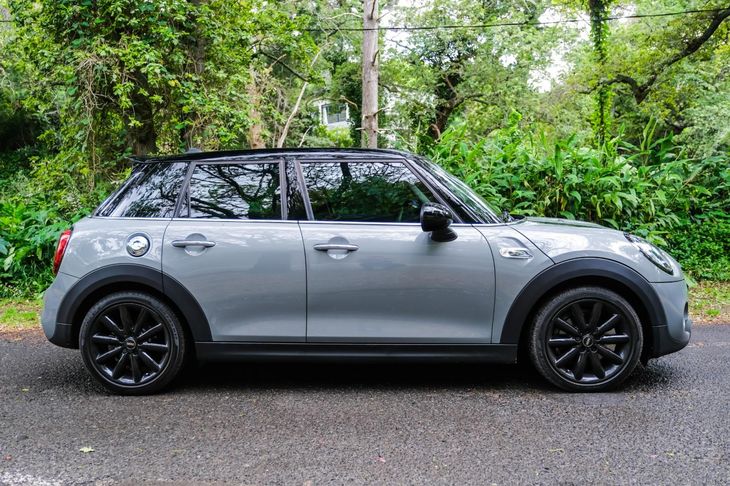 The Cooper S shines in the handling department and it remains a fun car to drive on a daily basis.
The Cooper S' sheer depth of dynamic handling ability is arguably its strongest selling point. It's hugely entertaining to pilot through corners at speed and, thanks to its relatively wide footprint (tracks), it usually has oodles of traction at its disposal and provides reassuring and surefooted handling. It's no surprise the Cooper S (with sports automatic transmission) is a finalist in the Fun Hatch category of the #CarsAwards, powered by WesBank.
In terms of ride quality, the Cooper S' suspension is supple enough to be bearable on the daily commute (over roads of variable quality). Look, the Mini's ride is reasonably firm, to complement the car's sporty bent, but it's only when traversing particularly nasty surfaces that suspension thuds translate to the cabin. It must also be mentioned that despite the Mini's low-profile tyres, road and wind noise is tolerable/relatively subdued.
Interior quality and features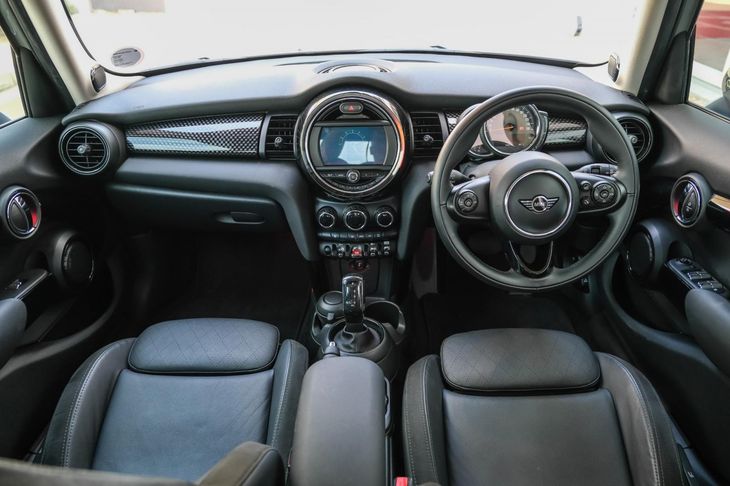 Perceived interior quality is good, but the interior is showing its compared to newer premium products on the market.
Interior build quality has not been a strength of the Cooper package in the past, but to Mini's credit, the British manufacturer has made incremental gains per generation. Its interior design offers a lively, colourful and youthful appeal that other offerings in the premium hatchback segment can't match. Good perceived quality and personality count for a lot, but it's not a styling approach that will appeal to an older, more sophisticated clientele.
The central and circular 6.5-inch infotainment system can be controlled by touch or by using the rotary controller, which does look old now when compared to newer products on the market. What's more, design of the steering wheel (including its controls) is also showing its age, in our opinion.
The excitable light ring around the infotainment system (or Visual Boost, as Mini calls it) never gets old though and it gives the cabin some colourful disco flair. This particular test unit was equipped with a basic infotainment system that offers Bluetooth and USB functionality. That said, you will have to spend more if you want features such as navigation and complete smartphone integration.
Other useful standard features include cruise control, climate control airconditioning, keyless start and rear park distance control. Customisation remains a key selling point for Mini and you can go wild on optional features to tailor the Cooper S to your own personal taste. This will, however, increase the final price of the car significantly, so be aware when ticking off options…
Practicality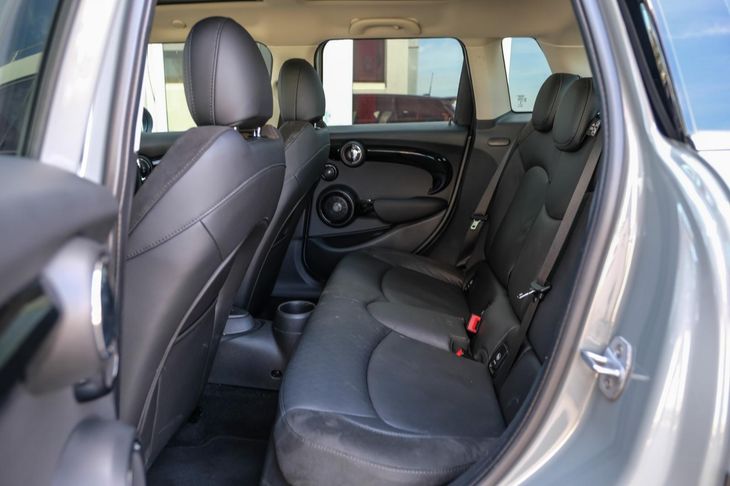 Adults will find the rear cabin to be cramped and rear load space could be better...
Practicality is not the Cooper S' strongest suit. From the driver's seat, you will notice that the front cabin area is quite intimate and engaging, or small and cramped, depending on your point of view. The central armrest remains a divisive feature; it provides some relief for the driver's left arm when you're cruising, yet it has an annoying habit of getting in the way of your elbow when it's in its raised position. There are bottle holders in the door mouldings, but, apart from the 2 front cupholders and a small central bin, space for oddments is quite limited.
Talking about limited space, rear legroom is a tight affair; adults will struggle to get comfortable on the aft bench. Space doesn't improve in the load bay either: Mini claims a capacity of 278 litres, which is notably less than rivals such as the new Audi A1 (335 litres) and Volkswagen Polo GTI (305 litres), both of which are underpinned by the space-optimised MQB platform. Utility space does expand to a claimed 941 litres when the 60:40-split seatback is folded down.
With the above in mind, it makes sense that the Mini Cooper S will be more suited to a young single person, childless couple or empty-nesters.
Pricing and warranty
The Mini Cooper S hatchback is priced from R473 380 and is sold with a 2-year/unlimited km warranty and a 5-year/100 000km maintenance plan.
Buy a new or used Mini Cooper on Cars.co.za
Verdict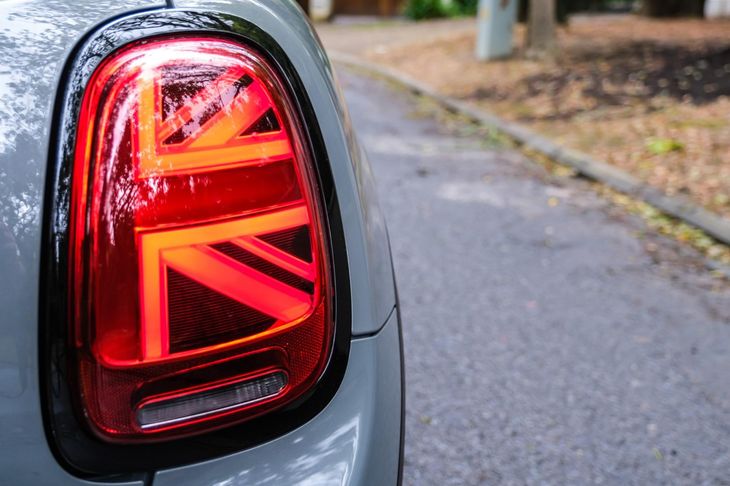 The Mini Cooper S has its appeal, but newer products offer more in terms of premium appeal and performance.
If you are looking for a premium hatchback that offers punchy performance, fun handling ability and youthful (design) appeal, then perhaps the Cooper S is worth a closer look, but you must consider and think about a few factors first. It's a niche product and has a few drawbacks, of which its lack of interior and luggage space are the principal ones.
As it stands, the Cooper S is pricey and, if you are ticking off desirable options then the price will escalate above R500k and beyond very quickly. If you are okay with that, then you also need to consider looking at newer premium hatchbacks such as the Audi A1 and Mercedes-Benz A-Class, which are arguably more stylish and sophisticated than the ageing Mini Cooper S. Those rivals are also more spacious, practical and arguably more premium than the Mini.
From a performance perspective, the Mini Cooper S is somewhat outgunned by the similarly-priced Audi A1 40 TFSI Sportback, as well as the considerably-cheaper Volkswagen Polo GTI. Now that newer products have joined this segment, the Mini's no longer the default choice for driving enthusiasts, but the Cooper S still has its charm and if you are willing to accept its quirks, you'll have tonnes of fun behind the wheel.
Related content:
Hardcore Mini JCW GP Coming to SA
5 Hot Hatches to Rock SA in 2020