Mercedes-Benz has finally launched the eagerly-anticipated 3.0-litre V6 turbodiesel-engined flagship of the X-Class double-cab bakkie range on local soil. Could the Mercedes-Benz X350d 4Matic be the King of the Bakkies?
So far, sales of the controversial X-Class have failed to meet the pre-launch expectations of Mercedes-Benz (and, to be fair, many people). The Sindelfingen-based brand claims its double-cab is a game-changer, but many reviews of its 4-cylinder X250d derivatives have been lukewarm or guarded. But Mercedes is undeterred and has high hopes for its new flagship derivative armed with a brutish 3.0-litre V6 turbodiesel engine.
The Mercedes-Benz X350d 4Matic is available in 2 levels of trim; Progressive and Power. Both derivatives feature keyless go and Thermotronic air conditioning as standard. Progressive is the bottom of the V6 range and features 17-inch alloy wheels, leather-wrapped multifunction steering wheel, fabric seats (with the option of leather) and an 8-speaker audio system. Step up into the Power derivative and you get 18-inch alloy wheels, LED headlights, leather seats, of which the fronts are electrically adjustable and an uprated audio system with integrated satellite navigation.
That powertrain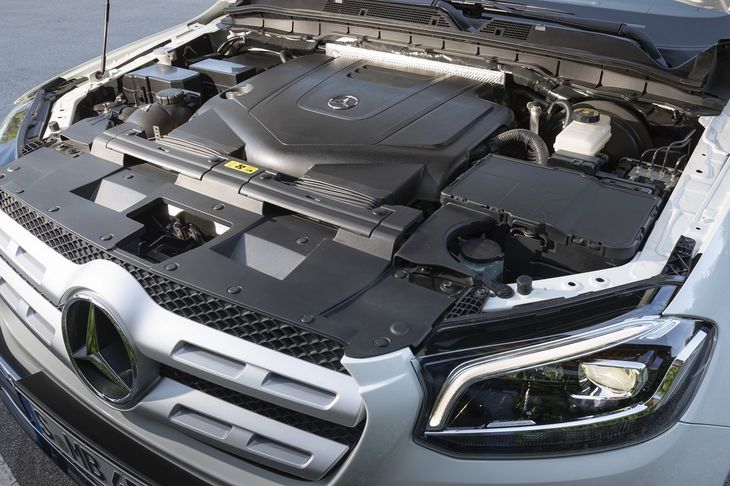 190 kW and 550 Nm from a turbocharged V6 diesel makes the X350d the most powerful bakkie on sale in SA
The X-Class might share its platform with the Nissan Navara, but the heart of the new Mercedes-Benz X350d is a Benz-sourced engine. For Benz, another brand's engine would not suffice in the flagship derivative of its double-cab range. Codenamed the OM642, the motor was forged in the furnaces of the Three-Pointed Star and has been in service since 2005 (it has been used in both commercial and passenger car applications).
The turbocharged 3.0-litre V6 develops 190 kW/550 Nm and power is distributed by a permanent 4-wheel drive system (4Matic) via a 7G-Tronic Plus automatic transmission. The 4Matic system offers 3 modes: 4MAT for on-road use, 4H for traction offroad and 4L (low-range) for tough off-road conditions. The engine comes on song from 1 400 rpm and then torque starts to drop off around the 3 200 rpm mark. Given all that shove, it's to be expected that the X350d is a spirited performer... Mercedes-Benz claims it'll hit 100 kph in 7.9 seconds and run on to a top speed of 205 kph.
Can it go off-road?

The X350d is capable when the going gets rough. Would you offroad a R1-million bakkie though?
Our launch route incorporated moderate off-road trails. With a ground clearance of 222 mm, wading depth of 600 mm, approach and departure angles of 29 and 24 degrees respectively, a centre differential and a differential lock on the rear axle, the X350d seems well set up for traversing the rough stuff with a fair degree of confidence. Mercedes-Benz says it can take on grade 5 off-road trails, which is a claim we'd like to verify at some stage. Nevertheless, our 4x4 testing put the differential lock to the test and we explored the limits of the wheel articulation. We also tested out the hill descent control and were able to coax the Benz up 30-degree inclines. In other words, we're more than satisfied that this bakkie can cope with tough courses. The front camera can be switched on during these manoeuvres, which adds critical visibility when you can't see the surface ahead of you!
What's it like to drive?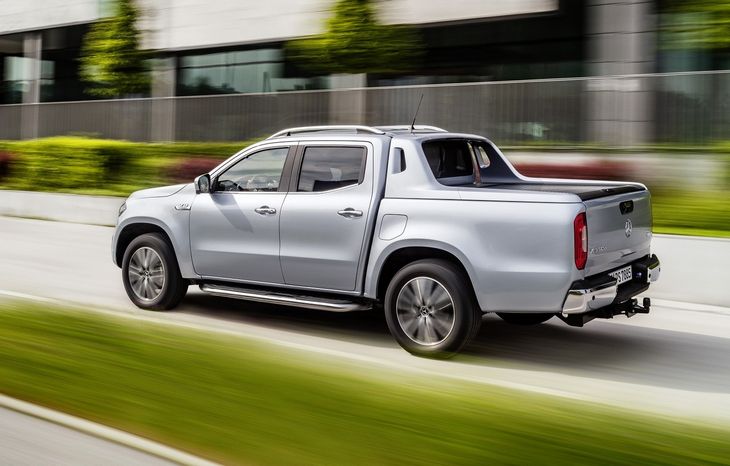 On-road manners are acceptable and the V6 makes overtaking effortless. This X-Class is fitted with an aftermarket sports bar.
There's no doubt that the addition of a fire-breathing engine has made the X-Class double-cab bakkie a significantly more desirable product. The urge is impressive and when you make use of the many driving modes (Comfort, Sport, Eco, Offroad, Manual), you can explore the breadth of the German bakkie's on-road abilities. Manual is an interesting setup as you're solely responsible for shifting gears (by using the paddles located behind the steering wheel). When you're pressing on, there's even a soft rumble from the V6 and the in-gear urge is exceptional... for a bakkie!
However, there are still some glaring faults. The interior execution just lacks that knockout punch; it doesn't feel as if it can justify the Benz's million-rand pricetag. Yes, that's right, this bakkie, even in the lowest V6 spec, costs R914k before any options and I'm pretty sure you'd at least want to additionally spec leather seats. By comparison, a spec-laden Ford Ranger Wildtrak retails for R655 900. If you're looking for a direct rival, the flagship Volkswagen V6 Amarok Extreme comes in at R810 100. Is the Mercedes-Benz X-Class X350d worthy of a R100k premium? No chance.

The cabin is basic and has most features, but it doesn't have enough storage pockets.
We had issues with the X250d's cabin ergonomics, which we hoped would be (at least partly) addressed in this derivative. The lack of in-cabin storage bins is frustrating and there's one cupholder. Rear legroom space is cramped and the bench is too upright for longer journeys. There's no reach adjustment for the steering wheel either. Annoyingly, the infotainment system seems at least 2 generations outdated compared with the latest Mercedes-Benz infotainment systems. We're not expecting MBUX, but the latest version of Comand would be nice (given the bakkie's price tag).
Overall insulation is fair; much of that typical bakkie unrefinement has been dialed out through with the application of sound-deadening material. The ride is not the smoothest though, despite the trick multilink rear suspension. Sadly, the X-Class feels jiggly and tends to fidget around town. Look, it's a lot better in terms of refinement as far as bakkies go, but it's still not class-leading for the body-on-frame brigade. The steering is pleasantly light and makes directing the big beast simple, but on some faster, winding roads, you'll likely want a setup with a bit more feel and directness.
Verdict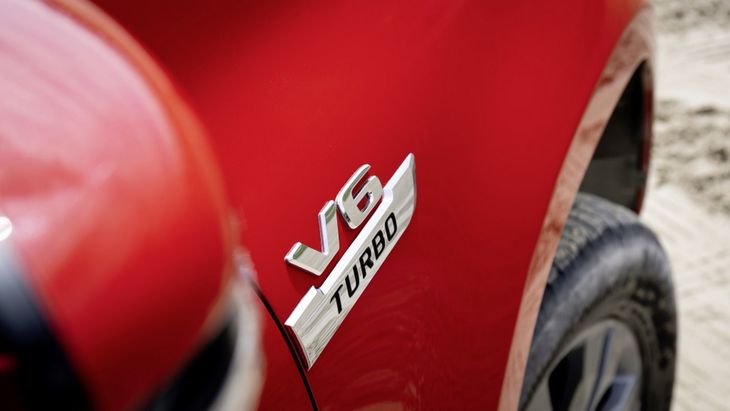 The V6 on the front flanks is a subtle hint at the awesome power within
The addition of a potent and willing V6 turbodiesel engine has definitely elevated the X-Class' appeal. Many critics might argue that this X350d is exactly what the X-Class should have been all along. It has a stonking engine and is capable of executing effortless open-road overtakes. It'll be great for towing too, and the flagship (much like its X250d siblings) has a 3.5-tonne braked tow rating, which will please outdoor adventurists.
However, at this price point, a great engine is simply not enough to justify that monstrous price tag, especially the drawbacks of the lesser derivatives haven't been addressed. The cabin doesn't offer enough glamour, or tech, at this price point and there are materials that look marginal in quality. In this price bracket, the bakkie's in dangerous territory as the lure of an SUV is strong. Mercedes-Benz GLC with all the trimmings, anyone?
Mercedes-Benz X350d Price in South Africa
Mercedes-Benz X350d Progressive R914 711
Mercedes-Benz X350d Power R983 711
Further Reading