Mercedes-Benz's X-Class has been one of the most talked-about new vehicle introductions of recent memory. Thus far, the bakkie has not garnered as many local sales as Benz may have expected. Our test of a manual-'box X250d provides some reasons for why that's the case...
We like: Refinement, ride, status
We don't like: Price, manual 'box, rear space, lack of front storage spaces, patchy attention to detail
Fast Facts
Price: R796 145 (August 2018)
Engine: 2.3-litre 4-cylinder twin-turbodiesel
Gearbox: 6-speed manual
Fuel economy: 7.7 L/100 km (claimed)
Power/Torque: 140 kW/450 Nm
SERIOUS ABOUT BUYING?
Where does it fit in?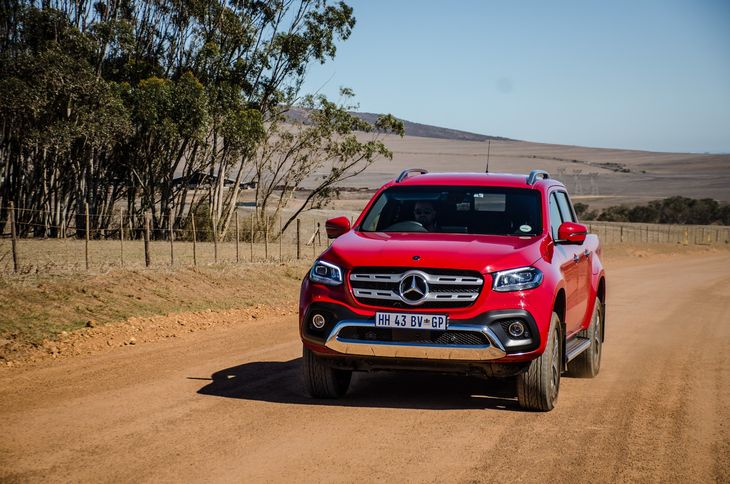 The new Benz bakkie – does it scream premium enough from the outset?
Mercedes-Benz believes that the market for this size of bakkie will grow significantly in the next 8 years or so. In fact, the Sindelfingen-based firm boldly states that from a benchmark of 2.2 million vehicles (in 2016), global sales could reach 3.2 million by 2026. It also predicts that private individuals will drive increased demand for leisure-oriented, upmarket vehicles in this segment. To that end, Benz teamed up with Nissan to produce its first challenger in this segment, the Navara-based X-Class. The German firm hopes that, much like the original M-Class did in the '90s, the X-Class will be a pioneering vehicle that establishes the premium brand in a lucrative niche.
Launched with much fanfare earlier this year, the X-Class has received mixed reviews and its sales have been sluggish. So, as a follow-up to our initial review (published shortly after the local launch took place – see it elsewhere on this page), we've decided to delve even deeper into the pros and cons of our X250d 4Matic Power test unit. Priced at just shy of R800 000, this derivative is around R200 000 more expensive than similarly powerful vehicles from rival brands. Can it justify the extra outlay?
What's good about it?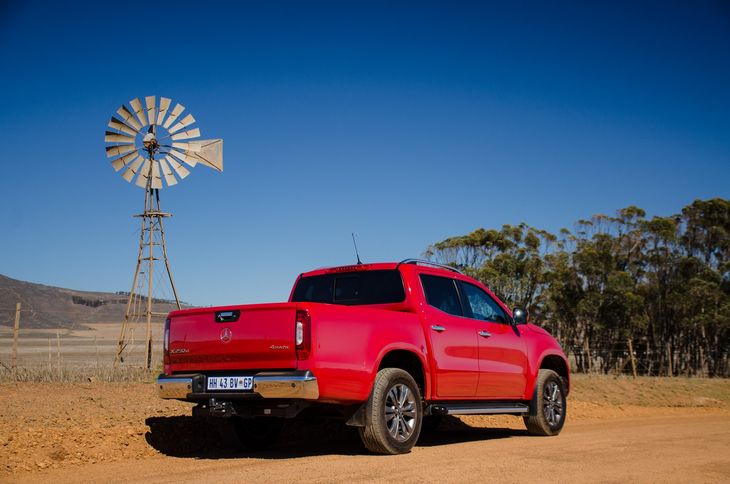 The X-Class' Nissan underpinnings are clearly noticeable at first sight.
Badge and design appeal
While the production version of the X-Class doesn't quite boast the muscular swagger of the initial concept, there's no question of its head-turning ability. During our test term, it caused the type of rubbernecking (Elvis, we love you) usually reserved for exotic Italian supercars. Of course, the firetruck-red paint job helped greatly in that regard. The Mercedes badge on the nose is prominent and, on a high-riding vehicle, impossible to miss. During the launch phase, Mercedes-Benz often emphasised that the X-Class would bring the type of individualisation to this segment that's usually reserved for the premium car/SUV classes. As such, you can spec 19-inch wheels (R14 950) or a Style Package (R11 500) that adds running boards, privacy glass, high-performance headlights and partial-LED tail lamps, among other items.
Inside, too, it makes a good first impression. The instrumentation, steering wheel and some of the minor controls will be instantly familiar to Mercedes-Benz owners. On this Power-spec derivative, the fascia has a stitched-leather (upper) finish, and in general, Mercedes-Benz has tastefully applied quality materials, as one would expect.
So, in terms of showroom appeal, the X-Class ticks many boxes. The niggles only reveal themselves when you spend more time in the vehicle (see later comments).
Refinement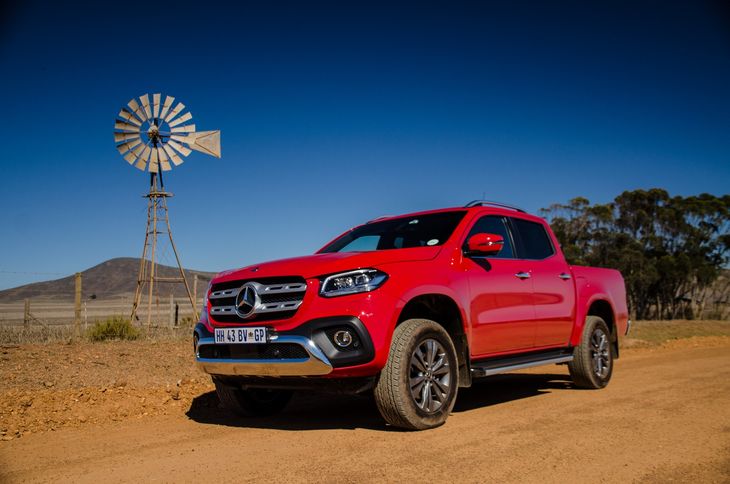 Cabin quietness and ride quality are strengths of the new X-Class.
NVH control and general refinement were major focus areas during the development of the X-Class. Mercedes-Benz wanted to retain the Navara's impressive off-road capability, but make its bakkie's on-road manners more comparable to those of road-biased SUVs. Consequently, the German marque appears to have struck a more successful balance between the 2 requirements than Nissan, because the X-Class' cabin isn't only quieter and better insulated, the ride is less choppy.
Of course, such improvements do not come without a cost, and in the case of the X-Class' improved NVH, that cost is weight – it's a substantially heavier vehicle than the Navara, which does impact performance, seeing as they utilise the same engine (in this particular case).
Robust underpinnings
Nissan remains one of the biggest manufacturers of robust pick-ups in the world, and has a long and successful history in this segment. The new Navara is, therefore, a very solid base to start with. Of course, one of the main talking points of the Navara is its coil-sprung rear suspension, which promises a generally better ride quality than traditional leaf-sprung competitors. In reality, we haven't yet been won over by the supposed ride quality improvements when it comes to the Nissan (though 4x2 versions introduced later were better), but we suspect this might also be due to Nissan still targeting a dual role for its pick-ups (work and play). With the X-Class, we believe the requirement to work hard in the South Africa landscape is probably of lesser importance, so Mercedes-Benz has been able to extract better ride quality from its product.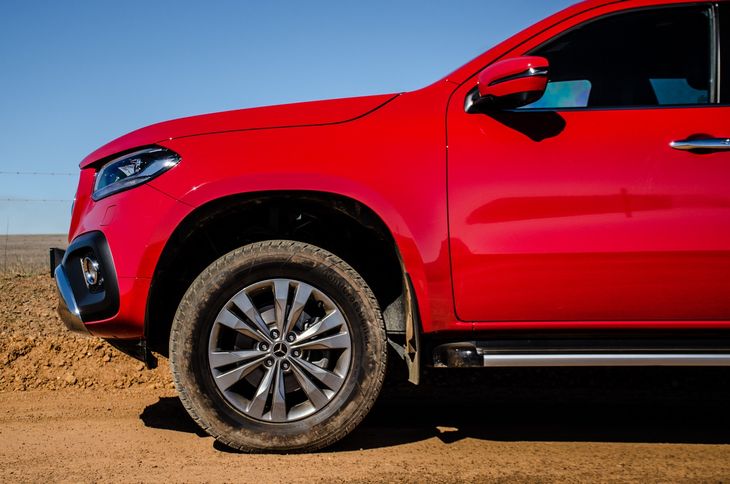 The X-Class has a more refined ride than its Navara sibling.
Besides ride quality, the X-Class remains an impressive vehicle off the beaten track. Its ground clearance, approach/departure angles are commendable and it comes standard with a switchable rear diff-lock. You can switch between 2H, 4H and 4L modes by using a simple rotary dial located on the fascia.
Like the Navara (and most of its rivals), the X250d has a 3.5-tonne tow rating (braked) and trailer stability control is included in the standard specification.
Where does it fall short?
Poor ergonomics
As good as the X-Class' interior looks at first glance, there are a number of issues. Firstly, the driving position is compromised because the steering wheel is only adjustable for rake (not reach). We also feel that the ergonomics have not been optimised enough for our right-hand drive market – should you ever have the opportunity to sit in an X-Class, note the positioning of the infotainment screen; the angle of the Comand controller on the transmission tunnel; even the fitment of a CD player.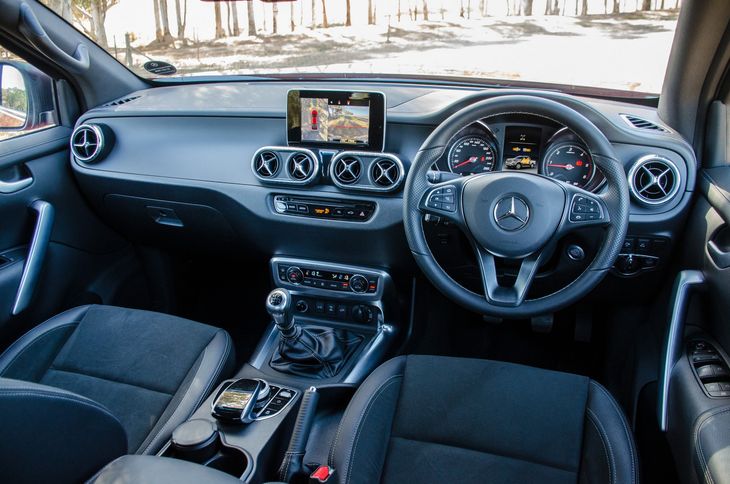 The central controller for the infotainment system takes up much of the storage space in the centre console.
There is also a surprising lack of usable oddments storage spaces in the front of the cabin. The drinks holders are minuscule and the storage box between the seats is smaller than those offered by most rivals, too. It's strange to us, because there certainly is a lot of wasted space on display. There's a vast expanse of blank plastic in front of the passenger, for example, where a secondary compartment could have gone. And by raising the HVAC (air-conditioning) controls and the row of off-road systems buttons, Mercedes-Benz would not have only improved the ergonomics, but also created space for another storage slot ahead of the gear lever.
As it stands, it's a cabin that's great to look at, but not particularly practical to use.
Price / standard specification imbalance
This is arguably the biggest problem with the X-Class. As our rivals selection below shows, you can purchase a similarly powerful, generally better-equipped offering from established brands such as Volkswagen, Ford, Nissan and Toyota for around R200 000 less. Add some extras to the X-Class, and that gap grows further. Yes, the Mercedes-Benz badge does carry a premium and the market will appreciate that (to some extent), but in our opinion, the gap is simply too big, particularly in the case of this manual-transmission X250d.
Standard spec on this derivative includes cruise control, rear diff-lock, electrically adjustable driver/front passenger seats, rain-sensing wipers, 8-speaker sound system and a very good safety package that features trailer stability assist. Still, there's nothing here that you can't get on the cheaper rivals. And if you want the real benefit of having a Mercedes-Benz, such as specifying the optional Traffic Assist package (lane keep assist, 360-degree camera, active braking assist), that'll cost R12 541 extra.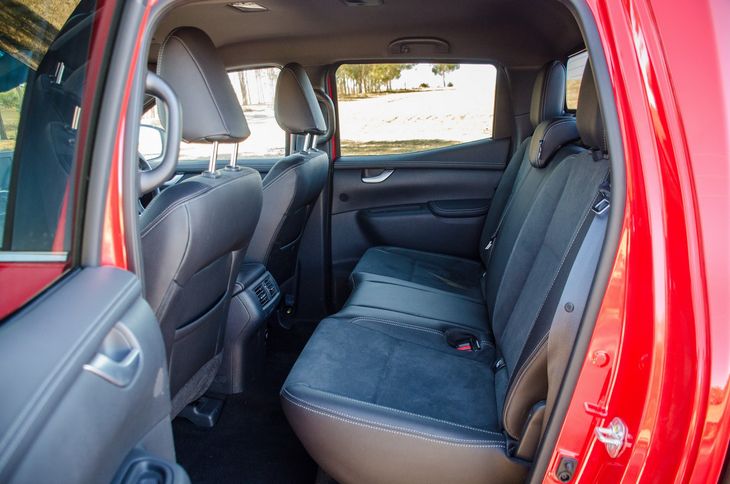 Rear air vents are a nice addition for rear passengers and rear legroom is adequate.
In summary, beyond the badge, there isn't enough here to elevate the X-Class above its rivals. The lack of standard satellite navigation and the relatively small infotainment screen are particularly irksome. Mercedes-Benz's new Sprinter panel van range, for example, features more advanced connectivity/infotainment features than the X-Class and boasts the company's smart new MBUX system. If that was available on the X-Class, it would have signficantly improved the user experience.
Manual transmission
While we have no doubt that the manual transmission fitted to the X-Class will prove reliable, it is an oddity in a near-R800 000 "leisure" vehicle with a premium badge. As sales figures show, owners at this end of the market want the ultimate refinement and comfort of a smooth automatic, and this manual gearbox's long-throw shift action, coupled with the need to keep the engine "on the boil", means that the X250d manual 'box driving experience is compromised. Opt for the auto version instead.
Pricing & Back-Up
The Mercedes-Benz X250d 4Matic Power sells for R796 145 (September 2018) and comes backed with a 2-year/unlimited km warranty and 6-year/100 000 km maintenance plan. Note that Mercedes-Benz dealers are very willing to negotiate on the X-Class at present.
Verdict


The Mercedes-Benz X-Class story is still developing. We recently returned from Europe where we drove the upcoming V6 flagship derivative – read that article here - and that's a vehicle that is far more convincing as a Mercedes-Benz product, even at the even steeper (projected) price point. In addition to its superior drivetrain refinement and extra power, it also helps that the flagship V6 X-Class essentially has no rivals at near R1 million.
There are 2 factors we'd also like to highlight that might be playing a role in the X-Class saga – firstly, the South Africa bakkie market is probably quite unique in the world. Throughout the years, Toyota's Hilux has established itself as not only a trusted workhorse locally, but owning a Hilux Double Cab is quite the status symbol. That status has been earned in the hearts of our consumers, and the application of a premium badge in this segment is no guarantee of a quick win... just ask Volkswagen. It has taken the Amarok years to become widely accepted, and it is doing so quite convincingly at the top-end of its line-up these days.
Finally, it's also worth noting that the current Navara was first shown to the world in 2014 – the contenders in the market at that time was the previous-generation Hilux, the pre-facelift Ford Ranger and old Mitsubishi Triton etc. The Navara eventually reached South Africa in 2017 and unfortunately for Nissan (and, by association, Benz) the pick-up world has moved on considerably since then. So at its core, the X-Class is based on a vehicle that's already a good few years into its lifecycle.
But back to this particular X250d 4Matic Power (manual) derivative... At its substantial price premium, it simply doesn't offer enough to justify the extra outlay over the likes of a similarly powerful Volkswagen Amarok or its sibling vehicle, the Nissan Navara. Yes, it does boast a more refined ride quality, and the allure of the Mercedes-Benz badge will be worth a lot to some consumers, but is that enough to stomach paying R200k extra? We think not.
Alternatives (click on the car names for detailed spec info)
Volkswagen Amarok 2.0BiTDI Highline 4Motion
It's tricky to decide which Amarok derivative to include as a rival. The 3.0 V6 TDI Highline Plus is our current Leisure Double Cab champion and R20 000 cheaper than this Mercedes-Benz, yet offers vastly more power/torque. In terms of fit and finishes, its cabin doesn't have to stand back to the Mercedes-Benz either. But if you compare the similarly powerful 2.0BiTDI Highline variant, you still get a very capable leisure vehicle that is also around R180k cheaper. Choices, choices...
This is essentially the derivative of the Nissan Navara that underpins this exact X250d, and it's a startling R200 000 cheaper. With standard features such as navigation, surround view camera, leather upholstery, rear park distance control and even heated front seats, the Nissan is even better equipped than the far-pricier Mercedes-Benz.
Toyota Hilux 2.8 GD-6 Raider 4x4
Recently updated to feature the more attractive front design of the Dakar Edition, the Hilux remains a top-seller locally. It's also something of a status symbol in this country, which Mercedes-Benz may have underestimated. It is also around R200 000 cheaper than the Mercedes-Benz and generally beats it on spec too.
Interested in buying a new / used Mercedes-Benz X-Class
Find one today on Cars.co.za by clicking here