Mercedes-Benz has moved over to the dark side and revealed details of the X-Class Edition 1.
Despite disappointing overall sales Mercedes-Benz is increasing the marketing effort behind its X-Class double-cab bakkie. The premium German car brand has released images and details of the X350d Edition 1.
Mercedes-Benz usually launches AMG models with an Edition 1 variant, as an incentive supporting exclusivity by including optional extras and unique styling components. In the case of X-Class, adding an Edition 1 option more than a year after its launch appears curious.
The X350d Edition 1 is powered by 3.0-litre turbodiesel engine with 190 kW and 550 Nm of torque and is mated with a 7-speed automatic transmission.
Love Black?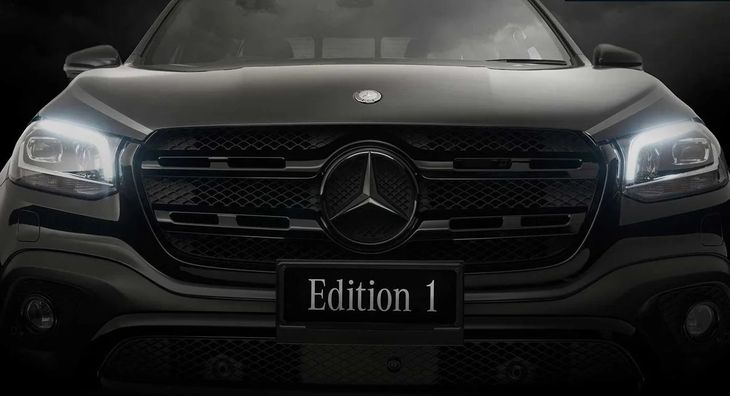 Black detailing gives the X350d Edition 1 a menacing appearance.
The X350d Edition 1 is expected to trade at a 10% price premium over an X350d Power and what you get for that increased purchase price, is a lot of black detailing.
Edition 1 sees the X350d's grille, lockable plastic tonneau cover, door and tailgate handles, wheels and all model designation badges finished in black. This new special edition X-Class will also only be available in 3 primary colours: white, grey and you guessed it, black. This Edition 1 bakkie also features grey vinyl go-faster stripes on the bonnet, tailgate and around the front quarter panel badging.
Showing off its Edition 1 attributes inside, are heated front seats, rear privacy glass (with an electrically operated sliding window) and Edition 1 badging.
Due for to commence delivery and sales in one of the world's most important bakkie geographies – Australia - from July 2019, plans for this Edition 1 in other X-Class markets are unknown. Would you like to see the X350d Edition 1 on offer in South Africa?
Buy a new or used Mercedes-Benz X-Class on Cars.co.za
Related Content
Long Wheelbase X-Class Revealed
Mercedes-Benz X-Class by Carlex Design
Mercedes Benz X-Class (2018) Video Review