Available in a staggering 1 700 configurations and packed with the latest comfort and safety technologies from Mercedes-Benz, the new Sprinter family of vehicles attempts to redefine the commercial van category. It arrives in South Africa early next year and we had a preview drive in Slovenia.
With more than 3.4 million units of the first two generations of Sprinters delivered in 130 countries worldwide to date, this "van" is a massively important product in the Three-Pointed Star's portfolio. But according to Mercedes-Benz's Volker Mornhinweg (head of Vans), the logistics game is changing, and for that reason the "variability and availability of customer-specific solutions are the essential success factor", he explains.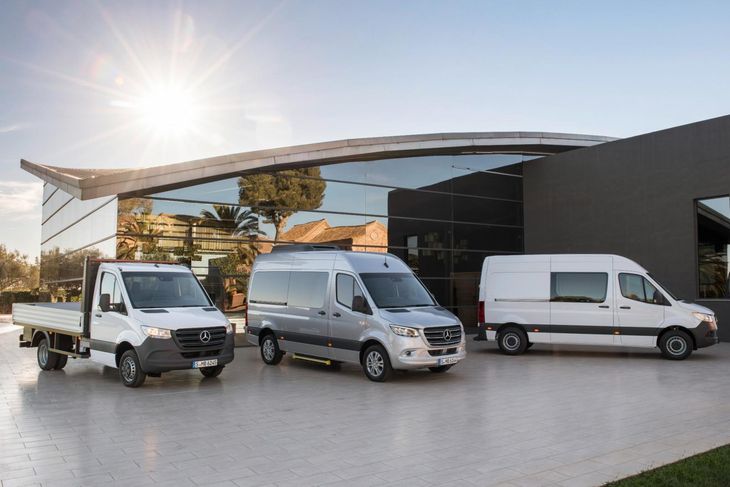 Choices, choices... the new Sprinter is available in a vast variety of configurations.
So... consequently you can have your Sprinter pretty much any which way you want it – choose from front-, rear- or all-wheel drive, various engines/transmissions (even electric), different body types, cab designs, load compartment heights etc. There appears to be a Sprinter for every purpose.
Of course, we could not drive all the different variants, and instead jumped into a high-roof 316 TDI, which looked like your typical hard-working panel van.
The S-Class of vans?
Hop up and into the commanding driver's seat and you're likely to be taken by suprise by the modernity and "luxury" in this supposed workhorse. It's only the second Mercedes-Benz to be available with the marque's new 10.25-inch MBUX infotainment system (after the A-Class) and it's by no means the only nod to modern tech and convenience.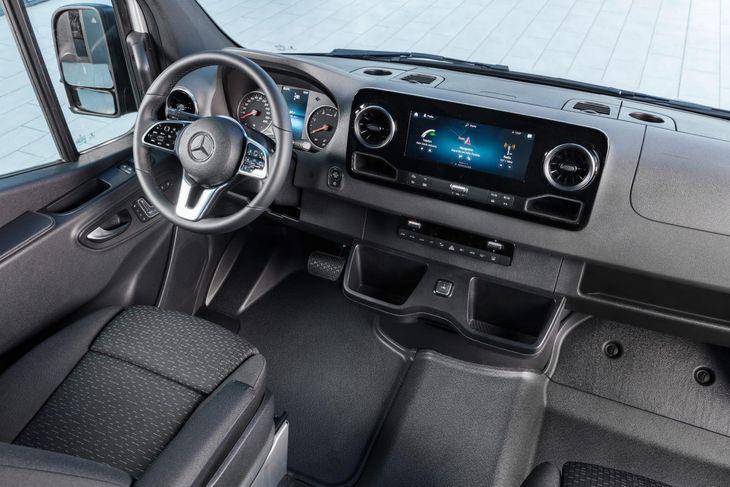 Not a bad mobile office! The Sprinter is only the second Mercedes-Benz to get the new MBUX infotainment system.
Our test unit's steering wheel was a neat leather-bound item that wouldn't have looked out of place in a sporty Mercedes sedan, and even included buttons for the active cruise control, for example. You can also have a Park Assist package with 360-degree camera view if you want, or even lane assist. The steering wheel is height/reach adjustable and the seat can be electrically adjusted using the same kind of buttons you'll find in any other Mercedes-Benz. The instrumentation is modern and comprehensive, too, and includes a large high-resolution digital display that provides the necessary driving information.
The fancy MBUX infotainment system is not only there to make it more comfortable and pleasant in the cabin for the driver. The new Sprinter features state-of-the-art connectivity hardware and the Mercedes PRO connect services, which have been developed to make fleet controlling easier and more efficient. At the time of its European launch Mercedes-Benz will offer 8 different connectivity services, including Vehicle Supervision, Vehicle Operations, Fleet Communication, Maintenance and Repair Management and a digital Driver's Logbook. The driver can access all these on-line services using the MBUX system (or even voice control). We'll have to wait to find out just how many of the Mercedes PRO services will be offered in South Africa.
On the road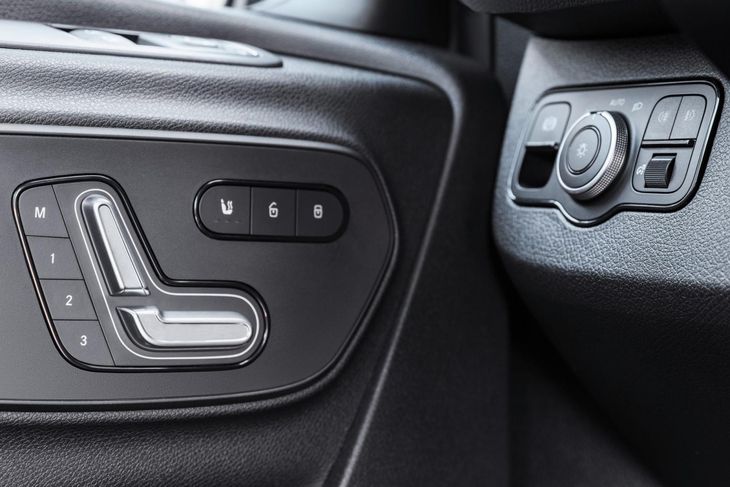 Switchgear and features are shared with Mercedes-Benz's passenger vehicles. Even seat warmers are offered.
Our test unit was powered by a 120 kW 2.1L turbodiesel engine, but a variety of outputs are offered and there is also a more powerful 140kW/440Nm 3.0L 6-cylinder unit. Nevertheless, "our" van never feeled sluggish, with great torque from low down and smooth delivery. There are 3 transmissions on offer in the new Sprinter line-up, though they're not all available for all the different model types. The new base front-wheel drive model can be had a with a 6-speed manual or 9-speed automatic, while the version we drove featured the marque's well-known 7-speed auto. Fuel consumption ranges from 6.9 to 9.7L/100 km depending on the variant.
I'm not hugely experienced with driving such big vehicles (especially on such narrow and unknown roads), but the Sprinter's various assistance systems, including the rear-view camera, speed limit recognition, easy-to-use navigation and large side mirrors made piloting the newcomer easy and comfortable. It's a very refined drive – spending a lot of time in the new Sprinter will be no hardship. Mercedes-Benz also offers a wide variety of recharging options (including Qi wireless smartphone pad) for the driver and passengers' various devices, and numerous cabin storage solutions.
The flexibility and comfort of the passenger-carrying Tourer versions have been improved by the development of what Mercedes-Benz calls an "Easy Mounting" system. This simply allows for easier installing or removing of entire seat rows. And in the luxury variant, there are USB charging sockets and stowage space for smartphones in every seat row.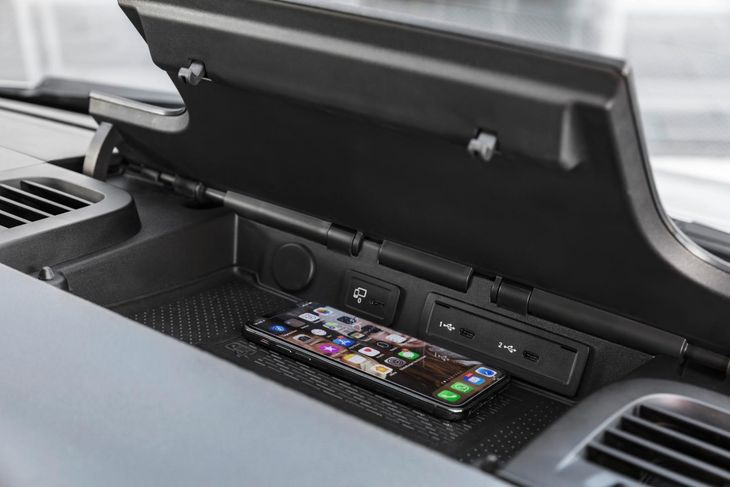 A variety of charging solutions are offered for mobile devices, and not only for the driver either.
I was also impressed with the ride quality and, in fact, the build integrity overall. Mercedes-Benz certainly didn't cut any corners on its usual build quality standards for this working vehicle. As is to be expected, a variety of suspension options are offered. There is an optional air-suspension system (for rear- and all-wheel drive models) that makes it possible to lower the rear-end for easier loading, for example. An interesting option fitted to our test unit were GRP (glassfibre reinforced plastic) rear leaf springs, instead of steel springs. These reduce vehicle weight and are also corrosion free.
Moving into the cargo bay – well, there are so many variables at play, but I must say a stand-out feature for me is the internal roof carrier system that's now offered. It really does maximuse the space available. And then there are new flat-top wheelarches, which makes the space on, and surrounding the arches far more usable. The new plastic surface for the cargo bay floor also looks particularly durable.
Verdict

Rear air suspension is offered on some models, allowing for the rear-end to be lowered for easier loading/unloading.
It's obviously not possible to evaluate the load-carrying ability and the various configurations offered by the Sprinter in a single test drive. However, within the parameters provided by Mercedes-Benz, you're very likely to find a suitable solution to your transport needs. Sprinters are available in wheelbases ranging from 3 250 to 4 325 mm, seating for 1 or up to 20 people, and with a maximum permissable gross vehicle weight of up to 5.5 tonnes (max payload over 3 000kg).
At this time the South African base line-up and pricing is not yet known, but we'll get most of what is offered in other parts of the world, but not the electric van. As ever, the Sprinter should be seen as a premium product in its segment, and as such is likely to demand a higher price. Based on factors such as a claimed 9 million test kilometres across the world, cutting-edge connectivity solutions, superior driver comfort and the great attention to detail shown in the configuration of the load compartments, I don't believe any business that opts for a Sprinter will feel short-changed.
You may also be interested in;
Mercedes-Benz Vito (2015) First Drive
Volkswagen Crafter (2018) specs and pricing in SA
Ford Transit and Tourneo ranges expanded in SA (2015)
Nissan e-NV200 Workspace Concept previews future commercial vans
Looking to buy a new / used Mercedes-Benz Sprinter?