The family-car market is increasingly crowded – even at its premium end – but that hasn't stopped Mercedes-Benz from adding yet another high-riding, off-road-flavoured model to its line-up (its 8th, to be precise). Our UK correspondent James Disdale recently got to grips with the new GLB, which will arrive in South Africa in the 2nd quarter of 2020, in Spain.
As the "B" part of its name suggests, the new GLB can be considered a rough-and-tumble version of the B-Class, which means there's more than a touch of MPV to this SUV. But just how much?
Well, like the recently refreshed Land Rover Discovery Sport, the GLB seats 7 occupants. And, unlike its GLC and GLE big brothers, but like the smaller GLA, this latest addition is available in both 2- and 4-wheel-drive guises.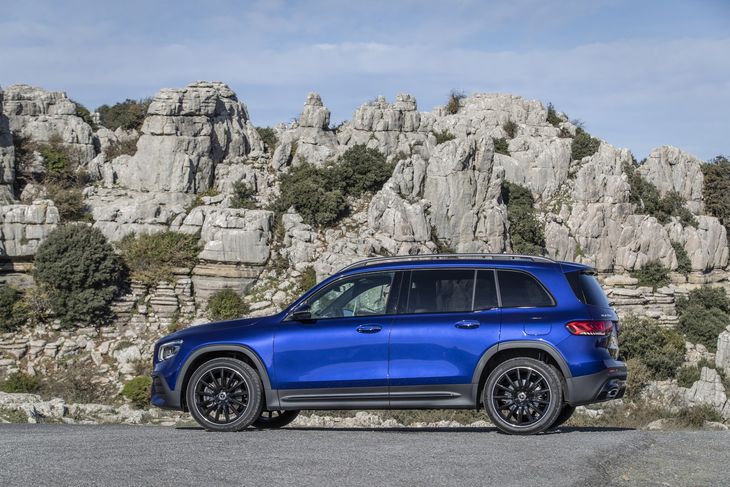 While the upcoming GLA will cater to boutique crossover buyers, the unashamedly squared-off GLB has practical pretensions.
Okay, so what have we got here? Externally, the GLB looks a little like a shrunken GLS, which means it has an upright and boxy presence on the road. You'll have to make your own mind up about the looks, but from some angles, it's slightly ungainly, while from others there's more than a hint of the Citroën C5 Aircross (which itself recently made its debut in South Africa upon Citroen's reintroduction to the local market).
Suitably smart inside
Matters improve markedly inside, where the GLB benefits from the slick wall-to-wall TFT infotainment and all-digital instrument cluster that made its debut in the A-Class last year. Some of the plastics used lower down in the cabin look and feel a little scratchy, but otherwise, it's a high-quality affair that rivals anything on offer from BMW and Audi. In fact, with its neat trio of turbine air vents, a pair of metallic climate control toggles and 3-spoke multi-function steering wheel, you could be forgiven for thinking you're seated inside an A-Class – the raised driving position aside, of course.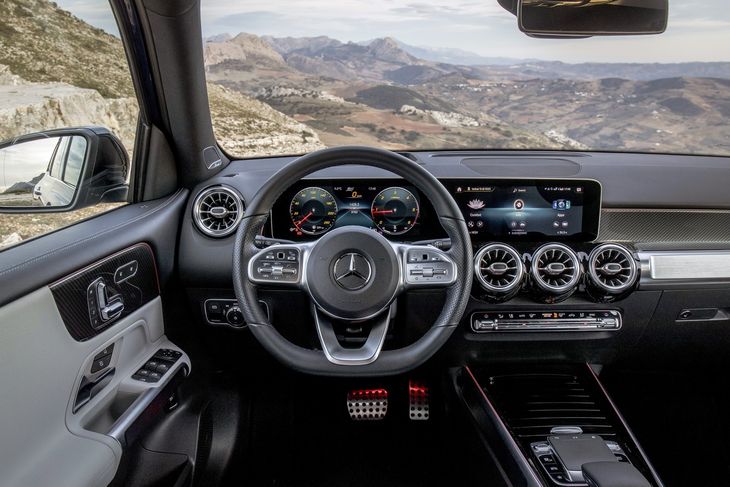 The tasteful implementation of the MBUX user interface and strategic brightwork lifts the newcomer's cabin ambience appreciably.
It's fairly spacious, too, although the optional 3rd row of seats is designed for young children or occasional adult use only because, with the sliding 2nd row in its rearmost setting, there's virtually no legroom behind it. Speaking of space, load bay capacity shrinks from a handy 570 litres with the 3rd row stowed (it folds into the floor in an easy movement) to virtually nothing with the chairs raised – a Land Rover Discovery Sport offers more space with seats up or down.
More of a Q5/X3 rival than a foil to the Q3/X1
The GLB is essentially based on the same MFA2 platform as the A-Class, although it's been stretched by 100 mm (to accommodate those extra seats, for those who wish to upgrade from 5- to 7-seater configuration). It can sometimes be tricky to judge a vehicle's size from pictures... One'd think the SUV variant of the A- and B-Class would be directly comparable with the Audi Q3 and BMW X1, but if you get the tape measure out, you'll notice the GLB is closer to those cars' respective executive-class siblings: the Q5 and X3. The Benz is only about 30 mm and 70 mm shorter than those cars, nearly as wide and within a whisker in height of its Ingolstadt-based rival (and 22 mm shorter than the Bimmer).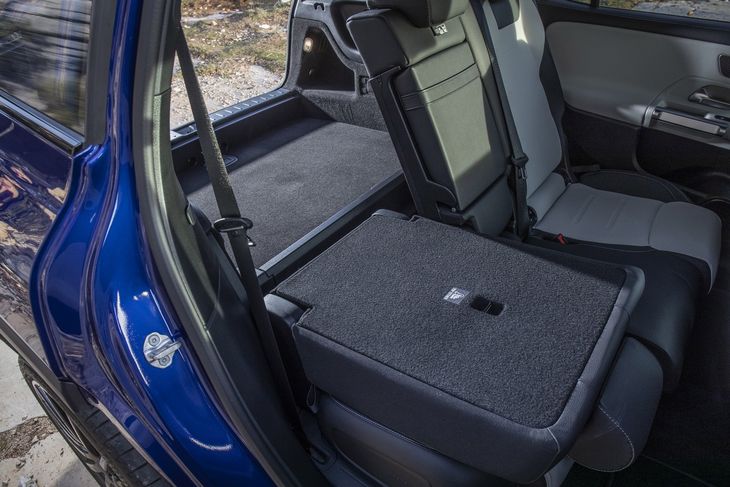 The 2nd-row bench can slide fore/aft in a 140-mm range. In 5-seater configuration, loading practicality increases substantially.
The familiar Mercedes-Benz architecture means a similar line-up of 4-cylinder turbopetrol and -diesel engines, up to and including the 225 kW/400 Nm AMG-fettled A35, which isn't coming to South Africa... not in the immediate future, anyway. The South African launch line-up will comprise the GLB 250 (165 kW/350 Nm) in front-wheel-drive guise and the GLB 220d 4Matic, both of which will feature the newly-developed 8-speed dual-clutch (automatic transmission).
During the launch, we sampled the GLB 200 (also FWD), powered by a 1.3-litre turbopetrol 4-pot developed jointly with Nissan/Renault. Given the motor's small size and the GLB's 1 555 kg kerb weight, its performance was fairly brisk. Peak torque (250 Nm) is available at just 1 620 rpm, plus the nicely insulated engine will happily rev to 6 000 rpm. Drivetrain responses are boosted by the dual-clutch transmission, which slots home its ratios quickly and smoothly.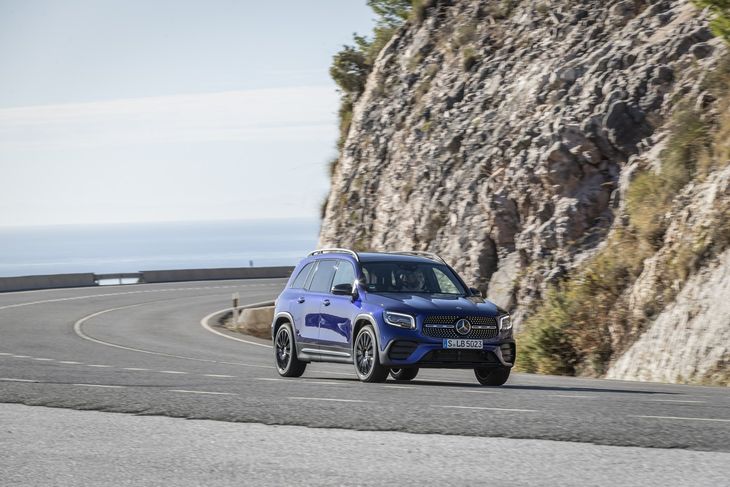 As opposed to the A200 hatchback, the GLB 200 features a (notably pliant) multi-link rear suspension setup.
The car's dynamism is best described as easy-going – the package is geared towards delivering everyday comfort, as opposed to crisp cornering ability. All GLB derivatives feature a McPherson-strut front- and a multi-link rear axle suspension setup (in contrast to the torsion-beam aft setup on cooking variety A-Class derivatives), while our test unit further benefited from optional adaptive dampers that, on our smoothly surfaced test route, served up welcome plushness over bumps. Benz's newcomer represents a quiet and comfortable way to get about. And while it's not exactly a thrill-a-minute in the twisty bits, there's enough composure and grip to allow you to maintain a decent pace.
The steering setup feels inert, but despite the tiller's lack of heft, it's precise enough to make the Benz's manoeuvrable in tight city confines. What's more, the GLB's body control is rather good, despite being prone to lean when pushing on. With some load going through the suspension, you can feel both axles sharing the cornering forces, which helps to minimise a natural tendency to understeer...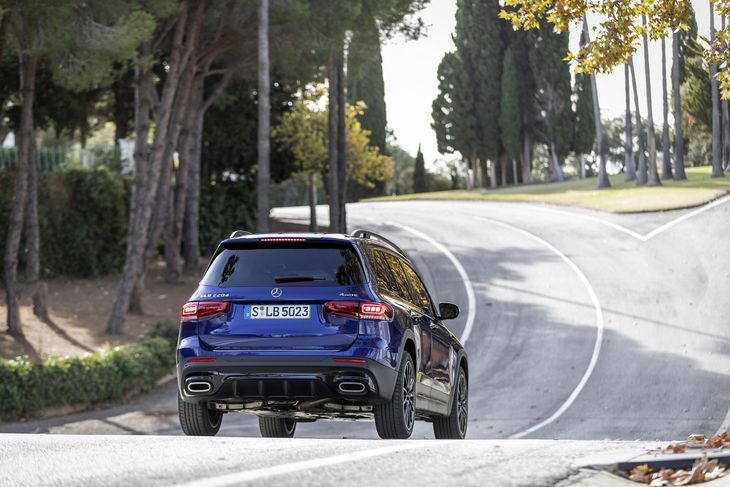 The ride quality of the GLB is impressive, especially when the Benz is equipped with adaptive dampers.
And for those who seek off-road ability, the GLB 220d derivative (140 kW/400 Nm) comes equipped with a 4Matic system that uses torque-vectoring technology (the transmission can be locked in a 50:50 split), hill descent control (which utilises the vehicle's dynamic stability sensors) and even an optional off-road lighting pack. With ground clearance of 200 mm, however, the Benz would be best suited to traversing dirt roads, sandy tracks and the odd grassy knoll.
Summary
If you consider the GLB a compact 7-seater, which is how Benz initially trumpeted its MPV-flavoured (but SUV-styled) crossover, then its first, best rival is the Land Rover Discovery Sport, which is a former #CarsAwards champion. It's a package that doesn't appear to need the beefier powerplants in the range to put its best foot forward, because it's likely to be used as a laid-back and versatile family runaround, besides, it works fine in its standard 5-seater configuration. Given its size and loading practicality (when it's not occupied by a full complement of passengers, mind you), the GLB is as big a threat to executive SUV models as the family-car offerings most people are likely to compare it with...
Own a Mercedes-Benz? Tell us about your experience here.
Related content:
Audi Q3 35 TFSI S tronic (2019) Review
Land Rover Discovery Sport Significantly Updated for 2019
Facelifted BMW X1 Revealed (SA Pricing Update)