The all-new Mercedes-Benz CLS is on sale in South Africa. While the 53-powered AMG derivative of Stuttgart's executive-class "4-door coupe" is bound to attract the most attention, we recently tested the turbodiesel-powered 400d version... and it proved to be a genuine surprise package.
We like: Superb engine performance, open-road refinement, high levels of comfort and spec.
We don't like: Rear passenger access is a bit awkward, suspension crashes over sharp ridges.
Fast Facts
Price: R1 194 834
Engine: 2.9-litre 6-cylinder turbodiesel
Gearbox: 9-speed auto
Fuel economy: 6 L/100 km (claimed)
Power/Torque: 250 kW/700 Nm
Performance: 0-100 kph in 5 seconds (claimed)
Own a Mercedes-Benz? Tell us about your experience here.
SERIOUS ABOUT BUYING?
Where does it fit in?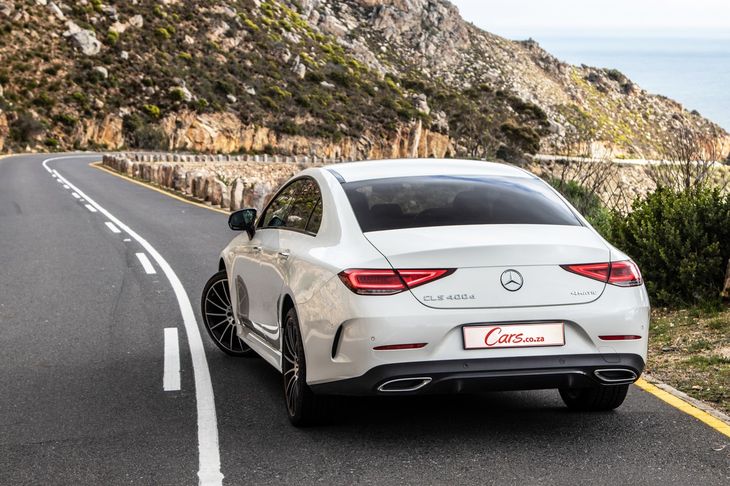 It's subtly-styled in its non-AMG spec, but the CLS is a striking and elegant vehicle nonetheless.
Some may accuse Mercedes-Benz of cramming its executive- and first-class product portfolio with too many sedans, especially when sales stats indicate sedans aren't as popular as SUVs. There's already the impressive E-Class (also available in coupe and cabriolet guises), the CLS, and if you stretch your budget a tad more you're in S-Class and AMG GT 4-Door territory. Interestingly, the CLS is underpinned by the E-Class chassis, which isn't a bad thing – we've been impressed with the latter's refinement. So, essentially, the new CLS (now in its 3rd generation) is an E-Class in a sexier suit. The local market's limited to just these 2 flavours for now: the CLS 400d and CLS 53 AMG. We had the chance to drive the CLS 53 AMG at Kyalami during its launch, but logic and common sense suggest that the real value lies in the less glamourous turbodiesel derivative. Should you resist the temptation to buy a soon-to-be-launched GLE and opt for the effortless style of the CLS? Our 400d test unit was (surprisingly) devoid of many optional extras, which allowed us to examine the derivative with a more prudent spec, and, of course, focus on that all-new powertrain.
How it fares in terms of...
Performance & Efficiency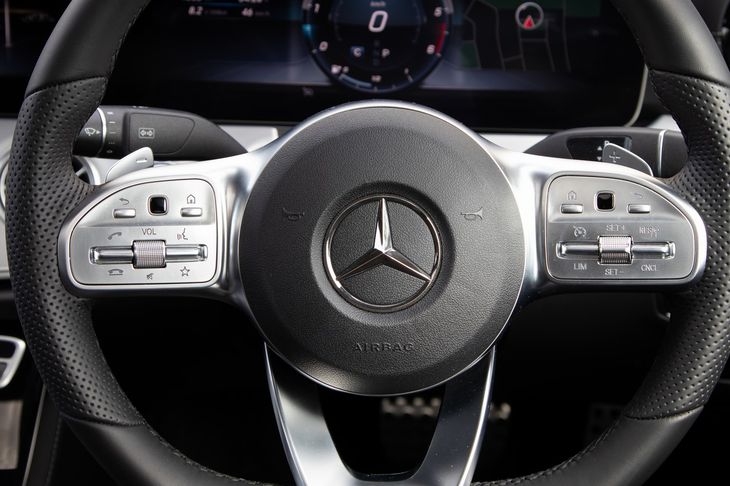 The steering wheel boasts Blackberry-like touchpads as well as gearshift paddles.
When it comes to inline-6 engines, Mercedes-Benz is not the first brand that comes to mind (we see you, BMW) and yet, somehow, the Stuttgart-based brand's latest powertrains of that configuration are sublime. From the get-go, the CLS 400d's 2.9-litre straight-6 turbodiesel is a delight! It delivers tremendous outputs and emits hardly any "diesel clatter". Usually, there's little interest in non-AMG motors, but with 250 kW and 700 Nm on tap, this turbodiesel is worth getting excited about. Mercedes-Benz claims a 5.0-second 0-to-100 kph dash, which will humble even a Volkswagen Golf R. We suspect the Benz would obliterate the Golf R from 100 kph onwards too, thanks to its colossal torque. Not bad for a 'diesel luxobarge!
Thanks to that 700 Nm, which is available from as low as 1 200 rpm, the CLS 400d's overtaking prowess is excellent – the svelte Benz positively lunges towards the horizon with satisfying verve, which furtively pushes passengers deeper into their seats. It's a creamy motor that delivers surfeit shove right across its rev range. There's little need to engage the sportier driving modes: even in Comfort and with modest right-pedal inputs, the CLS 400d dispatches slower traffic with ease. For science's sake, we lined the Benz up on a straight road and dialled up its most aggressive settings. Engage Sport+ mode, flatten the accelerator and just let the 9-speed automatic do its thing. The 'box change cogs briskly, with each change accompanied by a percussive thud. Suffice to say there's more than enough performance available; this Benz could embarrass boy racers.
Meanwhile, in Comfort and Eco (the modes we engaged most often), the CLS 400d's gear shifts blend into one another with hardly any interruption. If a car is marketed as an elegant and refined luxury sedan, it needs to get "supreme comfort" right first and foremost and, yes, the Benz ticks that box. Interestingly, you'd think 9 ratios are too many, but somehow the transmission's software is adaptable enough (well-calibrated) to ensure the 'box never hunts for gears or hangs onto high revs for too long. The combination of a punchy turbodiesel, an engaging transmission and rigorous testing meant the CLS 400'd economy suffered a little. Benz claims 6 L/100 km and we saw an indicated 8.2 L/100 km, but that's hardly scandalous.
Ride & Handling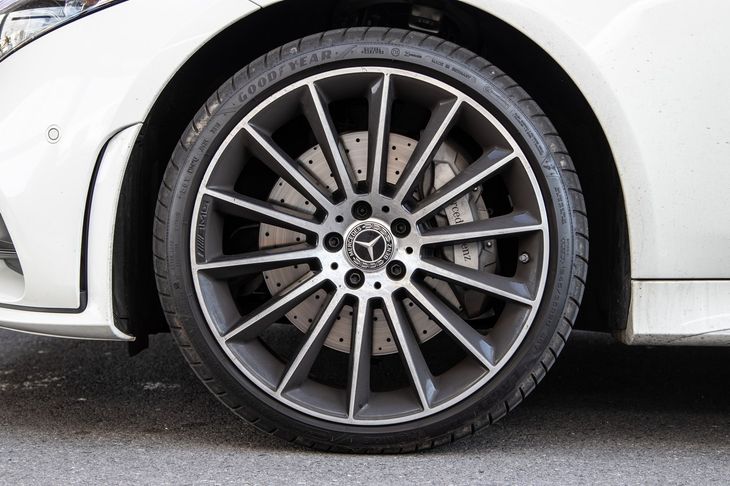 Our test unit came specified with these smart-looking 20-inch AMG alloy wheels.
Considering that this Mercedes-Benz's pricetag breaches the R1-million mark, we had justifiably high expectations of the driving experience it would deliver. Fortunately, it met all our expectations and we were impressed with the Benz's sheer cruising ability on the tarmac. Until said tarmac quality deteriorates. We noticed a peculiar trait when piloting the CLS 400d... When traversing large speedbumps, the Benz's ride quality was composed; it gliding over them with ease. But, when encountering minor road-surface disturbances, such as protruding tree roots or "cat's eyes" on a freeway, the suspension tended to crash over them, with awful jolts and thuds translating to the cabin. It would be best to avoid driving on iffy roads, if you can.

In its Eco driving mode, the CLS can be super frugal. However, the throttle response dies considerably, so we think Comfort is the best option.
In the handling stakes, the CLS 400d produced more than a few pleasant surprises. While it physically resembles a sleek land yacht (and probably weighs about as much as one), the big Benz proved to be quite nimble in the corners. With the safety net of 4Matic all-wheel drive, you can press on a bit and you'd be unlikely to encounter sudden handling maladies; the entire package feels planted and sure-footed, with loads of grip. We did try to get the Benz's rear-end unstuck, but to no avail. The steering is pleasantly responsive too, with a direct and solid feel – its weighting will increase if you activate the sportier modes. If you pitch the car into tight corners, its heft becomes apparent, but, in our opinion, the engine, transmission and chassis are well-harmonised. Our test unit was shod with optional 20-inch AMG wheels, but the wide rubber didn't generate much more road noise.
Design & Packaging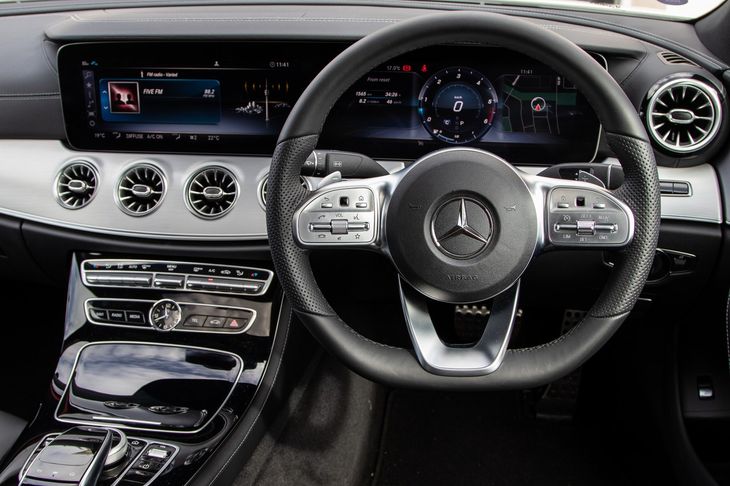 The CLS' cabin is smart, modern and luxurious, but upon closer inspection, there are some cheap touches.
While there's no doubt that the Mercedes-Benz CLS is endowed with a tastefully designed and eminently upmarket interior, its cabin unfortunately suffers from the same affliction as many contemporary products from the Three-pointed Star: the build quality is good, but not great. Upon closer inspection, we noticed some cheaper finishes, something you definitely won't see in equivalent Audis or BMWs. Despite our test unit not coming with fully electrically-adjustable front seats, we had no difficulties finding comfortable driving positions by using the manual fore/aft slider and powered backrest control. It's an absolute joy to feel totally refreshed when you emerge from a touring vehicle's cabin after a long journey.
Our test unit came equipped with a digital instrument cluster, which renders clear and modern graphics. It also offers drivers the ability to customise the instrumentation themes on the display – we opted for the single-dial minimalist approach, but you can alternatively choose the more traditional speedometer/rev counter setup. Standard specification is impressive, with 2 USB ports, front and rear PDC, a reverse-view camera, Bluetooth connectivity, cruise and climate control, daytime running lights, navigation, auto lights and wipers, plus keyless entry and start, to name but a few.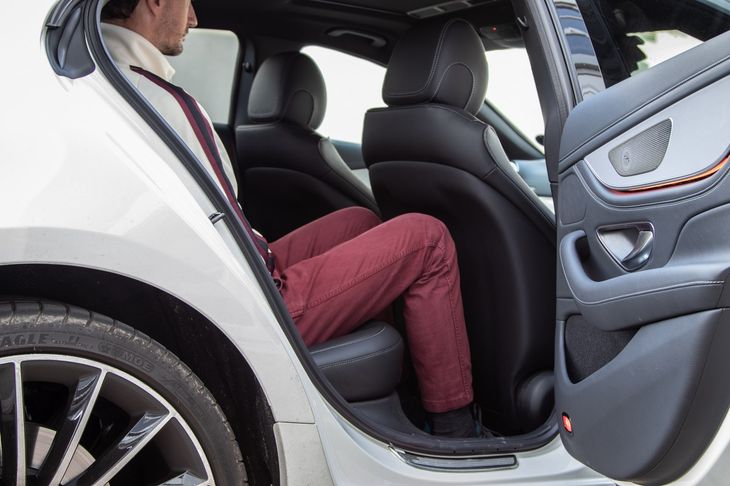 Ashley Oldfield demonstrates the ample rear legroom thanks to the curvature of the front seatback. Don't bash your head when getting out, though.
If there's a downside to the CLS' smart styling, its the rear egress and headroom. Taller folk may find the roofline a bit low, but the cleverly-designed front seatbacks ensure that aft legroom isn't an issue. If you transport rear passengers, just remind them to "watch their heads" when they get out.
Price and warranty (August 2019)
The Mercedes-Benz CLS 400d 4Matic costs R1 194 834, including a 2-year/unlimited km warranty and a 5-year/100 000 km maintenance plan.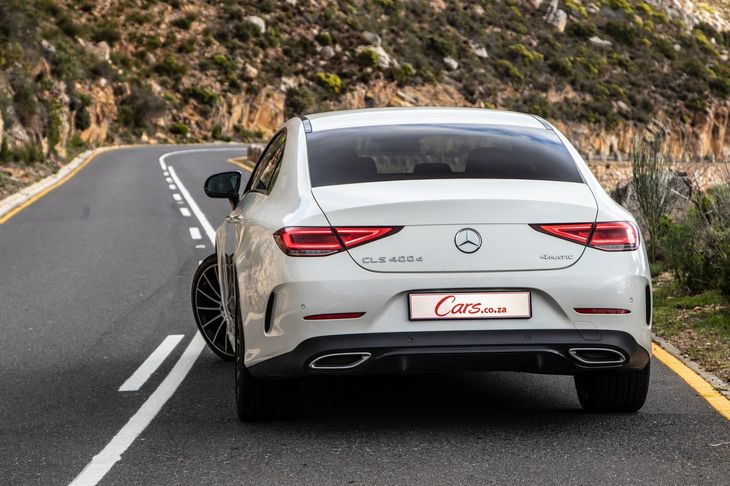 Do you really need a CLS 53 AMG? We think not. There's ample performance available from the new turbodiesel engine.
Verdict
The new Mercedes-Benz adds much-needed variety to the rather predictable executive sedan segment, especially now that BMW has discontinued its 6 Series Gran Coupe. Also, in a market seemingly obsessed with all things SUV, it's really good to have some diversity. The CLS brings some elegant style and tremendous performance to the table... the 400d 4Matic's motor provides generous in-gear acceleration and can cruise at heady velocities with little effort. The bonus is that, if you drive considerately, the fuel consumption will be moderate, unlike its petrol-powered AMG sibling.
Should you buy one? If you think the E-Class is a bit bland (or a trifle passe), don't want an SUV (unlike the rest of the world) and you absolutely need 4-doors, then this is your answer south of the S-Class or AMG GT 4-Door Coupe. Just please do us a favour and fork out for the AMG styling package, which would endow the CLS with some added visual punch. We adored our test unit, but couldn't help but think it was a bit plain-looking, despite the optional bigger wheels. "Oh, how ordinary" is not what you should hear when you've spent more than R1 million on a luxury vehicle.
Looking to buy a new/used Mercedes-Benz CLS?
Find one on Cars.co.za by clicking here