Pricing for the facelifted Mercedes-AMG GT supercar has been announced for the South African market. Here's how much this V8-powered monster costs.
When it was launched a few years back, the Mercedes-AMG GT supercar impressed us. Not only did it look suave and elegant, but the V8 turbo performance was exceptional. Now for 2019, the vehicle has received some updates.
Inside, the AMG GT gains a standard fully digital instrument cluster, which we've seen and experienced in the updated C63 AMG S. Some of the central console buttons have been changed too. There's also a new-look AMG performance steering wheel wrapped in black Nappa and Dinamica microfiber. AMG Track Pace is now available for the facelifted AMG GT, which records telemetry when owners take their vehicles onto race circuits. It records things such as speed, acceleration, braking, G forces and lap times.
You'll be able to spot the new-look AMG GT with its new LED high-performance headlights, Panamericana grille at the front, while the rear features a new diffuser and redesigned exhaust pipes. The AMG GT R retains its central exhaust setup. There are changes in the trim and features too, with the AMG GT gaining a parking package comprising assistance, front cameras and rear cameras as standard.
In terms of South African spec AMG GTs, we'll be getting 3 versions. There'll be the entry-level AMG GT, the GT S and the GT R. All are powered by the same 4.0-litre biturbo V8 engine, although each model offers different outputs. The AMG GT offers up 350 kW / 630 Nm, while its bigger GT S sibling produces 384 kW and 670 Nm. Finally, at the top of the pile sits the AMG GT R which has a potent 430 kW and 700 Nm. Performance, all three models are not slow with acceleration runs to 100 kph claimed at 4.0 seconds, 3.8 seconds and 3.6 seconds respectively.
Mercedes-AMG GT Price in South Africa (June 2019)
Mercedes-AMG GT R2 216 136
Mercedes-AMG GT S R2 504 863
Mercedes-AMG GT R R3 076 258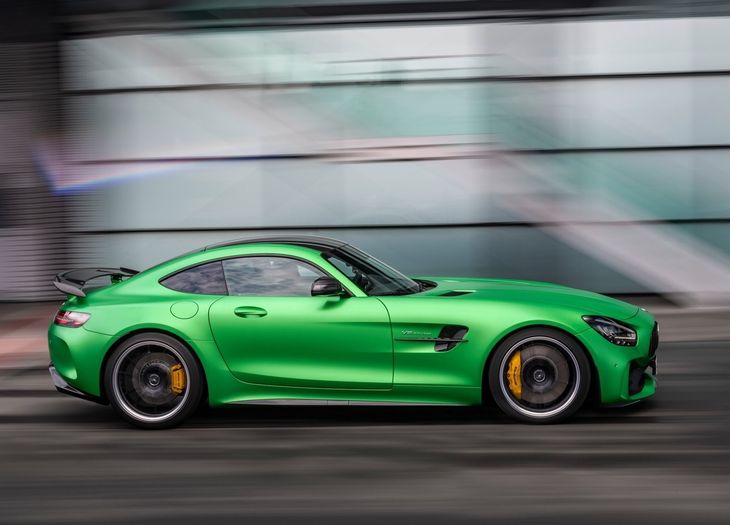 Further Reading