Pricing for the forthcoming Mercedes-AMG E53 has appeared on the local manufacturer's website. Here's what you need to know about this highly advanced performance sedan.
The Mercedes-Benz E-Class range will be expanded to include a new performance model which effectively replaces the E43 and slots in below the fiery E63 S. It's called the E53 and it boasts an advanced and electrically-assisted bi-turbo V6 engine.
High-tech engine
The 53 is a 3.0-litre, and of extraordinary complexity. Deep breath. It's an in-line six-cylinder turbopetrol, mounted longitudinally, the exhaust outlets pass through a single, large, twin-scroll turbocharger. To cover the inevitable turbo lag from this, there is also an electrically powered compressor, located on the other side of the block, just before an intercooler right next to the inlet ports, which can help suck air through the induction tract while the turbocharger builds up enough boost.
It makes 320 kW and 520 Nm, which is a lot in itself. But in addition to both of these forced inductors, mounted between the engine and the nine-speed automatic gearbox sits an integrated starter/generator (ISG), an alternator/starter motor and flywheel combo, which can contribute 16 kW and no less than 250 Nm to the engine's already imposing output.
All of this power goes to the E's rear wheels most of the time, with a standard all-wheel-drive system on all models diverting it to four wheels when the rears threaten to slip. Performance is impressive for a big luxury barge. Expect 0-100 kph to come up in a claimed 4.5 seconds and it'll run onto a top speed of 250 kph. Fit the optional AMG Drivers Package and it'll go to 270 kph. The new Mercedes-AMG E53 features a 9-speed automatic gearbox. In terms of fuel consumption, Mercedes-AMG claims a combined figure of 8.7 L/100 km.
We'll have final specifications and features when the vehicle launches in South Africa, which should be any day now. Pricing below.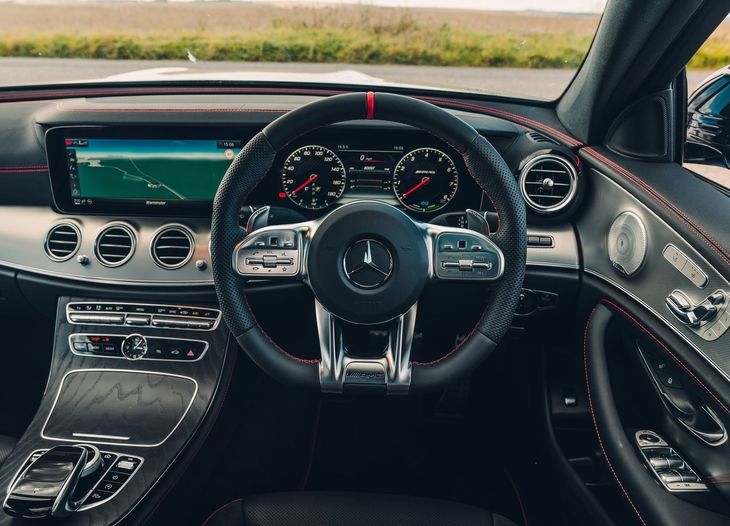 The E53 cabin is spacious, sporty and luxurious.
Mercedes-AMG E53 Price in South Africa
E53 4Matic+ R 1 251 620
Further Reading
New Mercedes-Benz CLA Revealed
Mercedes-Benz E-Class (2016) First Drive
Mercedes-Benz GLE (2019) International Launch Review