Rapid and economical new compact hybrids from Merc.
Mercedes-Benz has broadened its electrification strategy by revealing two new plug-in hybrid vehicle options.
Instead of applying its advanced hybrid technology to a large SUV or luxury limousine, Mercedes-Benz has added lithium-ion battery packs and plug-in recharge capacity to its smallest vehicle lines: A- and B-Class.
These are the cars most likely to be used by owners of the brand who live in crowded inner-city areas and as a plug-in hybrid, the A-Class platform makes a lot of sense.
Although efficiency is the goal, these new Mercedes-Benz compact hybrids offer very impressive performance. A 15.6kWh lithium-ion battery pack powers an integrated electric motor housed in the eight-speed automatic transmission, which make the new A250e and B250e very fast - and light on fuel.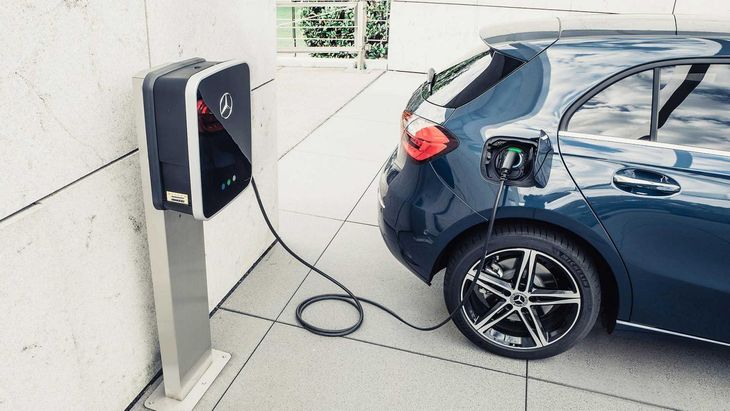 Combine the electric and petrol motors and the A250e will crank out 160 kW and 450 Nm.
Combined outputs, with the 1.33-litre four-cylinder and electric motor working together, rate at 160 kW and 450 Nm – and yes, that is a lot of torque for an A- or B-Class. The electric motor can draw 75 kW and 300 Nm of energy conversion from its battery pack. It can also power these new Mercs on pure electric power for up to 70 km, which is great news for any potential A250e or B250e owner who has a traffic dense daily commute.
Acceleration is very much hot hatch credible, with both these new Mercedes hybrids capable of 0-100 kph in only 6.6 seconds, whilst top speed is claimed at 235 kph. Best of all, is the ridiculously low average fuel consumption of only 1.4l/100 km.
Recharging the A250e or B250e isn't an issue either. Using a 7.4 kWh wall unit charger will repower the battery to full capacity, from a 10% power level, in 1hr and 45 min. If you have access to a rapid charger unit, only 25 minutes of plug-in charging will repower 70% of the battery capacity.
Hot hatch performance with absolutely unbeatable fuel economy. Mercedes-Benz appears to have struck upon an inspired hybridisation product with its new A250e and B250e models. The only debit would be mass, with these cars being 150 kg heavier - but with the performance and economy benefits they offer, does that even matter?