The transformation of the A-Class from frumpy MPV to sporty premium hatchback has not been easy – the previous-generation model had its fans, but also its critics. Has Mercedes-Benz finally nailed the brief with the 4th-generation A-Class? Let's find out.
We like: New MBUX infotainment system, powertrain, sharp looks, refinement
We don't like: AMG Line ride quality is too firm, cost of options, rear legroom still not great
Fast Facts
Price: R527 512
Engine: 1.3-litre turbocharged 4-cylinder petrol
Gearbox: 7-speed dual-clutch transmission
Fuel economy: 5.6 L/100 km
Power/Torque: 120 kW/250 Nm
SERIOUS ABOUT BUYING?
Where does it fit in?
The 4th iteration of the Mercedes-Benz A-Class made people sit up and take notice when it debuted at the 2018 Geneva Show. Not only does the German hatchback's exterior look sharp and modern – its cabin is a breath of fresh air... In fact, it can be argued that the giant instrumentation-infotainment screen (if specified) offers a glimpse of what car interiors of the future may look like and how they will operate (or, be operated). It's the most sophisticated interface ever installed in a compact car.
Codenamed W177, this all-new A-Class is based on a new platform, which means its dimensions have changed. Compared with its predecessor, it's taller, wider and longer, courtesy of a 30-mm-longer wheelbase. What that means is that cabin space has grown a bit, as has luggage capacity. The Mercedes-Benz A-Class goes up against the BMW 1 Series, Audi A3 and Volkswagen Golf. However, given the raft of updates applied to this latest generation, it feels considerably more upmarket.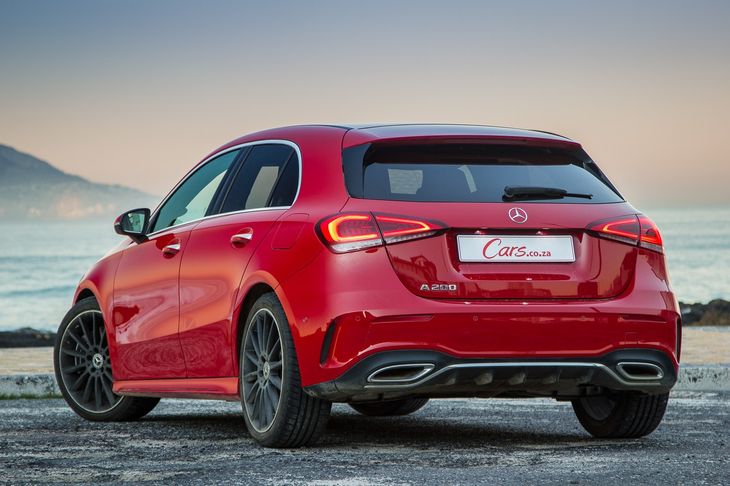 A subtle tailgate spoiler, integrated exhaust tips and vaned diffuser give the A200 AMG Line a purposeful rear aspect.
What's good about it?
Punchy engine
Let's start with the new powerplant. It's a 1.33-litre 4-cylinder turbopetrol mill, which was co-designed with Renault (and it'll power some of the French firm and alliance partner Nissan's products), but it's produced by Daimler. Peak outputs of 120 kW and 250 Nm of torque are on par for the segment, and power is directed to the front wheels via a 7-speed dual-clutch transmission. Thanks to the compact installation of the motor and responsive, quick-shifting automatic 'box, the A200 is claimed to be quite frugal, with a claimed figure of 5.6 L/100 km. After testing the Benz in a variety of conditions, we noted a reasonable return of 7.7 L/100 km on the trip computer.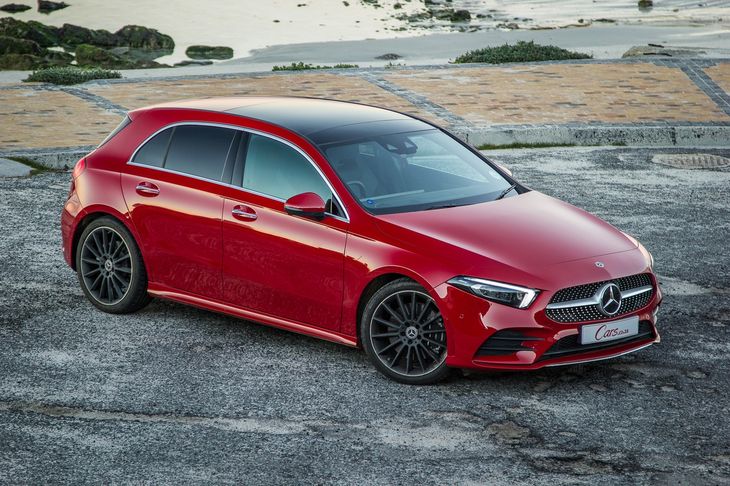 How good-looking is this? Perhaps it's the combination of AMG Line and red paint, but this new A-Class is a looker.
Does the new motor do the platform justice, however? Yes, it sure does. The A-Class is supposed to have a sporty bent, but this derivative was not designed to be thrashed to the redline; the engine note becomes quite rough at high revs, but before 4 500 rpm, there's a pleasant and purposeful growl. There's a little hesitation from standstill, which is typical of most dual-clutch-equipped cars, but once the A200 AMG Line gains momentum, the power delivery is smooth.
Thanks to a useful dollop of torque (250 Nm) and the transmission's well-calibrated shift programme, there's usually plenty of punch on tap to executive overtaking manoeuvres. The steering-wheel-mounted shift paddles have a positive action and are quite effective too, but what we appreciated most about this engine is how quiet it was at moderate cruising speeds. Mercedes-Benz claims a 0-100 kph time of around 8 seconds and the car certainly feels brisk enough to get close to it.
Badge and design appeal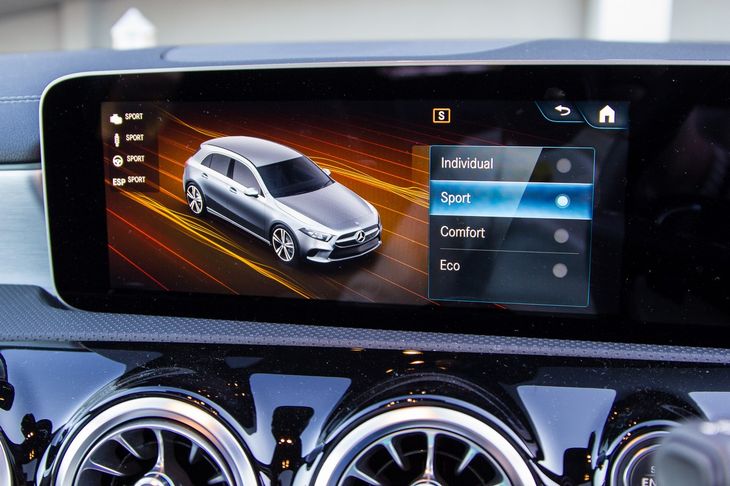 There are different modes on the A200. Sport sharpens the throttle response and if tick the adaptive damping option, firms up the ride.
Mercedes-Benz remains a highly aspirational brand and the new A-Class appeals to image-conscious young professionals – the connected generation. Naysayers will be quick to point out that very few early millennials have half a million rand to spend on a car, but you'd be surprised at how big the premium customer base is. Benz has more than 50 dealers across South Africa! As for the new A200, its design is undeniably striking and attractive. A combination of Jupiter Red, dark AMG wheels, AMG Line trim and distinctive headlights has really made the new A-Class stand out. Initial photos weren't convincing, but seeing it in the metal will quickly change your mind.
Refinement and drive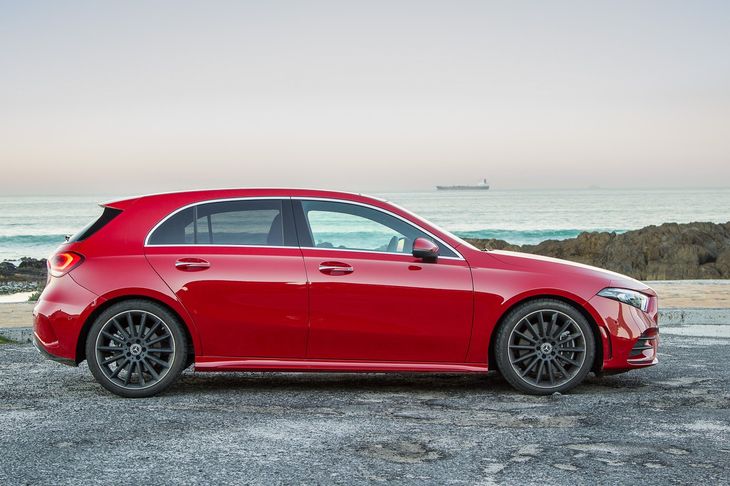 Physically, the new Mercedes-Benz A-Class has grown, but not enough for the rear seats to offer adult-sized legroom
One of the major criticisms of the previous A-Class was its firm ride quality (the prevalence of W176 derivatives with sporty AMG suspensions and low-profile run-flat tyres, in combination with a rear torsion-beam suspension, probably exacerbated the problem). As for the new-generation A-Class, however, the torsion beam has been retained on the A200, which saves on production costs/helps to trim the car's asking price (the pricier A250 derivative has a multi-link configuration at the back). Interestingly, Mercedes says the torsion beam saves space and in the future, batteries will be accommodated in those sections of electrified A-Class derivatives.
Our test unit came equipped with AMG Line alloy wheels and truth be told, we were expecting a firm ride quality. Is the A200 quite firmly sprung? Yes, on a pockmarked surface, the ride can be less forgiving than you'd expect, but fortunately, our test unit was equipped with Mercedes-Benz's Dynamic Body Control adaptive damping system (a R22k option), which allows you to select and set the level of comfort or sportiness that the suspension delivers. Another small issue we noticed was how much road noise permeated the cabin, particularly on less-than-smooth tarmac. However, we reckon that if you didn't go for the AMG wheels, this would be drastically reduced.
In terms of the steering, there's a decent feedback and the car will demonstrate its sporty pretensions when the road becomes twisty. Sure, it's was never going to be as wieldy as the forthcoming A35 or A45, but the base-spec A200 offers enough hints that its performance-oriented siblings will be scintillating to pilot. We were happy with the around-town performance, plus on the open road, it'll cruise comfortably and reasonably quietly, a testament to the refinement of the platform and good build quality.
Infotainment quality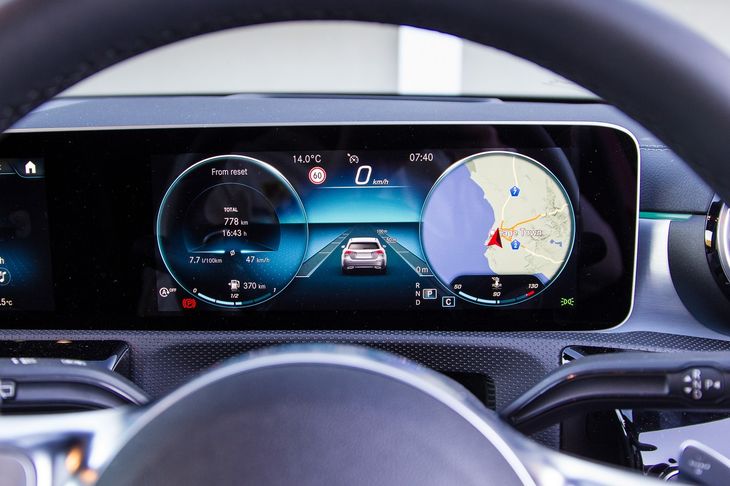 With so many themes and different display modes, you can go to town and customise your own display experience. This is ours, combining economy, navigation in a clear futuristic layout
We could bore you with reams of copy about the brilliance of the all-new Mercedes-Benz User eXperience (MBUX) infotainment system. Suffice to say it's impressive, but also a bit daunting when you first use it. However, as you explore the menus and settings using the all-new laptop-style touchpad, you'll grow more confident within minutes. It's the overall quality of the display that really won us over. Rated at 1920x720 with 200dpi, the screen looks more suited to a top-of-the-range iPad than a car's infotainment system. You get the impression that this graphics masterpiece is underpinned by serious hardware; there's virtually no lag as you flick between menus.
There are numerous themes, colours and layouts to personalise the MBUX to your preference. Finally, if this is all too silly, you can just ask, "Hey Mercedes" and issue some commands. If you're cold, say so and the car will respond by upping the cabin temperature. You can ask it to change the radio, open the sunroof, switch on the heated seats and even activate navigation. On a side note, there are inputs, but they're USB-C spec, so you may need to purchase some adaptors. Android Auto/Apple CarPlay compatibility is standard too and its interface with the MBUX is seamless... Our test unit also came with a head-up display, which was clear and easy to read.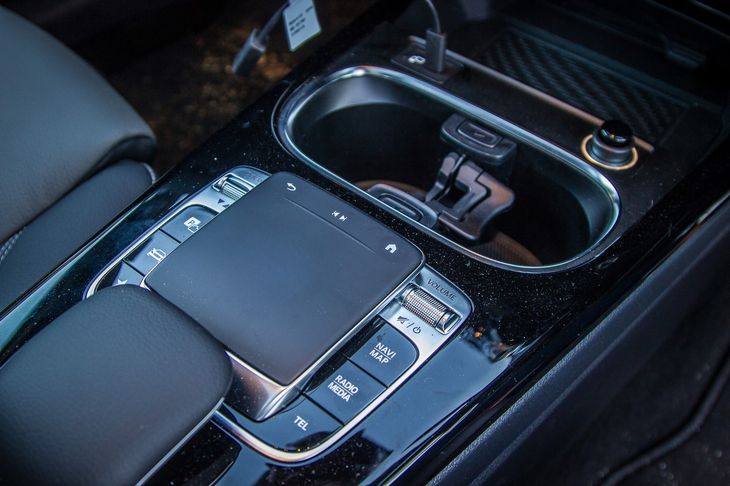 The traditional Mercedes-Benz rotary dial has been replaced by this touchpad which has swipe functionality. Note the USB-C adaptor sticking out of the port.
Where does it fall short?
Price / standard specification imbalance
Upon the local introduction of the new A-Class, we were excited to see that Mercedes-Benz's newcomer was priced competitively. At a starting price of R527 512, the A200 AMG Line looks to be priced smack bang in between its rivals. You get a decent engine, some nifty features and ownership of a Mercedes-Benz. Or do you? When we "built" the test unit using the Mercedes-Benz South Africa configurator, we were a little shocked to see our test unit coming in at R682k! Granted, there are some options fitted that we wouldn't have gone for, such as the AMG wheels which impact negatively on ride quality, but when you're going down the road to A-Class ownership, you need to spec your cars very carefully to avoid any nasty shocks.
Rear legroom
Another one of our gripes was the lack of rear legroom for taller adults. Granted, the A-Class is not meant to be a family car, but the ability to transport 4 adults in reasonable comfort should be a prerequisite. Taller drivers will not be able to sit behind themselves, as both leg- and headroom are limited for aft occupants.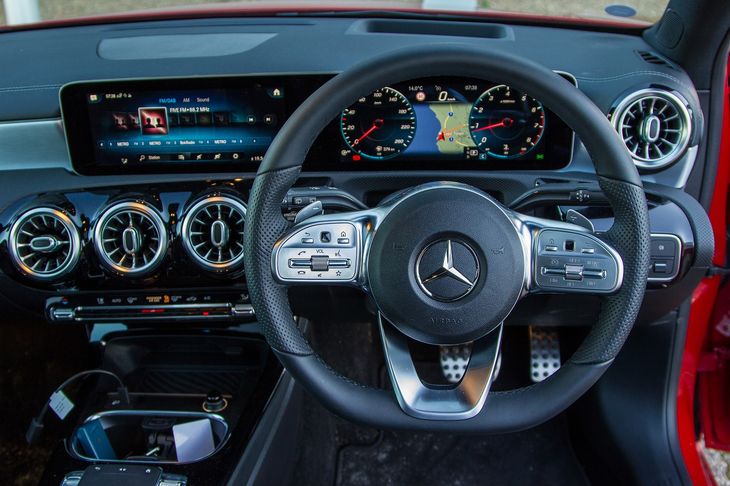 MBUX is a brilliant system. It may look intimidating, but it's intuitive and beautiful to use
Pricing & Back-Up
The new Mercedes-Benz A-Class range starts from R500 012 for the standard A200 Style, with the A200 AMG Line coming in at R527 512. The current flagship is the R596 969 A250 AMG Line. The new Mercedes-Benz A-Class comes with a 2-year/unlimited km warranty and a 6-year/100 000 km maintenance plan.
Verdict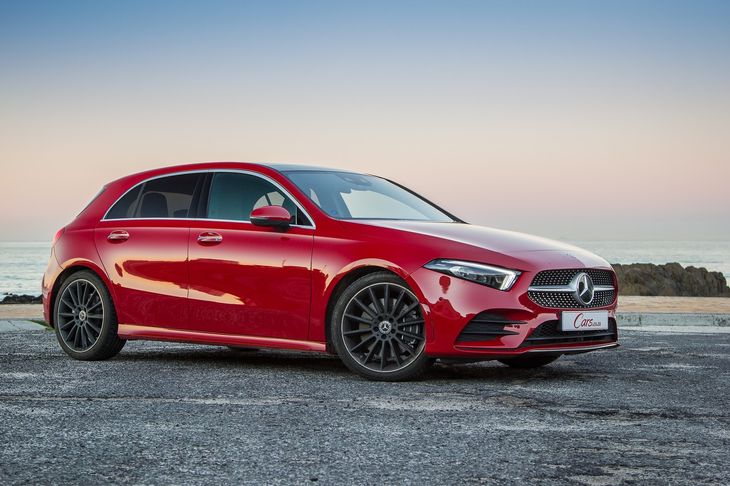 Stylish, composed and competent: The new Mercedes-Benz A-Class deserves to be in the finals of the #CarsAwards - Powered by WesBank
As a premium hatchback, Mercedes-Benz has effectively blown the competition out the water with its latest incarnation of A-Class. It's by far the most advanced car in its segment and its rivals look horribly dated by comparison. Criticisms of the previous generation A-Class were numerous and Mercedes-Benz has not only managed to address them, but move the segment's goalposts along considerably. The engine is smooth, punchy and frugal, and the driving experience is comfortable and refined. The cabin is class-leading and sets a new benchmark for connectivity and technology. The downside is you pay dearly for owning what's arguably the best car in the segment. The costly options quickly add up; what was a R550k vehicle can easily approach R700k. Given how accomplished this newcomer is, the forthcoming A35 and A45 derivatives should be deeply impressive. It should be no surprise, then, that the A200 AMG Line is a finalist in the 2018 #CarsAwards – powered by WesBank.
Alternatives (click on the car names for detailed spec info)
BMW 120i 5-door M Sport sports-auto
Now very much in the twilight of its product cycle, the BMW 1 Series is the only model in the segment which offers rear-wheel-drive dynamics. It's not a bad car, but when compared to the new A-Class (especially in terms of its packaging), it looks (and feels) long in the tooth.
Audi A3 Sportback 2.0TFSI S line auto
The former #CarsAwards-winning Audi A3 Sportback received a nip-and-a-tuck recently and remains one of the more refined cars (in terms of build quality and driving experience) in the segment. It suffers a similar problem to that of the A-Class, however. Speccing it to heart's content is expensive.
The oldest car in the segment and the longest-serving model in Volvo's current line-up, the V40 offers something different to the consumer. There are some good engines and pretty decent specification as standard.
Even though Golf 8 is due in 2019, it remains a fascinating example of how a fairly affordable car can play in such a premium space. The Golf GTI is a perennial bestseller and outguns the A-Class A200 in performance, but despite revisions in the form of 7.5, the infotainment quality lags behind that of MBUX.
Interested in buying a new/used Mercedes-Benz A-Class
Find one today on Cars.co.za by clicking here