The subtly revised Mazda3 was recently introduced in South Africa and we put it to the test on a long-distance road trip from Johannesburg to Cape Town.
We like: Styling, ride quality, comfort and comprehensive standard features.
We don't like: Can feel underpowered at the reef, smallish luggage capacity.
Alternatives
For more performance: The all-new Renault Megane has just been launched in South Africa and the Megane GT offers 151 kW and 280 Nm of torque from its 1.6-litre turbopetrol engine. Renault claims 7.1 seconds in the sprint to 100 kph, but that performance comes at a cost. The Megane GT is priced from R449 900.
For a similarly sophisticated, but all-new rival: The Opel Astra 1.4T Sport Automatic oozes kerb appeal, is particularly well specified too and its 1.4-litre turbocharged motor seems well calibrated to its 6-speed automatic transmission. The derivative is priced at R338 000.
The more affordable option: Consider the Ford Focus 1.5T Trend automatic. It's priced from R323 900 and offers 132 kW and 240 Nm of torque. Although the Focus isn't as well-specced as the Mazda3 Astina Plus, it's a strong value proposition and offers good performance.
Compare the Mazda3 2.0 Astina Plus with the Renault Megane GT and Ford Focus 1.5T Trend automatic



The Mazda3 2.0 Astina Plus features additional standard safety features as well as G-Vectoring Control for the first time.
What is it?
We had the flagship model of the pre-facelift Mazda3 on extended test earlier this year and we found it to be a solid offering, with high levels of comfort and good everyday drivability. Then, the new-look Mazda3 arrived. Even though the changes are mostly cosmetic, the new-look Mazda3 retains its stylish looks and the biggest change is the addition of the new range-topping 2.0 Astina Plus derivative, which is on test here.
We put the Mazda3 2.0 Astina Plus to the ultimate test with a long distance trip from Johannesburg to Cape Town, covering more than 1 386 km in two days. Let's take a look at how it performed.
How does it fare in…
Kerb appeal?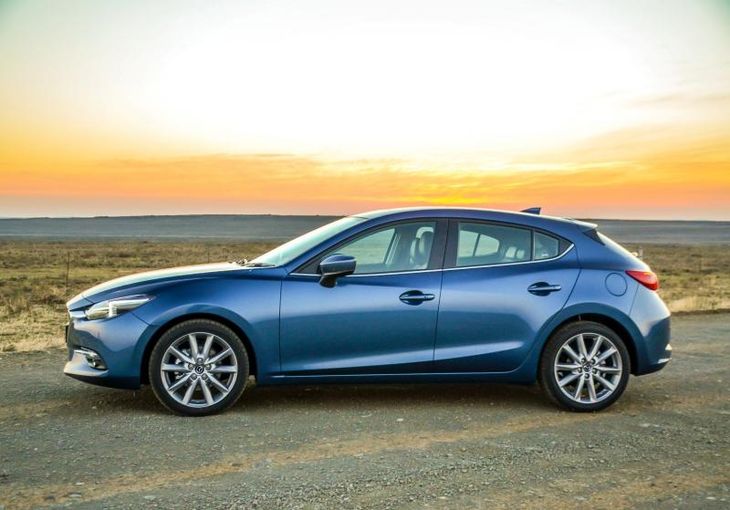 The new-look Mazda3 retains its stylish silhouette but now features minor exterior updates.
The Mazda3's design is a departure from the normal, boxy-shaped hatchbacks that are seen on just about every road in South Africa. It's low-slung, coupe-like stance is particularly appealing when viewed from the side and it's got a sleek and sporty look to it, giving it an extra dash of class. Almost every petrol pump attendant on our cross-country journey commented that the Mazda3 looked beautiful.

This (now) range-topping Mazda3 2.0 Astina Plus came dressed in a new exterior colour called Eternal Mica Blue and we think it makes the car look rather dashing. If you look closely, you will notice that the front badge is placed slightly lower than on the previous Mazda3; the fog lights and side skirts have been revised and the rear bumper has also been reprofiled. Meanshile, adaptive LED headlights are also fitted as standard on this Astina Plus derivative.

The new-look Mazda3 2.0 Astina Plus rides on newly designed 18-inch alloy wheels to round-off, what we believe to be, an attractive offering in the premium hatchback segment.
Performance?
The Astina Plus is powered by a naturally aspirated 2.0-litre petrol engine that develops 121 kW and 210 Nm of torque. The front wheels are driven through a 6-speed automatic transmission and this Astina Plus has shift paddles behind the steering wheel to allow for manual gear selection.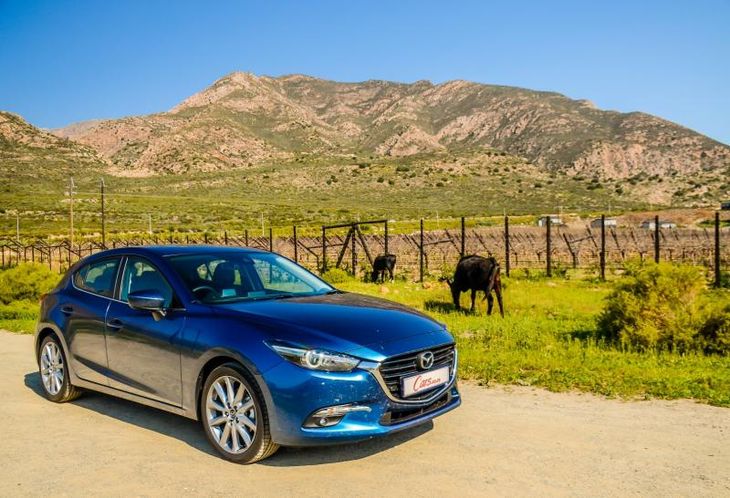 Cruising is what the Mazda3 Astina Plus does best and it returns decent fuel economy while doing it.
The Mazda3 Astina Plus is an excellent cruising car, but if you are hoping for outright performance, you may be a trifle disappointed. Without turbo technology and at altitude, the naturally aspirated engine has to work hard to extract power and the engine labours when you plant your foot flat, but improves somewhat at sea level. Acceleration in the Astina Plus is rather delivered over time and its claimed zero to 100 kph time of 9 seconds is indicative of this. That's not to say that the Mazda3 Astina Plus is a slow car, it just lacks some punch, but once it's up to speed, it just keeps going. The Sport switch helps to improve acceleration by holding gears for longer to get the most from the engine when it's required.

As before, ride quality is good and the Astina Plus handles well too. Mazda has now, for the first time, introduced what it calls G-Vectoring Control (GVC) on all its 2.0-litre Mazda3 derivatives (GVC will be rolled out on other Mazda models in the future). G-Vectoring is said to vary torque in order to shift weight based on the drivers steering inputs, effectively improving handling and responsiveness while cornering and makes for a smoother drive overall. GVC is imperceptible to the driver, so it's difficult to judge how effective it is, but it's nice to know it's there. The Mazda3's long distance ability impressed us and we thought it performed solidly overall.

Look out for our Mazda3 G-Vectoring demonstration coming your way soon!

Fuel consumption

Mazda claims a fuel consumption figure of 5.9 L/100 km and during our journey from Johannesburg to Cape Town, we averaged 7.5 L/100 km, which is reasonable if you consider that this was anything but an economy run.
Here's a basic summary of our trip.

Total distance covered: 1 386 km

Total litres consumed: 104 litres
Total fuel cost @ R12.25/litre: R1 274
Practicality?
In terms of practicality, the Mazda3 Astina Plus is an average performer. Compared to rivals such as the Volkswagen Golf (380 litres) and Opel Astra (370 litres), the Mazda3 has the smaller boot at 308 litres. Even so, a fair amount of luggage can be loaded and more space can be accessed by folding the 60:40 split rear seats flat.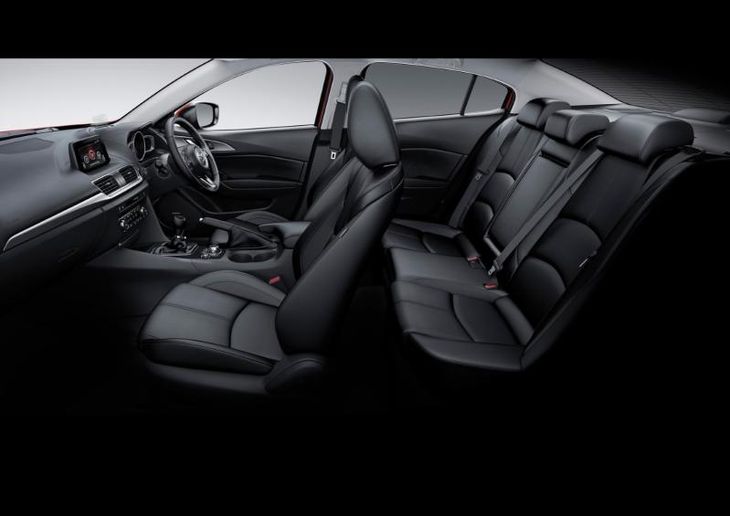 The interior of the Mazda3 Astina Plus is minimalist in design and offers sufficient space for rear passengers.

A longer wheelbase affords rear passengers with sufficient head- and legroom. Only taller passengers will start feeling cramped in the Astina Plus. If you are in need of a recharge, two USB ports are made available to you and the cabin also has sufficient storage space for items such as bottles, keys and other goodies you might want to store.
Comfort and safety features?

The new-look Mazda3's cabin is slightly different to its predecessor's interior, but retains its minimalist design, which remains to be a positive attribute. The design of the instrument cluster is crisper than before and the heads-up display has been updated and now features navigation as part of the display. Like before, the 7-inch touchscreen with a rotary controller gives the driver and passengers access to various functions such as navigation, Bluetooth, media and vehicle settings. The system is easy to use and the menu layouts are simple. The driver is also able to alter settings using the revised mounted controls on the steering wheel as well as make phone calls and engage cruise control.

Buyers who love music will be happy to know that the Mazda3 Astina Plus is fitted with an exquisite BOSE sound system, which was particularly useful and entertaining on the solo drive to Cape Town. The sound quality is crisp and clear and the sound system doesn't mind being cranked up to its limit.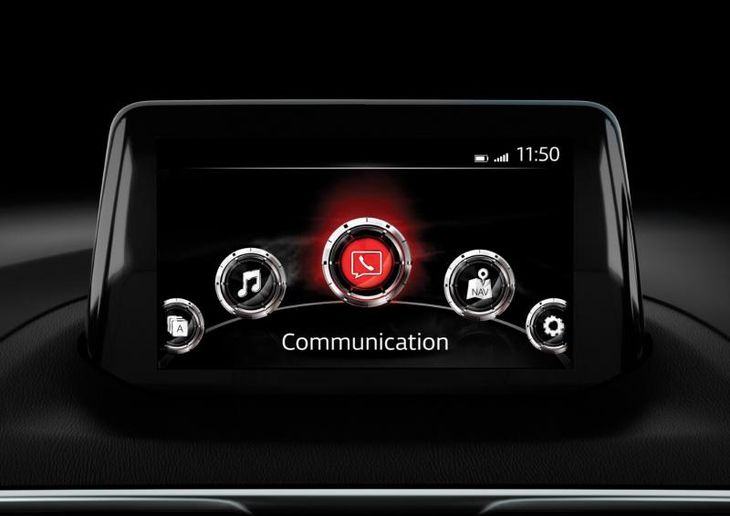 A 7-inch touchscreen provides easy access to media, communication and navigation.

What the Mazda3 Astina Plus does do well, is deliver a comfortable ride. The standard leather seats are great to sit in and the driver's seat is electrically adjustable and has adjustable lumbar support, while the steering wheel is adjustable for rake and reach. Finding the best driving position is easy and being comfortable is hugely beneficial on a long drive. Climate control air conditioning is offered as standard too.
The Astina Plus derivative is packed with a host of safety features as standard and these features include ABS with EBD, stability control, lane departure warning, lane keep assist, brake assist, driver attention alert and blind spot monitoring.
In addition to these safety features, rear park distance control and a rear-view camera is also included and a total of six airbags are fitted.

Pricing and warranty

The Mazda3 2.0 Astina Plus is priced from R407 900 and is sold with a 3-year/unlimited km warranty and a 3-year/unlimited km service plan.
Verdict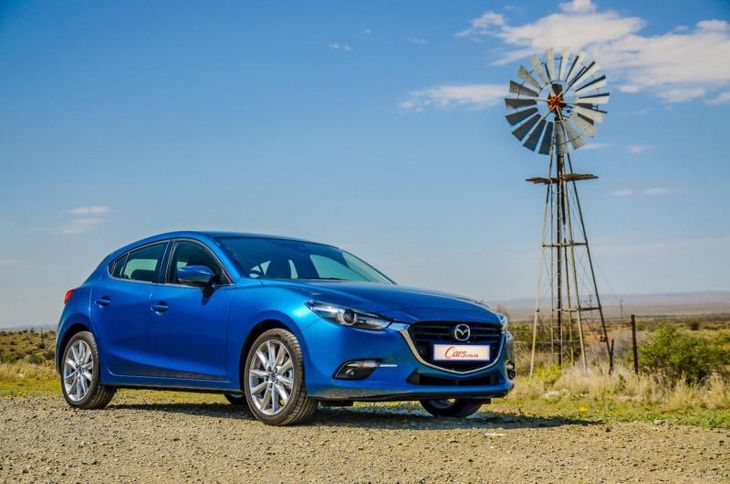 The Mazda3 Astina Plus is a solid offering and should be considered if you are shopping for a premium hatchback.
The Mazda3 2.0 Astina Plus is a wonderful car to drive, even though it lacks the punch offered by its turbocharged rivals, its handling is sporty and the driving experience eminently engaging. It's effortless cruising ability and forgiving ride quality ensure that the Japanese hatchback is easy to live with every day. The cabin is comfortable and well-built and the additional standard safety features are to be desired. Some buyers might perceive the Mazda3 2.0 Astina Plus as overpriced, but if you factor in all the added features that its rivals don't offer as standard, or at all, then the price becomes more bearable.
The Mazda3 Astina Plus is a stylish, well-equipped offering that is worth consideration if safety is your top priority. If it isn't, you can also consider the Mazda3 2.0 Astina priced from R378 400, which excludes some of the safety technology offered on the Astina Plus. Either way, if you are looking for a tasteful and comfortable hatchback, then the Mazda3 2.0 Astina Plus should be on your shortlist.
Related content:
Facelift Mazda3 Specs and Pricing in SA
Extended Test: Mazda3 2.0 Astina [with Video]
Mazda3 2.0 Astina Hatch (2015) Review
Want to buy a Mazda3?