Mazda has wedged a new model between its CX-3 compact crossover and CX-5 family car, but did it need to? We drive the new CX-30 in Gauteng.
It seems Mazda can do nothing wrong these days: its SUV family has proven popular in the South African market (the CX-5 has even garnered a few #CarsAwards category wins) and the Hiroshima-based brand will soon invigorate the local double-cab market with the introduction of its new BT-50. Plus, Mazda's reputation for good reliability speaks for itself, leading many to suggest "Mazda is the new Honda".
It's unfortunate that the brand has been unable to sell more units of its Mazda3, but considering how dismal domestic compact hatchback and sedan sales figures are, it's indicative of the current car-buying trends and not an indictment of the product itself. With the masses leaning towards SUVs, the traditional hatchback and sedan markets have steadily declined.
Mazda, like virtually every manufacturer, has been watching this trend closely and adapted its product strategy to suit. While we're unlikely to see its electric or hybrid MX-30 or the flagship CX-9 7-seater SUV in South Africa anytime soon, the brand's latest offering, which is, paradoxically, based on the Mazda3 platform, has finally arrived on the local market.
The CX-30 fits snugly between the CX-3 and CX-5. The former has often been criticised for its tiny load bay/limited practicality and, yes, it lags behind its rivals in that regard, but the CX-30 addresses this.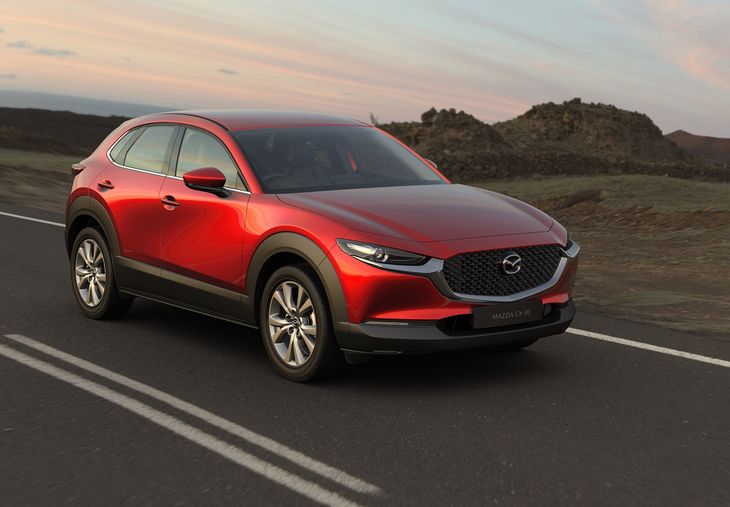 The CX-30 is a good-looking vehicle, much like its CX-3 and CX-5 siblings.
What's on offer
Mazda is offering its new CX-30 with a choice of 9 colours and 3 levels of trim – Active, Dynamic and Individual. The brand decided against using the CX-4 name because that's reserved for a Chinese model.
There's one engine shared across the range. It's a 2.0-litre naturally-aspirated petrol engine that develops middling peak outputs of 121 kW and 213 Nm. Every Mazda CX-30 features a 6-speed automatic transmission, which directs power to the front wheels. All-wheel drive is reserved for the higher-specced CX-5 derivatives.
In terms of rivals, Mazda is pitching its new CX-30 into a hotly-contested segment. The Japanese firm has lofty ambitions and benchmarks its newcomer against the Volkswagen T-Roc and Audi Q2.
Mazda CX-30 Active
Standard features include smart keyless push-button engine start, MZD Connect with an 8.8-inch infotainment screen (not touch-sensitive, however), front- (driver and passenger), side-, knee- (driver) and curtain airbags, USB port, Head-Up display, Cruise control and LED headlamps, 16-inch grey metallic alloy wheels.
Mazda CX-30 Dynamic
Additionally equipped with: Apple Carplay and Android Auto, steering-wheel-mounted shift paddles, rear air vents, dual-zone climate control, keyless entry, as well as rear parking sensors.
Mazda CX-30 Individual
Additionally equipped with: reverse-view camera, frameless auto-dimming rear-view mirror, leather trim, a BOSE audio system with 12 speakers, plus 18-inch Silver Metalic alloy wheels.
What's it like to drive?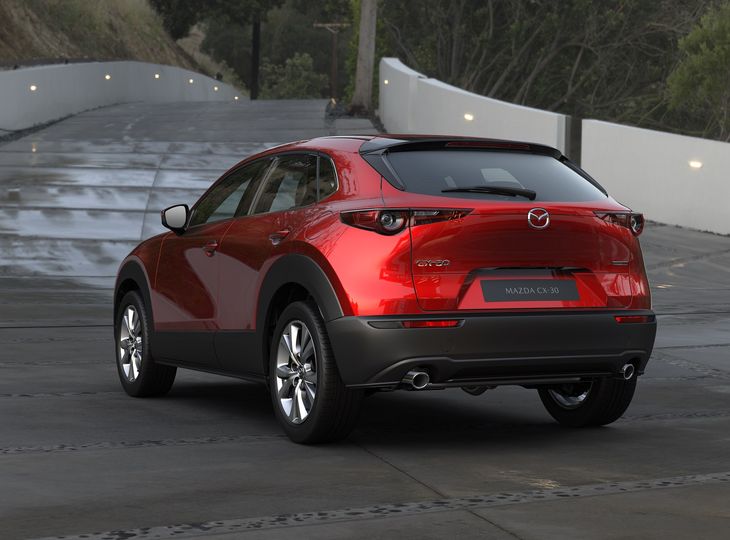 We travelled to Gauteng to test drive the CX-30. This usually does not bode well for naturally-aspirated vehicles as they suffer a power loss of about 17% on the Highveld, but we came away pleasantly surprised with the 2.0-litre motor's smoothness; 213 Nm may not sound like much when you compare the CX-30 with its turbocharged rivals, but we can assure you, there's sufficient go to match the show.
The transmission is an old-school 6-speed automatic and while it demonstrated a propensity to hold onto the gears longer than necessary on the odd occasion, it's generally a competent unit. We appreciated the responsiveness when it came to overtaking manoeuvres – the auto 'box would quickly shift down a few cogs to engage the appropriate ratio.
The only drawback we found was not in the engine's power delivery, but rather the noise it emits as it climbs through the rev range. This scenario would be fairly common on the open road, where you'd have to summon every bit of torque to overtake slower vehicles. The noise, initially, is okay, but once you climb past 3 500 rpm, there's a loud drone that disrupts the peace in the otherwise serene cabin.
Petrolheads would be quick to point out that Mazda has a 2.5-litre forced-induction motor in its arsenal and despite its tantalising outputs, that powertrain is not available for our market. With our consumer cap on, we're not fussed by the lack of a torquey motor and think the current setup would be perfectly adequate for most customers, irrespective of whether they live in the thinner air of Gauteng or at sea level.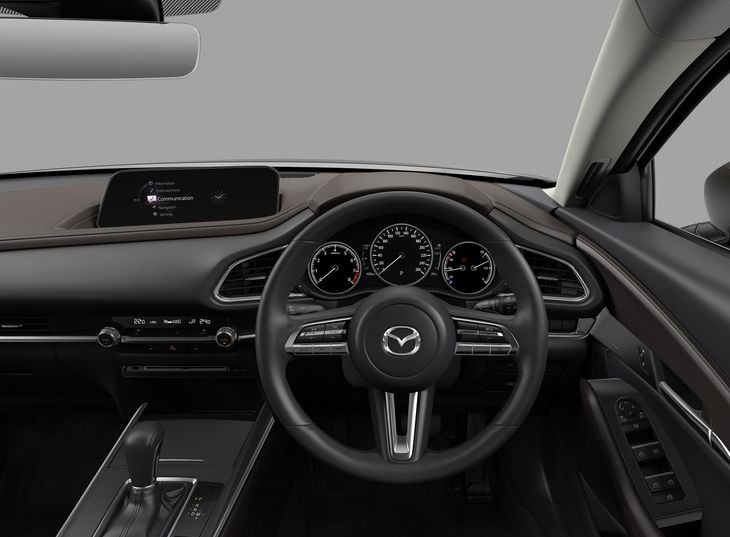 If there's one aspect that Mazda gets very right, it's the admirable fit-and-finish of its models' interiors. The CX-30's cabin is a plush and luxurious space to occupy, which speaks volumes for the brand's aspirations to compete in the luxury segment. The road noises are well and truly dialled out and we think many will be surprised by just how quiet (well-insulated) the CX-30's cabin is.
With an illustrious history of making sublime driver's cars like the MX-5, you'd hope the run-of-the-mill and family-orientated CX-30 would retain some of these traits. Indeed, the steering setup is light and quick, and while we didn't pitch the newcomer into serpentine bends with zeal, we feel the Mazda's tiller exhibits enough in the way of "feel" and "feedback" to elicit a small smile.
Our launch unit was the entry-level 2.0 Active, which rides on 16-inch alloy wheels wrapped in higher-profile rubber. The ride was impressively smooth, even when the road quality deteriorated. The suspension felt competent, but the setup leans towards the sporty side, which is why we felt a jolt every time the CX-3 drove over a cat's eye.
The key differentiator between CX-3 and CX-30 is the amount of interior space they offer. While the informal sit-behind-yourself test in the former was a real challenge for those of even average height, most will be able to accomplish the task with ease in the CX-30.
The same goes for the size of the load bay. The CX-3's luggage capacity was adequate for the daily commute, but the rear seatback would invariably have to be folded down when you needed to pack for long trips. Critically, there was a lack of depth as well as length, denting hopes of loading a standard cooler box. With the CX-30, owners will have no such hassles.
Summary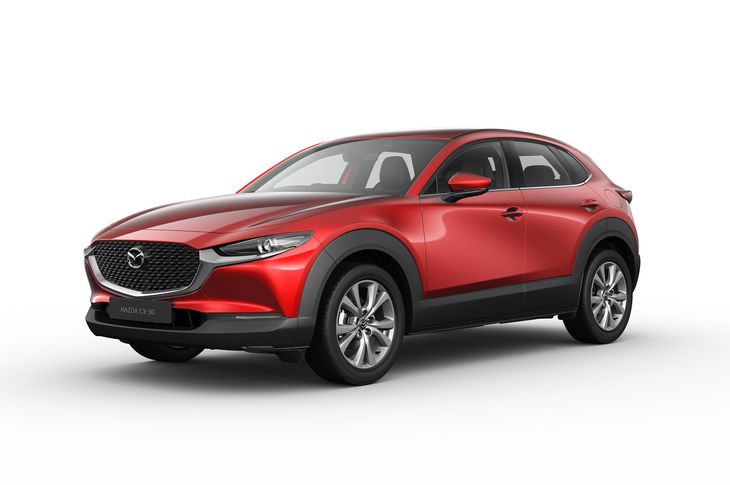 The Mazda CX-30 makes a strong case for itself. While we weren't enthusiastic about the powertrain's noisy nature at higher revs, we're readily prepared to give it a 2nd chance at sea level and with perhaps a more "run-in mileage" on the odo' before making a final judgement. That being said, the engine's coarseness is just one small minor blemish on what's a modern, stylish and well-thought-out compact family car.
Not only does it look the part, but the levels of fit and finish are right up there with the best in the segment. The cabin is refreshingly minimalist; it allows the driver to focus on enjoying the driving experience!
Famly-car buyers who were put off by the CX-3's restricted load-bay capacity (and didn't want to stretch their budgets to the larger CX-5) now have another modern and stylish SUV to add to their shortlist.
Mazda's new compact family car offering comes in at an interesting price point, too. While it is marketed as a split down the middle between the CX-3 and CX-5, it's pricing leans towards the CX-5's. Granted, the CX-5 is fairly long in the tooth and we're expecting an updated model to be revealed during the course of 2021, but the CX-30 also feels like a far more modern offering that its aforementioned siblings.
Mazda CX-30 Price in South Africa
Every Mazda CX-30 comes with a 3-year/unlimited-kilometre service plan, 3-year factory warranty, 5-year corrosion warranty and 3 years' worth of roadside assistance.
2.0L Active 6AT R469 000
2.0L Dynamic 6AT R499 000
2.0L Individual 6AT R540 000
Further Reading:
Mazda's More Potent CX-30 Turbo
Mazda CX-30 (2019) International Launch Review - Cars.co.za