Mazda has launched the 5th member of its global SUV range, the CX-30, in Europe. The strangely-named newcomer, which squeezes between the Hiroshima-based firm's existing CX-3 and CX-5 models, will be launched in South Africa during the 1st quarter of 2020. Is it worth waiting for? Let's find out...
One could argue that the only thing that doesn't make sense about Mazda's new CX-30 is its name. SUVs are selling in droves globally, city-SUVs (or crossovers) are all the rage and Mazda finds itself on more shopping lists thanks to its development of additional family-friendly high riders.
The move to expand Mazda's SUV line-up to 5 models is quite logical, but why didn't the brand name this in-betweener the CX-4, given its size, expected price point and position in the product line-up? Well, it turns out Mazda already sells a "CX-4" in China, and didn't want to double up.
Own a Mazda? Tell us about your experience here.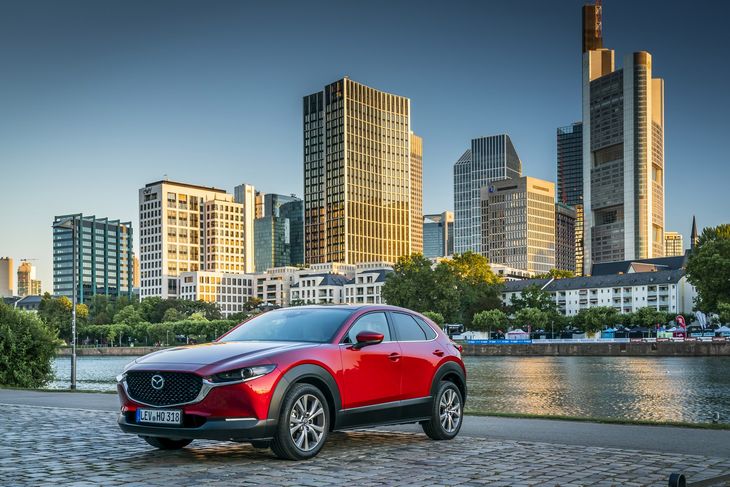 Black cladding appends the CX-30's crossover looks. It's longer and more spacious than a CX-3, but it's no taller than its smaller sibling.
Three's company
Naming conventions aside, the vehicle the CX-30 has most in common with is the Mazda3, which will be introduced in Mzansi shortly. The CX-30 shares the compact hatchback's platform, suspension, electronic architecture and powerplants.
Under the body, the newcomer features a MacPherson strut front and torsion beam rear configuration – borrowed from the Mazda3, but tweaked for this high-riding application. Equally, the CX-30's wheelbase is 70 mm shorter, while it gives best 65 mm in total length, at a pinch under 4.4 metres.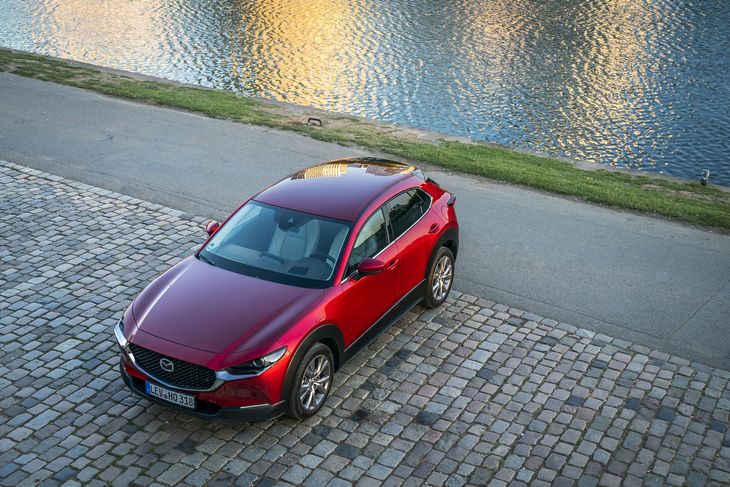 A narrow side glass area, defined bonnet lines and chrome-accented slimline headlamps add distinctiveness to the CX-30.
At the same time, the newcomer differentiates itself substantially from the CX-3 and CX-5: it is 120 mm longer than (but just as tall as) the former, and 150 mm shorter than the latter. It stands 1 795-mm wide and its wheelbase is 85 mm longer than the former and 45 mm shorter than the latter.
In South Africa, it's likely that the CX-30 will be offered with 1.5-litre- and 2.0-litre four-cylinder naturally aspirated petrol engines. Test cars at the CX-30's launch sent drive to their front wheels via 6-speed manual or 6-speed automatic transmissions; we expect automatic versions to sell best.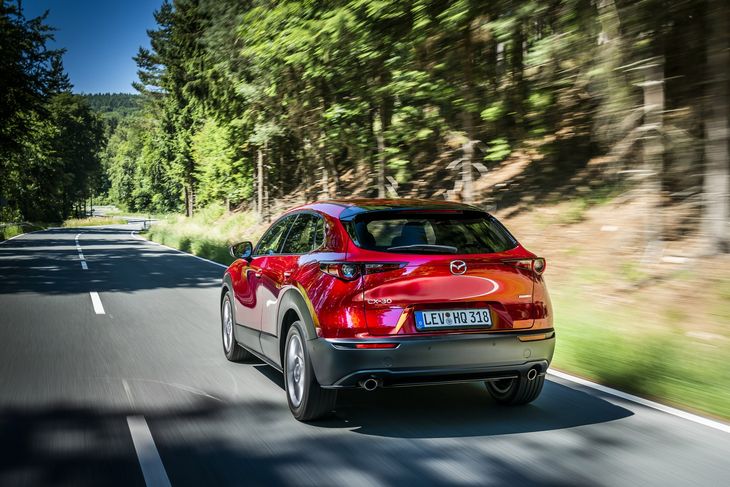 The CX-30's rear aspect is sporty, replete with an integrated tailgate spoiler, sculpted taillight clusters and side-mounted exhaust tips.
None of those aforementioned engines was available at the global launch, so we'll reserve judgement on those until a more thorough local drive.
So, what's it like to drive?
Based on our first impression, the CX-30 bears all the hallmarks of a typical city-SUV. It's light, nippy and easy to manoeuvre through the various tight, undulating streets, and is an easy car to navigate through intersections despite. The only anomaly in terms of navigating foreign roads is a partially obscured rear view: the newcomer's raked roofline, narrow rear window and bulky C-pillar combine to block out much of your rear vision.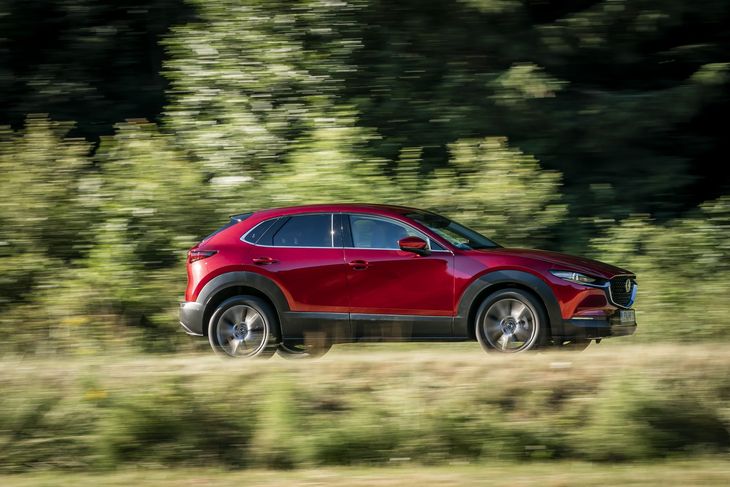 There is a price to pay for those low-slung looks and chunky C-pillars: rearward visibility out of the CX-30 is less than ideal.
However, decent-sized side mirrors, a reverse-view camera and strong forward visibility help to offset this. Otherwise, the steering is light at low speeds, while the body feels well controlled (if a tad firm) over bumps – we believe the latter trait is owed, in part, to the 18-inch wheels.
The CX-30 is not just a city slicker, however. Its broader footprint (widened track, compared with the CX-3) endows it with genuine long-journey pretensions that are not all that removed from the larger CX-5. The suspension shakes off longer, drawn-out dips in the road with aplomb, and the CX-30 gently navigates bends with confidence. Indeed, a cross-country South African adventure would not be out of the question at all...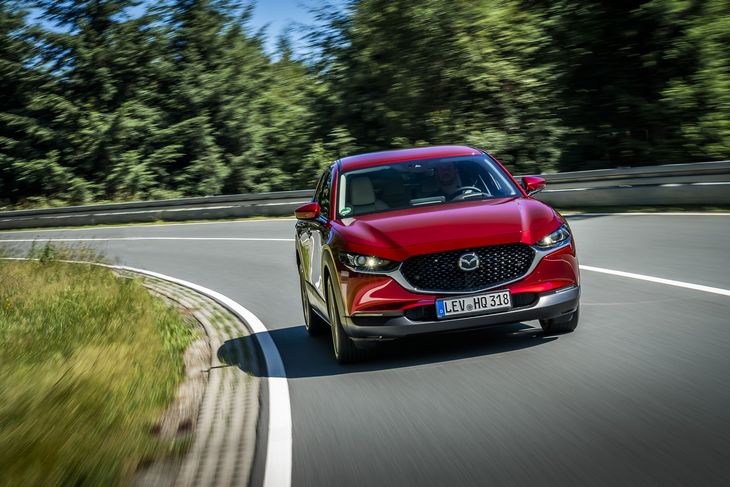 Although the newcomer's suspension is tuned for sporty handling, it rides acceptably well over poorer surfaces.
As with any new Mazda, the ride and handling tuning (ostensibly for the European market, in this case) naturally subscribes to a sporty brief. As a consequence, the CX-30 feels comfortable and competent when pushed through a corner. In these conditions, the steering, for example, imparts excellent weighting, feel and feedback, while the kerb weight (approximately 1 400 kg) feels well-controlled through fast changes in directions.
Refinement plus
Mazda has made huge in-roads with its noise and vibration levels in its cars in the past few years. Whereas earlier versions of Mazda3 cabins were filled with tyre roar, particularly on coarse asphalt, the newer model and its latest-generation siblings have climbed to class benchmark levels.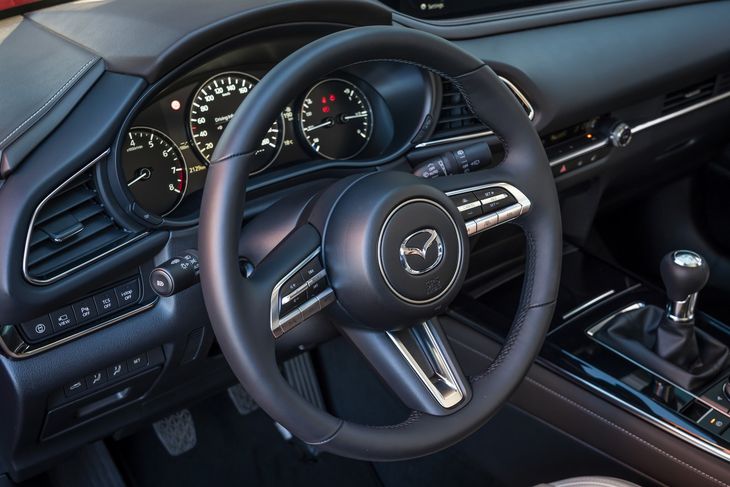 As is the case with the new Mazda3, the CX-30 has a sporty driving position and well-made cabin with quality finishes.
The CX-30 only reinforces this theme, such is the quietness and refinement of the newcomer's cabin. At highway speeds, the cabin is serene and devoid of squeaks or rattles – merely bolstering the car's quasi-CX-5 open road characteristics.
Mazda reps claim that much of the CX-30's 50 kg weight penalty over the Mazda3 is contributed by added sound insulation. We believe them.
The car's on-road polish is supported by another quality interior layout replete with excellent materials and craftsmanship, and quality finishes. In European trims, there are soft-touch materials at the various contact points, supported by clear driver instrumentation and a swish centrally-mounted infotainment screen accessed via touch and rotary dial features.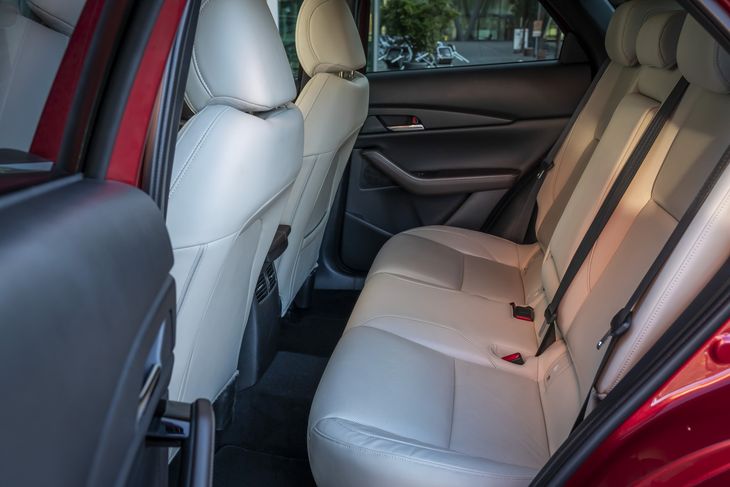 Rear legroom is appreciably better than in the CX-3; note the narrow side glass area, which limits outward visibility.
The CX-30 is further endowed with "human-centric seats", Mazda claims. The Japanese marque says it has put a lot of focus into the positioning and shape of the front pews, so as to follow the natural S-curve of the human spine. The CX-30's seat hip point – the one in which you pivot into the vehicle – is also elevated 45 mm from the Mazda3, which the larger framed and more seasoned among us will undoubtedly appreciate.
Is it family-friendly?
That will depend entirely on the size and age of the family, but yes, the CX-30 does have some family-friendly attributes. Mazda proudly proclaims the CX-30 as being able to accommodate a quartet of adults, by virtue of better-than-expected aft leg room, rear air vents and adequate head and shoulder room. The fitment of a flip-down armrest and bottle-friendly door pockets are noted inclusions at this end of the market, too.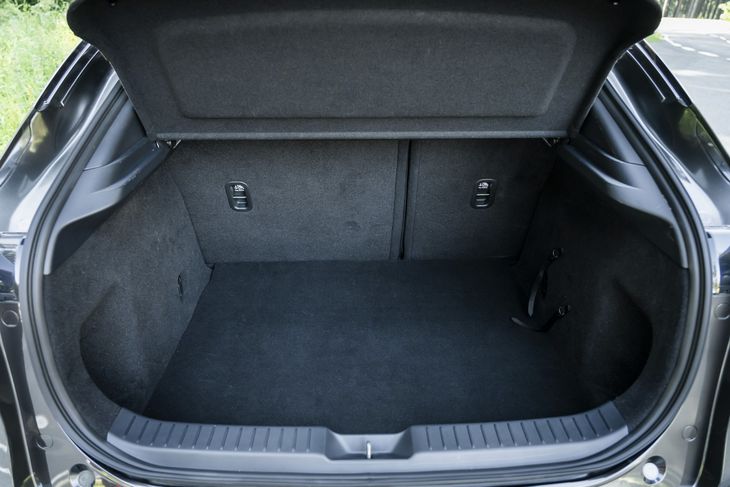 With 430 litres of luggage space available, the CX-30 does justice to its "in-betweener" compact SUV/crossover billing.
The fitment of child anchorage points on the outer rear seats (with ISOfix attachments) reinforces the car's family-carrying attributes, along with a 60:40 folding function. However, some parents may take issue with the car's high-set window line, which impinges on outward visibility for aft occupants. Similarly, the car's 430-litre load bay will be adequate for many families, but those with 2 prams might find the compromise too big.
Summary
Based on our first impression, this is another stellar effort from Mazda, and subscribes to the well-worn SUV theory of "if you build it, they'll come". Like the Haval H2, Hyundai Creta and, to an extent, Nissan Qashqai, the CX-30 straddles the compact family car (Ford Ecosport, Renault Duster, Suzuki Vitara and Volkswagen T-Cross) and family car (Peugeot 3008, Toyota RAV5, Volkswagen Tiguan et al.) segments virtue of its in-between size. Either way, Mazda CX-30 is a name you'll soon remember – and likely for all the right reasons. In fact, depending on its yet-to-be-confirmed price point, it might ultimately prove more popular than the car (Mazda3) it's based on in South Africa – as scandalous as that may sound.
Related content:
Volkswagen T-Cross (2019) Local Specs & Price
Mahindra XUV300 1.5TD W8 (2019) Review
Haval H2 1.5T Luxury Auto (2017) Review [with Video]