To some motorists, driving a hybrid car is a testament to a green(er) conscience that supports global initiatives to rid the planet of noxious gases, while to others, it's nothing more than a way to be fashionable and conform to a trend...
I, on the other hand, have a different set of requirements of a hybrid: it should appeal to my inner staunch environmentalist and social butterfly in equal measures. If you look past the vehicle's price premium over more conventionally configured forms of 4-wheeled personal transport, a hybrid is a fantastic means of minimising household expenditure/maximising disposable income through fuel savings. In effect, it's double the fun: you can revel in being transported in the lap of luxury while being kind to Polar bears. What's more, many hybrids are anything but pedestrian!
Consider the Mercedes-Benz C350e. It has (combined) outputs of 205 kW – and 600 Nm – that's a torque reserve equal to that of the Alfa Romeo Giulia QV sports sedan – and the Benz is said to sprint from zero to 100 kph in a not-too-shabby 6.5 seconds and reach a top speed of 250 kph. But this isn't the C-Class' performance derivative, quite the contrary... it's a Plug-in Hybrid Electric Vehicle (PHEV).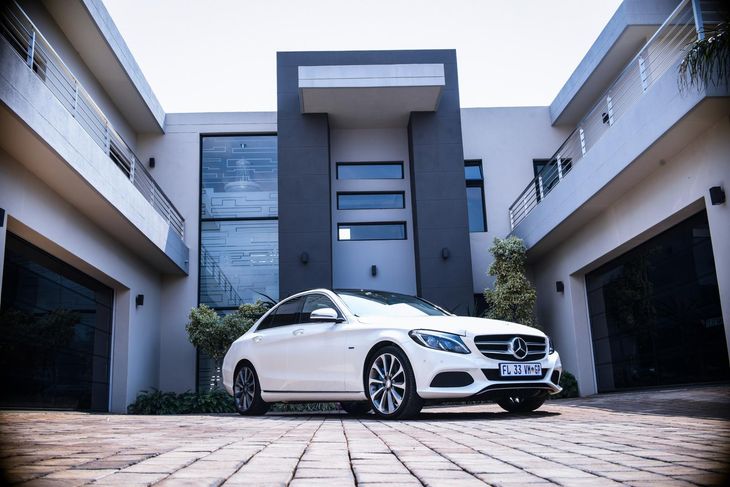 Whereas cars with the "futuristic" PHEV moniker used to conjure images of wheeled space ships, the C350e looks oh-so-restrained.
Faced with a typical Joburg hustler's week, which includes runs to clients, eat-and-meets, school runs and, if like this writer you reside in one of the new development areas attached to townships, occasional runs to the spaza shop. All of my weekly travels normally take place within a radius of no more than 50 km.
With electric motors to drive its rear wheels and a battery pack rechargeable by petrol or Eskom power, this luxuriously specified C350e had its work cut out. This particular Benz, which, for the record, is built in Mercedes' East London plant, the S500e first class sedan and PHEVs made by BMW, Volvo and Porsche present about the closest experience to the full electrification of cars while South Africa develops infrastructure to sustain the large-scale rollout of EVs (for the moment the non-range-extender BMW i3 and Nissan Leaf are the only available offerings).
'Range anxiety' is still a thing
The only niggle is that batteries that would allow EVs to cover vast tracts of land without needing frequent 8-hour recharges are still a bit far off. Research into the ultimate battery pack continues on a daily basis and by virtue of this drawback, PHEVs simply aren't the greenest of the automotive species, nor are they the most fuel-efficient. But, next to full EVs, they are a godsend.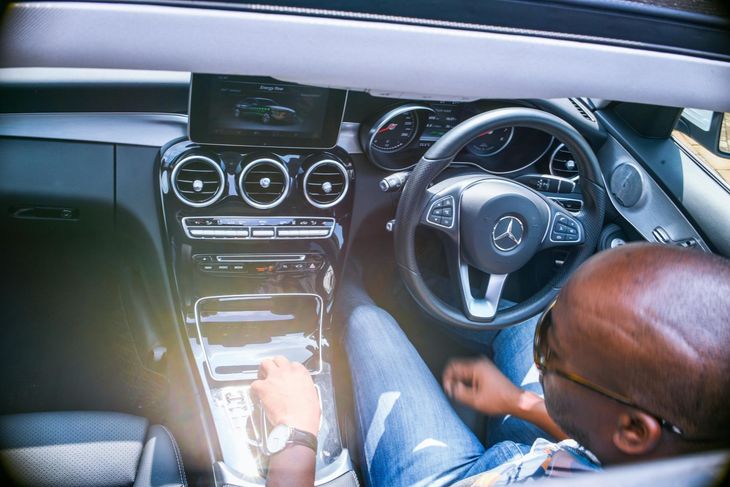 To make the most of a C350's electrical reserve it's advisable to set the Benz to Charging mode so that the battery's topped up on the go.
Whenever it's possible, the C350e's 155 kW/350 Nm 2.0-litre 4-cylinder turbopetrol engine seems to adopt more of a supporting role to the electric powertrain with its battery pack, which is always ready for another charge, be it from being plugged into a wall outlet, benefitting from the machinations of the petrol motor or the recovery of kinetic energy (such as under braking or when coasting).
Left to its own devices (by engaging CHARGE mode or when the battery power is depleted), the C350e does not seem to possess the most flattering of powertrains and (compared with a conventional 2.0 litre) quaffs on the fuel supply due to a high load burden of providing propulsion for the car while simultaneously charging the batteries.
This is also where the disadvantages of a PHEV surface. When you'll use it on longer journeys with nary an electric socket in sight or no time to stop and recharge fully, it's going to hammer you at the pumps, well, compared with an unadorned petrol C-Class model, such as the C200, anyway.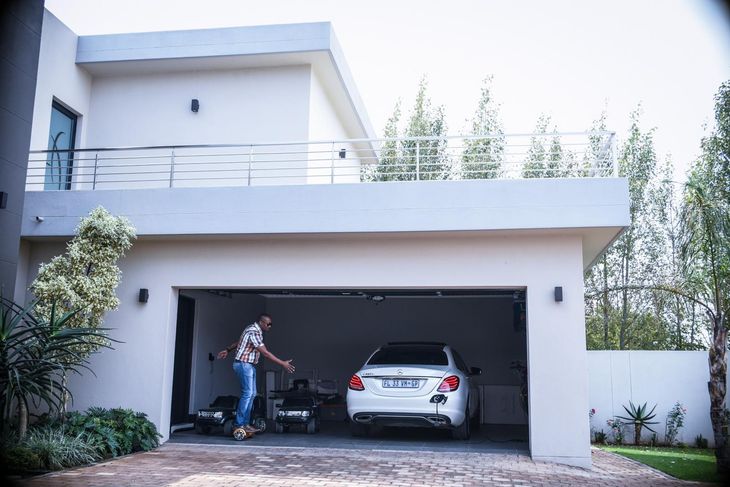 The ubiquitous garage is such a common fixture of suburban homes; its certainly convenient for charging a PHEV... or a 'hoverboard'!
Suburban bliss
The PHEV comes alive when conditions turn ideal such as over the weekend when roads are a little bit open and, the same suburban route that frustrates during the work week turns into a paradise of free reign.
This allows both combustion and electric sources the harmony to be efficient, with EV mode given the chance to shine and easily reach the national freeway limit of 120 kph or cover a distance of between 15 and 20 km on pure electric power only. Upon arriving at your destination (if it's within this EV range), you might have the gumption to ask your mate to use one of their household plug points and juice up your PHEV while enjoying a leisurely braai. That way you could end up concluding a fuel-consumption free return trip by the end of the day's activities!
Township silence
On one occasion I cut through the expanse that is Kathorus (Katlehong, Thokoza and Vosloorus) – basically three townships rolled into one land mass – at the wheel of the C350e That's close to 20 km worth of tarmac, and I drove most of this journey exclusively on electric power. Townships are a bit trickier due to the traffic that never diminishes. It's a lot of stop-and-go thanks to disorderly taxi driving. Again, being in tune with your PHEV and surroundings can save fuel. Choosing less populated routes helps save charge. The one other awesome benefit of living with a hybrid in a township is that you can do your spaza-shopping fuel-free, least of all the customary countless stopovers at friends and relatives who live close by.

The C350e is a luxurious business class sedan first and foremost, its PHEV configuration adds exclusivity to the package.
Tips on how to maximise PHEV qualities in Joburg
Apply the same tactics you would with a regular car like keeping it free of pointless detritus in the boot, ensure regular servicing etc.
Get the 230V wall-box (R14 516 excl VAT). It's a rapid 1 hour 45 minute recharge time that will almost always come in handy.
Ensure that the PHEV is fully charged before joining the morning rat-race.
Apply light throttle on every start up. You have got to "treat the juice with tenderness".
Strive to maintain constant movement by choosing free flowing routes
Monitor efficiency displays and alter driving modes to match traffic patterns.
Use EV mode when traffic flow is ultra slow.
Activate the petrol engine on inclines to save electrical charge.
A high rise apartment building without ground-based plugs is going to be problem. Cables dangling from your penthouse aren't feasible – nor are they cool
Get used to having lunches at Melrose Arch and other places that have recharge stations.
Can PHEVs, hybrids and EVs beat the old and wily diesel engine?
And by sheer coincidence, only a week before taking delivery of the PHEV, I had been in possession of a diesel-powered SUV that seemed unable to empty the contents of its fuel tank. For the same period of test and fairly more travel, for all its claimed 2.1 L/100 km, the C350e needed a few top ups, while the SUV eventually returned home with 60% left in its tank.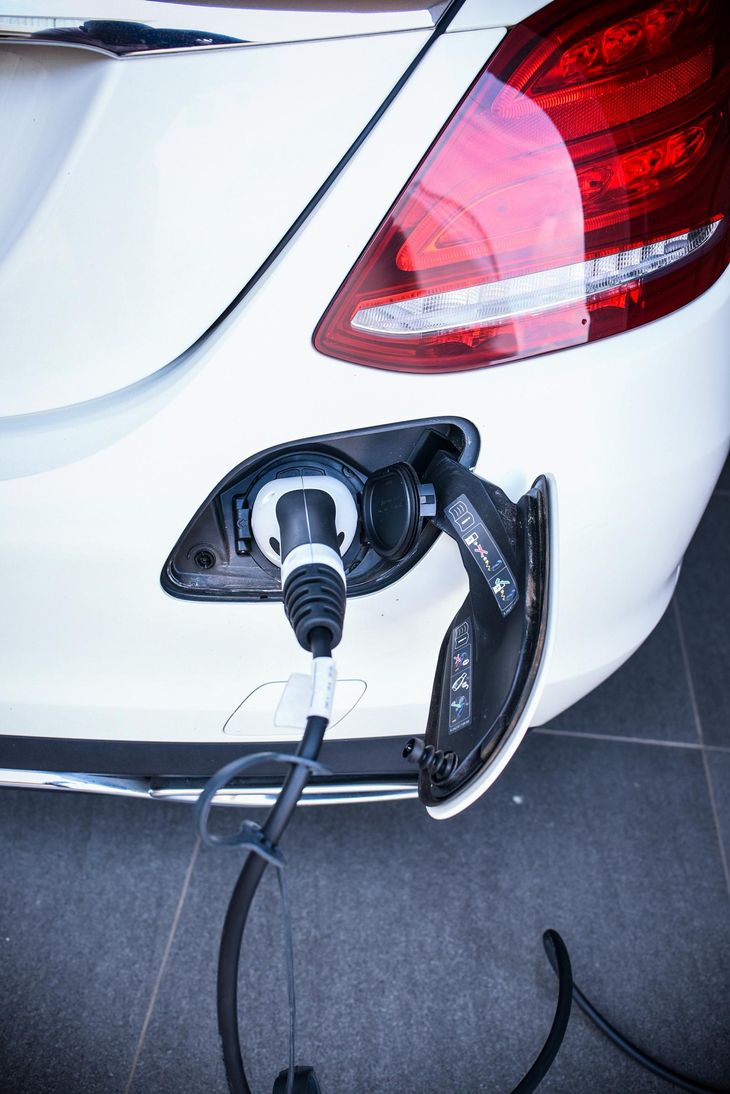 The author recommends that for optimal home-charging convenience, C350e buyers should opt for a wall-box, which allows for rapid charging.
It comes down to these types of differences rather than stipulated claims. Remember that while the automotive fraternity has been wowed by advancements in electric- powered or -aided automobiles, conventionally-powered cars have become more efficient. Diesels, although nowhere near as silent as the Elon Musk brigade, will easily dispatch 1 000 km on a single tank.
Look, if you want to embrace "greener" motoring and can afford a PHEV, it won't be hard to find one that suits your taste. The C350e is superb in many ways, but, having made a real-life comparison between a PHEV and a turbodiesel vehicle, and with a prospect of a 900 km journey to the Eastern Cape, I know on which door I'm knocking on for wheels, and it's not the new door in East London that has C-Class PHEVs written on it.
Related content:
Mercedes-Benz C350e (2016) Review
Self-Driving Cars: BMW Puts the Record Straight
Small Turbo Engines: Is The Hype Over?
Turbo Engines Are Taking Over – As They Should!
Opinion: Ferrari & Tesla, which will survive the future?
Petrol vs Diesel – Which is more expensive to own?
The Problem With Electric Mobility