Lexus is targeting younger buyers with its UX and the Japanese marque recently added a more affordable hybrid derivative to its premium compact crossover range. Does the reduced spec (compared with the SE version) detract too much from the luxury offering, though?
We like: Efficiency, refinement, comfort
We don't like: Tiny load bay, hybrid driving style needs to be mastered, quirky infotainment system
Fast Facts
Price: R690 300 (August 2020)
Engine: 2.0 Petrol-electric Hybrid
Gearbox: CVT
0 to 100 kph: 8.5 sec
Fuel economy: 4.5 L/100 km (claimed)
​Power/Torque: 135 kW/180 Nm
Own a Lexus? Tell us about your experience here.
SERIOUS ABOUT BUYING?
What is it?

There's no mistaking that grille for anything other than a Lexus! The blue badge is the giveaway that this is a hybrid derivative.
When you think of Lexus, the first models that come to mind are softly-sprung SUVs and long-legged sedans (all of which are liberally equipped, of course), so it may come as a surprise to some that the Japanese premium marque has branched down into a new market segment – and a particularly competitive one. The UX is Lexus' smallest model (it effectively replaced the CT 200h), but, given how much movement there's been in the premium crossover segment, Lexus reckons it can snatch sales away from its rivals.
Speaking of rivals, there are many competitors to the UX... Audi offers its Q3 (and Q3 Sportback at the end of 2020), while BMW sells the X1 and X2. Jaguar and Volvo are in the mix with the E-Pace and XC40 respectively, while Mercedes-Benz has the GLA, as well as the upcoming GLB.
UX stands for Urban Crossover, which gives you some idea of the Lexus' proportions and ability. In terms of styling, the UX's exterior execution is sharp and angular, typical of most modern Lexus products. While the look may not win everyone over, there's no denying that it's distinctive. It's also the first Lexus to be based on the Toyota New Global Architecture, which underpins products such as the RAV4, Prius and new Corolla (to name a few examples). We have sampled several of those models' derivatives and have been impressed with their ride quality and impressive fit-and-finish. Therefore, our expectations of the Lexus UX (to deliver quality and refinement in abundance) are high...
How it fares in terms of…
Performance and efficiency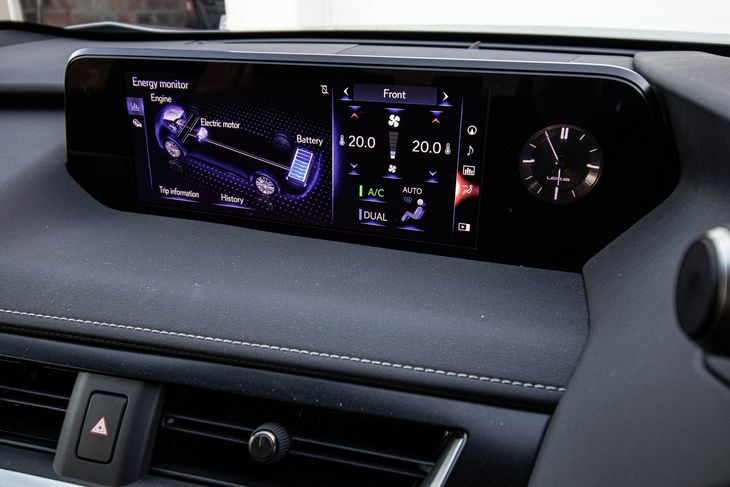 The infotainment system is functional, but lacks the modern graphics of its rivals. Nice to watch the hybrid system in action.
The UX 250h EX is powered by a 2.0-litre 4-cylinder naturally-aspirated petrol motor, which produces peak outputs of 135 kW and 180 Nm in conjunction with an electric motor. The Lexus hybrid system is now in its 4th generation and, for those who don't know how it works, it can propel the Lexus UX round town at low speeds on pure battery power (depending on the latter's state of charge). It can also assist the petrol engine by delivering extra power when required, like when executing overtaking manoeuvres.
Once the battery's charge needs to be replenished or the electric-mode speed limit has been exceeded, the petrol engine takes over. Battery recharging comes courtesy of regenerative braking, plus the engine acts as a generator. The fuel efficiency claim of 4.5 L/100 km is impressive and we managed 6.5 L/100 km, with is still good, considering that we took our test unit on a road trip up the Garden Route. We'd put money on consumption figures in the low 5s if you drove mostly in the city and didn't go on a 532-km trip!
That's because open-road cruising largely negates the efficiency gains of a petrol-electric hybrid system. That's not to say the UX 250h EX is no more fuel-efficient than a non-hybrid car on longer trips; it can be, but you have to change your mindset (and, therefore, driving style). When you're at the top of a hill, take your foot off the accelerator... the petrol engine will switch off as the vehicle transitions to electric power. Then, as you coast downhill silently, the battery is recharged. We learnt to anticipate intersections and coast to stops under pure electric power. Once the traffic started moving (and as long you didn't stab the accelerator pedal), the UX pulled away serenely on its battery alone.
This system works best in congested and built-up areas, where the average speed sits at around 40 kph. The best demonstration of this tech would be driving into Knysna (from the direction of Cape Town) on the N2 freeway. That gradual descent into the Southern Cape town provides plenty of opportunity for the battery to be recharged through engine coasting and regenerative braking. Due to traffic lights not being in our favour and mild traffic, the average speed wasn't very high and the test unit remained running on pure electric power before the petrol engine took over (as we climbed uphill upon exiting Knysna). Is it possible to complete short trips on pure electric power? Yes, definitely.
Premium driving experience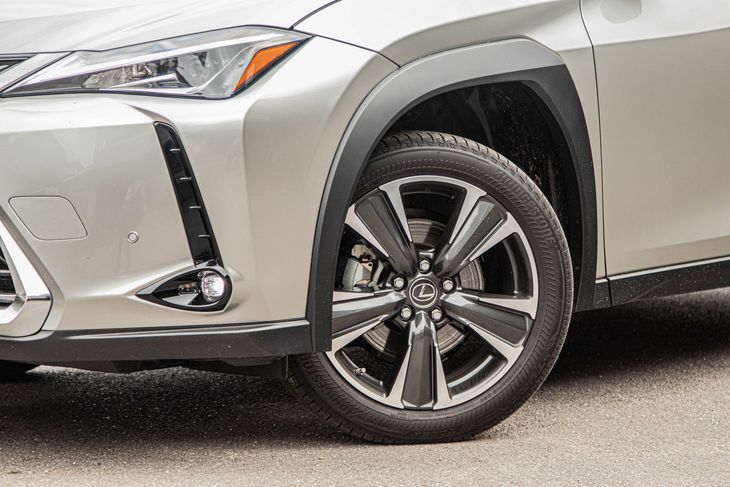 The Lexus UX 250h EX rides on 18-inch alloy wheels.
If you're a bit daunted by this tech, we're happy to report the vehicle is simple to drive; the entire hybrid process is completely automatic. The Lexus' continuously variable automatic transmission (CVT) provides a reasonably smooth power delivery – it's only when you mash the accelerator pedal that you'll encounter some "transmission drone", which is, to be fair, a characteristic of most CVT-equipped vehicles. Fortunately, there is a fairly good audio system in the UX 250h EX, which helps to drown out the uninspiring sound effect. Meanwhile, there are 3 driving modes: Sport, Normal and Eco, which can be selected by turning the curiously placed "stalk knob" on the top left of the instrument cluster (the one on the right is the stability control function). Because we wanted to put the UX's eco-credentials to the test, we utilitised its Eco drive mode throughout the test.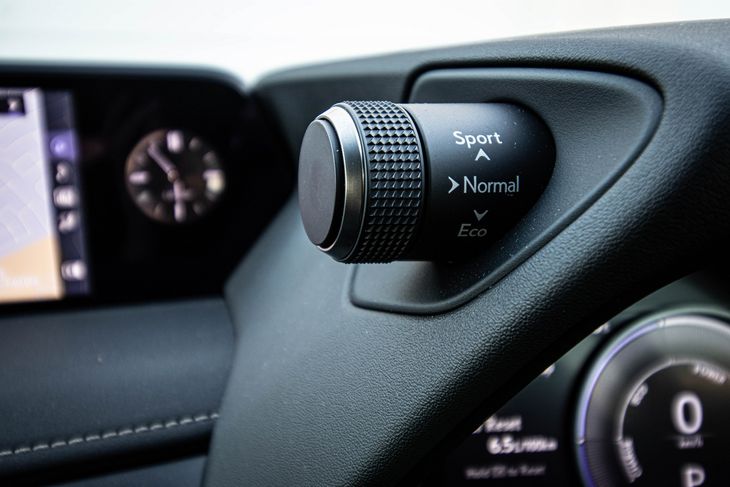 This stalk changes the Lexus' drive modes and the instrument cluster displays a separate theme for each of them.
The Lexus' driving experience is more akin to that of a hatchback than an SUV... The most impressive aspect of the package (in terms of refinement) is the quiet cabin, which seems admirably insulated from road and wind noise. Virtually every Lexus is engineered to be smooth and comfortable to drive – and the compact UX is no exception. Its 18-inch alloys, wrapped in Bridgestone rubber, soaked up most imperfections on asphalt roads. The setup leans more towards firm than soft, which was a little surprising.
The Japanese premium marque's models (with the exception of the sportscars) are usually quite inert in terms of handling prowess, but we were pleasantly surprised by the UX's lively steering. Despite being a hybrid vehicle, the 250h EX is not averse to providing hints of driver engagement when hustled into corners at "enthusiastic" speeds. The seating position is a bit lower than expected too, which helps. What's more, there's 160 mm of ground clearance, so the UX should be able to traverse gravel roads with ease.
The only minor bugbear we had with the Lexus' driving experience is that the crossover doesn't feel as punchy as some of its rivals, most of which are powered by turbocharged motors. There's no shortage of oomph, but the UX hybrid doesn't surge forward when commanded. Is it a reasonable sacrifice for better real-world economy, though? Sure.
Features and Practicality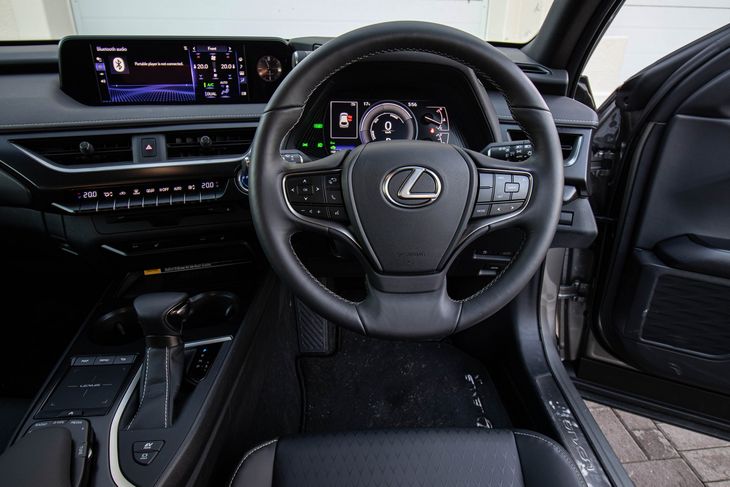 The EX-spec cabin does not seem feature-thin in the slightest.
Here is where things get interesting. Lexus rejigged its UX range in 2020, when it introduced this derivative (the 250h EX), which is R65 900 less expensive than the SE version. It loses some features, but Lexus has walked a tightrope of not skimping/still offering a generous level of standard equipment. In South Africa, the Japanese brand has a long-held market strategy of not offering any optional features, which is refreshing. Therefore, buyers need to pick a derivative, an exterior colour and an interior trim – that's about it!
Standard equipment includes park distance control with a reverse-view camera, a pair of rear USB charging parts, navigation, hands-free tailgate, heated seats and -side mirrors, an 8-speaker audio system, cruise control, a wireless charging pad, 2 front USB ports (in the central armrest), as well as Apple CarPlay and Android Auto compatibility.
Annoyingly, we couldn't get the Android Auto function to work, but we suspect it was the phone's fault, because the Android operating system's software seems to have been rather buggy of late... Google is reportedly frantically working on the next iteration of Android Auto, which should introduce wireless connectivity.

Lexus has persisted with trackpad controls for its infotainment system in the UX, but it doesn't seem the way of the future...
The reason we note our difficulties with using Android Auto is that the Lexus' infotainment system is not the easiest to use. There's a laptop-style trackpad, which isn't very intuitive/requires some patience to get the hang of. Also, in comparison with its rivals, the Lexus UX's graphics and interface lack some of the visual appeal and punch that some of its competitors' infotainment systems offer. Consider MBUX and Virtual Cockpit from Mercedes-Benz and Audi (respectively) as benchmarks in this regard.
The quickest way to distinguish the EX from its SE sibling, at least inside, is that the former's seats are trimmed in simulated leather, as opposed to full-leather upholstery. So what exactly has been removed? Lexus says this EX derivative lacks some of the active safety features such, as lane-keeping, blind-spot monitoring and Pre-cash Sense.
It still features 8 airbags and ABS, EBD and stability control. There's no adaptive cruise control (the EX makes do with conventional cruise control), while there is a reverse-view camera, but no surround-view setup. Finally, the standard LED headlights do not have an automatic high beam function. That's the short explanation of the R60k difference... The really nice-to-have features are omitted, but we think the standard specification is more than ample and will largely satisfy what customers are looking for in this segment.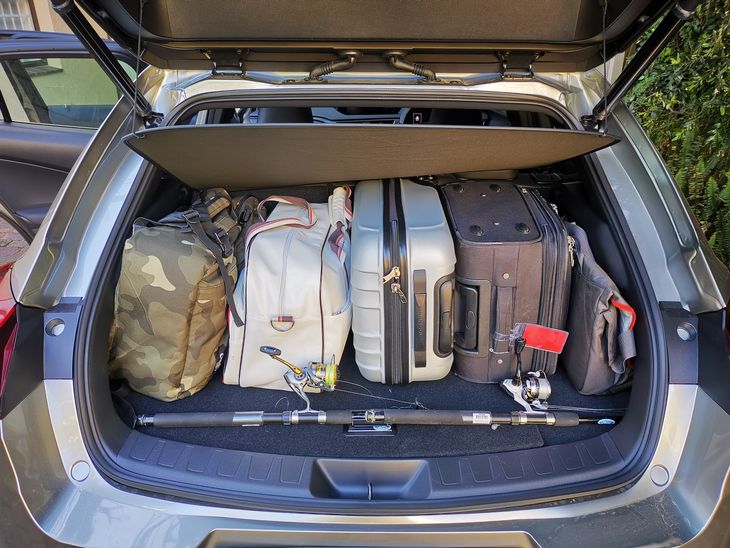 With intra-provincial travel approved, we loaded up the UX and headed to the Garden Route. Note the shallow load bay.
Despite the vehicle's dimensions at first glance, there's a lot more space inside than you might expect. The rear accommodation is pretty good, with enough leg- and headroom for a pair of adults. This comes at a price though, as the UX's load-bay capacity is rated at 265 litres, which is a lot smaller than most of its rivals, thanks in part to the hybrid battery pack taking up precious capacity. It's a shallow load area and the parcel shelf feels a mite flimsy – not quite up to the task of shielding your belongings, we'd say.
Pricing and after-sales support
The Lexus UX range starts at R654 700, with this 250h EX derivative retailing for R690 300. The top-of-the-range 200 F-Sport derivative costs R785 400. The vehicle is sold with a 7-year/105 000 km warranty and full maintenance plan. Vehicle service intervals are set at every 15 000 km, or once a year.
Verdict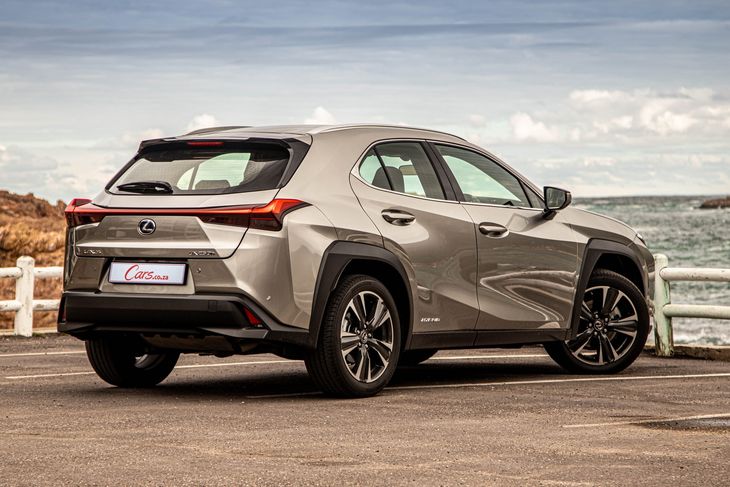 Despite it being the smallest Lexus offering, the UX still retains all those wonderful Lexus traits of quality and refinement.
The Lexus is brand that plays to its strengths; it's been disinclined to experiment with niche models, but given the meteoric rise in the popularity of luxury compact crossovers – virtually every premium brand now offers one – the UX is a model the Japanese brand needs. This segment is perfectly positioned to catch those upwardly mobile high-earners who can't reach the R1-million luxury segment, but want to make a status statement. Similarly, it suits buyers who need to downsize, but still want to drive a premium brand.
Many regard the UX as more of a hatchback than a crowd-pleasing SUV, but that's not to say the Lexus doesn't acquit itself commendably well. Despite the fact that it's the "entry-level" offering in the brand's line-up, the premium compact crossover delivers an impressive level of "effortless refinement" that the Japanese premium marque's models are renowned for. Plus, although you may need to adapt your driving style to get the optimal fuel-efficiency benefit from the hybrid powertrain, it soon becomes second nature.
The 250h EX derivative may lack some of the high-end features of its SE sibling, but at this price point, none of the rivals offer them either. At a shade under R700 000, this UX derivative presents an interesting and refined proposition and, thanks to Lexus' comprehensive warranty and service plan, the cost of ownership is unlikely to break the bank.
Related content:
Lexus adds entry-level hybrid to UX range
Lexus UX Concept makes its debut