Few of us believed it would ever happen, but Lexus has introduced performance rivals to the Audi RS5, BMW M4 and Mercedes-AMG C63 Coupe in the local market. The RC F and its Track Edition sibling go about their business in very different ways – we drove them on track and KZN's back roads to get a feel for the Japanese speed merchants.
What is it?
The RC F and the RC F Track Edition are the first Lexus performance cars to be sold in South Africa since a couple of LFA supercars were quietly delivered to (very) well-heeled enthusiasts in Mzansi a number of years ago. Think of them, if you will, as Lexus' foils to the BMW M4 and M4 CS/Competition, or Mercedes-AMG's C63 and C63 S. These 2-door coupes focus on performance thrills, aural excitement and engaging handling.
Under their bonnets you'll find a 5.0-litre V8 with no turbocharger/s – that's correct, the pair utilise nothing but good old-fashioned natural aspiration to power them down the road. Power is then sent only to the rear wheels via an 8-speed auto 'box, while the front wheels deal with the steering.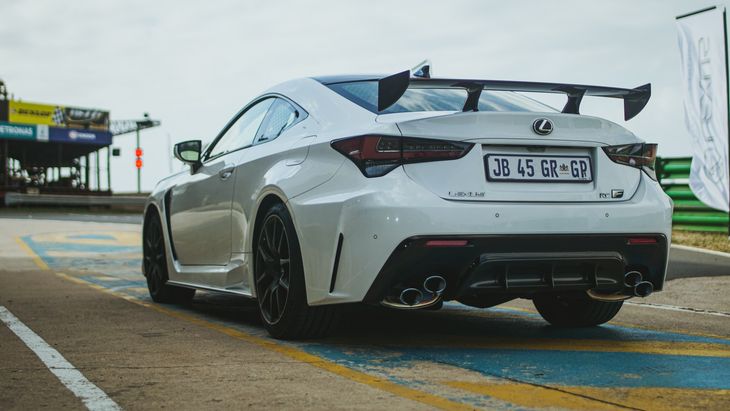 The RC F Track Edition comes with a fixed rear wing and Titanium exhaust tips.
The Track Edition is easily distinguishable by its carbon fibre reinforced plastic (CFRP) bonnet, roof and static rear wing. It also gets lighter 19-inch wheels, carbon-ceramic Brembos and a red Alcantara interior. The standard RC F, by contrast, comes equipped with a (relatively demure) rear wing that pops up at 80 kph, is available with a wider array of exterior colour choices and its interior is trimmed in tasteful leather.
Read our full review of the 2019 Audi RS5 here
What makes them different?
While performance figures, design and pricing will no doubt flag the RC F and RC F Track Edition as rivals to the RS5, M4, C63 and their more track-focused derivatives (BMW and Mercedes-AMG), they're very different to their German rivals; even a little bit old-school, especially in terms of the engine they share. The art of natural aspiration has been lost in the quest for performance and efficiency gains. We can't blame manufacturers for going that route, but when it comes to pure sensation, sound and skin tingling excitement, you still can't beat a high revving naturally-fed engine.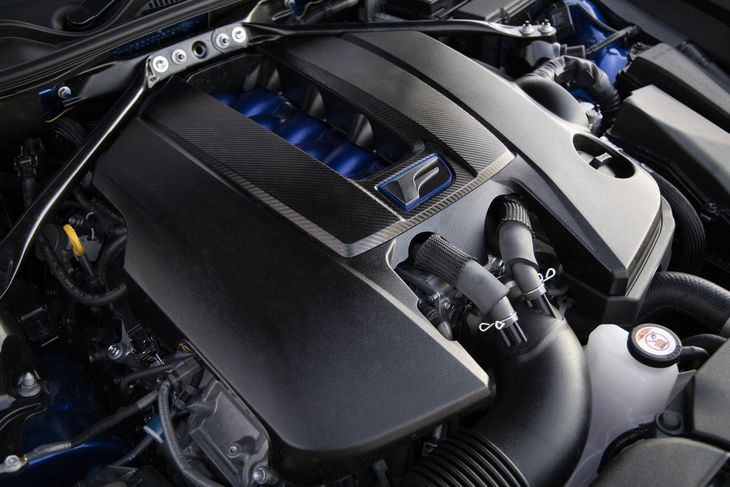 Natural aspiration, no turbo(s). More of these in performance cars, please.
The 5.0-litre V8 under the bonnet of the RC F and RC F Track Edition deals out respectable power: 351 kW, even if the 530 Nm of torque is the same as a Ford Mustang 5.0 GT. The motor delivers that power more responsively and more progressively than a turbocharged mill, which tends to kick you in the back all in one go. The immediate response from the throttle is refreshing, and it's a rewarding challenge to work the shift paddles to keep the revs high, where the power is. Revs top out just over 7 100 rpm, but I would have liked an extra 500 rpm, just to hear it howl a little longer.
The engine sound itself is unencumbered by turbos and exhaust flaps; Lexus has not resorted to piping in "manufactured" engine sounds like some members of the forced-induction brigade. It sounds true, raw and with the Track Edition, you get Titanium pipes (with tell-tale blue exhaust tips) that emit a more metallic, high-pitched wail. The standard RC F has a more typical V8 growl to it. But this is a Japanese V8 though, not an American V8 – so don't expect a muscle car belch and cough when you rev it to high heaven. It sings from an opera, but dubbed over a Jimmy Page guitar solo.
Is it any good to drive?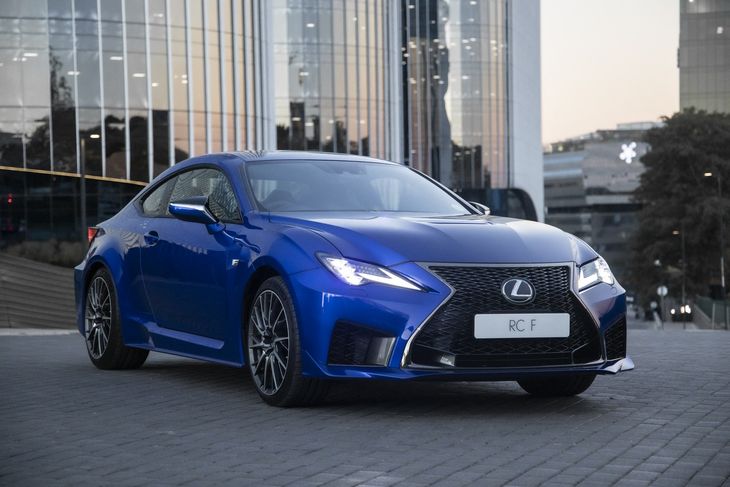 The standard RC F looks more subtle than the RC F Track Edition and weighs 80 kg more.
The RC F is not going to challenge BMW or AMG for lap records around a track. It's not as pinpoint accurate as the M4 and not as powerful or brutish as the C63, for example. Character-wise, it's closer to the RS5, to be completely honest. The RC F knows full well that it's a Lexus, so it's a little bit softer-sprung and, a result, has a pliant ride quality. It's a better daily driver than the aforementioned cars and certainly easier to live with. For the driving-enthusiast, it may lack the last little bit of edge that makes it an apex-eater and corner-dispenser, but for the most part, it does an acceptable job. The steering could do with a bit more feel from the front wheels and that would probably make it more engaging at speed as well.
Comparatively, the RC F Track Edition (with its carbon bits, lightened wheels and special brakes) feels much more like a track weapon than the standard car. The steering still lacks feel, but the front end responds quicker and there's marginally less body roll. We were turning hot laps at Dezzi Raceway, where the corners are taken at medium-speed and are quite long (they seem neverending!), which is brutal on the cars' front tyres.
The RC F is heavy (it weighs in at 1.7 tonnes, in fact) and you feel that in long corners and direction changes. You have to wait for a few extra tenths of a second before you can get back on the power or for it the car to settle before you can feed in the throttle again. Thankfully the loud pedal is beautifully responsive and rear traction excellent. There is fun to be had on the way out of corners, however. The rear end will step out of line if provoked, but with such a long powerband, you can keep your foot in it and drag out extended (and more manageable) slides than in turbo cars.
What else is interesting?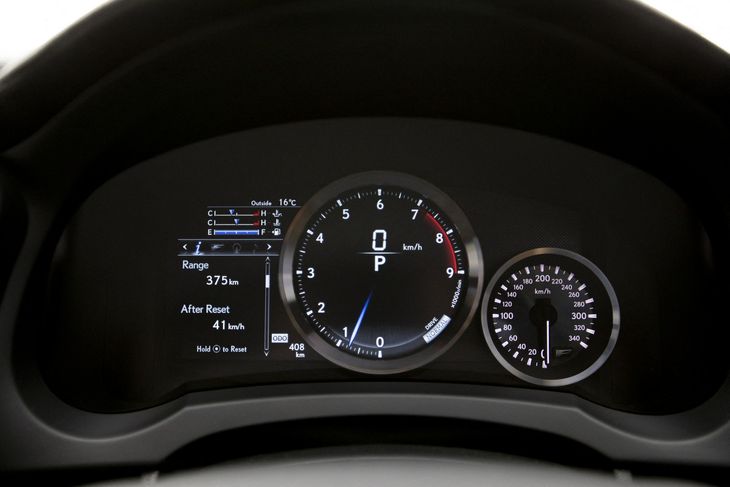 Analogue speedo on the right feels redundant with the bigger digital version in the centre.
The interior of the RC F and RC F Track Edition is typically Lexus: well-made, luxurious and superbly insulated from exterior-, road- and wind noise. The instrument binnacle mixes a digital rev counter and kph readout with a separate analogue speedometer that feels superfluous as your eyes tend to focus on the central readout. That space could be better used to display other info or to create a bit more space between all the dials.
To engage the driving modes you have to reach over the transmission lever and twiddle the rotary dial, which is a little awkward. The infotainment system itself requires time and patience to figure out and acclimatise to – but that's a bugbear across the Lexus range, not just an RC F issue...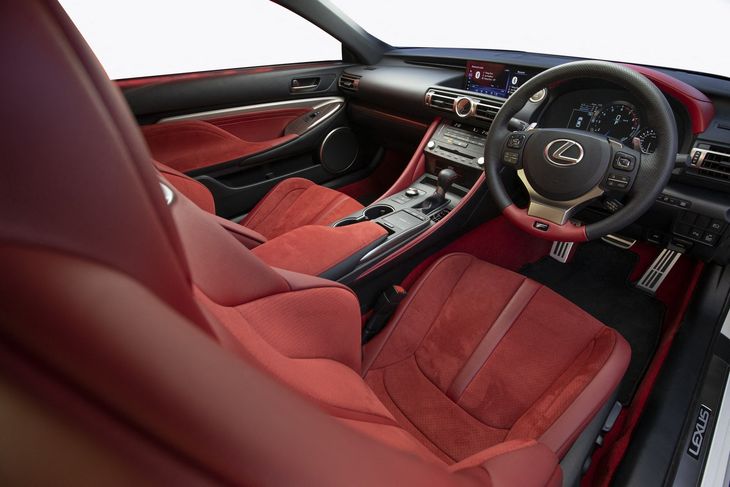 Track Edition gets these semi Alcantara seats, in red!
The RC F comes with a very inclusive maintenance plan. There's a 7-yr/105 000 km warranty and 7yr/105 000 km maintenance plan with very few exclusions. In fact, if you take the RC F or RC F Track Edition to the track it doesn't void the warranty and what's more, if your brakes are shot, Lexus SA claims they'll replace them for you under the maintenance plan! Well, that awfully nice of them to offer. Wouldn't you agree, petrolheads?
Summary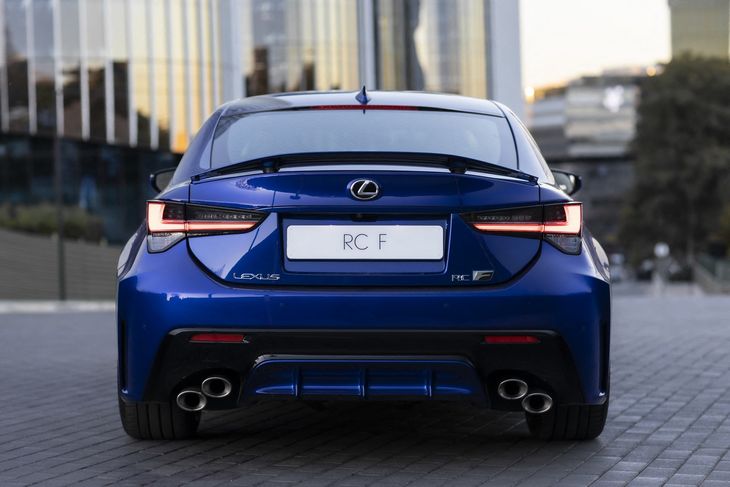 The RC F is a good blend of performance and everyday usability. Did we mention it sounds great?
The Lexus RC F is quite refreshing – it combines a dollop of old-school performance with modern design and satisfactory dynamics. But the engine is undoubtedly the star of the show. The naturally aspirated 5.0-litre V8 under the bonnet is more responsive than a hair-trigger, it sings a haunting, tear-jerker of a tune at high revs and propels the coupe to heady speeds fast enough to get you fizzing in the driver's seat.
Dynamically the Lexus is not a match for its German rivals, but it's good enough that only the very best driver would pick up its weaknesses. It's firmly-sprung, but rides comfortably enough, like a road-going business class-based coupe needs to be. It's not trying to set lap records, but it is sufficiently fast and there's fun to be had if you like to provoke the rear-end to step out from time to time.
The RC F Track Edition is certainly the more exciting car to drive, but it costs a lot more money – nearly R700k more, in fact. The standard RC F is better value (if there is such a thing at R1.3 million) and aside from the visual drama, doesn't lack for fun factor. If you're looking for an alternative to the RS5/M4/C63 brigade, then the Lexus pair offers real-world options that don't disappoint.
Pricing
There's a specs and pricing article here
Lexus RC F - R1 318 300
Lexus RC F Track Edition - R2 098 200
Related content:
The BMW M4 Video We Never Published - Flashback Friday (2014)