The latest iteration of the Lexus IS is set to go on sale early in 2017. We took the revised business class sedan for a drive around the winding roads of the Lowveld to get a feel for it.
Such is the domination of Audi, BMW and Mercedes-Benz in the premium sedan market that Lexus battles to garner significant volumes with its IS model – not that the Japanese marque is alone in that predicament. It's just a particularly mysterious trend because Lexus seems to have the recipe spot on: the IS200t and IS350 are particularly well-made, suitable refined and all-inclusive, spec-wise. Options aren't really… well ... options at all, everything is included in the purchase price. This new model has merely refined its offering with a few styling tweaks and the odd bit of new tech.
Lexus is determined to change its image from a maker of solid, reliable and comfort-oriented premium vehicles to a brand whose products incorporate evocative style, have sporty pretensions and appeal to hearts' desires. We saw evidence of that with the LFA and most recently on the LC500 we just drove in Spain. The notable exterior tweaks to the facelifted IS revolves around the grille and headlights. The changes are subtle, but include LED headlamps and a new front bumper that makes the sedan's nose look more aggressive. The rear lights now have streaked LEDs, which are particularly noticeable.
A few improvements have been made to the interior too, most notable of which is the infotainment screen that features a much higher-resolution screen. F-Sport and EX derivatives have a 10.3-inch screen, whereas the E model is equipped with a 7-inch screen. Otherwise the cabin's unchanged, apart from a few trim changes that look a little more pleasing.
Improved handling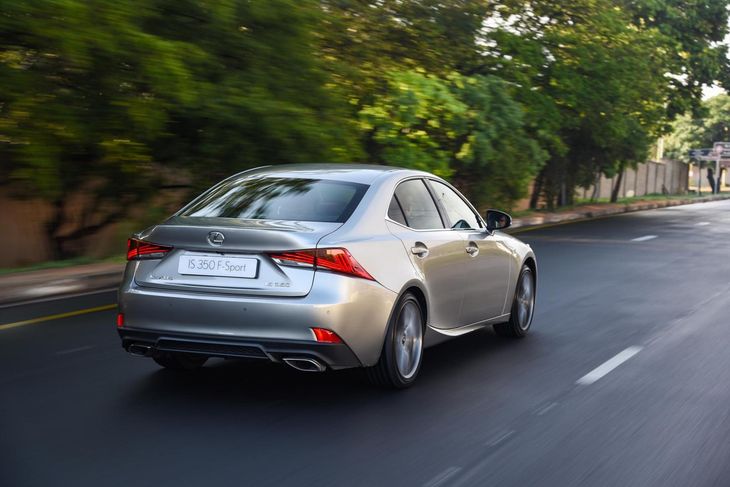 Tweaks to the suspension and chassis make for a better handling IS
Driving enthusiasts will appreciate that much of the development work for the IS facelift was devoted to making the sedan more fun to drive. The suspension and steering systems have been tuned to provide a more engaging driving experience and, when we drove the IS on the swooping roads of Mpumalanga, it felt an appreciably more resolved driving machine.
The steering certainly has better weight and feel to it and the body doesn't lean over as much under hard cornering. The IS certainly is inching closer towards the "inherent sportiness" of the Teutonic sedans with which it competes. It's not quite there yet, as it's not as quick to change direction; the suspension requires a second to settle before you can accelerate hard.
That behaviour could be attributed to the fact that the IS is, after all, damped for ride comfort, which is still a major selling point for the Lexus – whether it be on rough potholed roads or cruising through town. The suspension soaks up bumps beautifully and together with the well-insulated cabin, creates a very serene and relaxing place to drive or be transported in.
Engine line-up
The engine range remains the same as the previous IS with a 2.0-litre 4 cylinder turbopetrol in the E and EX grades. The motor develops peak outputs of 180 kW and 350 Nm of torque. It's a capable engine, when driven enthusiastically or when the Lexus is just calmly eating up the miles at 120 kph. The abundance of torque lower down in the engine's rev range (at least compared with a non-turbo motor) makes it a little easier to overtake and its 8-speed 'box fires off nearly imperceptible shifts as you waft along. Fuel consumption from Dullstroom to Johannesburg (a 260 km trip) averaged out at 7.9 L/100 km.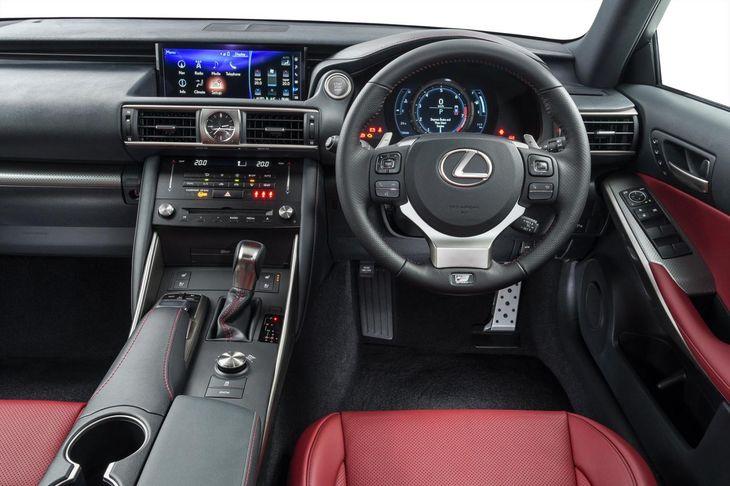 Interior of the F-Sport get the digital instrument cluster and 10.2-inch infotainment screen
The F-Sport model's engine is the familiar 3.5-litre V6 non-turbopetrol mill that produces 233 kW and 378 Nm. It's more of a cruising engine as it only really starts to sing when you push it into the upper echelons of the rev range. The torque is also delivered at higher revolutions, which means the gearbox has to work harder to help deliver optimal overtaking acceleration. When pushed, it does produce a sonorous V6 howl, that's nothing short of thrilling to conduct along a mountain pass.
Summary
Given the mildness of this update, it would be a trifle unfair to expect the Lexus IS to suddenly challenge for best-in-segment honours, especially considering that its BMW 3 Series rival was updated relatively recently and all-new foes in the shapes of the Audi A4 and Volkswagen Passat were launched late 2015/early 2016. Stylistically, the IS predates the purposefully-evocative LC500 by several years and, in that regard, it was perhaps ahead of its time when it was launched.
Nonetheless, there are several reasons why we'd recommend the sedan: refinement, comfort and yes, a good balance of poise and sportiness. The business class segment is no longer about overt sportiness anyway... for real excitement you need to fork out for S (or RS), M and AMG derivatives (in the cases of Audi, BMW and Mercedes) and, in terms of a "no need to pick myriad options from the extras list to procure a nice package" purchasing proposition, the Lexus excels.
In fact, the only notable feature that seemed to be missing was adaptive cruise control. Standard cruise control is available, but the adaptive version would add a little extra convenience to longer drives. All models are sold with a 4-year/100 000 km service plan and you can now buy a Lexus on guaranteed buy back.
IS200t E - R601 900
IS200t EX - R659 100
IS350 F SPORT - R728 800
Related Articles
Lexus LC500 (2017) Track Drive [Video]
Facelifted Lexus IS (2017) Specs and Pricing
Lexus LC500 (2016) First Drive
2016 Audi A4 vs BMW 3 Series – In-Depth Review & Comparison (Video)
Mercedes-Benz C300 (2015) Review
Interested in a used Lexus IS?