The 7th generation of Lexus ES has made its way to the South African market. Here's how much this spacious and fully-equipped sedan costs.
While South Africa has only received 1 generation of the Lexus ES prior to this launch, globally it has spanned 6 generations. Now in its 7th generation, the Lexus ES has arrived in SA and hopes to take some of the market share in the executive sedan segment. There just two models for now, a petrol and a petrol hybrid derivative.
Under the skin, there is an all-new platform called Global Architecture (GA-K) and this has meant the dimensions have changed completely, for the good we might add. The new car is longer, lower and wider than the outgoing model, but the key detail here is the longer wheelbase (+50mm) which has meant the wheels can be pushed to the edges and the increased space can be devoted to the cabin. Yasuo Kajino, ES Chief Designer, describes the car's new look as 'provocative elegance'. "The ES has always been an elegant luxury sedan. For this generation, we have added daring design elements that challenge buyers' traditional expectations," he said. There are two sets of wheels. The ES 250 has 17-inch multi-spoke cast alloy wheels, while the ES 300h boasts 18-inch Hyper Chrome Cast Allow noise-reducing wheels, featuring a turbine design.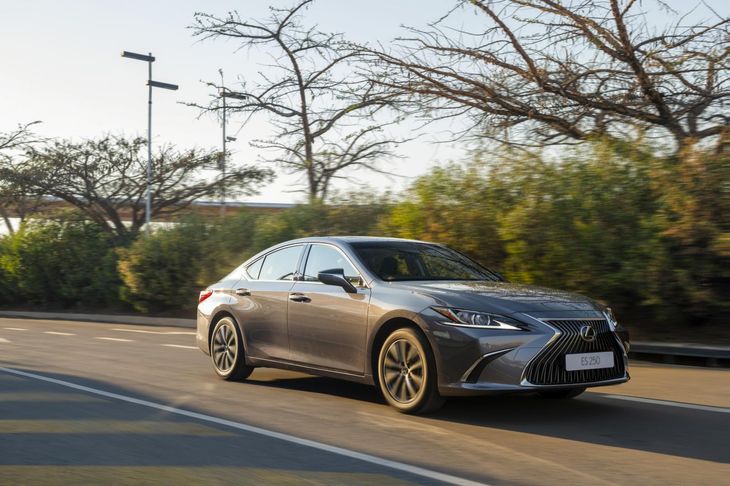 You have the choice of either a 2.5-litre naturally-aspirated petrol engine or a petrol-hybrid powertrain
In terms of standard features, the Lexus ES comes fully equipped, with the hybrid model going above and beyond what's normally deemed 'standard fare'. For example, the hybrid has heated seats for the rear passengers and a heated steering wheel, as well as a heads-up display. The steering wheel is straight from the Lexus LS, there's a 12.3-inch multimedia display and second-generation touchpad control; its voice recognition capabilities extend to a mobile assistant, allowing contactless driver's smartphone control. The display features a reverse camera as standard kit, but the hybrid tops this up with a panoramic view display. The top-spec hybrid also gains a Mark Levinson audio system with 17 speakers.
The ES 250 has a 2.5-litre four-cylinder petrol engine and a new eight-speed Direct Shift automatic transmission and with outputs of 152 kW and 243 Nm, you can expect it to hit 100 kph in 9.1 seconds and go onto a top speed of 210 kph. The ES 300h features Toyota's 4th generation hybrid system. It too features a 2.5-litre four-cylinder motor, but it runs on the Atkinson cycle. It boasts a total output of 160 kW with the electric assist (131 kW and 221 Nm) and is brisker than its sibling, at 8.9 seconds to 100 kph. It's real strength is economy and it's said to consume just 4.6 L/100 km.
In terms of safety features, the Lexus ES features 10 airbags, while the hybrid model features Lexus Safety System+ which offers some degree of autonomous safety as well as adaptive cruise control and lane departure alert.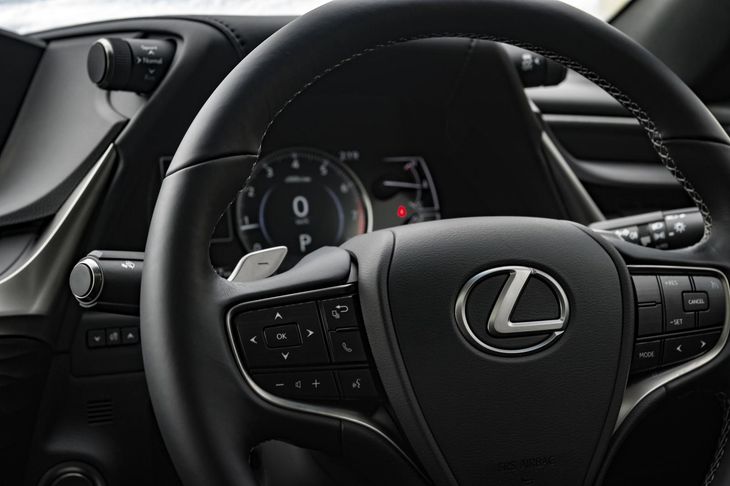 The steering wheel is straight from the Lexus LS. Note the digital dashboard
Lexus ES Price in South Africa (October 2018)
Lexus ES 250 EX R593 300
Lexus ES 300h SE R843 800
Lexus is offering a best-in-class 7-year/105 000km warranty and full maintenance plan. Vehicle service intervals are at every 15 000km, alternatively once a year.
Further Reading