Compared with the majority of Adventure SUVs, the Kia Sorento presents a more comfortable and premium-packaged way to transport your family. However, it's not as affordable as its bakkie-based rivals... Can it truly justify its higher asking price? We tested the facelifted entry-level derivative thoroughly.
We like: Comfortable and practicals. Good build quality. Balance of performance/economy.
We don't like: Lacks killer punch to make it a sure-fire hit.
Fast Facts:
Price: R579 995 (as of March 2019)
Engine: 2.2-litre turbodiesel
Power/Torque: 147 kW/440 Nm
Transmission: 8-speed automatic
Fuel economy: 6.3 L/100km (claimed)
Load capacity: 142-605-1 662 litres
Own a Kia? Tell us about your experience here.
SERIOUS ABOUT BUYING?
Check full specification details and finance estimates here!
Some Hyundai dealers regularly offer specials, take a look at specials here!
Where does it fit in?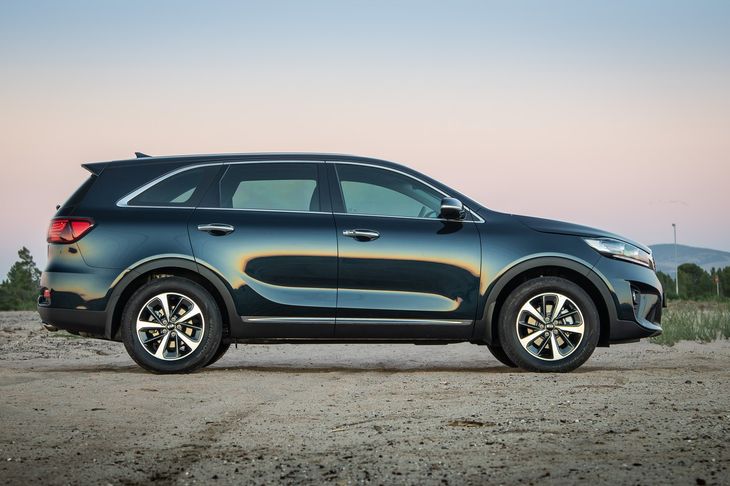 The Sorento started its model life as a people mover, but styling-wise, it now bears a closer resemblance to an SUV.
This generation of the Kia Sorento was launched in South Africa during 2015. With this facelifted model, however, Kia has refined the range and improved its value-for-money proposition. The Sorento is now offered exclusively in 7-seater configuration and sits atop Kia's local product offering. The market for 7-seaters is dominated by bakkie-based models (primarily in the forms of the Toyota Fortuner and Ford Everest). The Sorento differs from these cab-on-chassis products insofar that it offers car-like road manners and an upmarket interior; it shuttles its human cargo around in luxury.
The good
Spacious and practical
Modern 7-seaters are expected to have capacious cabins and facilitate a variety of people carrying/loading combinations. And, the Sorento is no exception. At 5 metres in length, the Kia seats 7 in comfort – there's enough room so that occupants don't need to rub shoulders or awkwardly rest their thighs against one another. We found the back row could accommodate a pair of small adults on a 2-hour long drag up the West Coast. The passenger side middle row could perhaps slide forward slightly more in order to allow easier access to the back, but agile children will be just fine.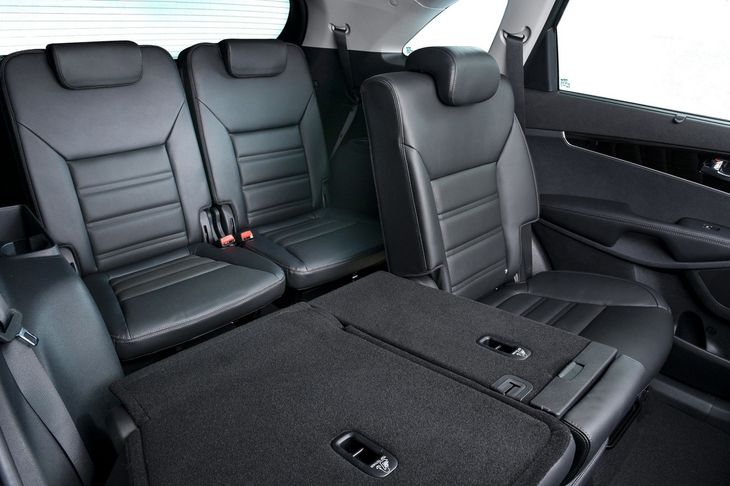 Spacious and comfortable in all rows.
In 5-seater mode, the luggage space balloons from 142 litres to 605 litres, which is more than enough space to fit the detritus associated with a weekend family getaway. If more room is required, the 2nd row folds down (in a 60/40 split) to create a flat area capable of holding 1 662 litres!
Furthermore, there are cupholders and storage bins right at the back and the seats can be folded flat via a lever in the load bay or releases located on the seat themselves. This LX derivative does not come equipped with an electric tailgate, but the higher-spec EX does.
Blend of fuel thriftiness and performance
The Sorento's 2.2-litre turbodiesel and new 8-speed automatic transmission provide smooth and well-rounded power delivery. It's not a gruff, lumpy or "grumpy-sounding" powerplant as you're likely to get in a bakkie-based Adventure SUV and it doesn't feel like the powertrain is hampering the power/torque delivery by virtue of its agricultural oily bits. This powertrain could easily do duty in a German/British sedan without any complaint.
Its 2.2-litre unit is good for 147 kW and 440 Nm of torque. Only when the Kia's fully loaded (with 7 adults, or 5 occupants and their luggage, on board), do you notice that the engine needs to rev higher than usual to maintain the Sorento's momentum. For the most, there's ample torque in reserve for executing overtaking manoeuvres at freeway speeds; sitting steady at 120 kph on the long road is a doddle for the 2.2 CRDI LX.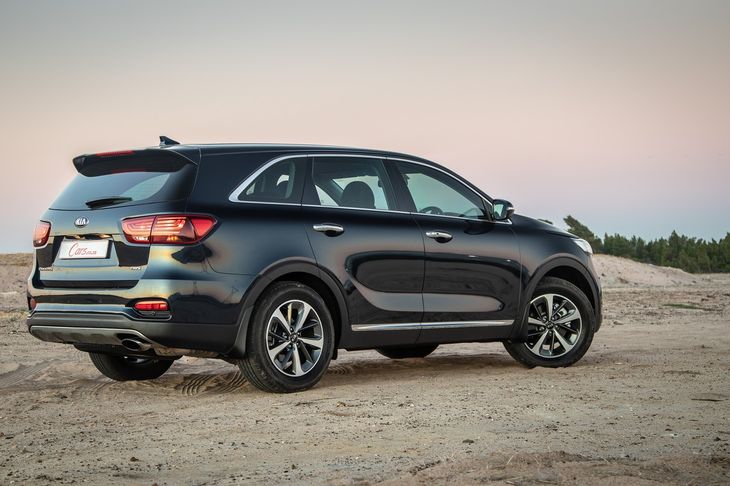 The new 8-speed automatic transmission offers improved shift quality and keeps the fuel usage in check.
The derivatives average fuel economy is claimed at 6.3 L/100 km, which we found a little ambitious, to be honest. Throughout our 2-week test period with mixed driving conditions and a fair amount of heavily-loaded commuting, the Kia consumed 8.5L/100 km. It's safe to say an owner could easily get that number into the mid to high 7s, which is good for a people-mover. Most of its bakkie SUV competitors struggle to get under 10 L/100 km.
Refined interior
Kia has developed a reputation for exceptional build quality by improving the fit and finish of its products' cabins. And, we're happy to report that the updated Sorento is a good example of the brand's continuous improvement. The seats are trimmed in high-quality leather (standard across the range), plus the dashboard and critical touch points around the cabin are of the soft-touch variety and sturdily secured. There's stitching across the dashboard to add a bit of texture to the design, while the steering-wheel rim has been thickened to provide a bit more gravitas to its feel.
On the downside, there is a lot of monotone black in the Sorento's interior and it could do with a few more inlay options (wood, aluminium or piano black inserts, for instance), but the inside of the Kia remains an upmarket place to occupy.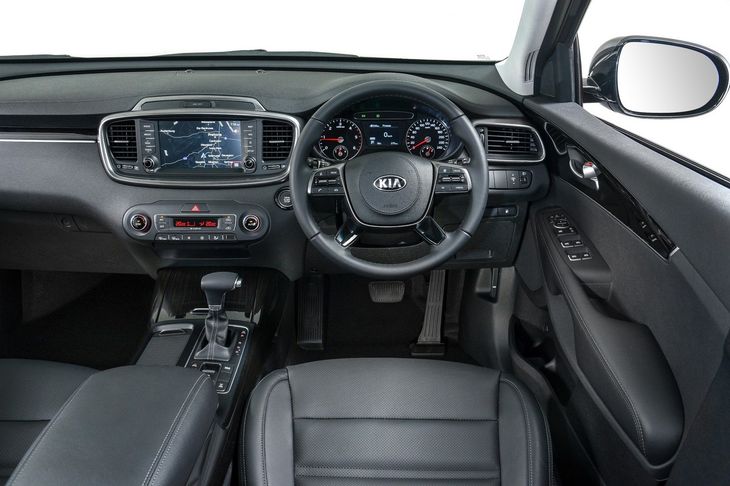 Classy interior that's exceptionally well put together.
The newly developed touchscreen is Apple Carplay- and Android Auto compatible and it works seamlessly with contemporary smartphones. The top-spec EX gets a wireless charging pad but even so, this LX model still has a 2.1-amp fast charging port located in the front storage bin.
On-road refinement
One of the major selling points of the Sorento (over its bakkie-based SUV challengers) is its pliant ride quality. What's more, it doesn't exhibit as much body roll in the corners and settles over bumps quicker. You also don't get that slightly wafty feel through the steering – a characteristic that that Fortuner and Everest owners will know well. It's very settled on the road and provides a secure, comfortable drive on winding or bumpy tarmac.
The not-so-good
Dirt-road prowess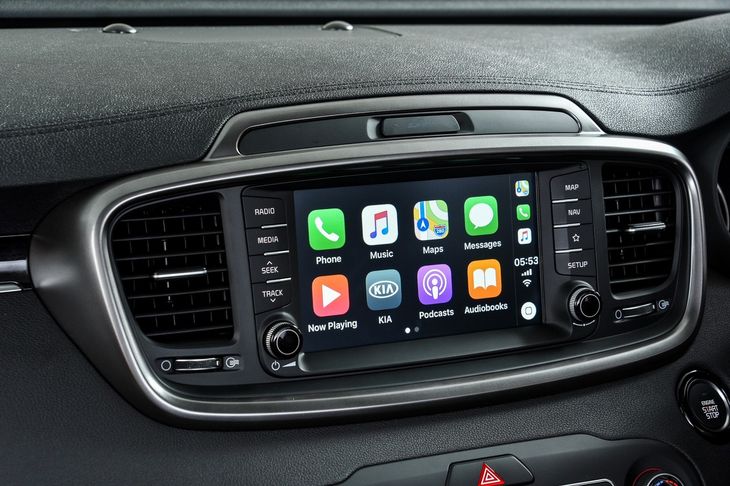 Apple Carplay and Android Auto are standard and the USB port is a fast-charging 2.1A port.
The entry-level LX is a front-wheel-drive derivative (although it's also available in all-wheel-drive guise, for an additional R40 000), but there is no getting away from the fact that it's (asphalt) road-biased... It just doesn't feel quite at home on the rough stuff. As well as the Sorento feels well set up for the road, it doesn't ride as smoothly on gravel and it's prone vibrating harshly over washboard sections of dirt.
If you only ever plan on taking short stints on gravel when venturing on holiday, then the Sorento should cope without a problem, but, if you have a penchant for exploring the road less travelled, you may want to stick with the proven dirt-trackers.
Verdict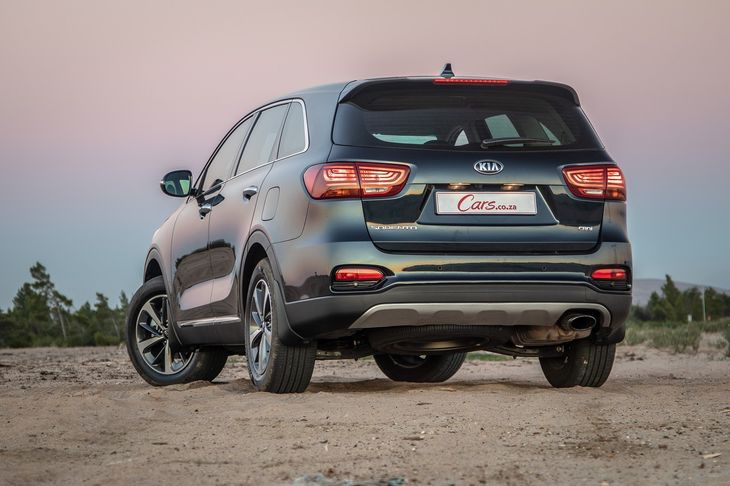 A great holiday companion for the annual coast run.
For most large families, the Sorento ticks all the boxes. It's fairly well-equipped in terms of standard specification and safety equipment (ESP, ABS, EBD and 6 airbags are standard), as well as creature comforts. Having comfortable seating for 7 makes the Sorento 2.2 CRDI LX a great holiday companion in combination with its excellent ride quality, which should mean you can survive long stints without having to stop to stretch out.
In terms of performance, the turbodiesel motor feels a notch above those that power the Kia's bakkie-based Adventure SUV rivals and the updated Sorento certainly feels more car-like and stable on tarmac surfaces. It doesn't, however, feel at home when tasked with a dirt road.
At R579 995 (March 2019) it's priced at a similar level to the Fortuner and Everest, but without the 4x4 credibility, which makes it less versatile than those rivals. The Sorento is near-ideal for family holiday excursions: you'll travel in comfort and arrive in a less-fatigued state. However, for many South Africans, the temptation of the great outdoors (with its myriad dirt roads) is more enticing than a comfortable Eurocentric family SUV. Pity.
Alternatives (click on the names for specification details)
Toyota Fortuner 2.8 GD-6 Automatic
The Fortuner is the segment leader, often racking up 1 000 units a month. At 561 260 it's more expensive than the Sorento and lacks the road refinement, ride comfort and seamless connectivity options.
Ford Everest 3.2 XLT Automatic
The Ford Everest is probably the most comfortable of the bakkie-based SUVs but is still a long way off that of the Sorento. At R607 900 it's a bit more expensive but with its Sync3 infotainment system has the tech and infotainment system to match the Sorento, but not the cabin quality.
The Santa Fe is effectively the same car as the Sorento, it's just a little bit more expensive and not quite as well specced. It does look more like an SUV than the people moving Sorento. It's priced at R599 900