Kia has announced its 'Plan S' which is a mid- to long-term strategy to increase overall market share by embracing electrification, mobility services, connectivity and autonomy.
Kia will shift from combustion engines to electric propulsion and the company has committed to launching a dedicated Electric Vehicle (EV) to market in 2021 while also introducing 11 EV's to market by 2025 in an effort to grab 6.6% of the global EV market (excluding China). Reports indicate that the Kia Imagine Concept (pictured above) will go into production in 2021.
The company will also look to achieve a global annual EV sales target of 500 000 units and look to sell 1 million eco-friendly cars by 2026. Importantly, Kia will invest at least $25-billion to achieve these goals.
"As the auto industry undergoes turbulent changes, today is also an opportune time for Kia Motors to radically transform itself into a global enterprise dedicated to spearheading customer value-led innovations," said Kia Motors President and CEO Han-woo Park. "Kia Motors will actively innovate to take on the challenges ahead, identifying and capitalizing on new opportunities to propel the company forward."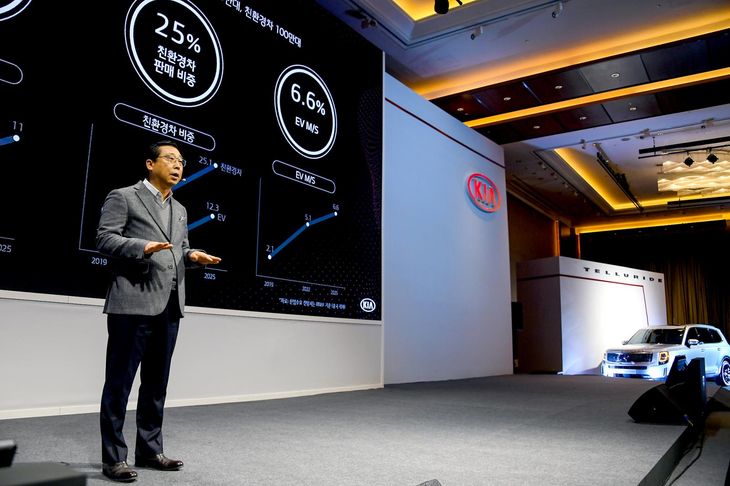 Kia Motors President and CEO Han-woo Park presents Kia's 'Plan S' to the world.
The Plan S strategy focuses primarily on leading the popularization of EVs, expanding mobility services for electric and autonomous vehicles and entering the Purpose Built Vehicle (PBV) market.
Kia will innovate in areas such as brand identity, corporate identity, design identity and user experience, to name a few, so that customers can directly feel, experience, and understand the company's evolution to become a leader in EVs and mobility solutions.
"Plan S is a bold and enterprising roadmap for Kia's future business transition, buttressed by the two pillars of electric vehicles and mobility solutions. Our approach is to put customers first, and Kia will reinvigorate its brand innovation by developing products and services that offer new experiences for customers" said Park.
Kia's new brand system is expected to be revealed in the second half of 2020, watch this space!