Jeep revealed its facelifted Cherokee at the Detroit Show earlier this year. The updated Cherokee is expected to arrive in South Africa early in 2019, but our UK correspondents grabbed an early drive in Sicily and filed this report…
Jeep first made an SUV designed for family life more than 30 years ago – in the form of the original Cherokee. Little surprise then, that the name is still going strong today. However, this latest version faces considerably more opposition than ever before, including the likes of the Land Rover Discovery Sport, Audi Q5 and BMW X3.
The refreshed 2019 Jeep Cherokee stands out from the competitive compact SUV segment thanks to its proven off-road ability. After all, that's what Jeeps are known for. However, many buyers in this segment are just looking for a comfortable vehicle to drive every day and the Cherokee is effective on this front as well... to a point.
Exterior styling updates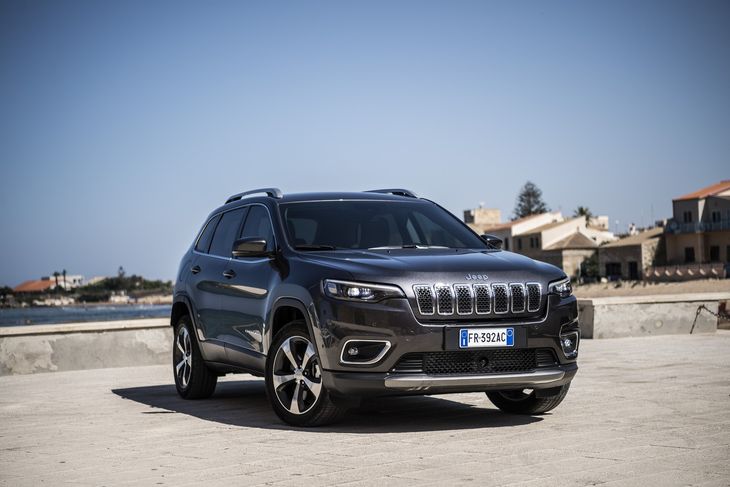 The front-end design of the Cherokee is only a little less polarising than that of the model it replaces.
Being a mid-cycle refresh to this 5th-generation Cherokee, its exterior styling has taken the brunt of the changes to keep it firmly on the radar of customers. All of the sheetmetal ahead of the windscreen is new, with a higher bonnet-line and more conventional lighting assemblies that give the Cherokee a close resemblance to the Grand Cherokee and the new Compass. Reshaping the front end also gave Jeep the opportunity to rework the underlying structure for better crash protection.
At the rear, the entire tailgate is new and is made from composite materials to save weight. Moving the number plate from the bumper to the tailgate eliminated that vast expanse of blank sheet metal below the tail lights and allowed the latch mechanism to be moved further back into the bumper. In doing so, just over 70 litres of additional luggage space was acquired. Even still, the new Cherokee still trails its rivals for luggage volume.
Interior changes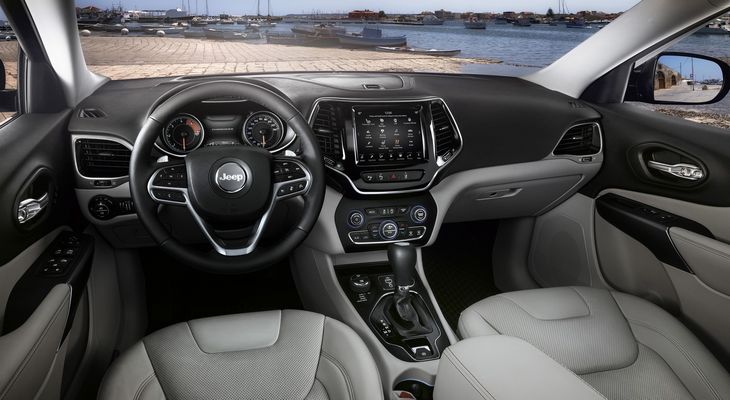 New infotainment screen has more functionality and user-friendly apps.
For those 2 long days under the hot Sicilian sun, the new Cherokee was a surprisingly pleasant place to be. Both front seats are comfortable and supportive, not to mention being heated and cooled, the latter being particularly effective.
The general ambience of the cabin was pleasant with plenty of space to shuffle around and storage space wasn't too bad either. We had hoped that the dash layout and design had a little more style to it, but it remains functional.
Both the 4x4 Overland and 4x4 Limited editions at launch had the 8.4-inch high-definition touchscreen, which is Apple CarPlay and Android Auto compatible. Both functions worked rather well, as did the satellite navigation. Mind you, driver errors took us down some rather dicey side streets at one point.
Rear seat passengers have good leg- and headroom, even when the front seats are set for 6-footers and, no matter where you're positioned in the cabin, visibility is always good. At 570 litres with row two in place, the new Cherokee offers a larger luggage bay than the outgoing model.
Trim grades and equipment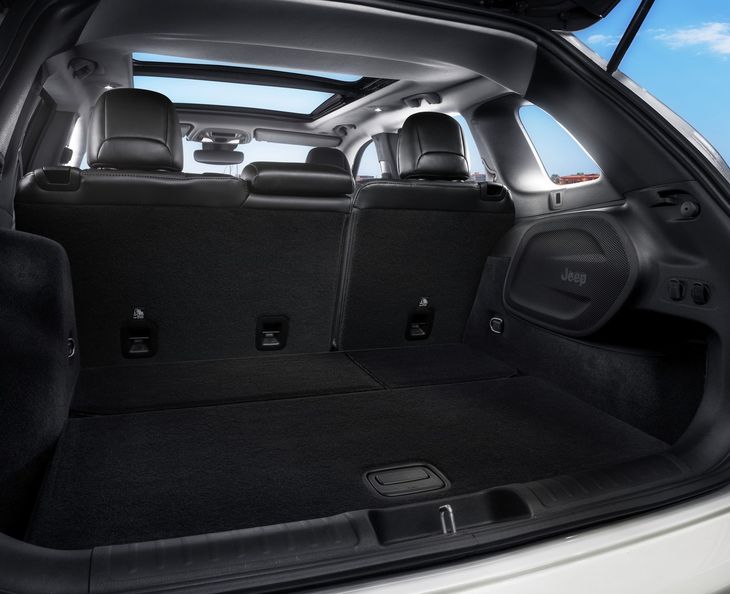 A 500-litre boot is just about right for this segment, there are also multiple power points in the rear.
Here in the UK and the EU, the new Jeep Cherokee will continue to be offered in the Longitude, Limited and Overland trim levels, with the range-topping Trailhawk derivative following later in 2019. However, Jeep SA has confirmed that the current range-entry Longitude model will be discontinued, leaving the familiar and more popular Limited and (arriving later in 2019) Trailhawk trims in the South African Cherokee line-up.
The Limited is shod with 18-in alloys, trimmed in leather upholstery, comes equipped with an electrically-adjustable driver's seat (the passenger seat remains manual), a 7-inch driver information display, dual-zone automatic climate control, heated steering wheel, USB connectivity and remote entry and start. For 2019, it also receives a powered tailgate, blind-spot monitoring with rear cross-path detection, and rear parking sensors.
The Trailhawk loses the Limited's standard power driver's seat (it's an extra-cost option) and a few other convenience items, but gains a more sophisticated all-wheel-drive system, its own design of 17-inch alloy wheels, skid plates, an off-road suspension with a 25 mm lift (raising ground clearance to a useful 220 mm), front and rear tow hooks, flared fenders and sporty cloth/vinyl/leather upholstery (leather trim is optional). It also gets blind-spot monitoring with rear cross-path detection for 2019, plus dual-zone automatic climate control and rear parking sensors.
Engines and Drivetrains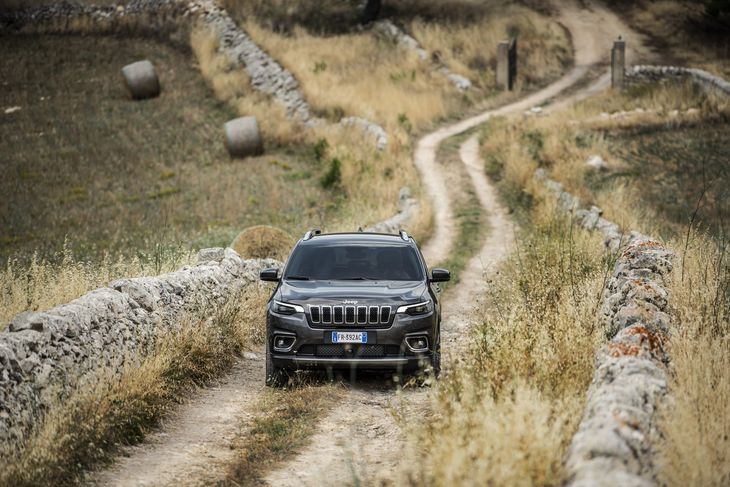 South Africa's Cherokee will continue to be powered by the 3.2-litre V6 Pentastar petrol engine.
Jeep South Africa confirmed that the sole engine available in launch versions of the refreshed Cherokee will continue to be the potent 3.2-litre V6 Pentastar delivering 200 kW and 300 Nm. It will be coupled to a 9-speed automatic transmission and Jeep SA said that other engines will be evaluated for possible introduction during 2019.
When left to its own devices, the automatic transmission is usually smooth-shifting. However, manual shifts feel hesitant and it can be slow to drop down a gear.
On-road ride and handling
Without doubt, the new Jeep Cherokee is set up to provide a comfortable, cosseted ride and decent off-road performance as opposed to delivering thrills aplenty through twisty back roads. Its soft suspension, tall body and high ground clearance all make for better off-road performance, but the trade-off is that body lean is pretty pronounced in corners and the steering is somewhat vague.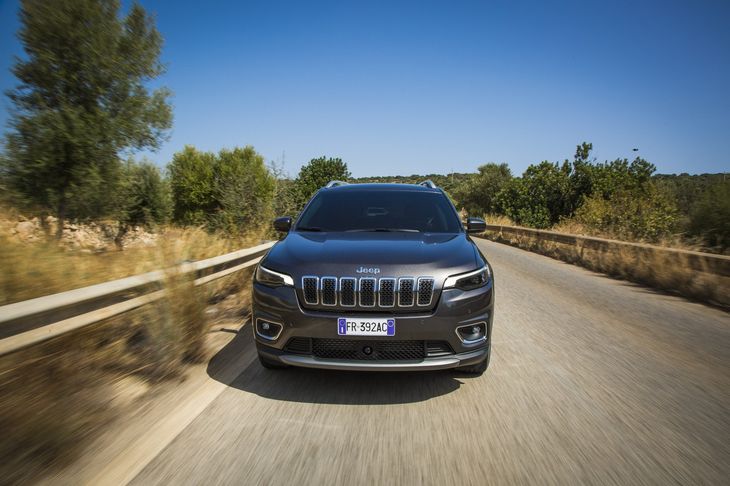 True to Jeep's nature, the Cherokee is a dual-purpose vehicle, with good on and off-road capabilities.
Paired with the 2.2-litre MultiJet2 turbodiesel as driven, the tweaked 9-speed automatic transmission offers seamless performance and compensates for a slight loss in peak output over the current model, which is down from 149 kW to 145 kW; but few, if any, will notice it.
The majority of Sicilian roads we encountered were atrocious, to say the least. It could have been a clever decision by the EU Jeep PR team, or that all the roads in Sicily are of particularly poor calibre, but it proved that when compared to the outgoing version, Jeep made tangible improvements to the new Cherokee's handling and ride.
We couldn't say it wafted along like a Range Rover, but the Cherokee coped adequately with the many potholes and undulations that presented themselves around almost every corner.
Official fuel consumption is rated at 7.4 L/100 km for the 2.2-litre turbodiesel. However, we achieved between 9 and 15 L/100 km – but it was given a hard time, to be fair.
Off-road cred
The Cherokee's Selec-Terrain 4-wheel drive system worked well both along harsh dirt tracks and an impromptu off-road course in a field. Where it really surprised was when we encountered a particularly soft patch of sand next to a beach.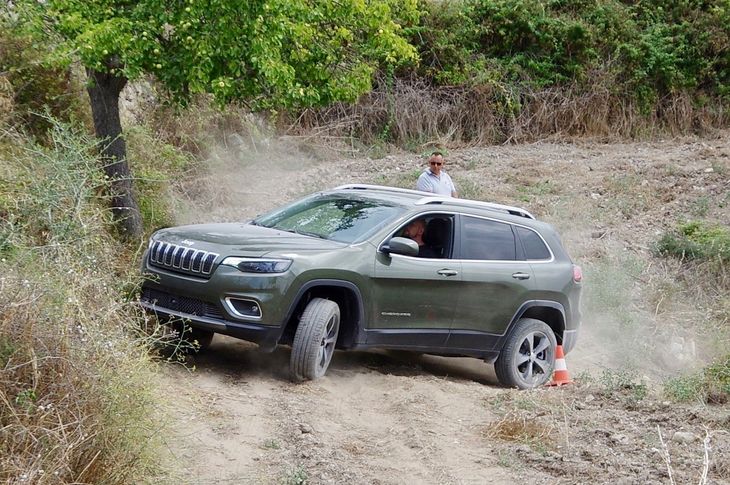 The off-road suspension adds 25 mm of extra ground clearance to the Cherokee, lifting it to 225 mm.
Earlier that day, reports came in that a couple of FWD Cherokees had become hopelessly stuck. So, aware of this, we selected Sand/Mud on the drive mode dial and along with a sizeable dollop of trepidation, into the breach we went. Straight away we could feel the Cherokee sink into the sand as the revs died. Applying a little more acceleration, the AWD system took over and, finding grip where it really shouldn't have, we emerged on the other side with little drama.
Safety
This is an area where the Cherokee shines. It received the full 5 stars from Euro NCAP, including an impressive 92% adult occupant protection score. As you'd expect, there's a full quota of safety kit, including a multitude of airbags, electronic stability control, anti-lock brakes and tyre-pressure monitoring. ISOfix child-seat mounting points have been availed in the back, as well as a special trailer stability system for when you're towing.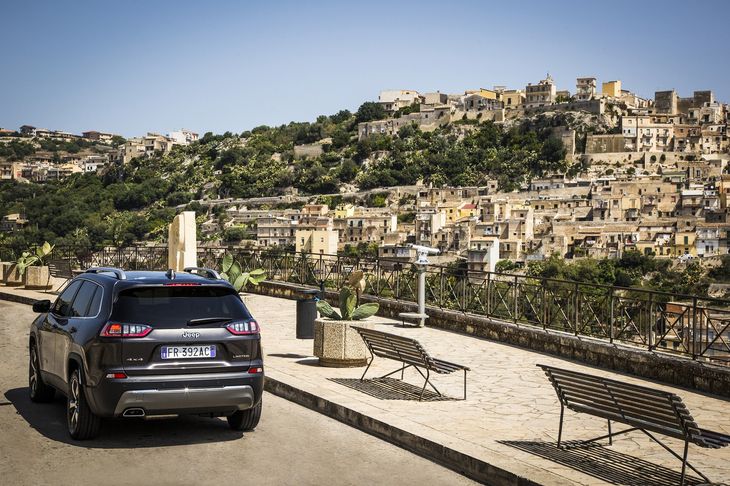 The updated Cherokee scores very well in safety tests.
Pricing
This far in advance, there are no price indications for the 2019 Jeep Cherokee line-up, but Jeep SA did confirm they were hoping to "target pricing along lines of the current range".
Summary
There is little doubt the refreshed Jeep Cherokee is more accomplished, more refined and better equipped to tackle the competitive medium/executive SUV segment than the model it replaces. It also seems, on face value, to have the styling it needs to appeal to more buyers.
If you want a reasonably priced SUV that transports you comfortably to work during the week – and hit the trail on the weekend should your mood or lifestyle take you – then the refreshed Jeep Cherokee will not disappoint. Sadly though, it still can't beat top rivals as an all-rounder.
by: Wayne Gorrett and Damian Turner
Related content:
Jeep Grand Cherokee Trackhawk - The Fastest Jeep Yet
The Journey Mozambique - The Search for Sunken Land Rovers