The South African-built Ranger Raptor is finally here and while its styling is undoubtedly attention-grabbing, we were eager to experience this engineering phenomenon in the metal, on local soil, to find out if it's just another over-hyped bakkie splattered with racy stickers – or if it can really do what Ford claims it can do. We sent Gero Lilleike to a boiling-hot salt pan near Upington, Northern Cape, to put the hammer down and get some answers…
The hype surrounding the new Ranger Raptor, particularly on social media, has been somewhat interesting and I have been trawling through comments, opinions and all kinds of jibber jabber to get a sense of what people think of this new Ranger Raptor. Many people love it, some think it's well-priced (the Ranger Raptor costs R786 400), but many people also don't understand what it is. And so, if you are one of those people who thinks or believes the new Raptor is just a dressed-up Ranger with not much else going on, then it's my duty to tell you that you are wrong, very wrong...
Own a Ford? Tell us about your experience here.
What is this Raptor?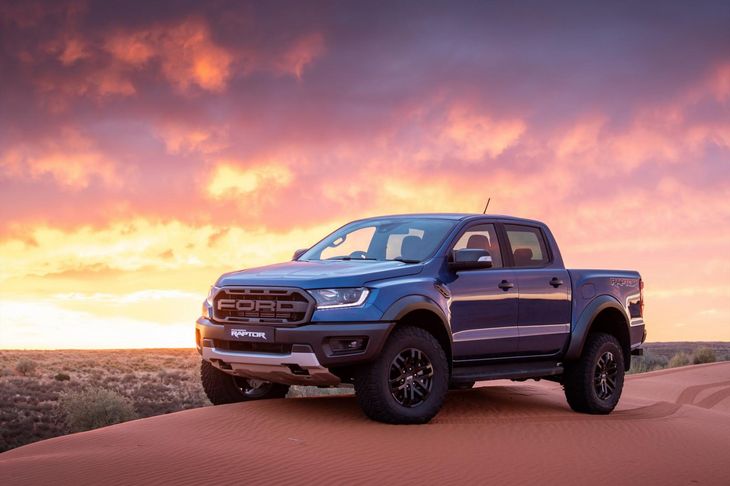 The Ranger Raptor has loads of kerb appeal and is purported to offer class-leading offroad ability.
To put it simply, the Ranger Raptor is a high-performance off-road bakkie. In this case, defining and understanding what is meant by "high-performance" in this particular context may help you understand what the Ranger Raptor is and, indeed, what it's capable of. Let me elaborate...

It may carry the Ranger name and share stylistic features with Ford's popular pick-up range, but the Raptor is an entirely different animal to the standard bakkie. It rides on a specially-developed chassis that's designed to withstand the rigours of spirited off-road driving, which is to say that the Raptor is designed to survive the most severe conditions it may possibly encounter when being driven in anger on non-sealed surfaces.
The Raptor is built for purpose and you can see it its stance. It stands some 51 mm taller than a standard Ranger and the front and rear tracks have been widened by 150 mm for extra offroad stability. It also boasts a higher ground clearance (283 mm) and has a wading depth of 850 mm.
Ford partnered with BF Goodrich to develop chunky 285/70 17-inch all-terrain tyres exclusively for the Raptor. The bakkie's bespoke braking system comprises 332 x 32-mm ventilated discs with twin-piston 51-mm calipers (the diametre of which is 20% larger than on a standard Ranger) up front, with 332 x 24-mm discs and 54-mm calipers at the rear. A 2.3-mm front bash plate ensures the Raptor's internals are well-shielded against impacts.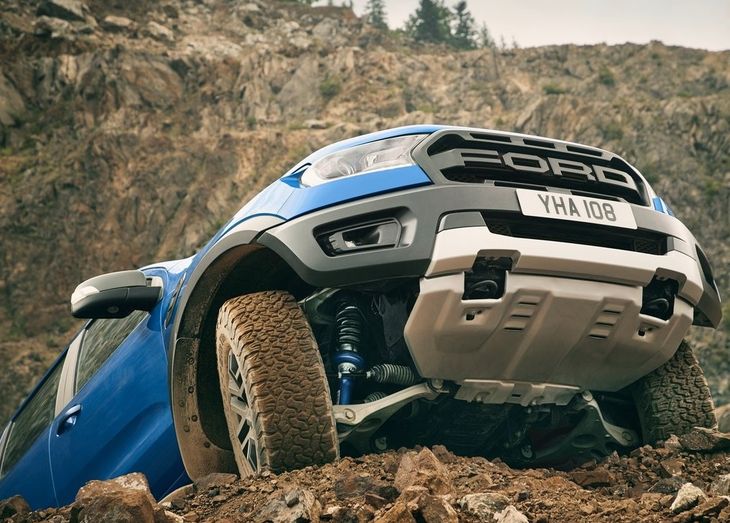 The Ranger Raptor's suspension system is a major highlight and sets it apart from other 4x4 products.
But the most notable feature that sets the Ranger Raptor apart from any other 4x4 bakkie currently on sale is indeed its suspension system.
A new rear coil-over suspension with an integrated Watt's linkage allows for vertical axle movement while minimising lateral movement and this contributes to high levels of control and comfort when engaging in offroad driving.
While the Ranger Raptor is a thoroughbred off-road beast, it needs to deliver on-road comfort too and to do this, Ford partnered with FOX to develop position-sensitive damping (PSD) shock absorbers. They allow for significantly higher damping forces when off-roading while also providing the necessary comfort on-road with lower damping forces. Compared with the standard Ranger, front wheel travel has increased by 32% and rear wheel travel is up by 22%, which means the breadth of the Raptors suspension capability is widened to accommodate various driving terrain.
Based on the information above, it should be clear to you now that this is no ordinary Ranger. If you still have your doubts, then read on…
What's the Ranger Raptor like to drive on the road?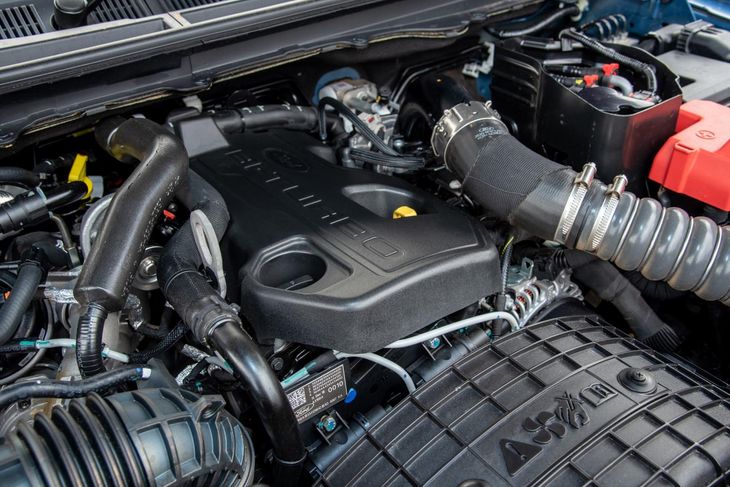 A 2.0-litre bi-turbodiesel engine provides ample performance with 157 kW and 500 Nm of torque.
The Ranger Raptor launch took place in Upington and upon arrival, the media entourage set off on tar for the Goerapan salt pan some 100 km away, which gave us a chance to see what the newcomer's like to drive on the road.
The Ford's 2.0-litre bi-turbocharged diesel engine (with 157 kW and 500 Nm of torque) is mated with a new 10-speed automatic transmission. This is the same engine and transmission that is now offered on the standard Ranger. Many critics bemoan those standard outputs, but the reality is that they're more than sufficient for on- and off-road use and, when you consider how this Ranger Raptor has been set up, you really don't need more...
On tar, we were surprised by how eager and willing this engine actually is. Due to its higher levels of engine refinement, the Ranger Raptor gains momentum rapidly and if you are not careful you will soon find yourself well over the national highway speed limit, even though it doesn't feel like it.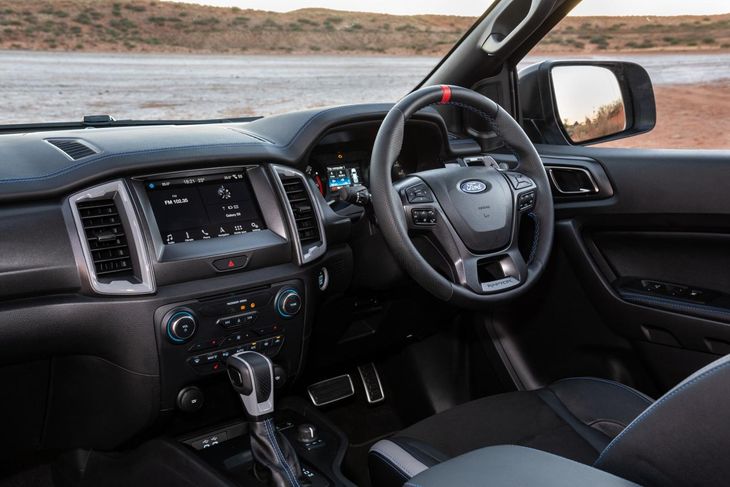 Despite its offroad bias, the Ranger Raptor offers convenient features such as SYNC3 infotainment with Apple CarPlay and Android Auto.
We were impressed by how stable and comfortable the Ranger Raptor was when driving at speed. The ride qualities of other double-cab bakkies tend to get jittery at speed, but the Ranger Raptor was unphased as the dry Kalahari landscape whizzed by. That said, for anyone driving the Ranger Raptor on the road, speed management is a skill that you will have to learn quickly to avoid regular speeding fines in more built-up areas.
The engine and transmission work well together and both provide good general performance. The transmission is well-calibrated and it does have a manual mode with steering-mounted paddle shifters that allow you to manually shift gears, but for on-road driving, it's best to let the transmission shift automatically. When we arrived at the Goerapan, the Raptor's real test began, however. An action-packed day of off-road driving beckoned.
How does the Ranger Raptor perform off-road?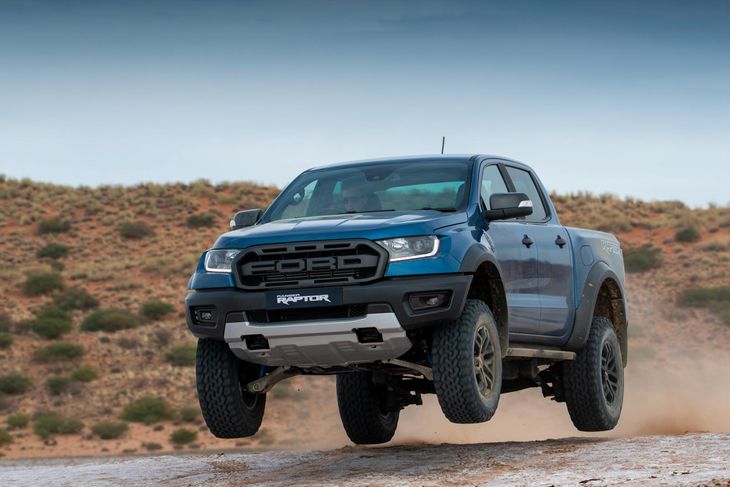 The Ranger Raptor's off-road ability is both impressive and astounding...
Ford wanted us to experience the full breadth of the Ranger Raptor's capabilities and to achieve this, 3 different off-road activities were set up at the salt pan including dynamic handling, sand driving and an off-road rally course.
There are 6 modes on offer, including Normal and Sport (for on-road driving) and off-road modes including Grass/Gravel/Snow, Mud/Sand, Rock and Baja. The intention of the dynamic handling course was for us to get a feel for the Raptor's unique Baja mode, named after the Baja Desert Rally in Mexico. To put it more plainly, this activity was all about getting the Ranger Raptor sideways, in the dirt, at heady speeds...
Baja mode is specifically calibrated for high-speed off-road driving by sharpening up the throttle, transmission and steering response. More than this, "Baja" dials back the stability- and traction control, which makes it ideal for enthusiastic off-road driving and performing controlled drifts at speed.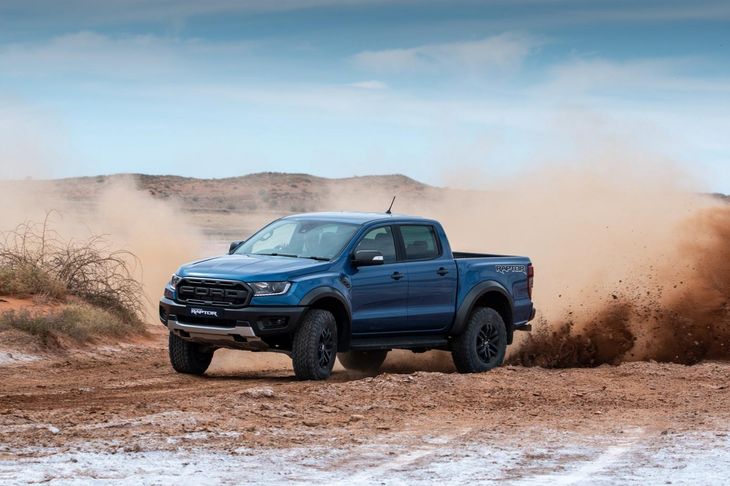 Baja mode is a must if you want to initiate high-speed offroad drifts such as this...
We hit the course with much enthusiasm and were amazed at how easily the Raptor's rear-end steps out, but moreover, how poised and confidence-inspiring the off-road machine is when going sideways. The Ranger Raptor drifted through corners with impressive precision and predictability. It was a delight to achieve a semi-permanent "state of drift" for prolonged stretches; all of a sudden, Baja mode made perfect sense.
Then we put the Ranger Raptor through its paces in the sand dunes surrounding the salt pan. The tyres were adequately deflated to cope with the fine sand and we traversed various dune obstacles. The Ford was clearly in its element; it was only necessary to engage the differential lock on some badly corrugated sections. Sand driving is all about maintaining momentum and for the most part, the bakkie performed admirably in the sand.
However, a pattern was developing. Traditionally, 4x4 driving is done at slower speeds to protect the mechanical integrity of the vehicle. With the Ranger Raptor, it soon became clear that this bakkie can handle much, much more.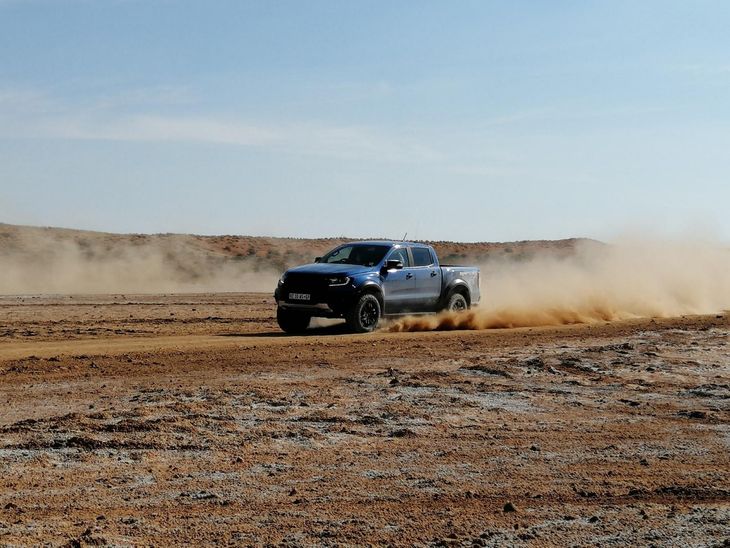 The rally course was the ultimate test for the Ranger Raptor...
The final rally activity would invariably shatter my perceptions of what this Ranger Raptor is really capable of. The rally course combined high-speed driving on the salt pan that transitions into a substantial route in the sand dunes and ends back on the salt pan, where the finish line was.
A Ford instructor took us on a scouting lap and judging by the fast-paced driving in difficult terrain, it became abundantly clear that this was the ultimate test for the Ranger Raptor.
I buckled up and made the decision that I was going to push the Ranger Raptor as hard as my sanity would allow. We clocked 145 kph on the salt pan and then proceeded to bash through the difficult sand dune section at speeds I have never before achieved off-road. It was incredible.
At the end of my run, it dawned on me that there is no standard 4x4 bakkie on sale in South Africa that would be able to cope with that level of repeated abuse that Ford's newcomer endured during this demonstration. Some may take the punch once or a few times, but not repeatedly.
Imagine what would happen if any standard 4-wheel-drive pick-up (be it a Toyota Hilux, Ford Ranger, Mitsubishi Triton, Isuzu D-Max, Mercedes-Benz X-Class or Nissan Navara) was subjected to such a flogging... images of burst shock absorbers and wheels and bumpers flying off the car come to mind.
And if that wasn't enough to convince me, Ford had professional off-road racing driver Gareth Woolridge on hand to take us on a hot lap, which made my (what I thought was spirited) run in the Raptor look pedestrian and insignificant. And that was just the confirmation that I sought...
The Ranger Raptor is indeed the real deal – its off-road prowess was undeniably etched into the sand at Goerapan salt pan during this media event. More so, the Raptor has seemingly redefined what is possible off-road with a vehicle that you can buy, as standard, off a Ford showroom floor.
To end off a challenging day's driving, we managed to get the Raptor airborne on a deserted farm road. Not your typical 4x4 experience, then...
Summary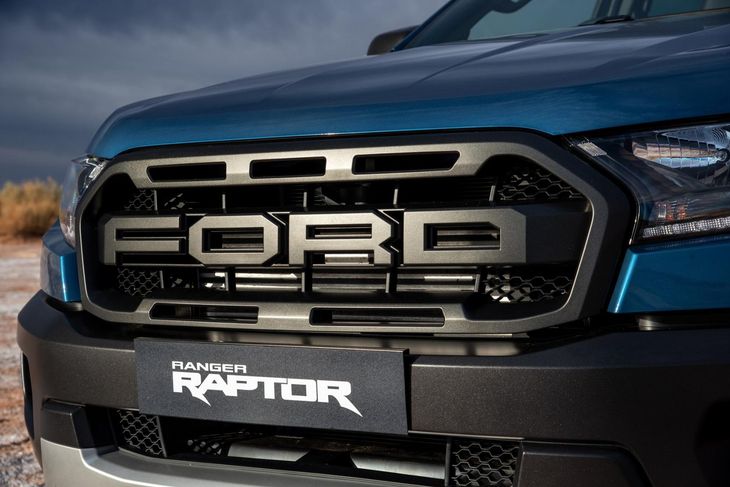 The Ranger Raptor is a formidable offroad vehicle but due to its offroad bias, it's not the most sensible purchase in this segment.
The Ranger Raptor proved its offroad capability at the Goerapan salt pan, but offroad ability alone is not the only factor to consider here. The newcomer is a niche vehicle and the only direct rival in our market is the Isuzu D-Max Arctic AT 35 (with 130 kW and 380 Nm developed from by its 3.0-litre turbodiesel engine), which is priced at R785 000. In terms of price, the Ranger Raptor comes in at R786 400, which is cheaper/competitively priced against the Volkswagen Amarok 3.0 V6 derivatives (R791 100–R829 200) and substantially cheaper than the Mercedes-Benz X-Class V6-powered 350d derivatives (R904 188–R973 188), which unlike the Raptor are both considered to be more luxurious leisure double-cab bakkies.
There are a few downsides too... While the Ranger Raptor's interior is decisively sporty with Raptor sports seats, a sporty steering wheel (with red centre mark) and nice-to-have features such as a SYNC3 infotainment system with Apple CarPlay and Android Auto compatibility, its interior build quality isn't quite as good as that of the Volkswagen Amarok, for example (some interior parts such as the sunglass holder and centre bin lid feel flimsy). More than this, due to its suspension set up, the Raptor's maximum towing capacity has been reduced to 2 500 kg, with a maximum payload of 750 kg, which is worth factoring into your purchasing decision.

However, despite its niche appeal, the Ranger Raptor is bound to find broader favour with hardcore offroad enthusiasts and image-conscious buyers who want to show-off and make a bold statement. The Ranger Raptor is now arguably the best-looking and the most capable 4x4 bakkie on sale in South Africa, but it's certainly not the most practical choice, especially if you don't regularly intend on using it to its full ability.
I still want one in my garage though…
Ford Ranger Raptor price in South Africa
The Ranger Raptor costs R786 400 (May 2019) and comes standard with a 4-year /120 000 km comprehensive warranty, 5-year/unlimited km corrosion warranty, 3 years of roadside assistance, 6-year/90 000 km service plan with intervals every 15 000 km.
Buy a new or used Ford Ranger on Cars.co.za
Related Content:
Ford Ranger Raptor (2019) Specs & Price
Ford Ranger Raptor (2019) International Launch Review
Ford Ranger (2019) Launch Review
What's Really New About the 2019 Ford Ranger?